18 months is a fun stage– your little baby is now cruising around like she owns the place.

Or at least that's what she thinks!

And all of this exploring makes for one tired toddler. To compensate for the millions of connections that their little brains are making all the time, toddlers need schedules and routines to rest and recharge.

Not sure how to set the ideal 18 month old schedule?

I've outlined the exact routine I followed with my 18 month old that you can use as a guide.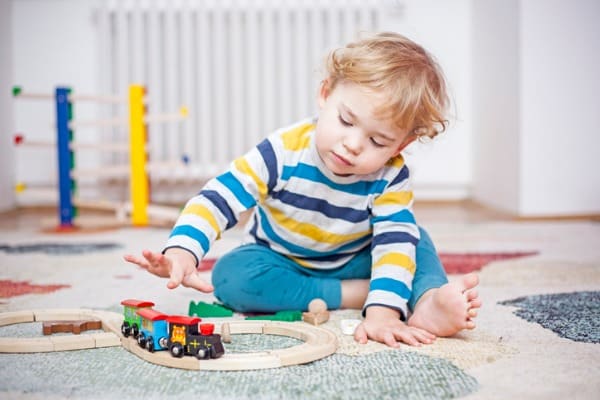 A sample 18 month sleep schedule with 2 naps
By the time your toddler reaches 18 months, they may drop their morning nap. Keep in mind, it's perfectly fine for an 18 month old to still be on a schedule with two naps, as long as it doesn't interfere with their night time sleep. 
7:00 am — Wake up
7:30 am — Breakfast
8:00 am — Rotate between independent play and playtime with mom 
10:00 am — Morning nap
11:00 am — Up from nap, light snack
12:15 pm — Lunch
2:00 pm — Afternoon nap
3:30 pm — Up from nap, light snack
5:30 pm — Dinner
6:30 pm — Bath and bedtime routine
7:30 pm — Lights out
Here's some lunch ideas for a one year old if you need some inspiration, plus breakfast ideas for toddlers and tips on where you can find the best foods for toddlers that are actually healthy.
A sample 18 month old sleep schedule with 1 nap
7:00 am — Wake up
7:30 am — Breakfast
8:00 am –Rotate between independent play and playtime with mom
10:00 am — Out of the house! Or play outside
11:30 am — Return home
11:45 am — Lunch
12:30 pm — Wind down for nap time
12:45 pm — Lights out for afternoon nap
3:15 pm — Wake up from nap, light snack
5:30 pm — Dinner
6:30 pm — Bath and begin bedtime routine
7:30 pm — Lights out
Going from two naps to one nap can make for a long day sometimes. At this age, my daughter started to do some independent play (which was awesome!) and I focused on just having 8-10 toys out at a time that encouraged imagination. It's insane how much better she plays when she isn't playing with things that require batteries and she only has a few options. Here's some of my favorite toys for 18 month olds that encourage independent play:

scroll, and tap to shop
What you need to know about your 18 month old's sleep schedule
At 18 months, your toddler may experience some sleep issues. Blame bad sleep on separation anxiety peaking, attribute it to the 18 month sleep regression, or chalk it up to new developmental stages.
Regardless of the sleep problems your 18 month old is going through, here's answers on all your biggest questions:
How long should my 18 month old nap?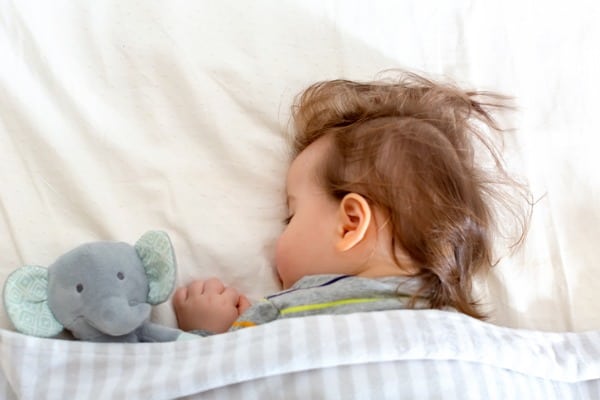 Depending on the amount of night time sleep your 18 month old is getting, your toddler should be napping between 1-3 hours during the day. To make sure naps don't interfere with bedtime, make sure your toddler is up at least 3 hours before bedtime.

If your 18 month old is still taking two naps, each nap should be no more than 1.5 hours. They will likely have a shorter nap in the morning, followed up by a longer nap after lunch.

What's a good bedtime for an 18 month old?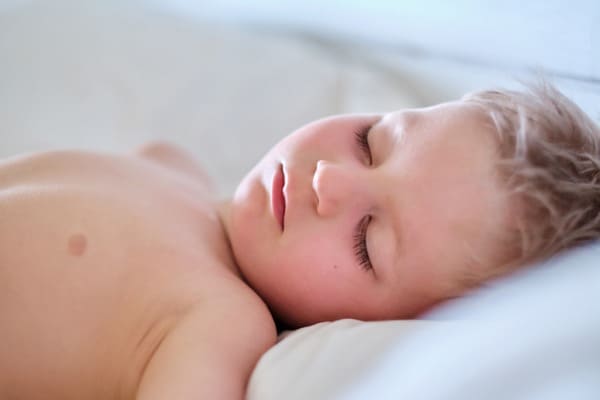 Research shows that typically, 18 month olds need to go to bed between the hours of 6:30 and 7:30 pm.

One of the biggest mistakes parents make is thinking their toddler will sleep later if they are put to bed later. While adults tend to sleep in later if they are late getting into bed at night, this is not the case for toddlers.

Most 18 month old's need about 11-14 hours of sleep in a 24 hour period. You can expect your little one to sleep about 11 hours at night.

Typically, your toddler will naturally wake up between 6:00 am- 7:00 am. If you notice your baby routinely wakes up before this time, I'd suggest moving bedtime up by 30 minutes. Keep in mind– an overtired baby doesn't sleep as well. If your baby isn't going to sleep until 7:30 and waking up at 5:30 they aren't getting enough night time sleep.

Why is my 18 month old waking up at night?
Just like at 3 or 4 months, and 8 months, there's also a sleep regression at 18 months. If you notice your 18 month old waking extremely early, fighting naps or fighting bedtime out of the blue, they're likely going through a sleep regression.

The easiest and best thing you can do to overcome this stick to a schedule! In addition:
Make sure your toddler is waking up from their afternoon nap at least 3 hours before bedtime
Set an appropriate bedtime: No later than 8:00 pm
Keep offering naps! Don't throw in the towel just yet. Toddlers need naps until around age 4.
Understand that this will pass: Sleep regressions will eventually fade to a distant memory, but while your toddler is experiencing them, do your best to stick to a consistent routine and provide their little body with enough rest!
The good news in all this? The 2 year sleep regression is the last sleep regression your child will experience!
Questions about your 18 month old's feeding schedule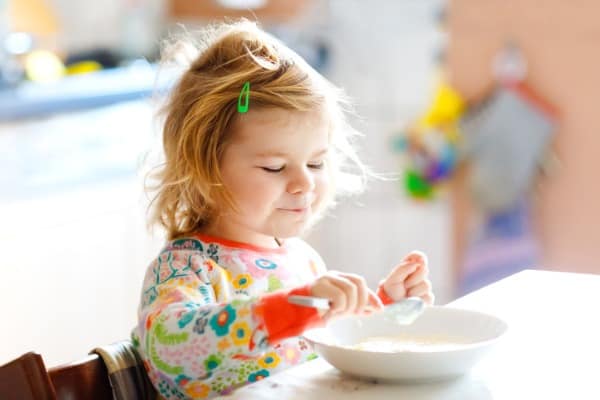 By 18 months your sweet little baby has blossomed into a full-blown toddler! They're likely enjoying the ability to feed themselves and experiment and try new foods daily. Some 18 month olds are still breastfeeding, but by this point, formula is a distant memory.

Wondering what a feeding schedule looks like for an 18 month old? Here's everything you should know:

How often should an 18 month old eat?
At 18 months, your toddler will be enjoying 3 normal meals and two snacks per day. 18 month olds have no problem eating exactly what you're eating, provided portion and bite size are modified to fit their needs.

For some less adventurous toddlers, you might struggle to get them to eat healthy foods. I know, first-hand how difficult this can be, and devoted an entire post on how to get your toddler to eat veggies, if you're interested in learning actionable tips!
How much milk should an 18 month old have?
An 18 month old should be having between 16-24 ounces of full-fat milk (whole milk) daily. If you notice your toddler's appetite plummeting, it might be because they're full from milk. Talk to your pediatrician about tweaking their milk intake if you're concerned.
Closing thoughts on creating an 18 month old schedule that works for your toddler
A schedule for 18 month olds doesn't have to be strict, but does need to allow them ample times to rest, be active and learn to play!
Related reading for parents of 18 month old toddlers: