Feeding a one year old is tricky. They are way past purees and baby food, but they aren't quite ready to chow down on the meals you make for yourself.
Then of course, there's the fact that toddlers are very unpredictable when it comes to food. One day they'll love bananas, and the next they'll look at you like you're crazy for offering them such a horrific item to consume.
Despite your child's erratic behavior towards food, there's loads and loads of research as to why you should continue to press on, offering your child a balanced diet with variety.
For me personally, my daughter's pickiness with food pushed me to get in a rut when it came to introducing new foods to her diet, and it wasn't until I did some research and pulled together a master meal list for toddlers, that I started to see her palette expand.
So if you're struggling with what to feed a one year old, this post is for you!
This post may contain affiliate links. Read my policy here.
55+ meal ideas for a 1 year old
Breakfast meal ideas for a one year old
Banana pancakes (mix 1 egg and 1 mashed banana together), yogurt

Cottage cheese, blackberries,

plain organic granola

Scrambled eggs, strawberries, toast

Whole wheat waffles, nut butter, grapes

Hard boiled egg, toast with peanut butter + orange slices

Oatmeal, toast, raspberries

Avocado toast, strawberries, yogurt

Overnight oats

Mashed sweet potato over toast, berries
If you are looking for even more breakfast ideas for a one year old, plus tips on what brands are healthy at the grocery store you can read more about that by clicking on the link.
Snack ideas for a one year old
Yogurt with bits of banana and strawberries

Hummus and whole wheat crackers

Avocados and cheese

Applesauce

banana

slices

carrot slices and hummus

Cottage cheese and orange slices

Nut butter on toast

Smoothies

Browse my big list of healthy costco snacks for kids for more ideas
On-the-go snack ideas for a one year old
Cheese and whole wheat crackers

Bananas and nut butter/peanut butter

Yogurt pouches

Hard boiled egg and hummus

Orange slices

and cottage cheese

Applesauce pouches

and raisins

Single serve guacamole packets and whole wheat crackers
I wrote an entire post on on the go snacks for toddlers, plus what brands of packaged foods are healthiest, if you need more ideas!
Does your 1 year old have trouble sleeping or napping during the day? If you'd like a free sleep evaluation and plan for your baby, please email [email protected]. I'm currently studying to become a certified sleep consultant and am in the practicum part of my study. All sleep plans and evaluations will be reviewed by my mentor.
Lunch meal ideas for a one year old
Hard boiled egg, steamed broccoli, toast with peanut butter

Cheese, bean, chopped veggies and chicken quesadillas, orange slices

Salmon puree with olive oil spread on toast, strawberries

Zucchini bread, grapes, cheese cubes

Steamed tilapia, corn bread, sweet potato

Quiche with ham and veggies, cooked apples

Spaghetti with meat sauce, steamed (very soft) cauliflower

Toast with hummus, tomato soup, raspberries

Veggie burger, potato, grapes

Omelette with spinach, red bell peppers, feta cheese
Related: 25+ easy meal ideas for toddlers
Dinner meal ideas for a one year old
Scrambled eggs in a whole wheat pita, berries, butternut squash

Grilled cheese on whole wheat bread, yogurt with berries, steamed broccoli

Meatballs, noodles, peas

Salmon, brown rice, black beans, cucumbers

Rice and beans, salsa, guac

Spinach and cheese tortellini, grapes, steamed carrots

Roasted chicken, sweet potatoes, green beans

Turkey burger, corn, pears

Baked potato with cheese, applesauce, avocado

Hard boiled egg, hummus, whole wheat pasta, peaches
Shop some of my favorite one year old meal time must haves!

Tips for bringing a one year old's lunch to daycare
Coming up with a lunch idea to bring to daycare that doesn't need reheating can be challenging. I found these kids' bento boxes and packing lunch is so easy now, plus I'm not running around in the morning trying to find a million little containers.
I'm also a big fan of these lunch boxes too, and actually just purchased one this year and have been loving it so far.
A few times, in a time crunch, I loaded up my toddler's lunch box with foods she hadn't tried before. I guess you live and learn, because that was a huge mistake.
Now I only put foods in her lunch box that she really loves. For whatever reason, I find her to be less adventurous with food items at daycare.
Keep in mind that their appetite will fluctuate, so don't get stressed out if they don't eat everything you bring. I always ask for a report on what she ate so I can prepare for how hungry she might be for dinner.
Here's some of my go to toddler lunches for daycare:
Hard boiled egg, whole wheat crackers, sliced strawberries, cucumbers

PBJ (peanut butter spread thinly and pureed strawberries/raspberries), hummus, steamed carrots

Turkey and cheese sandwich in a whole wheat pita, raspberries,

Applesauce muffins

, avocado, cheese

Veggie rotini, orange slices, egg salad, grapes

Hummus on toast, strawberries, cherry tomatoes, grated carrots
Related: The best educational toys for your one year old
Plate, flatware and sippee cups to feed a one year old
Not only do these plates wash well but they also have a suction feature so your little tot can't just flip the plate over, mid-meal!
On-the go snacking is going to happen and these containers work really well!
You'll save a ton of money when you buy larger quantities of applesauce and yogurt and use these reusable pouches. These also work well for smoothies, too.
These sippee cups are awesome! If your tot is having a hard time learning how to drink out of a sippee cup, I highly recommend these!
Also, this is an investment, but after constant buying sippy cups that were $10 each and would last only three months…I finally bit the bullet and invested in these long lasting cups.
How often should a one year old eat?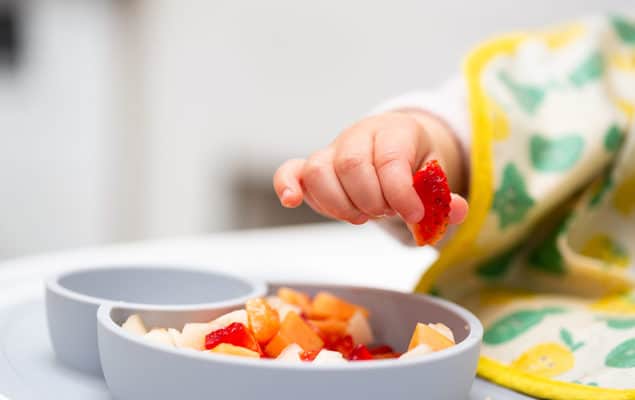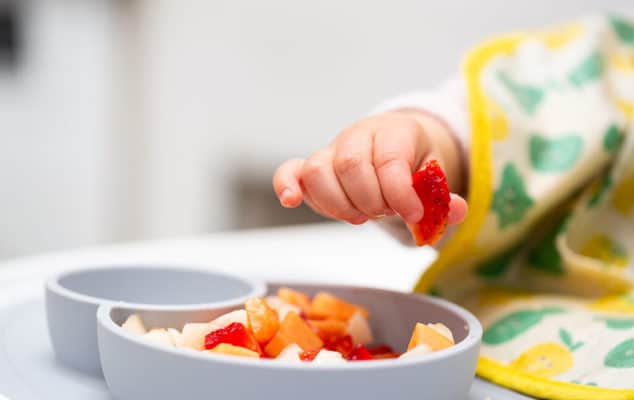 When my little one turned one, it was like overnight her pickiness doubled and her appetite seemed to drop off a cliff.
I thought something was wrong until I did a bunch of research and read that because growth slows down considerably around the time babies reach their first birthday, it's totally normal to witness a sharp drop in appetite. (source)
A typical one year old needs about 1,000 calories to grow and thrive. And because of their decreased rate of growth, it's best to stick with three smaller meals and two snacks each day.
Creating a balanced diet for your one year old baby
Protein: meat, chicken, fish, eggs

Healthy fats: avocado, chia seeds, fish (salmon, sardines), egg yolks

Milk: yogurt, cheese, whole milk, cottage cheese

Grains: whole wheat bread, pasta, crackers

Fruits and veggies: banana, apple, berries, green beans, peas, carrots, etc.
If you're in a rut with feeding your toddler, here's 55 sample menu ideas to inspire your child's breakfast, lunch, dinner and snack times.
How much milk should a one year old drink each day?
Up until your baby's first birthday, breastmilk or formula was where they got the vast majority of their calories from. But as they enter into toddlerhood and begin to eat more real food, the recommended amount of milk they need to thrive is different.
The AAP recommends that at age 1 your child get 2 cups (16 oz) of whole milk per day. This is a pretty big difference from what your baby was likely getting prior to their first birthday, and you certainly don't need to half their milk intake overnight, but it is recommended that you start tapering it off.
Two cups of whole milk is advised because a recent study found that anymore than that has been shown to decrease iron stores in toddlers. Essentially, you want to watch their milk intake so that they aren't filling up on milk and getting too full that they don't want actual food.
How much water should a one year old drink each day?
Your one year old should be drinking about 44 ounces of water each day. (Source)
When I read this it seemed like a whole lot of water, since before my baby turned one she was getting the vast majority of her water requirements from a combination of breastmilk and formula each day.
Keep in mind that toddlers do typically get 20% of their water from fruits and veggies, too.
Foods associated with choking risks
Grapes should be cut in half lengthwise and quartered

Hotdogs should be cut in half lengthwise and then cut into smaller pieces

Nuts and seeds should really be avoided as toddlers don't have the ability to grind food

Vegetables should be soft and easy to manipulate

Peanut butter should only be spread thinly on toast or fruit, as gobs of peanut butter are unsafe

Meats and cheeses should be cut in very small pieces
If you're at the end of this list and feeling like your toddler won't eat half of this, don't worry. Mine wouldn't either until I decided I wasn't going to allow her to only eat carbs her entire childhood. After working with an understanding pediatrician, here's some tips I wrote on how to get your toddler to eat veggies.
Want toddler routine and schedule advice? I have sample 12 month old schedules and 18 month old schedules that you can reference.
Shop some of my favorite toddler feeding tools:

Related toddler resources: