When my first daughter was born, I was firmly in camp no pacifier. I was adamant about breastfeeding, and didn't want it to interfere.
Night two in the hospital, my newborn little girl cried her head off and the next day the pediatrician came in with a paci. Within seconds, she was calm and I never second guessed the role of a pacifier again–that is until I was ready to take it away!
Weaning your baby from a pacifier isn't fun, but can be done. Here are some helpful tips to help you ditch the pacifier for good!
At what age should a baby give up a pacifier?
Interestingly enough, The American Academy of Pediatrics actually recommends that your baby uses a pacifier up until they turn six months old. After six months of age, it's advised that you start the weaning process.
How to wean from the pacifier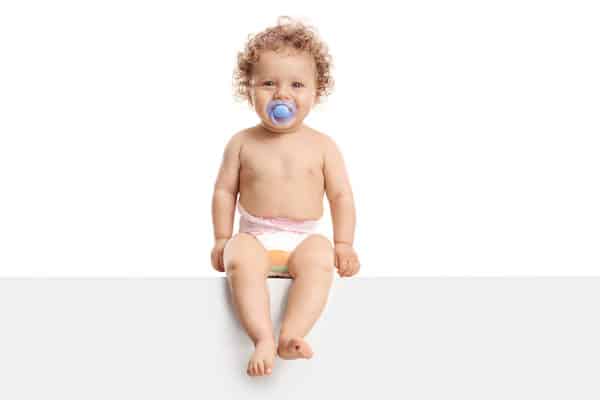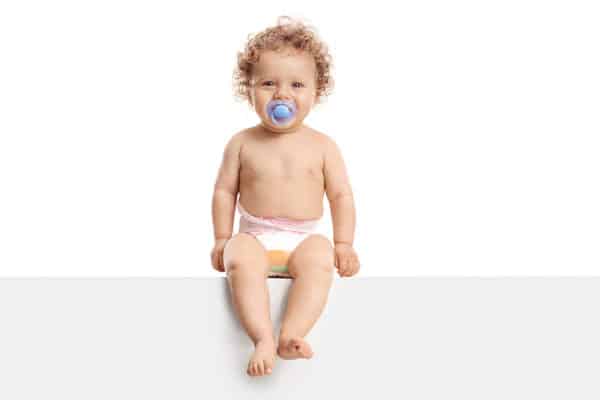 solution #1: Go cold turkey
If your baby is under 9 months of age, you might have success just not offering it anymore. At this age, they aren't likely to remember it after a couple days and don't have an intense attachment to it.
I took the pacifier away from my daughter right around six months because it was starting to affect her sleep. She'd cry and want me to reinsert it constantly throughout the night. After not offering the paci twice at night she was completely over it.
Solution #2: Take a gradual approach
If your baby isn't a baby anymore and is now a toddler who really loves their paci, you'll likely have to try something less dramatic.
Take a gradual approach to weaning off the pacifier by starting to take it away slowly. You can do this by first taking it away while they're happily playing with their toys.
Next, you can make a rule that the paci doesn't leave the house. Later you can say that using a paci isn't allowed while watching a show, and as more time passes, you can only allow the paci at naps. Finally, you can only allow the paci for naps.
Solution #3: Start trimming down the pacifier
Use scissors to trim down a small sliver or the pacifier. Gradually trim down more and more until there's barely any nipple left. Soon your child won't find this as appealing and will likely give it up on their own.
Solution #4: Make getting rid of the paci a big event
Just like with potty training when some parents opt to gather up all the diapers and throw them away, you can take the same approach with getting rid of the paci.
Tell your toddler it's time to give up the pacifier and that you need their help rounding up all of their pacis so you can "donate" them. Praise them for becoming a big kid and perhaps top off the day by taking them on a shopping trip to pick out a toy as a reward for their bravery.
Solution #5: Find a replacement for the pacifier
Take your toddler shopping to find a special stuffed animal, blanket or lovie that they can use as a replacement for their paci. By involving them in this process, you're likely to get more buy in with this method.
Solution #6: Try a sticker chart
Use a reward system with either a sticker chart or something else that motivates your child to help them feel okay about giving up their pacifier. Each time they sleep without the paci or play without the paci they can get a sticker.
What are the risks of using a pacifier for too long?
Fortunately, most kids will stop using pacifiers on their own between ages 2 and 4. But some kids just can't kick the habit.
The American Association of Pediatric Dentistry (AAPD) strongly recommends toddlers stop using their paci by age three to prevent bite problems, and issues with occlusion or facial development.
To make sure pacifier use is on its way out by 3 years of age, dentists recommend you start the pacifier weaning method by at least age 12-18 months.