Let's be real–while it would be totally great if toddlers simply ate what you ate, the majority of the time, they won't. I'm a huge advocate for allowing my toddler to try new foods and I do this by putting a small portion of whatever we're eating on her plate, but often times this is barely touched.
In order to make sure she eats healthy and to take the stress out of having to come up with multiple meals to cook, I've come up with a master list of meals that are well-balanced and toddler-friendly.
If you're in a rut with what to feed your toddler, choose from over 25+ toddler meal ideas to expand their horizons and make sure they get enough nutrients!
Easy toddler meal ideas for breakfast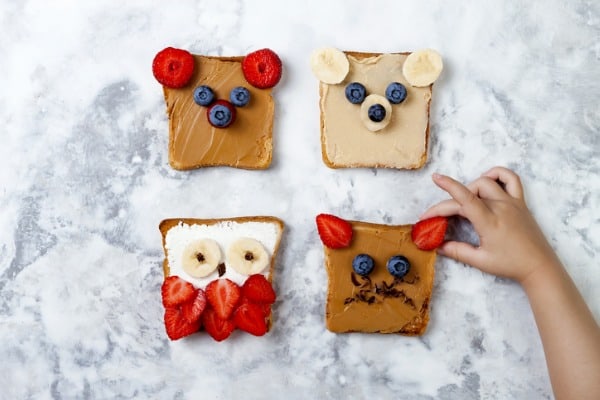 #1 Egg Muffins, blackberries, 1/4 banana
#2 Whole wheat waffle with peanut butter, apple slices
#3 Greek yogurt with strawberries and blueberries, 1/2 Pumpkin Muffin
#4 Pancakes (use Kodiak Cakes) with nut butter, apple slices
#5 Oatmeal with blackberries, raspberries and honey
#6 Scrambled eggs, pineapple, roasted sweet potato pieces
#7 Breakfast quesadilla (ham cubes, cheese, eggs), avocado
#8 Smoothie, 1/2 Banana Muffins
Easy toddler meals ideas for lunch
#1 Quesadilla (chicken, broccoli, cheese) orange slices
#2 Chocolate Muffins, blueberries, shredded chicken
#3 Cottage cheese, pineapple, ham cubes
#4 Peanut butter and banana roll up in a whole wheat tortilla, kiwi slices
#5 Ham and cheese sandwich on whole wheat bread, tomatoes
#6 Avocado smeared on whole wheat toast, mashed sweet potatoes
#7 Salmon salad (canned wild caught salmon, 2 tbls mayo, 1 tbls stone ground mustard) crackers, blackberries
#8 Smoothie, 1/2 carrot muffin
Need even more ideas? I have a whole post on preschool lunch ideas to help you pack healthy lunches.

Dinner meal ideas for toddlers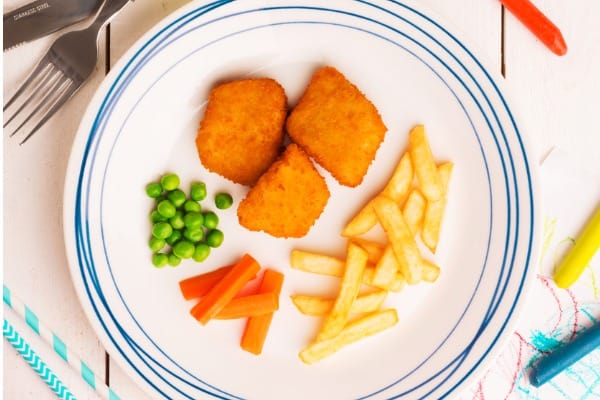 #1 Brown rice and beans, tomatoes
#2 Tuna salad (canned tuna, mixed with 2 tbls mayo, chunks of apples and hard boiled eggs), served with crackers
#3 Roasted sweet potato chunks, shredded roast, strawberries
#4 Chicken nuggets, mashed potatoes, cucumber
#5 Spaghetti with noodles (Banza brand has tons of good protein), frozen peas
#6 Brown rice, green beans, chicken, avocados
#7 Hummis on whole wheat toast, steamed carrots, cucumber, apple slices
#8 Fish sticks (Kids fresh foods is a good brand), avocados, pineapple
Tips for helping your toddler try new foods
Many moms have commented that they can't get their kids to eat new foods or that their toddler only eats the same five things. As a mom of a picky toddler with a mind of her own, I can totally relate! Here's several things that have helped my daughter's willingness to try new foods increase.
Have meals together
Toddlers love imitating you, so if they see you eating a wide variety of foods, they'll soon be curious to try what you're eating, too. Make this work even better by really making a big fuss over how good your food is. Don't hold back, just go on and on about it!
Only offer a small serving of food they don't recognize
Don't overwhelm your toddler with a plate full of unrecognizable food, but rather just put a small teaspoon of new foods on their plate.
Keep trying, even when it feels pointless
If you're struggling with how to get a toddler to eat vegetables or healthy foods in general, it's best to commit to putting something new on your toddlers plate at least 1-2 times per day.
Yes, it totally feels ridiculous to keep this up after weeks and months of them refusing to even try new foods, but if you stay consistent your toddler will eventually come around.
Speaking from experience, I tried to introduce new foods to my very picky toddler for a solid six months before I saw noticeable improvement!
Attempt to hide healthy foods in everything
It's no secret that toddlers love carbs and would basically choose starchy foods only if they had their way. To make sure they get healthy foods too, hide fruits and veggies in everything.
The easiest ways I do this is by offering my daughter a smoothie every single day. I started off by just making the same smoothie every day until she got used to the concept, then I started deviating slightly over time.
For example, most toddlers can totally get behind a smoothie with bananas, berries and yogurt. So start with this. Then over time, add a handful of spinach. Later, you can mix in different fruits and veggies and even add in nutrients like flaxseed if you're feeling brave.
Additionally, use the muffin recipes I've linked above and always have muffins available for added nutrients. All the muffin recipes I highlighted are muffins that are made with low sugar, and tons of fruits and veggies. Double the batch and store some in your freezer.
Additional toddler meal ideas that require light prep
Related toddler meal tips
How to get your toddler to eat veggies
Meal ideas for your one year old
The big list of Costco kids snacks