When you've hit the time when you need to start thinking about packing your bag for the hospital, it's about to get real, real fast!

While the first few months of pregnancy likely seemed like they'd never end (hello, morning sickness?!) I found the last couple months of my pregnancy to fly by, with a growing to-do list that I attempted to tackle right up to the end!
To ease your mind, here's the ultimate hospital bag checklist for mom, dad and baby!
When should you pack your bag for the hospital?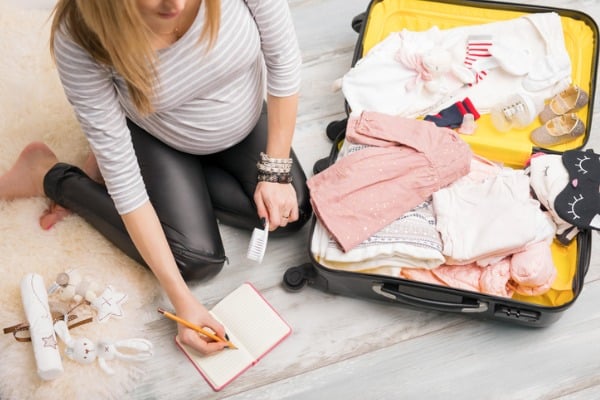 Around week 28, you should begin thinking about all items you want to bring with you to the hospital. This gives you time to order or shop for anything needed that you don't already have.
Because it's always better to be prepared, make sure you have your bags ready to go no later than week 36.

Make sure everything is fully packed, not just in a pile. When labor hits you won't want to be concerned with making sure every little thing is packed, so it's best to just go ahead and pack as if you were walking out the door tomorrow.

The ultimate hospital bag checklist
A few years ago, I was a first time mom and had no idea what to expect during my hospital stay or what to bring, for that matter. I googled a bunch of stuff and asked friends and let's just say I ended up packing way too much stuff.

After learning from my first experience, here's what I can confidently tell first-time moms to bring with them for their hospital stay:
Hospital bag checklist: for your labor
Birth plan- This does not have to be super fancy/formal
Insurance card/photo ID
Comfy clothes (If you choose not to wear the hospital gown)
Socks with grippies for walking the hospital halls or just moving around in your room
Something to keep the hair out of your face
Make up remover wipes–great for a quick refresher if you're feeling sweaty
Handheld battery powered fan if you're prone to getting warm!
Hospital bag checklist: For your hospital stay
Nursing gown/robe/comfy clothes– don't overpack these, you won't have a ton of energy to change a lot!
Nursing bras (wire-free is best!) these nursing bars are great for sleeping.
Nursing pads- Your milk may not come in while at the hospital, but if it does, you'll be prepared.
Basic toiletries/make up, hair dryer
Glasses, contact case, contact solution
Any meds you take daily
Postpartum underware– The hospital will provide you with mesh undies, but I found the postpartum underware I brought to be more comfy.
Phone/charger (extra long charger)–The extra long charger is key, you'll be far away from an outlet.
Clothes to return home in–Do not pack pre-maternity jeans/pants, I'd recommend maternity leggings!
Snacks– For you and your birth partner
Reusable grocery bag for all of the stuff you'll get while there–Do not underestimate the loads of "stuff" you'll come home with!
Cheap flip flops for swollen feet/shower
Makeup remover wipes– If you're too weak for a shower, these are a life-saver!
Plan like you might have an emergency c section. Low cut pajama pants may not be too comfortable during your stay, but you'll be plenty comfy in a nursing nightgown!
What to pack in hospital bag for baby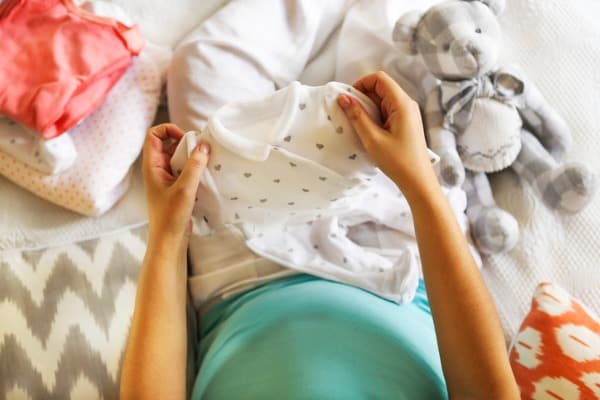 Footed zip up pajamas– just say no to anything with buttons!
Going home outfit– I'd bring both newborn and 0-3 month sizes
Small blanket for the ride home
Hospital bag checklist for dad
Phone/charger
Snacks
Wallet
Two changes of clothes
Basic toiletries
Number for pediatrician–The hospital will not let you leave until you schedule an appointment with a pediatrician.
Things better left out of your hospital bag
Breastfeeding pillow like a boppy or my breast friend–just use extra pillows to cut down on the amount of items you need to carry. If you're super worried about having it, leave it in the car and get it if necessary.
Bath towel– Yes, the towels at the hospital are super thin and cheap, but it's one or two showers of your life, you'll live!
Tons of "entertainment"– Trust me, you won't be that bored!
Slippers–Stick with socks that you're okay with throwing away
Your own pillow– I'm a pillow snob and even I left this out of my packing list because it was just too much. I was so tried, it didn't matter what kind of pillow I slept on!
Blankets for baby–Don't bring a ton of these. You really just need one for the ride home.
Diapers/wipes for baby–The hospital provides all of this.
Any pain meds/stool softeners–Hospital provides this stuff too
Birth ball/peanut ball–These are great for labor, but take up a ton of room. Most hospitals have these on hand, so don't feel like you need to bring your own.
Related reading: The labor tips I learned from my labor and delivery nurse!
What to pack in your hospital bag for a c section
In addition to the list above, here's some special considerations if you're having a planned c-section:
Eyeglasses if you're a contacts wearer, as contacts may not be permissible during your c-section surgery.
C-section friendly panties or opt for soft, disposable panties
Boppy– If you do choose to breastfeed your stomach/incision will be sore. A breastfeeding pillow will help ease this discomfort since the pillows at the hospital are pretty thin.
Book– Because you're at the hospital longer recovering from a c-section you might want to read something to pass the time.
What should I wear to hospital for labor?
Do not stress about how you look during labor!
You can be as no frills with your wardrobe during labor as you want. The hospital will provide you with a gown, but if you're hoping for a little more modesty or structure to an outfit, you can opt to pack other things.
A regular or nursing gown is a great option. You can also just wear an oversized-comfy shirt, too. Some moms really like these gownies you can order online, too. Opting to wear sports bra with the hospital gown is an option too.
Regardless of what you decide to wear, keep in mind that most hospitals will place baby on your chest immediately after delivery for skin-to-skin time and will encourage you to breastfeed within the first hour of your baby's life, so wear something that allows for this!
Tips for packing your hospital bag
While the room that you deliver in is nice and spacious, unfortunately your recovery room, is not! Pack adequately enough, but try not to overpack, as you'll be in a small room after delivery.
Pack two bags-one for labor and the other for recovery. Leave your recovery bag in the car.
Have your partner help pack the bag so that they're familiar with where things are.
To save on space, leave items you're not sure are absolutely necessary in the car, you can always retrieve them later if you feel you must have them.
Bring a reusable shopping bag with you so that you can have something to carry all of the gifts you receive while at the hospital.