Once it's time for your baby to start eating solids, moving past purees can be a bit intimidating. I know I struggled with knowing how to cook foods that would work for my babies when they were around 8 months, but eventually with enough experience, I got the hang of it.
Starting my babies on solids was one of the most complicated things I experienced during my children's first year, and to that end, I've put together several helpful guides for parents as they navigate this new time in their baby's life.
So if you've ever wondered, "what finger foods can I give to my 8 month old baby or how do I cook for my 8th month old?" This blog post is for you.
Getting started with baby meal ideas for your 8-10 month old baby
Most babies start solid foods at or around six months. Some parents choose to make their own baby food purees and others choose to go the baby led weaning route and serve whole foods. Some parents (like myself) do a combination of purees and whole foods.
By 8 months, many babies are ready for finger foods. They can sit up on their own and they're typically ready to move on to more substantial meals. Finger foods are great to practice that pincer grip, so if at 8 months you still want to offer purees, make sure to offer finger food first at every meal so baby can practice.
Usually by 8 months, many babies are working their way up to having three meals a day, but definitely by 9 months you should aim for three solid meals per day. If your baby is really struggling with solids, and it seems impossible to offer three solid meals per day, don't worry. Be persistent and try to offer at least two meals per day. Sometimes it can take a few months for babies to warm up to solid foods.
When offering finger foods at 8 months, you want food to be very soft. You can roast, steam or saute the food to achieve this consistency. Cut food the size of your pinky finger and serve. As they get a bit older, you'll cut into bite-sized pieces.
When should I serve food to my 8-10 month old?
Breastmilk and/or formula is still the most important item on your baby's menu until one. At this age, babies should be drinking breastmilk or formula every four hours during the day, and it's a good idea to offer solids about an hour after a breastmilk/formula feeding.
Some babies will have a larger appetite for solids than others. A good rule of thumb is to offer about 1-2 tablespoons of each food item, with a full meal having about two to three portions. Start with this and if baby seems satisfied–great, if not, you can offer more as long as it doesn't interfere with breastfeeding/formula.
8 month old food ideas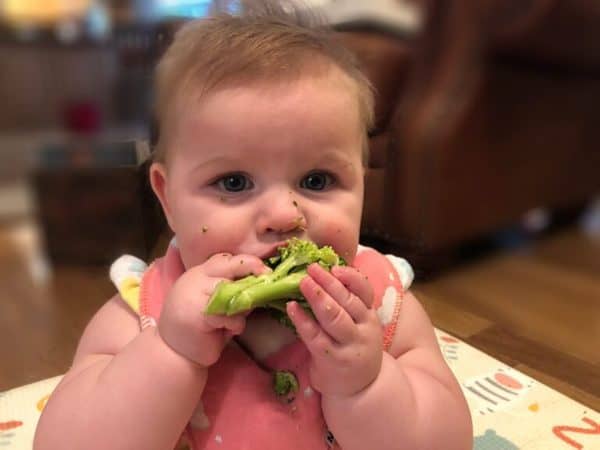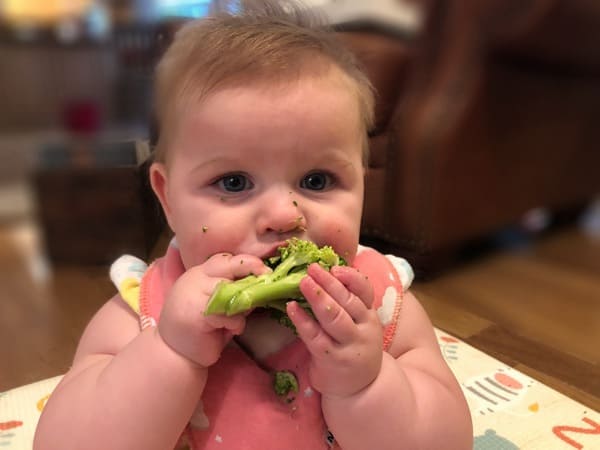 At 8 months, you want to be cutting food in pinky-sized portions if you're following self-feeding guidelines. Food should be soft and easy to mash between your fingers.
The easiest way to achieve this is to roast fruits/veggies in a toaster oven or oven, steam them using a steamer basket or use the instant pot.
Meats are the hardest items to prepare for this age; especially chicken. Fish is much easier at this stage and perfectly safe to offer to your 8 month old. Learn how to use the instant pot for baby food here.
Beyond the individual food items I'll recommend below for 8 month olds, here are some simple, no fuss "meals" for baby at this age:
Yogurt with berries
Omelette with cheese and bell peppers
Cottage cheese with mandarin oranges
Muffins
Banana pancakes (one mashed banana and one egg)
Pasta bakes
Overnight oats
Sweet potatoes: Soften in oven and cut in stripes the size of your pinky finger. As they get closer to 9 months, cut in small bite sized pieces.
Broccoli: Steam until soft and serve entire floret. As they get closer to 9 months, serve smaller floret sizes.
Avocados: Cut into pinky finger sized pieces and serve.
Strawberries: Cut off head of strawberry and hand to baby. As they get closer to 9 months, serve in bite sized pieces.
Apples: Roast apples in cinnamon and olive oil until soft. Serve in finger sized pieces. As they get closer to 9 months, serve bite-sized pieces.
Cottage cheese: No prep needed for this one!
Yogurt: Choose a whole fat plain yogurt and serve.
Beans: Wash and rinse beans and smash with your finger or a fork before serving.
Prunes: I always keep prunes handy with kids. Great for constipation, as many babies that were normal before start getting constipated when they start eating more solids. Blend up prunes with a little water and serve. Apples work really well for constipation too.
Eggs: Make an omelet and serve as finger-sized strips. As they get closer to 9 months serve in bite sized pieces.
Salmon: Roast or pan fry until cooked and cut into pinky finger sized-strips.
Chicken: Chicken is a difficult food to serve to babies because it's so dry. Cooking it in the pressure cooker helps keep it moist or you can serve chicken in a chicken salad. Serve finger-sized portion of chicken at 8 months and then bite sized pieces at 9 months. Make sure it's very moist.
9 month old food ideas
By 9 months, you'll graduate from cutting items into small bite-sized chunks. Foods still need to be very soft at this point though. Beyond the food ideas to try below, here are simple meal ideas: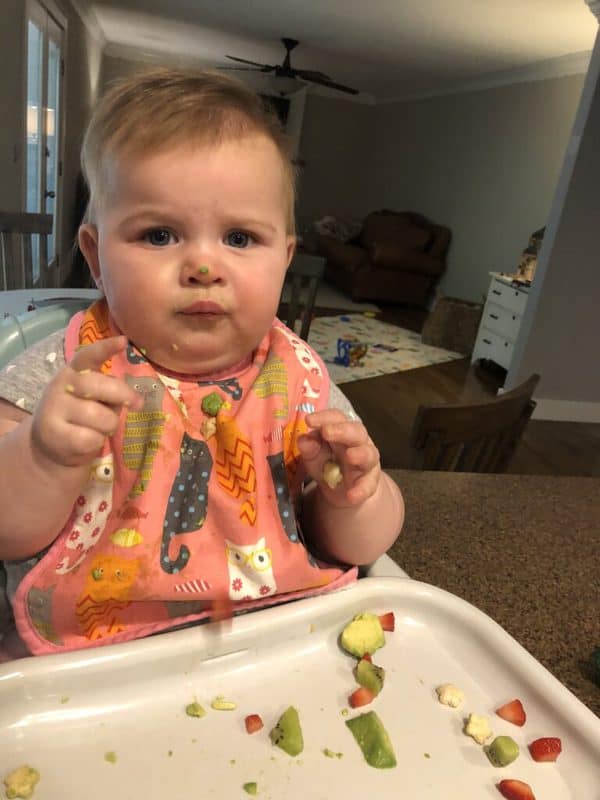 Salmon with asparagus
Tuna with olive oil spread on toast
Oatmeal with berries
Spaghetti
Quesadilla with beans and cheese
Egg muffins with veggies
Asparagus: Steam until very soft, serve edges, rather than the harder stock part.
Green beans: Steam or sauté until soft.
Carrots: Steam, make sure you can smash between fingers before serving.
Tomatoes: cut into small bite-sized pieces.
Zucchini: Saute or steam until soft.
Berries: Smash blueberries with a fork. Cut up raspberries and blackberries into small pieces.
Perfect for serving in small pieces without having to steam or sautee:
Clementines
Cantaloupe
Kiwi
Pear
Watermelon
Ground beef: Serve as cut up meatballs, shredded, or mixed with a starch like mashed potatoes.
Tuna: Add some olive oil to moisten and serve.
Nut butter: Spread very, very thinly on a piece of toast.
Oatmeal: Cooked oatmeal served with cut up berries.
Hummus: Serve by itself or spread on toast.
Rice
Pasta
10 month old food ideas
Beyond the list of individual foods to make sure your baby has a chance to sample, here are some quick meal ideas perfect for babies at 10 months:
Lasagna
Tuna salad
Smoothies
Hummus/avocado/nut butter on toast
Chicken/beef meatballs, mashed potatoes, peas
Pesto with pasta
Puree veggies to use as sauce with any type of pasta
Cauliflower: Cut in small pieces and roast in oven until soft
Peas: Cooked and smashed
Red pepper: You can either roast and cut up small pieces or cut up very thin slivers of raw red pepper.
Potatoes: Steamed, mashed or roasted
Butternut squash: Steamed, roasted or sauteed
Grapes: Grapes must be cut into quarters, not halves!
Honeydew: Choose a very ripe piece and serve.
White fish: Cooked in the oven on broil until fish easily flakes off.
Couscous
Bread: Cut into bite sized pieces.
As your baby gets closer to one, they'll soon need three larger meals, which can be daunting to think about at first. Don't stress and make sure to bookmark my giant list of meals for a 1 year old.