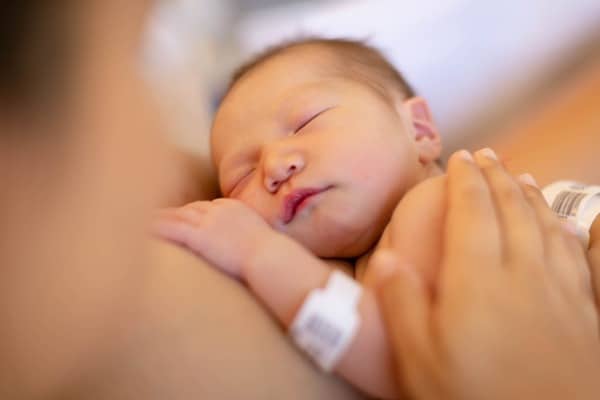 As the days inch closer and closer to your due date, you're likely wondering, what do I need for a new baby? Beyond the bigger items you likely received at your baby shower, like the stroller, car seat and crib, there are several things that are essential for babies first year.
As a mom of two, I've pulled together a master list and only recommended the items we truly loved and found to be crucial to surviving baby's first year.
2022 Newborn checklist
I've included a pdf of this new baby checklist at the bottom of this post for your shopping convenience.
Newborn baby shopping list–sleep essentials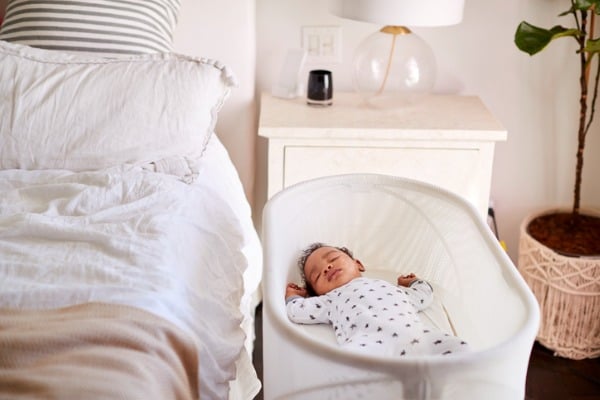 Newborns will spend the overwhelming amount of time sleeping during those first few months, and really, even the first year. Besides feeding, these things are the most crucial!
I'm a huge proponent of helping your child learn to sleep well from day one, and that starts with having helpful tools to recreate that "womb like" experience for baby as they transition to life outside of your womb.
White noise machine: I had a very cranky baby on my hand the first time around before I really understood what the fourth trimester was all about. Now that I have two kids and am studying to become an infant sleep consultant, I know even more about sleep and with that said, do not underestimate the power of a white noise machine. The womb is very noisy and it's hard for babies to sleep in complete silence. My four year old still uses a sound machine to this day!
Zippered onesies: I've included how much to purchase for each age range below in the clothing category, but zippered onesies/sleepers are an absolute must!
Swaddle blankets/swaddle sacks: Another huge help in getting baby to sleep during those first few months…swaddles! If you're confident in your swaddling skills you can use swaddling blankets or there's tons of products that make swaddling a breeze, which I preferred for my kids, as they always seemed to wiggle out of the swaddles. Swaddle blankets also make really great breastfeeding covers, as you can just tie them around your neck in a pinch.
Pacifiers: Your baby may like pacifiers or they may hate them, but regardless, I think it's a good idea to have some on hand before baby comes home. Both of my girls left the hospital with pacis.
A lot of patience: Sleep doesn't come easy to newborns. Give yourself grace. Try and lie down during one of their naps and learn the basics of newborn baby sleep hacks.
Newborn essentials: Clothing
Newborns don't really need a huge wardrobe; especially in those first few months. They grow so quickly that it's not really financially feasible to invest in tons of clothing. By far, I found the best investment was zip up onesies. Both of my babies pretty much wore nothing but that for their first few months of life. Here's some basics you can have on hand:
Zippered sleeper onesies: Don't even mess with the button up ones. Zippered onesies only. Before you deliver, you'll obviously have no idea what size baby will be wearing. Some babies need to wear preemie sizes for a couple of weeks, others will fit into newborn and some babies will wear 0-3 months. To be on the safe side and keep it more economical, I'd purchase:
3-5 newborn-sized onesies. Your best bet is to get them from Target or anywhere where you can easily return them. Wash two or three and keep the tags on the rest until you really know which size baby will wear. If you plan on having more kids, get them in gender neutral colors so you can pass them down.
5-7 0-3 month, 3-6 month, 6-9 month and 9-12 month onesies. Compared to the newborn-sized onesies, you'll feel like your kid will wear these sizes for an eternity. Here's my favorite brand and the most affordable ones I've found.
Short/long sleeve onesies: Depending on the season that your baby is born in, follow the same recommendation for number of items per age group as you see above. Both of my babies were born in the late fall, and I can tell you that having a lot of long sleeve onesies wasn't too necessary, as I really just kept them in sleepers most of the day. Spring and summer would be different though.
Pants/shorts: Stock up on some mix and match pants in each size group. You really just need a few pairs in each size group and I'd only purchase through three months before baby gets here, as the return window closes and it's easy just to order more once you know what type of size your child will need.
Something warm: Even in the spring babies will need warmer clothes than you. If you have a spring/summer baby, you can get away with a couple hooded zip up sweatshirts or cardigans. For babies born in warmer months, purchase light zip up sweatshirts and then bundle them in this. Regular coats are really difficult to get on babies until they get to be closer to 6-9 months.
Newborn booties/socks: You will lose more baby socks than you know what to do with. I'm a huge fan of skipping socks and using these instead, as I got so tired of losing them after only one wear!
Things in this category I didn't stock up on: Mittens and dress clothes. Baby mittens just don't stay on, plus I'm not a fan of keeping those on babies while they sleep. I just used a baby nail file to keep nails short and never had a big problem with them scratching their face. I also did not feel the need to get dress clothes, as it was easier just to purchase something if a situation presented itself.
Newborn checklist: Breastfeeding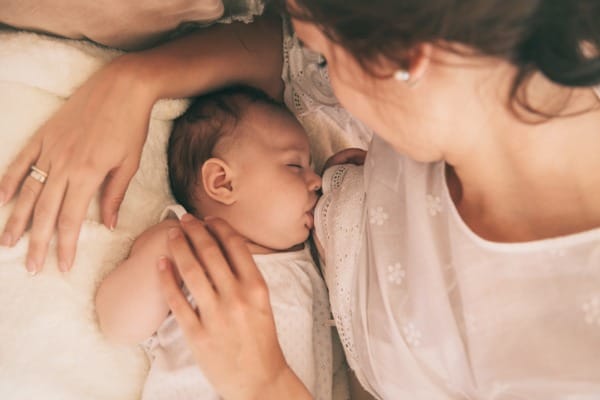 Electric Pump: Most insurance companies will issue electric pumps for free, so make sure you take advantage if you're breastfeeding. You'll likely need to build up a milk supply so you can get out without your baby or return to work. Some insurance companies are starting to cover the hands free pumps, which I highly recommend if you're going to pump a lot.
Pumping/nursing bras and camis: An absolute must for the nursing mother! I lived in these nursing camis for the first several months and if you don't have a hands free pump, these pumping bras are 100% worth it.
Spare pump parts: If you're going to pump a lot, save yourself some time and invest in a spare set of pump parts.
Breastfeeding pillow: Here's something I'm going to put on my list that I really honestly think is a nice to have, and not a must have. Pillows honestly work just the same. Now, both of my babies fed really quickly. If your baby likes to take his time, a breastfeeding pillow may be a seriously great investment. I will say, while I didn't use mine too much, I did use it for tummy time a good bit, so it does serve dual purposes.
Hand held pump/haaka: With my first baby I returned to work part time after a few months, so the electric pump was cruicial. With my second, I didn't return to work, but I knew I still needed to build somewhat of a milk supply. I ordered this hand-held pump with very low expectations and honestly, I was blown away. I could pump the same amount using this pump as I could my electric pump. It also took less time than my electric pump.
I also like the idea of a haaka during those first couple months to build up a milk supply without even trying. If you've never heard of these, read about how you can use one to easily build up a freezer stash. Learn how to use a haakaa here.
Nursing pads: You will leak a lot during those first few months. Be prepared with nursing pads. After having thrush, I switched to disposable pads, but there are washable ones on the market too.
Breastmilk storage bags: Stock up on these so you can build up your freezer stash.
High Chair
Bibs/burp cloths
Newborn items: Bottle feeding
Bottles: Babies are notorious for being picky when it comes to bottles. With my first baby I used these bottles, which are really supposed to help with colic. With my second baby I used these bottles, which were far less annoying to put together and wash.
Bottle drying rack: This is another item that is nice to have but not completely necessary, as you can get away with using a regular drying rack. If you are exclusively bottle feeding, you will find those bottles really pile up in the first few days and months.
Bottle brush
Formula: Another item to not go "all in" on until you find one that suits baby best.
High Chair
Bibs/burp cloths
Make sure to save my popular post on instant pot baby food for when your little one reaches 4-6 months.
Newborn baby needs: Diapering essentials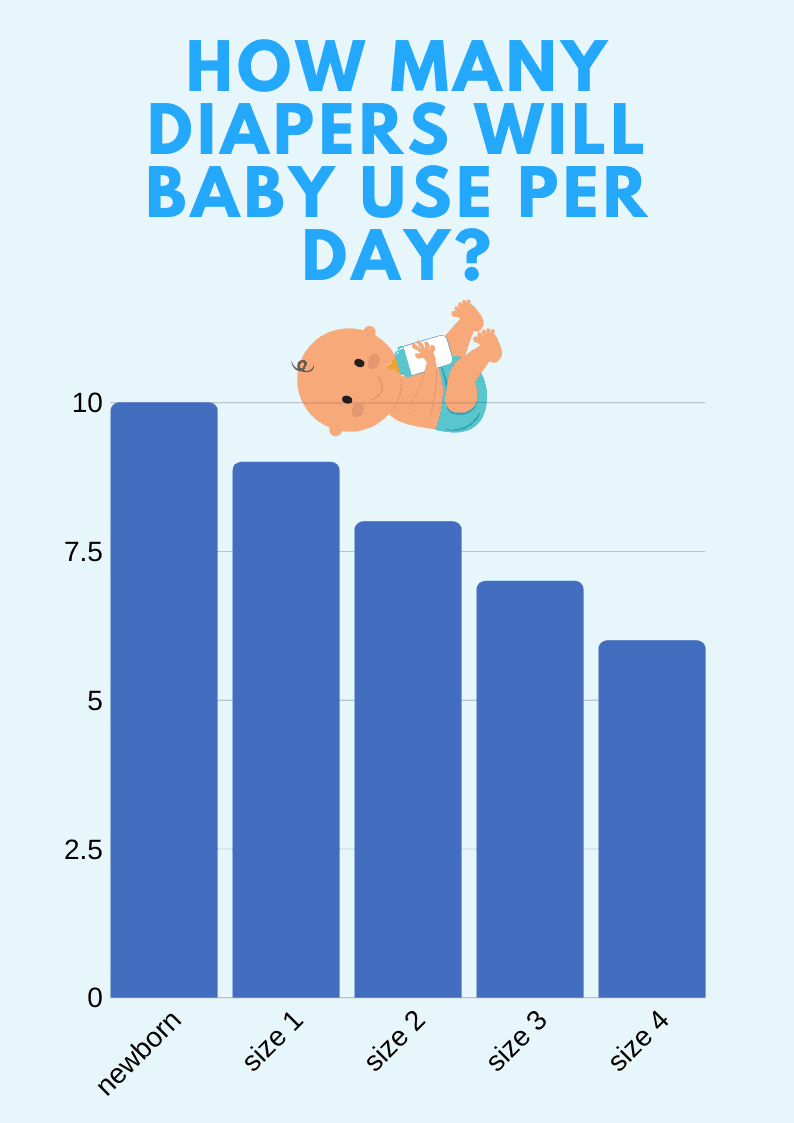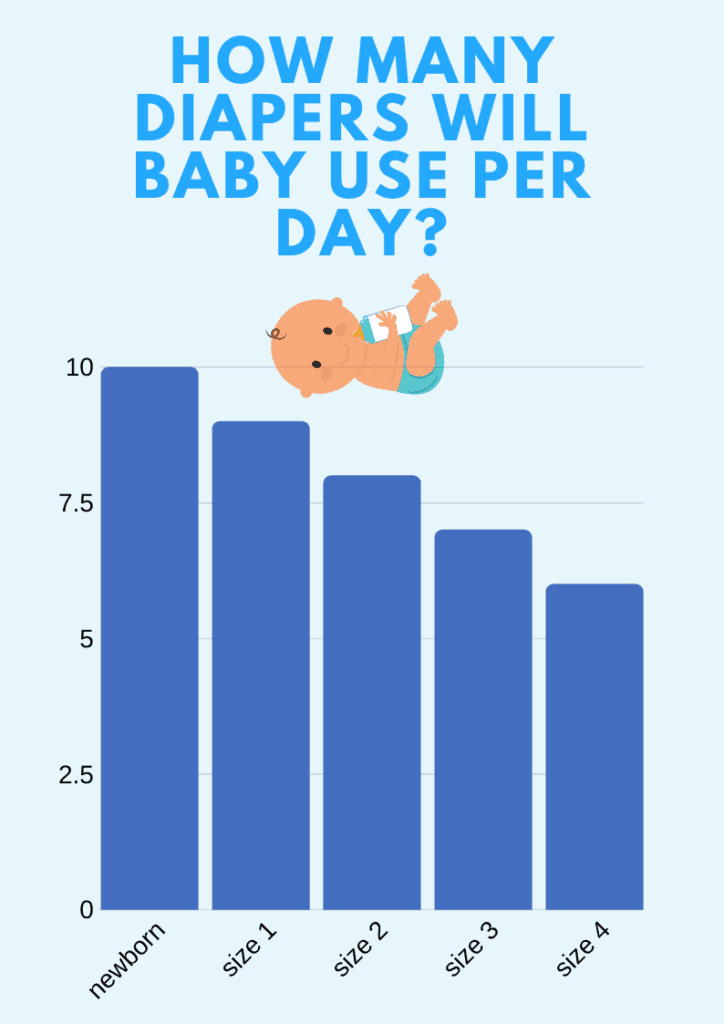 Diapers/wipes: Babies go through 8-10 diapers per day when they are first born and slightly less as they age. Don't stock up on too many newborn diapers as they quickly grow out of them. Here you can learn more about the cost of diapers and how to save.
Diaper cream: An absolute must. It's also a good idea to have baking soda on hand as a baking soda bath really helps with diaper rash.
Things I don't think are necessary: Diaper pails (basically just completely stink up the nursery! When baby's poop gets more solid, dump right into the toilet).
Baby essentials: Bath time
Baby bath: Absolute must during the first 6 months and you'll be able to use with all your babies. Warning, these things start to mold fast…make sure they're completely dried out each time.
Mild soap/shampoo
Baby washcloths
Items I did not include: Hooded towels (not a necessity at all, but does make for cute photos!) and baby lotion. Find a lotion using natural ingredients. Whole foods has great options.
Newborn needs: First aid/grooming/safety
Thermometer: Get a baby thermometer for newborns. Rectal temperature is best when they are little.
Humidifier: These are worth their weight in gold when your baby has a cold. You'll use this over and over as your baby grows to a toddler and gets a bazillion colds a year! Make sure you let air dry during the day, as these quickly develop mold.
Garlic oil: The best natural way (really works!) to get rid of ear infections that don't require antibiotics.
Teething remedies: Teethers and other natural remedies are great to have on hand as baby cuts first set of teeth.
Fingernail clippers/nail frieda: Awesome product for trimming paper-thin baby nails
Snot sucker: This snot sucker is an absolute must. Don't even waste your time with those bulb syringes.
Saline spray: Works on infants. Spray in nose and follow with snot sucker. Amazing for colds.
Epsom salt: Another amazing item to have on hand that really helps when babies/toddlers have colds.
Stain remover: You'll need a powerful one!
Baby gate/play yard: Won't be a necessity until they start moving, but great to have on hand.
Newborn essentials for the first year: Playtime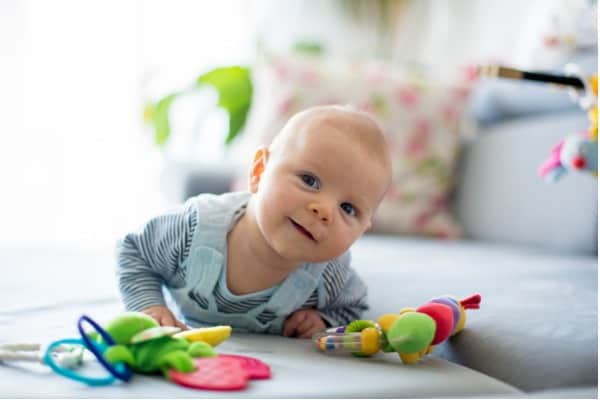 Play mat: If you have wood/tile floors these thick rubber mats are an absolute must. Even after they learn to sit up, babies topple over constantly.
Activity mat: Baby needs floor time/tummy time and activity mats are great to help baby stay entertained.
Books/toys/teethers: Beyond teethers, books and an activity mat, you won't need too many toys until baby starts sitting up. When baby gets more active, stacking cups, balls and rings are great first playroom staples.
Bouncer/Swing: Bouncers are relatively inexpensive and absolutely essential for babies, as they'll need somewhere to be when they're not having floor time or in your arms. Swings on the other hand are more expensive and some babies hate them. You're better off borrowing a swing and purchasing a bouncer.
Newborn essentials: Transporting baby
On the go changing mat: Absolute must. I recommend purchasing two and keeping one for down stairs diaper changes, too.
Diaper bag insert organizer: I never purchased a diaper bag, but used larger bags and filled diaper bag inserts with all the necessities.
Baby car mirror: Absolute must!
Car seat cover: Purchase a thin, breathable one for spring/summer and a heavy duty one for winter. Perfect for taking baby into stores/crowded areas to keep people for wanting to touch your baby!
Car seat/car seat base
Sun shade for the car
Stroller: Make sure you purchase the adapters so that you can attach your car seat on to the stroller.
Pack n play: Perfect for traveling and some people use them for play yards as baby gets more mobile.
Baby carrier: Either a wrap or a structured carrier or both is great for those first several months.
Nursery checklist for newborns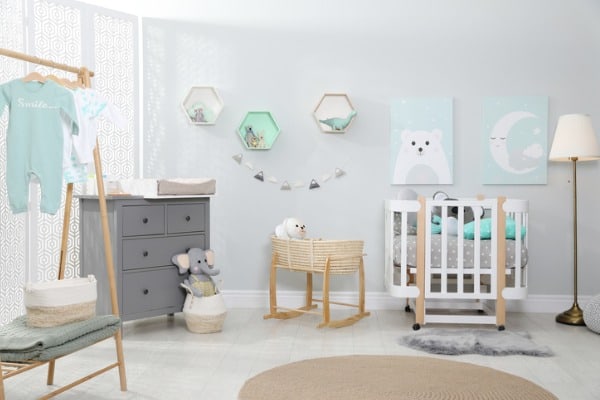 Dresser that doubles as changing table
Baby monitor
Rocker: Invest in a good quality rocker that you can use with all of your children, so purchase in a neutral color. Comfort is absolute key here, as you spend a lot of time in these over the years. Buy Buy Baby has rockers that you can test out in stores, so if there aren't tons of reviews, I wouldn't purchase something online without being about to sit in it first.
Bassinet: If baby is going to room-in with you for a time while they're little, a bassinet is a must have. Again, find a neutral color that you can use with all your children.
Changing pad and covers: These large changing pads can be an eyesore, but you can find really cute covers, that totally changes the look.
Baby hangers
Adjustable nightlight to use during night time feedings: An absolute must! Try your best not to wake baby up by keeping the lights dim!
Dresser organizer: So helpful for keeping all of those small clothes organized. Here's what I used.
Crib
Crib mattress padX2: Don't make the mistake of not having two of these for those middle of the night blowouts. These should not be padded per safe sleep guidelines.
Crib sheets X2
Crib mattress: There is currently no research to support that the breathable crib mattresses reduce the risk of SIDS, although it can't hurt. Choose a firm mattress made of natural materials.
Items I did not include: Dedicated changing table (I recommend using a dresser), diaper pail (see note above on the diapering section as to why)
Be sure to check out these baby girl nursery ideas if you're designing a nursery for a little girl.
Tips for saving money on newborn necessities
Purchasing everything you need for baby's first year or even first three months seems daunting. Here are my best tips on saving money when you're stocking up on newborn essentials.
Buy minimal baby clothes. Target and Carters have the best deals on cotton essentials. Babies really only need zippered sleepers for the first few months. Beyond that, consignment stores have great options for when you need something dressier.
Make your baby registry in advance and register for as many items on this list as you can. Amazon is my favorite place for a baby registry and the items you don't receive by your due date they typically offer a percentage off the rest of the items. I also suggest the amazon rewards card. You get 5% back on all of your purchases, which is really generous as far as credit card rewards go.
Target has the cheapest diapers and they very routinely do $20 target gift card when you spend $100 on baby diapers/wipes. Stock up when you see that, plus you can get 5% on top of that when you sign up for the target debit card.
Try to get items that are neutral in color so you can use again and again. Borrow more expensive items that baby won't use too long like a baby swing or baby bath.
Hit up consignment stores for baby gear you don't get at your shower. Many consignment stores have tons of baby gear/items.
Newborn baby checklist printable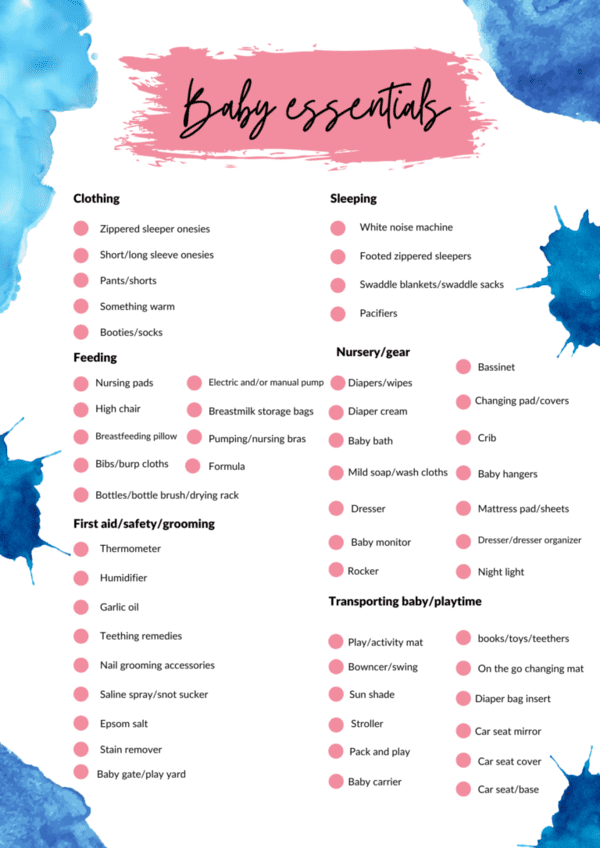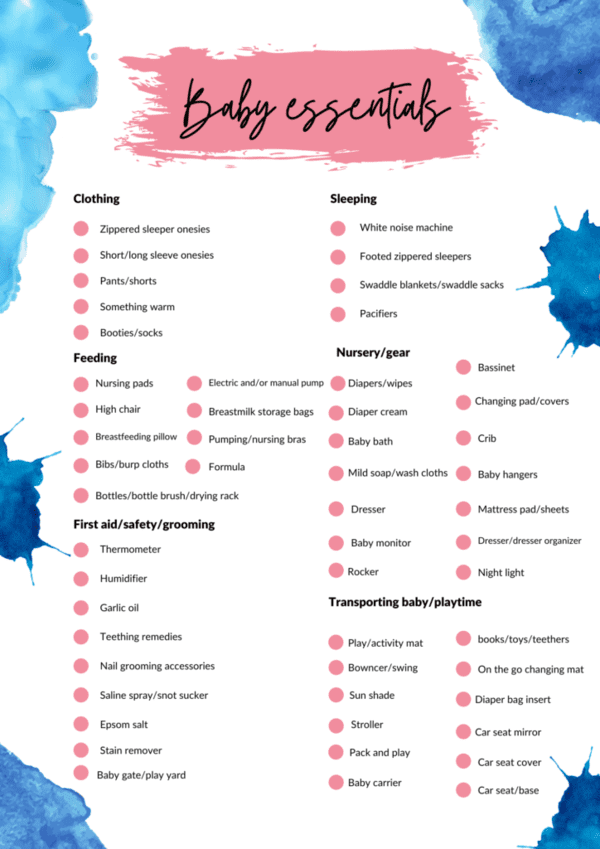 Now that you've got a great handle on newborn essentials, check out my newborn schedule and get a feel for what those first few weeks might look like. If you're just getting started planning your baby shower, browse these modern baby shower games you can play at your shower.