Searching for healthy Costco snacks for toddlers and kids? Costco has a ton of great options, and I've reviewed my favorites, below.
Many, many snacks marketed to kids and toddlers are loaded in sugar, have tons of unhealthy oils and just aren't filling. When my daughter was 1 we started working with a holistic pediatrician to fix her constant ear infections, and during that time, I learned a lot about what to look for when you're shopping for food to feed your family.
Below, I'll share snack ideas from Costco that would work for toddlers and kids (and even parents!) but use your best judgement as to when it might be appropriate to introduce food items to younger toddlers.
The 2022 list of the best healthy Costco snacks for kids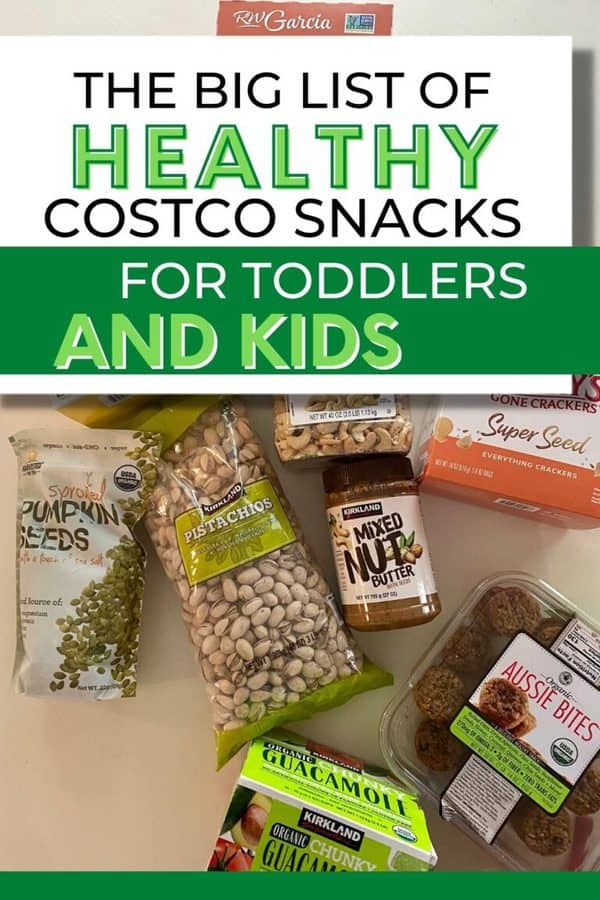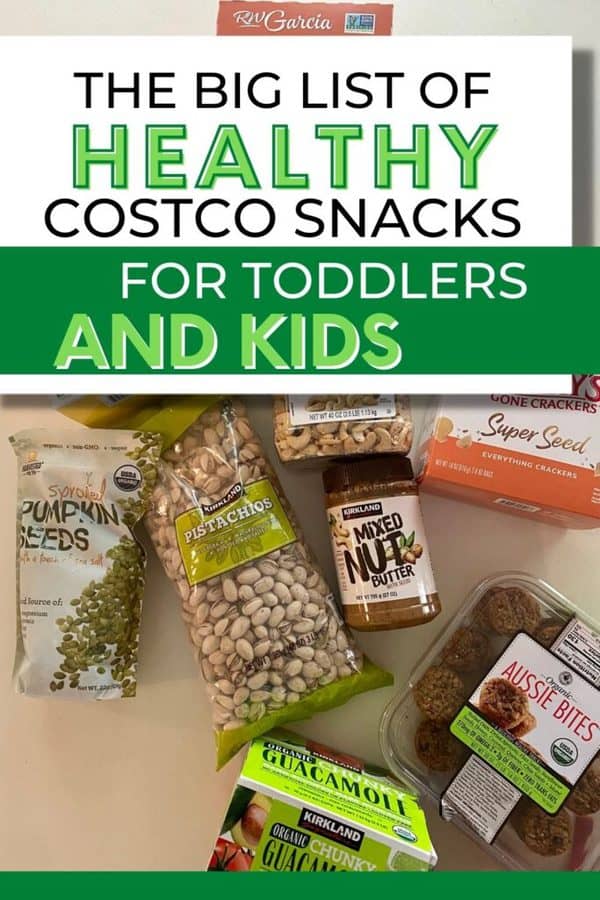 From crunchy to savory, there's plenty of healthy options to choose from at Costco.
Organic Sweet Potato Crackers
Gluten free, made of yellow corn and sweet potato, plus some healthy seeds, these Organic Sweet Potato Crackers are perfect for dipping in guacamole or hummus. No added sugar in these!
Almond Flour Crackers
I love these crackers! Made out of a lot of good for you seeds and nuts, plus cassava flour, these crackers are a hit in my house. No added sugars
Pistachios
Older kids love Pistachios. I like this brand at Costco because the only ingredients are Pistachios and sea salt–no unhealthy oils like many packaged nuts on the market.
Siete Grain Free Tortilla Chips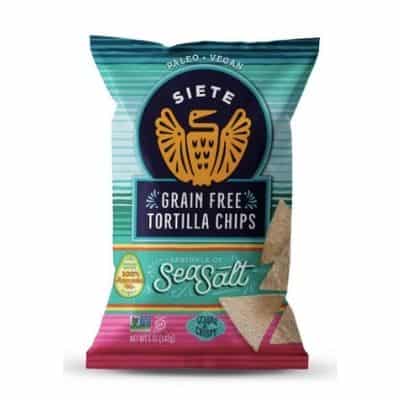 Super healthy wheat free tortilla chips perfect for salsa or guacamole/hummus. No unhealthy oils or added sugar. A win!
Organic Dried Mangoes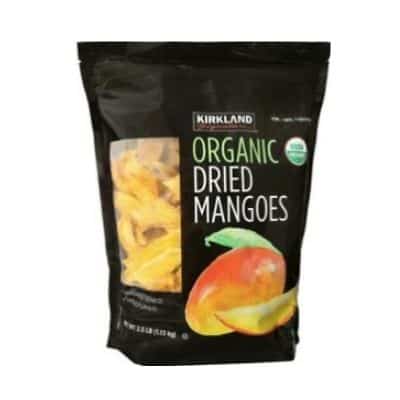 Most dried fruit is loaded in added sugar, but these organic dried Mangoes have no added sugar. A good snack to reach for when your child wants something sweet.
Organic String Cheese
This classic kids' snack is made healthier with clean ingredients.
Mary's Super Seed Crackers
This is a really super healthy snack. Made primarily of brown rice flower and seeds, these snacking crackers have no added sugar or inflammatory oils.
That's It mini fruit bars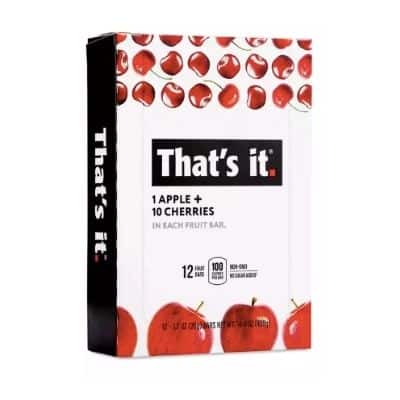 Remember the fruit rollups we had as kids? This is the super healthy version and much better for you than the processed stuff we ingested in our childhood! Just like the name suggests, the only ingredients in these fruit bars is…fruit!
Whole Cashews
Another great snacking item is Costco's Whole Cashews. The only ingredient is cashews! No added inflammatory oils like most packaged nuts you see in the stores.
Grillo's Pickles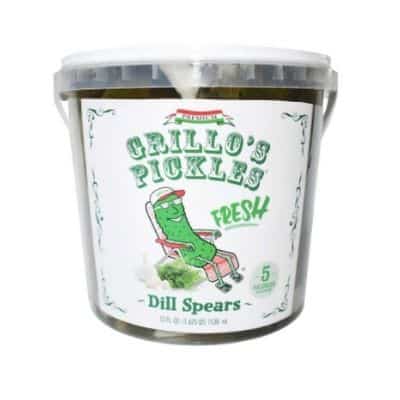 Super crunchy, super healthy, perfect for an after school snack with some crackers and hummus. Anything pickled with clean ingredients is really good for your gut health.
Mixed Nut Butter
No inflammatory oils plus a ton of healthy seeds in one smooth blend. Great on apples or Mary's Gone Crackers.
Organic Dates
Another idea for when your child is craving something sweet. These are super sweet and can even be used to sweeten smoothies the natural way.
Aussie Bites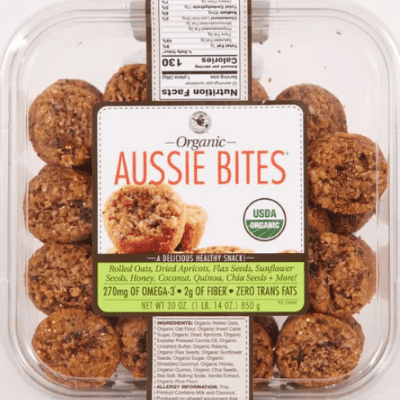 These are amazingly good! With just four grams of sugar per bite, these are a great after dinner treat or midday snack. They're made of oats, oat flower and a bunch of seeds–super filling.
Organic Guacamole
This Organic Guac is a staple in my house. Spread on toast or dip with carrots, cucumbers or crackers. All fruits and veggies in this, no added anything unhealthy.
Organic Hummus
Another great thing to have on hand, plus it comes in individual snacking containers that work for snacks and school lunches.
Organic Feta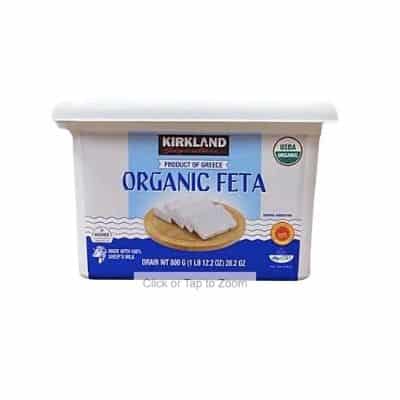 This comes in a huge block of feta but you can cut smaller pieces and put in easy to grab containers in your fridge. Perfect for a snack you can build with crackers and tomatoes.
Plantain Chips
Most potato chips are loaded with inflammatory oils, but not these Plantain Chips. No inflammatory oils whatsoever in this bag. The only ingredients are plantains, coconut oil and himalayan pink salt. Great with Guac!
Pumpkin Seeds
Did you know pumpkin seeds are a great source of zinc? These pumpkin seeds at Costco are completely clean–no unhealthy oils. I like to make snack bags with pumpkin seeds, cashews and pistachios. A great, filling snack.
Bare Organic Apple Chips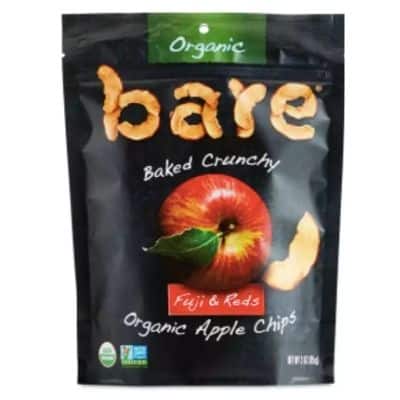 Again, unlike most dried fruit at the stores, this brand is completely clean. The only ingredient in Bare Organic Apple Chips is Apples!
Lara Bars
Sometimes I have a hard time finding these at my Costco, but when you can find them, grab them. With just three grams of added sugars and made of nuts, seeds and dates, this is a solid snack for when you're looking for something that's really filling.
Seven Sundays Granola
Granola is another one of those items that is typically loaded with sugar, and even with some of the popular organic granola options, too. This Seven Sundays brand is super clean, ingredient-wise. No added sugars, plenty of good-for-you nuts and seeds. Sweetened naturally with dates.
Autumn's Gold Grain Free Granola Bars
Another great snack idea for those grab and go moments. This granola bar has a bit more sugar than I'd like to see for a snack (6 grams) but once and a while, this is a good choice. Clean ingredient list otherwise.
Hard boiled eggs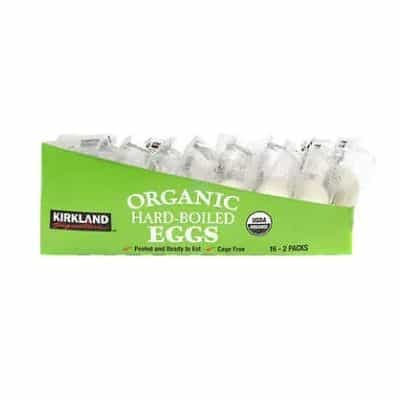 These hard boiled eggs come in packets of two and are absolutely perfect for after school snacks. My kids dip them in hummus or guac.
Frozen and fresh fruits and veggies!
I like to buy a bunch of veggies and fruit from Costco and then wash and immediately slice up to store in the fridge. This way you can quickly hand to your kids. Veggies are great for dipping in hummus or guac or by themselves.
The criteria to use when choosing healthy Costco snacks for kids
Hands down, Costco is my favorite place to get healthy snacks for our family. I'm continually blown away by the organic whole food offerings they have, both packaged and fresh. However, not everything is healthy there and you really have to examine all ingredients on packaged items. For the most part, here's what you want to look out for when selecting something:
Organic is always good, but that doesn't always mean it is a "healthy" item.
For the most part, you want to limit packaged foods that have inflammatory oils. Oils like canola oil, sunflower oil, corn oil, soybean oil, safflower, sunflower. Some of the items on this list did have some of these oils, but they were organic products for the most part, meaning the way the oil is processed is a bit healthier than non-organic items. However, you still want to consume those in moderation
Sugar is typically hidden in most snacks for toddlers and kids. Did you know kids and toddler should only have 24 grams of added sugar per day? When you're reading the nutrition label on packaged goods, you see total sugars and added sugars. Many of these snacks on this list have naturally occurring sugars from dates or figs, and you can ignore that. What you're looking for is the category that has added sugars.
Items that look healthy at Costco but actually aren't
If you google healthy items at costco, you'll find the items below on a lot of lists. I want to point out why these aren't the best options.
Cliff Z bars– With 9 grams of added sugar, plus inflammatory oils, there are many other healthy options
Veggie Straws–loaded with inflammatory oils and potato starch, this isn't only unhealthy but it's not filling whatsoever. Great snack to spike blood sugar and then have hungry, whiny kids an hour later.
Kind Bar–out of this entire list, this is on the "maybe" list. Not healthy but not crazily unhealthy. Four grams of added sugar, plus unhealthy oils and not an organic product put this in the no category for me. But in a pinch, sure, not a terrible choice.
Nature's Baker Fig Bar–When I first found these I thought they were going to be a great addition to my snack drawer. Upon further inspection, they've been ousted. Canola oil plus 14!! grams of added sugar. Way too much sugar for a snack. As a once in a while treat, sure.
Sun Chips–With canola oil as the second ingredient and 3 grams of added sugar, there are just much better options in terms of crackers to choose from. Go with Plantain chips, gone crackers or the almond flour crackers if your kid wants something crunchy.
Belvita Breakfast Biscuit–I'll admit, before I started really getting into healthy eating, I used to love these. With 12 grams of added sugar plus tons of inflammatory oils, this is just not a good option.
Nature Valley Granola Bars–Same story as most of the above options. 11 grams of added sugar plus inflammatory oils, is a hard pass.
Black Forest Organic Gummy Bears–11 grams of added sugar, inflammatory oils ( yes the are organic, so not AS bad) This is a treat, not a snack.