To decorate my daughter's nursery, I put together a mood board that really helped to pull the entire room together. I had so much fun doing it, I came up with four other baby girl nursery ideas that I wanted to share.
In case you're wondering, a super easy way to recreate these mood boards is in canva. Simply screen shot the items you're considering and upload them to canva. You can use the background remover option to give the design a clean look.
4 Super cute baby girl nursery ideas
Below you'll find mood boards with the links to shop the items. I'll also explain the process for designing your own nursery theme.
Girl nursery themes–pink floral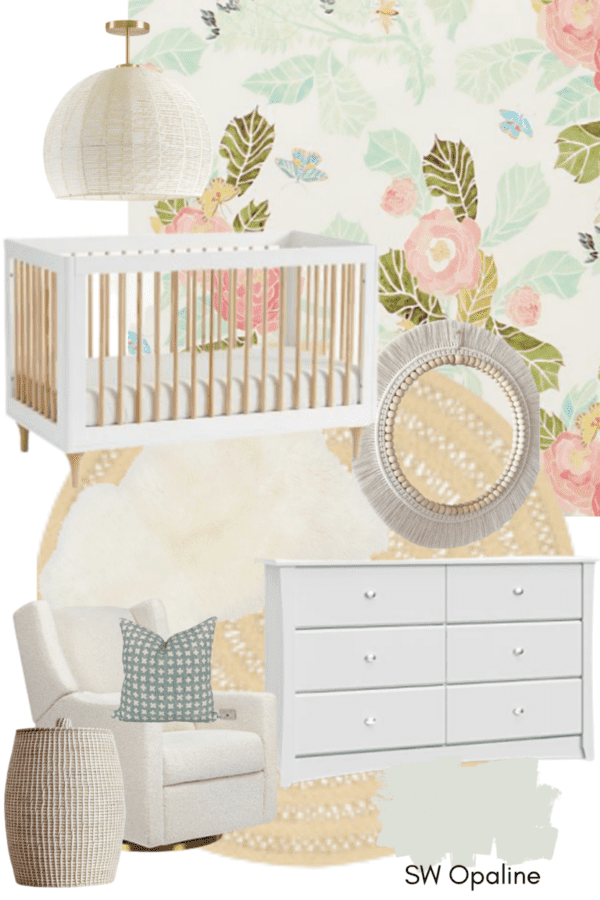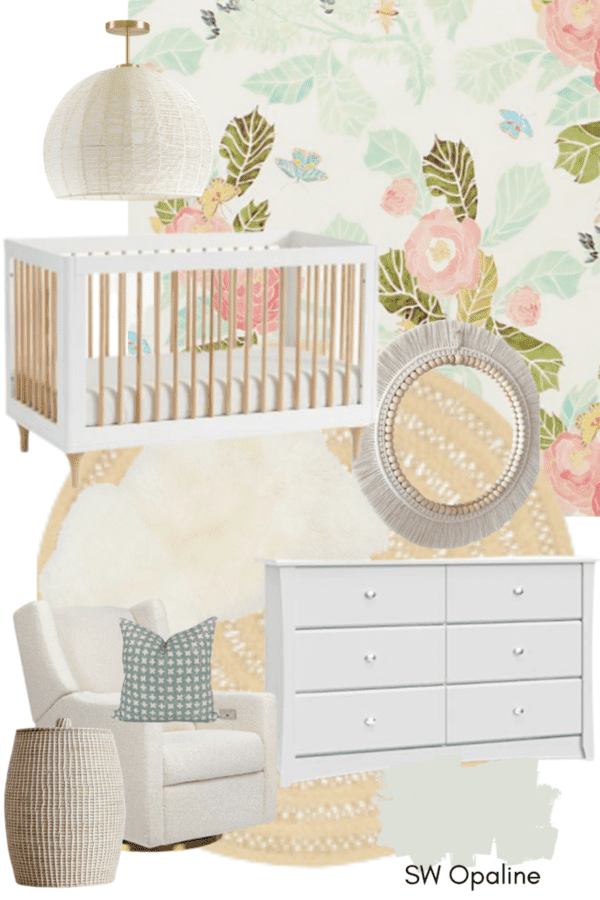 Crib | Rocker | Pillow | Rug | Sheep skin rug | dresser | mirror | wallpaper | light
We'll start with the quintessential pink baby girl's nursery. For this room, I used the pretty pink wallpaper as my inspiration piece and then built the rest of the room around that. I layered a lot of textured elements to give the room some definition, like the unique mirror above the dresser, light and hamper.
The room is designed to have an accent wall with wallpaper and then the other three walls would be painted with Sherwin Williams Opaline, which is a really pretty pale blue/green hue that picks up the blue/green leaves in the wall paper and the green throw pillow. I would probably also repeat the blue/green hue on the crib sheets and in the curtains.
Alternatively, you could do a traditional pale pink in this room to match the flowers in the wall paper. For soft pink options that aren't too pink, I like Benjamin Moore Tissue Pink.
Blue baby girl nursery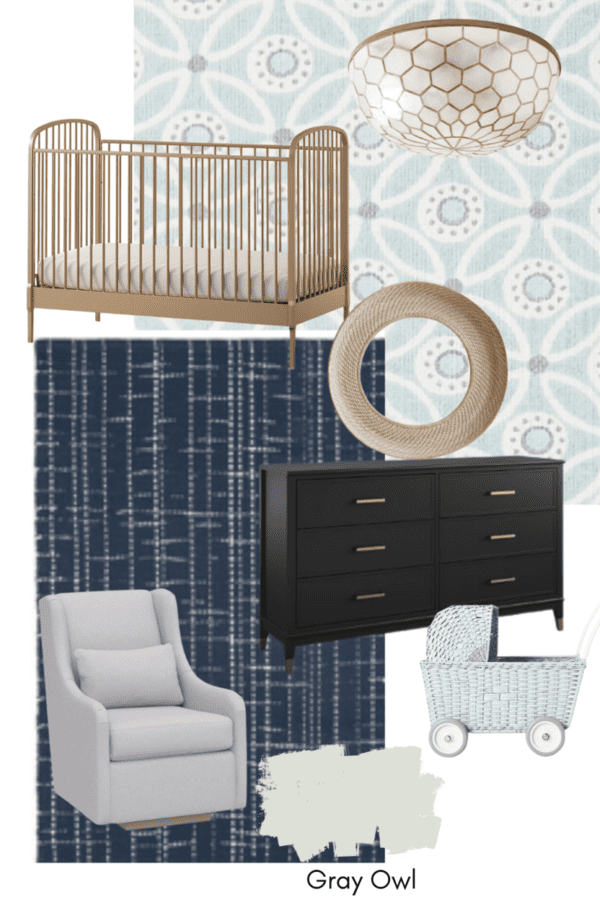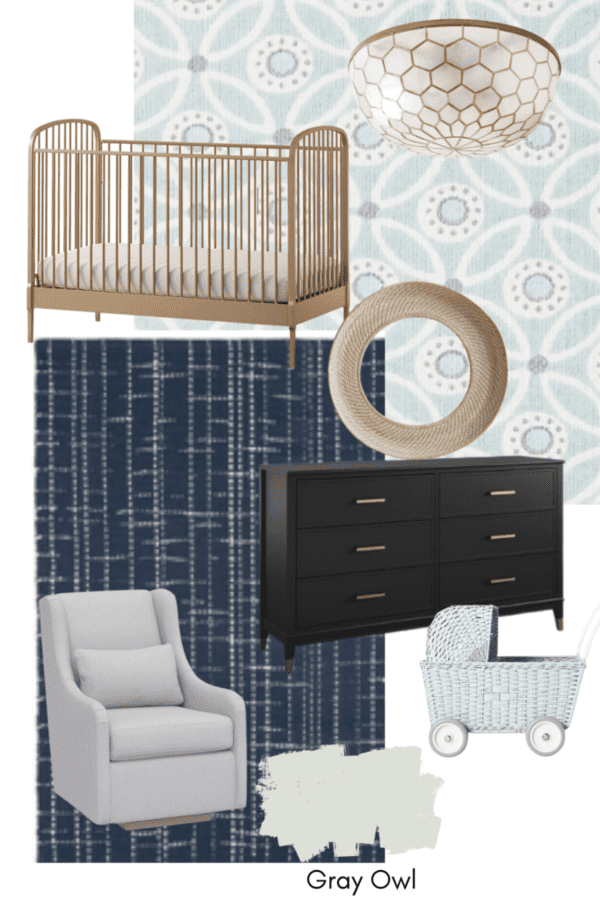 Rocker | Rug | Wallpaper | Dresser | Mirror | Light | Crib | baby carriage |
Who says blue is just for baby boys? Blue is my favorite color to decorate with and I happen to love how it looks in baby girl nurseries. I've softened up the blue by pairing it with this really pretty wallpaper. Just like with the last room, I've used the wall paper as a jumping off point, and then built the room around that.
The gold crib is a bit of a risk, as you just don't see gold cribs too often, but I've made it fit beautifully into the room by using gold accents on the dresser and the lighting. The natural-textured mirror works to soften up the strong black dresser in this baby girl nursery, and you could also add some other textured elements like a pouf or hamper (like the one in the first mood board) to soften the space.
Gray Owl is a beautiful, very pale gray with blue undertones–perfect for the blues in this room.
Girl nursery ideas–pink princess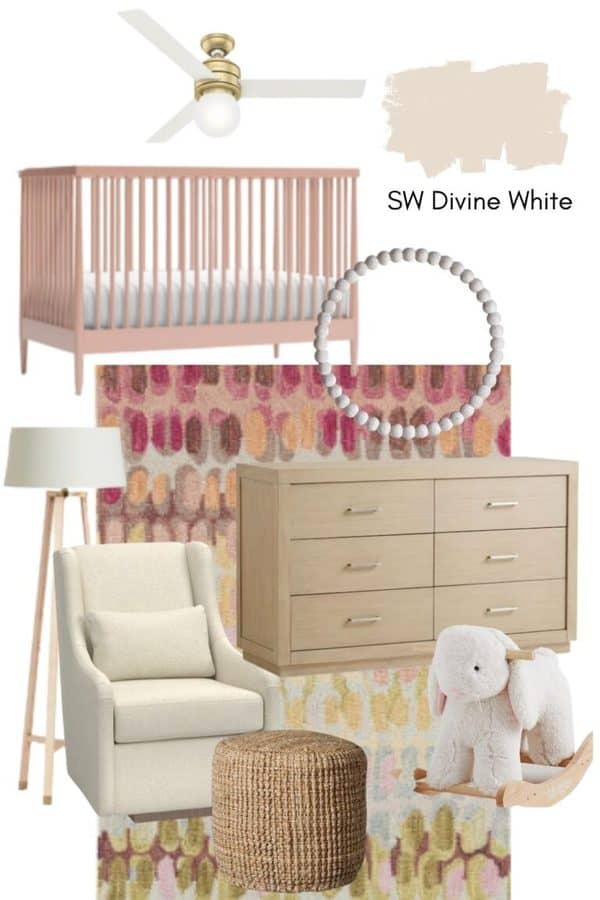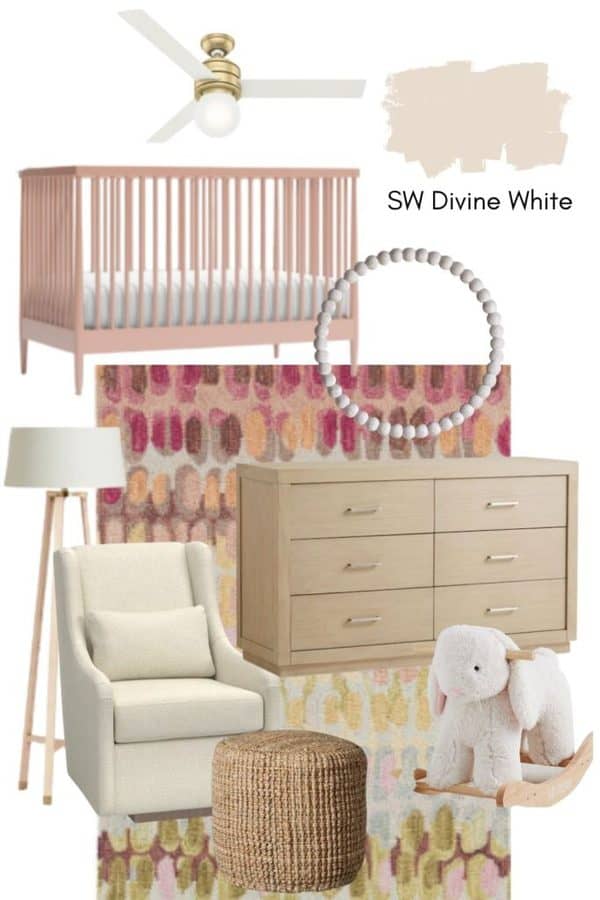 Rocker | Rug | Dresser | Mirror | Light | Crib | bunny rocker | pouf | fan
For this girl nursery theme, I went all in on the pink! My inspiration piece for the whole room was this beautiful pink watercolor rug. I paired it with a pink crib and I'd also layer in some soft pink-patterned drapery and an accent pillow to pull the color throughout.
I went very natural with the ottoman, dresser and lamp base to round out the room, as every space should have some natural elements to balance it out.
Divine White by Sherwin Williams is a creamy beige with pink undertones, perfect for all the pink in this princess nursery.
Sophisticated purple nursery theme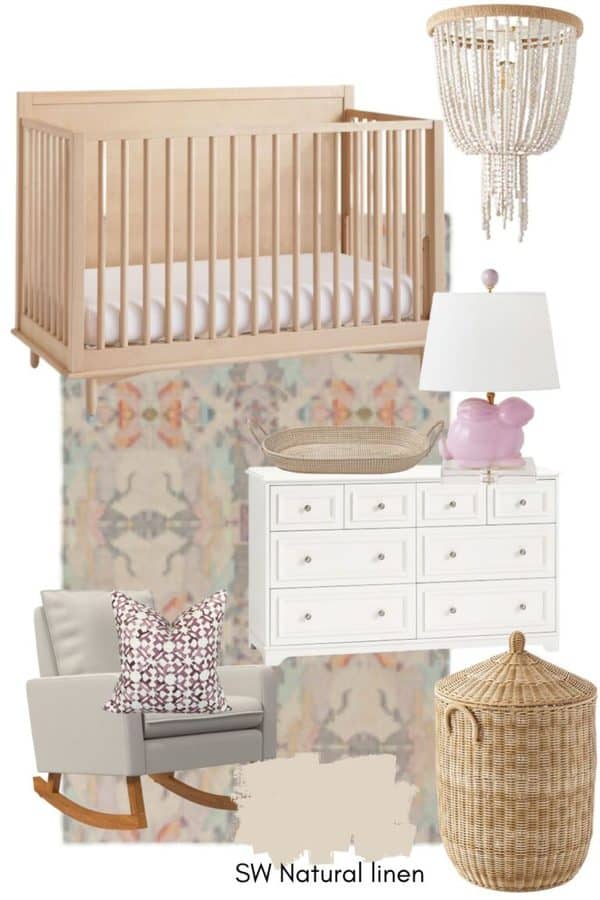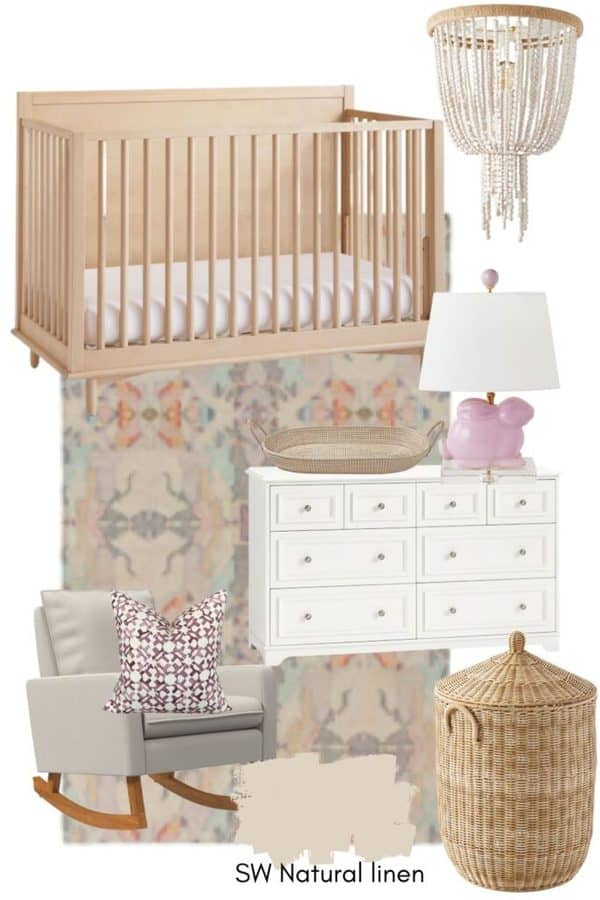 Rocker | Rug | Dresser | Light | Crib | lamp | hamper | pillow | changing basket |
This beautiful purple/beige rug was my starting point for this baby girl nursery. I pulled the purple through in the lamp and accent pillow. I'd also probably repeat it in artwork and/or drapes, as well. Ideally, you need to repeat an accent color three times for it to look balanced.
I went with a very neutral wooden-toned crib that could easily be passed down to a baby boy years later. Besides the crib, I also added a good bit of natural elements with the wicker hamper, chair and changing basket.
I've chosen Sherwin Williams Natural Linen for this room, as it's a pretty light beige with a pink undertone–perfect for the pink in this rug.
Tips for coming up with baby girl nursery ideas
You don't have to be an interior designer to pull together a pinterest-worthy nursery. The easiest way to put together a well-designed space is to start with an inspiration piece and build the room from there.
For example, find a great piece of art, a rug, drapes or wall paper. Ideally you want to only use one neutral tone and no more than three colors. For example, if your rug has tones of pink, orange and purple, much like the one above, you could accentuate all three of those in the room without it feeling like too much.
The rule is to repeat your accent colors three times in various sizes. So, if you want pink to be an accent color you can't just repeat it in tiny little items, you need to really commit!
I have another blog focused on home decor/renovation and here's my instagram account showing our daughter's nursery. I chose blue and purple to be the main colors I focused on and you can see how I repeated them.
Tips for small baby girl nurseries
Choose a dresser that doubles as a changing table. Keep the first two drawers open for diapering items so you can easily access them.
Maximize closet space by adding in an inexpensive closet system to store clothes, toys and a clothes hamper.
Shelving is your friend! Find functional shelving, and store items vertically.
Use the back of the closet doors and bedroom door for storage.
As you prepare for baby, you may find this newborn baby needs checklist super helpful!