The average cost of diapers might shock you. I know it shocked me.
When I was pregnant I heard rumors that babies went through a lot of diapers. I mean a lot. During my pregnancy I tried to get a handle on how much we might be spending each month after the baby arrived so I set out to get a baseline cost estimate of each of the necessities.
I also looked for ways to save money wherever I could, too.
In my research and experience raising a baby I've got a few secrets I want to share with fellow moms. I'll break down the average cost of diapers per month and also let you in on 10 secrets to saving tons of money on diapers.
This post may contain affiliate links. Read my policy here.
How much do diapers cost?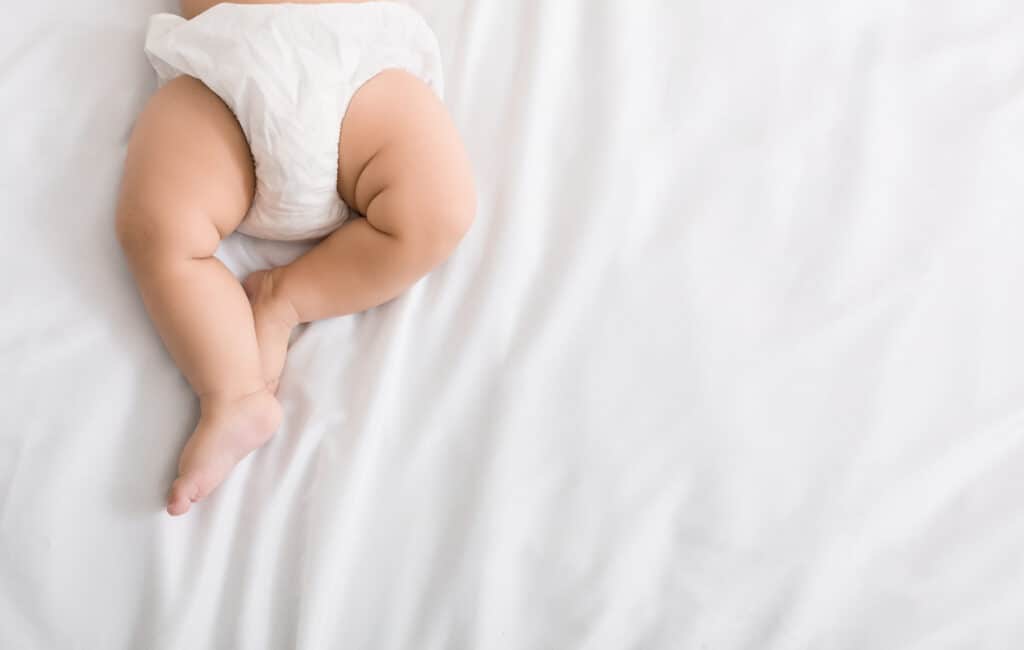 As babies age, they use less diapers than when they are first born. During your baby's first month of life, you can expect them to go through 8-10 diapers a day, and sometimes more.
During their second month to about their sixth month, most babies will need to be changed no more than 8 to 10 times a day.
As they get older, at around 6 months, they tend to only go through about 8 diapers a day.
Roughly, the average cost of diapers is about .20 per diaper. You can expect to spend more or less than that based on brand, coupons used or buying in bulk (we'll go into this in detail below).
Here's a helpful chart to show you how many diapers you can expect to go through each day based on diaper size.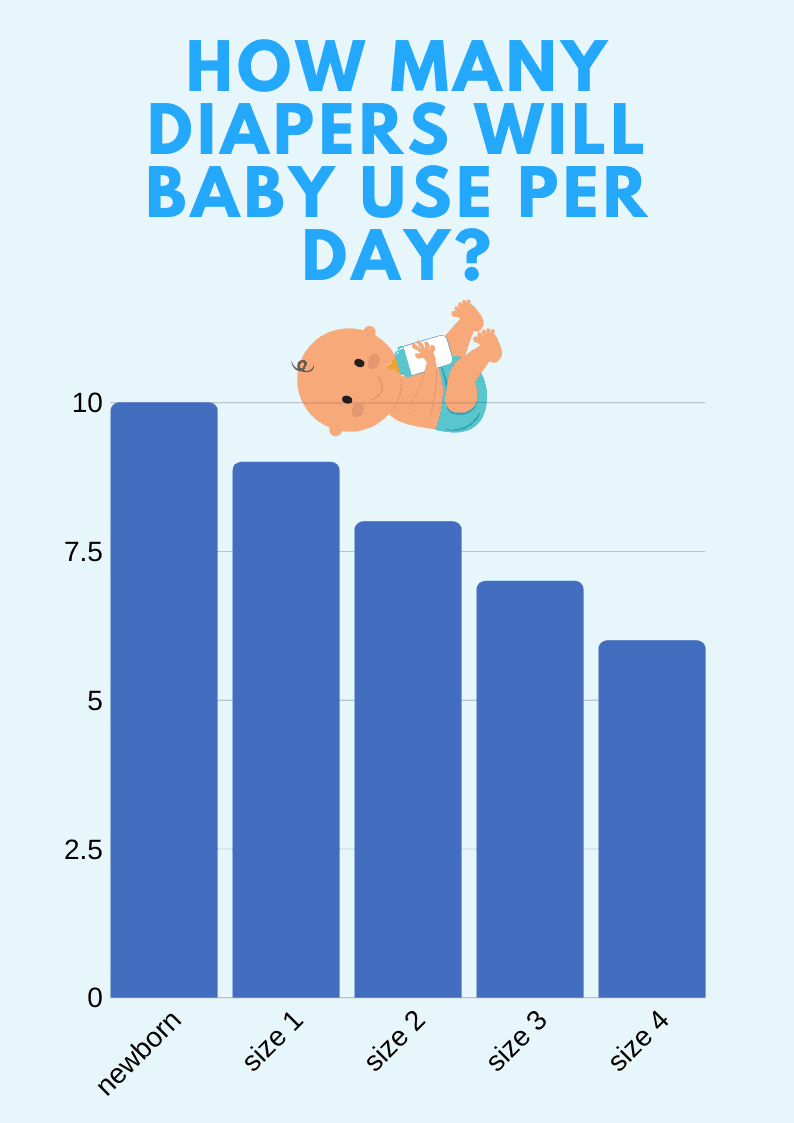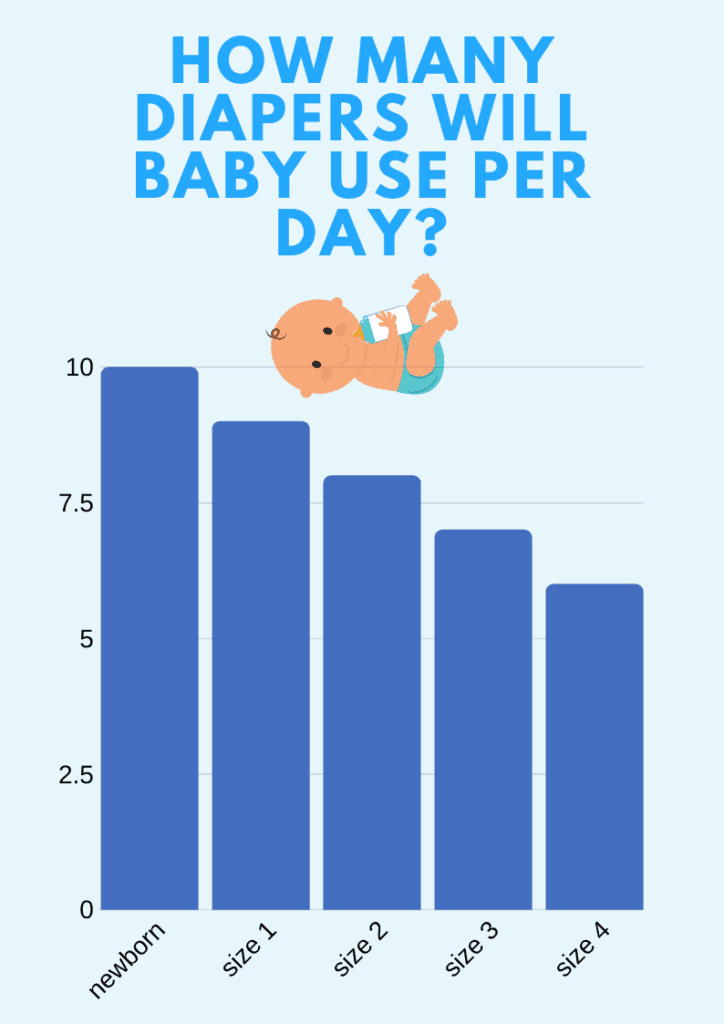 How much do diapers cost per month?
Based on .20 per diaper and 10 diapers a day, in your baby's first month, you can expect to spend about $60 per month on diapers (or less if you shop smart– techniques to help you do that are below!)
This cost will decrease only slightly as your baby ages, and you can roughly budget about $48 per month on diapers during months 2 and on.
Oh, and don't forget the fact that they're aren't just in diapers for their first year– diapers will be on your shopping list until your child is potty trained, which is typically around age 3.
10 ways to save money on diapers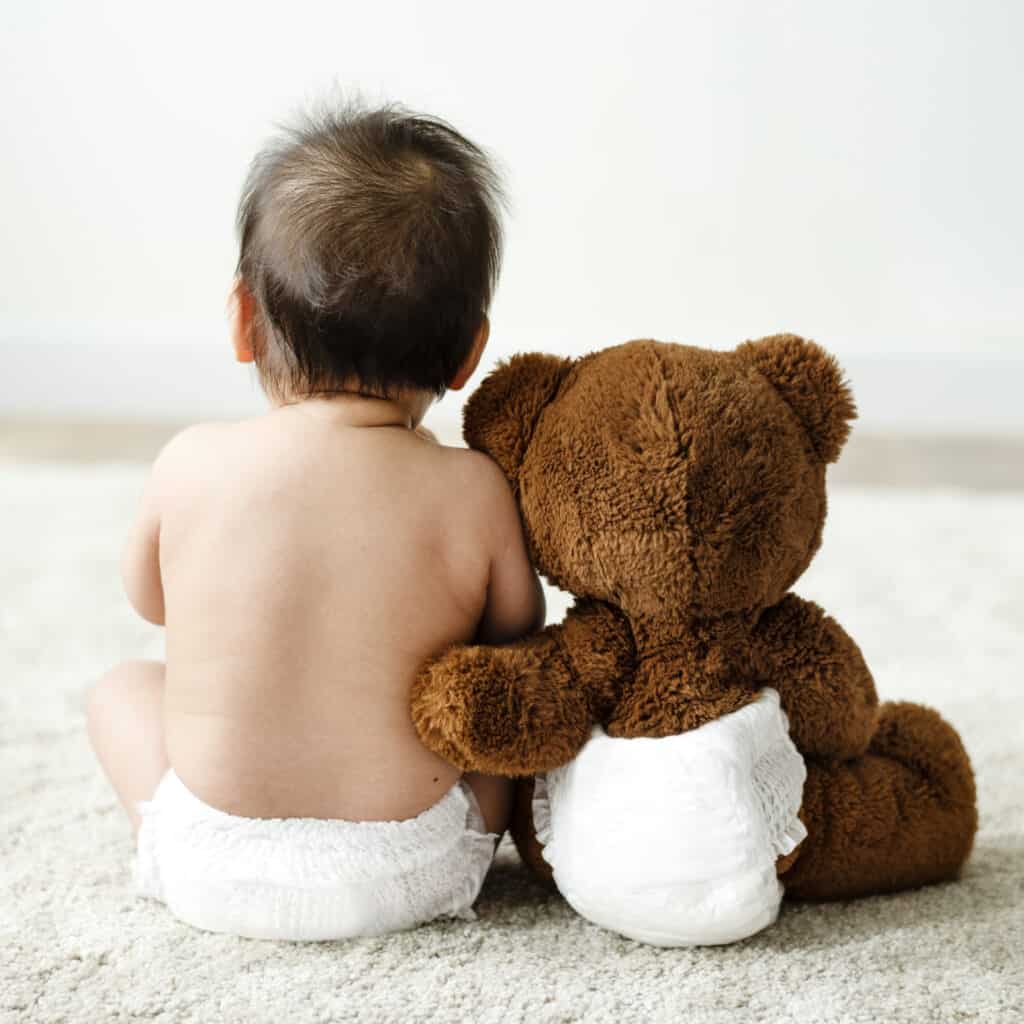 Use Rakuten to save on diapers online
First things first, make sure you're signed in to Rakuten (formerly Ebates) if you're buying diapers online.
Whether or not you're buying diapers or sweaters, if you're purchasing anything online and not going through Rakuten, you're losing money.
I've been using this site for about four years now, and it's super easy. All you do is sign up, and then make sure to hop on Rakuten and type in the retailer you're about to make a purchase from before you complete your purchase.
Rakuten will automatically send you back the retailer's website and you can complete your purchase as you normally would.
Since I've started using Rakuten I receive a check each quarter and it's typically pretty sizable since I do the vast majority of my shopping online.
Use manufacturer coupons
I've never been a couponer, but when Emma was born and I watched her expenses continue to add up, I wanted to find ways to save money. Yes, it can seem like you're only saving a small amount by using coupons during each shopping trip, but it really, really adds up.
Over the course of a year if you track it, you'll likely be surprised to find out you've saved several hundred dollars.
Luckily, couponing is super advanced these days and you don't have to spend a ton of time scouring the Sunday paper for coupons to clip. Here's the best resources for finding coupons online:
Coupons.com
Coupons.com is one of the largest and easiest ways to save coupons online. There's also an app so you can use it at the grocery store, too.
Savings.com
Savings.com is a great way to know exactly where the deals are. Just type in "diapers" in the search and it instantly pulls up the lowest prices sorted by stores you're close to. You can also tell the app to notify you when items you're looking for go on sale. This is such a time saver!
Try other diaper brands
When my daughter was first born I went through a lot of mom guilt and felt like I needed to buy her the best of the best. When I decided to significantly reduce my hours at work to spend more time with her after maternity leave, things had to change with our budget.
I started allowing myself to get over the mom guilt and get creative with our budget, so enter: off-brand diapers… gasp!
Guess what? A few days in to trying Target's store brand I was kicking myself for spending almost double that amount on name brand diapers for the past few months.
Store brand items are not what they used to be many years ago and I continue to be amazed at the quality and price-point of store brand items for many different household things I buy. Give off-brand diapers a try and watch your diaper bill be cut in half overnight.
Save on Diapers at Target
Target is one of my very favorite places to shop for diapers for a few reasons: You can pile on the discounts, the Red Card is amazing and their store brands are super inexpensive and work really well.
To save money buying diapers at Target, first make sure to download the cartwheel app so you can keep up with any sales and promotions. New deals drop each Sunday, and you can combine coupons.
Currently, Target's coupon policy let's you use one manufacturer coupon (paper or cartwheel app), one Target promotion (paper or digital) and one Cartwheel offer.
Next, you'll want to take advantage of the Red Card perks– you can get 5% cash back on top of items that are already discounted. If you hate credit cards, Target offers their Red Card in the form of a debit card too, so you don't have to miss out on the savings.
One of my favorite things to do is to buy diapers in bulk when they run a promotion like buy $100 worth of baby products, get a $20 gift card and use my Red Card 5% on top of that.
Target also has great store brand diapers that are way cheaper than the name brand diapers, and in my opinion, work just as well.
If you'd prefer to get a diaper subscription sent to your house each month, you can automatically save 15%, plus free shipping (you must purchase with the Red Card for this) on the diapers included with their baby subscription.
Make sure to sign up for their baby registry, too, because everything that isn't bought is yours for 15% off. I put one large pack of newborn diapers and two large packs of size 1 diapers on mine and when one large packs wasn't purchased I scored it for 15% off.
Save on Diapers at Amazon
As far as I'm concerned, Amazon is a new mom's best friend. It's no fun to take a tiny baby out on an errand run, and Amazon makes it way too easy to get everything your baby needs with the click of a button– even diapers.
The secret to saving money on Amazon is Amazon Family. Through Amazon Family you can get up to 20% off subscriptions to baby stuff, including diapers (use the code link to receive your first month free if you don't have Amazon Prime!) Check the full list of baby items eligible for the discount.
You do need to have Amazon Prime to access the discount, but in my experience, you can make your money back very quickly. You can also sign up to get the Amazon Prime Visa Rewards card and get 5% on all your Amazon purchases and $70 instant cash back, which nearly pays for your first year of Amazon Prime!
If you register through Amazon, you can also get a 15% coupon to purchase everything that wasn't gifted to you, so make sure to put some diapers on your registry, too!
Try cloth diapers
Cloth diapers have come a very long way in the last decade and more and more parents are turning to them for the cost saving and sustainability factor, too.
Parents have traded in cloths held together with safety pins for more durable cloth diapers held together by snap closures.
Estimates on diaper expenses related to cloth diapering come in around $600-900 (this figure includes laundering) for the entire 3 years that your child is in diapers.
You can even recoup around 30% of that money by reselling the diapers after your child no longer needs them. And your future children (and your wallet) can use their siblings cloth diapers.
Comparatively speaking, you can expect to spend about $2500- $3000 for three years on disposable diapers.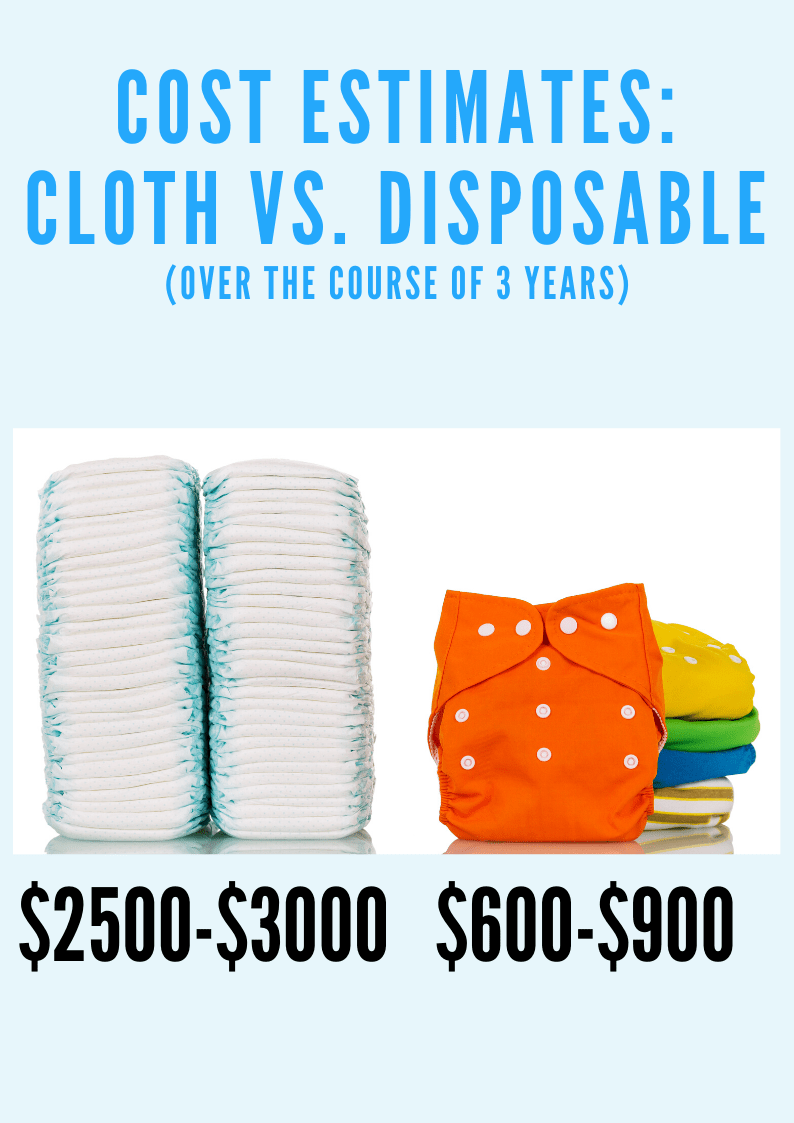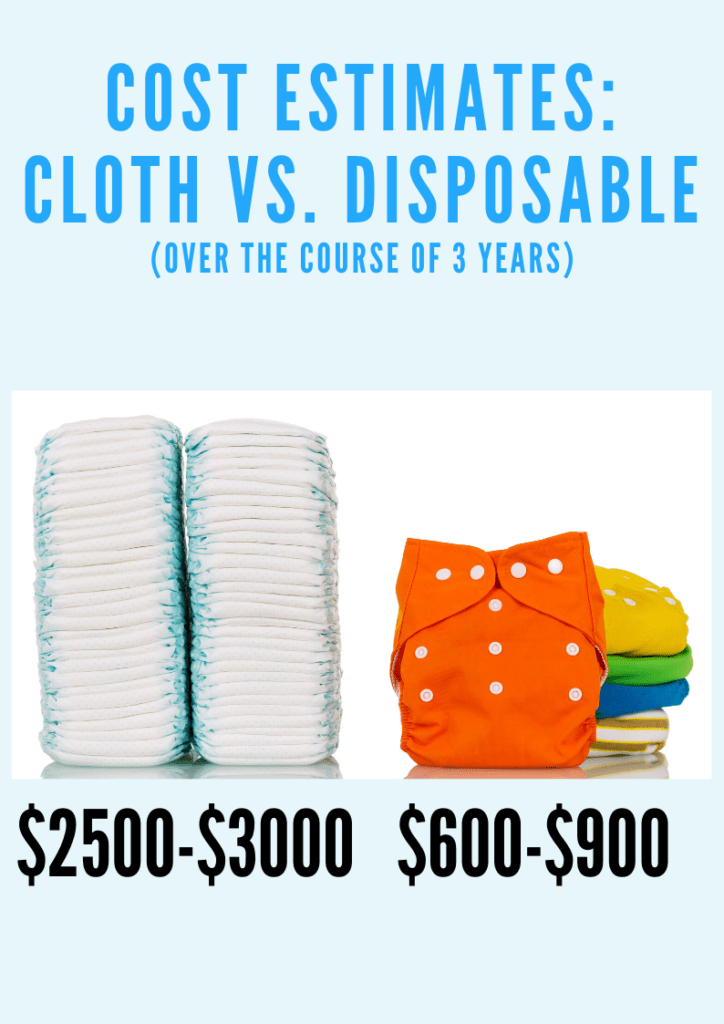 Pay attention to the per diaper price
It's hard to know when you're getting a good deal sometimes, but a sure fire way you can know you're getting a bargain is to focus on the per diaper price only.
For example, I typically don't like to spend more than $.14 per diaper, and when I get really crazy and combine a bunch of coupons/store promos I can usually find diapers for $.10 each.
Don't move up in sizes too quickly
When I was buying newborn diapers, I'd opt for the biggest diaper count package, which contained 164, so imagine my disappointment when I thought about ordering the next size up and the largest box only contained 148.
If you can make the smaller size work for a bit without suffering leaks or back blowouts, it's worth it.
Buy in bulk
You might be tempted to just toss a 30 count of diapers into your cart at the grocery store, but resist the temptation and save more money by only buying in bulk.
Armed with the amount of money you want to spend per diaper, plus any manufacturer's coupons you've scored, pair those with an in-store or online promotion and stick to only buying in bulk.
I don't recommend buying the newborn or size 1 in bulk, as your baby might grow out of those sizes quicker than you planned on. (Newborn diapers typically fit babies weighing 10 pounds or less). Plus, you can always throw a big pack of newborn and size 1 diapers on your registry.
Use Ibotta
Ibotta.com isn't for coupon clipping, but rather it's a program that gives you cash back for going grocery shopping. Once you've downloaded the app, all you have to do is select your store and view cash back offers for items you might be purchasing.
Once you've shopped, scan your receipt or link your loyalty card and the cash back is added into your account within 48 hours.
Buy discounted gift cards
Buying gift cards at a discount to a retailer you were already planning on spending money at is a no brainer in my book.
I like to use sites like Cardpool.com to look for gift cards I can buy for less than face value. You can save up to 35% off face value. Using cardpool has saved me tons; not only do I use this site to score gift cards for stores I routinely shop at, but I also use it for birthday and Christmas gifts, too!
Yes, diapers can be expensive, but if you shop smart you can almost always find a good deal. If you're not into searching for bargains, I'd go with Target's baby subscription or Amazon Family. If finding good deals makes you happy, consider using some (or all!) of the methods above for rock-bottom prices on diapers.
Keep reading: How much does a baby cost? Find out how much you can plan to spend on raising baby and money saving tricks to help you save where possible!
Keep reading: How much does daycare cost? Plus, 5 ways to save on daycare.