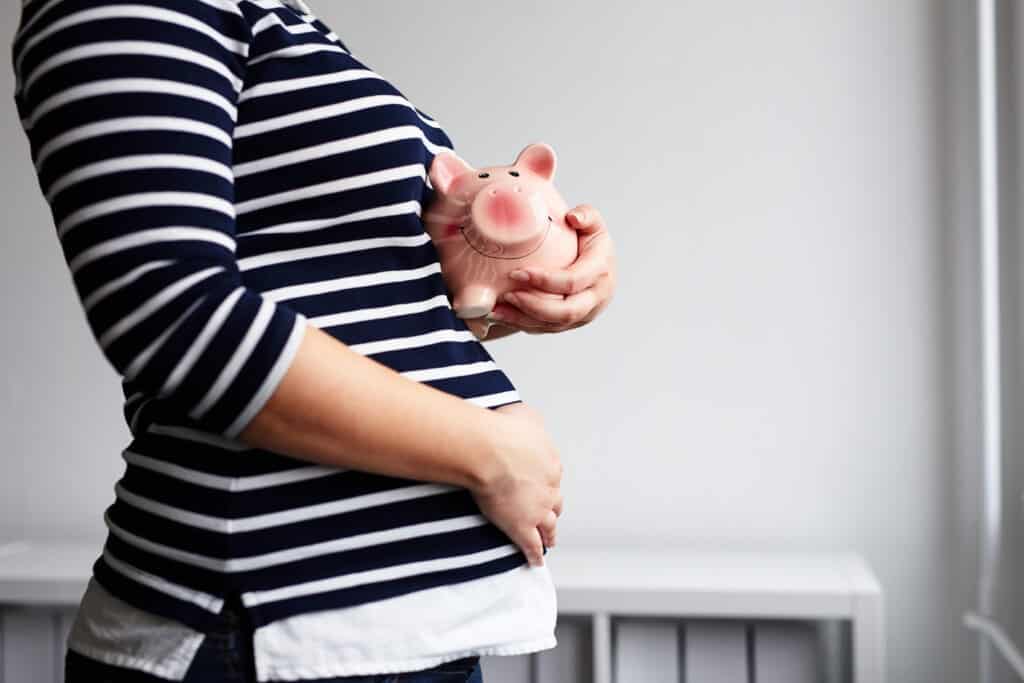 When I was pregnant I had no idea how much raising a baby would cost.
Sure, I had heard my friends who were parents mention the outrageous cost of formula or how quickly you go through diapers, but I hadn't really sat down to think about every single line item and how that would impact our budget.
Just preparing for baby's arrival was expensive and I remember thinking how I wish we would have started saving for baby stuff much earlier.
So just how much does a baby cost? The answer might be more than you think.
A baby is expensive, but your precious little bundle shouldn't break the bank if you plan ahead.
This post may contain affiliate links. Read my policy here.
How much does a baby cost?
Before I start to unpack the costs associated with having and raising a baby, I do want to point out one pearl of wisdom that my husband often reminded me of, which is: If you wait until you're completely financially ready to have a baby, you'll never have a baby.
So keep that in mind before you start to think you need to wait until money is flowing out of your ears to have a baby!
A recent study found new parents can expect to spend upwards of $20,000 in baby's first year alone.
Between health insurance, diapers, baby gear, feeding your baby, childcare, and more, let me tell you– it adds up quickly.
Now that you've picked your jaw off the floor, don't panic– just plan ahead! I'll break every expense down and give you helpful money saving tips along the way.
Labor and delivery charges
As soon as you become pregnant or even if you're thinking about becoming pregnant, take a look at your health insurance benefits.
You'll want to know early on just how much you're on the hook for.
Just to give you a ballpark, here's an awesome list of the average cost of having a baby broken down state-by-state. Just glancing at this list, based on what we paid (after insurance paid their part), it's pretty dead on.
Now's the time to beef up your HSA contributions. Contribute beyond what your employer is already and chances are, with just a nominal contribution each month on your part, you'll likely be halfway to your out-of-pocket expenses by the time you receive your hospital bill.
Keep in mind too, once you receive your hospital bill you can be put on a payment plan. Most hospitals offer payment plans with little to no interest to fit virtually any budget.
How to save: Call your insurance company the moment you become pregnant to discuss your portion of labor and delivery costs and start saving. Save first to your HSA account and then chuck extra into your savings.
Health insurance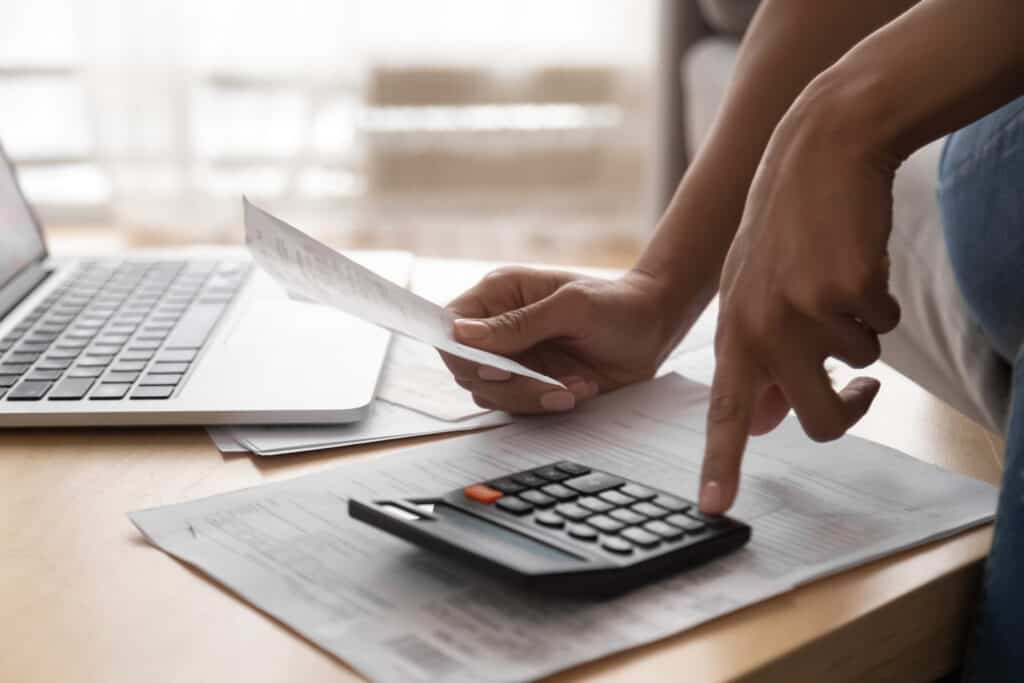 While you can certainly pick and choose which baby products are absolute necessities, healthcare isn't something you can decide on having.
As soon as you become pregnant, review your health insurance plan with your employer. Compare and contrast benefits and cost with your spouse's health insurance policy, too.
How to save: Factor in the additional cost of adding your baby to your healthcare plan and put a little aside each month towards that added expense.

Nursery and baby gear
Turns out babies don't actually need that much stuff.
Beyond love, basic clothing, a warm place to sleep and food, babies don't really require a bunch of fancy equipment.
I continue to be amazed at all the "designer" baby gear out there. And you can very quickly get caught up in letting mom guilt convince you to buy top-of-the-line baby gear.
Save money on baby's items by getting creative: Facebook marketplace, thrift stores, garage sales or friends who have already had babies are all great resources to find significantly reduced baby items.
Put big ticket items like your crib, stroller, car seat and monitor on your baby registry. Aunts, uncles, grandparents, parents and close friends and family will likely want to help out with the more expensive items, anyway.
Here's a basic list of items you'll need for baby:
Crib

Crib mattress
Monitor
Bottles
Formula
Infant car seat
Stroller
Blankets
Diapers
Wipes
Diaper cream
Baby bath
Basic clothing
Breast pump (check with your insurance, you can most likely get this for free!)
Here's a list of items you don't need for baby:
Swing
Baby towels
Changing table (let a thrift store DIY dresser double as a changing table)
Diaper pail (these are great, but you certainly don't need them.
Jogging stroller (basic stroller will due)
Glider (any comfortable chair will work)
Mobile
Bumper
Nursing pillow (a basic pillow will work)
After you've had your showers tally up the rest of the items you absolutely have to have and start hitting up consignment shops, thrift stores and friends for inexpensive alternatives.

Trust me, you'll be amazed at the gently used items you can score outside of retail stores.
How to save: Don't get carried away and purchase unnecessary items for baby. Look to second hand shops, thrift stores and Facebook marketplace first for big-ticket baby items.
Feeding your baby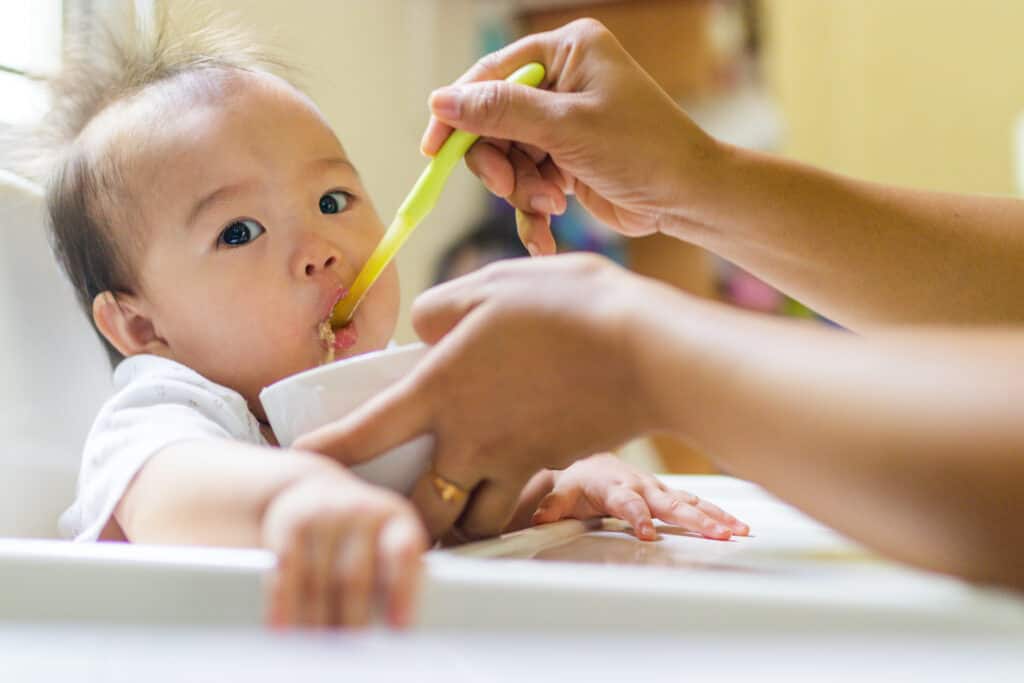 I completely understand that for a lot of different reasons, sometimes breastfeeding isn't in the cards.
But if you're contemplating not breastfeeding, it's important to consider the cost of formula feeding first.
Kelly Mom has a great resource and has actually studied the typical amount parents spend on formula each year.
On average, parents spend anywhere from $816 to $3,163 on formula in their baby's first year.
Likewise, when baby starts eating solids, you can save a ton of money by making your own baby food.
How to save: Breastfeeding and making your own baby food will save you hundreds of dollars during your baby's first year.
Child care
Would you believe that more than 33% of families spend over 20% or more of their annual household income on childcare?
The extravagant cost of childcare is something that totally caught me off guard. Here's a few childcare cost saving secrets I've picked up:
I found the more affordable and high-rated the daycare center, the quicker spots filled— so start calling daycares the moment you become pregnant (in some major cities, you might even consider doing this before you become pregnant, as the waitlist is often pretty long).
If you have an an FSA through work you can contribute pre-tax funds($5000 max per year for married couples) directly from your paycheck.
Church daycares tend to be much more affordable than other options. YMCA also has pretty cost-effective options, too.
If you'd prefer to have a nanny, look into options to share a nanny with another family.
See if you and your spouse can shift work around so that you only have to pay for care a few times a week.
How to save: Child care is expensive. If you're planning to return to work but are having trouble figuring out how you'll afford childcare, see if you can get creative with your schedule to reduce the amount you'll spend on child care.
Want even more ways to save on daycare? Read my post: How much does daycare cost?
Diapers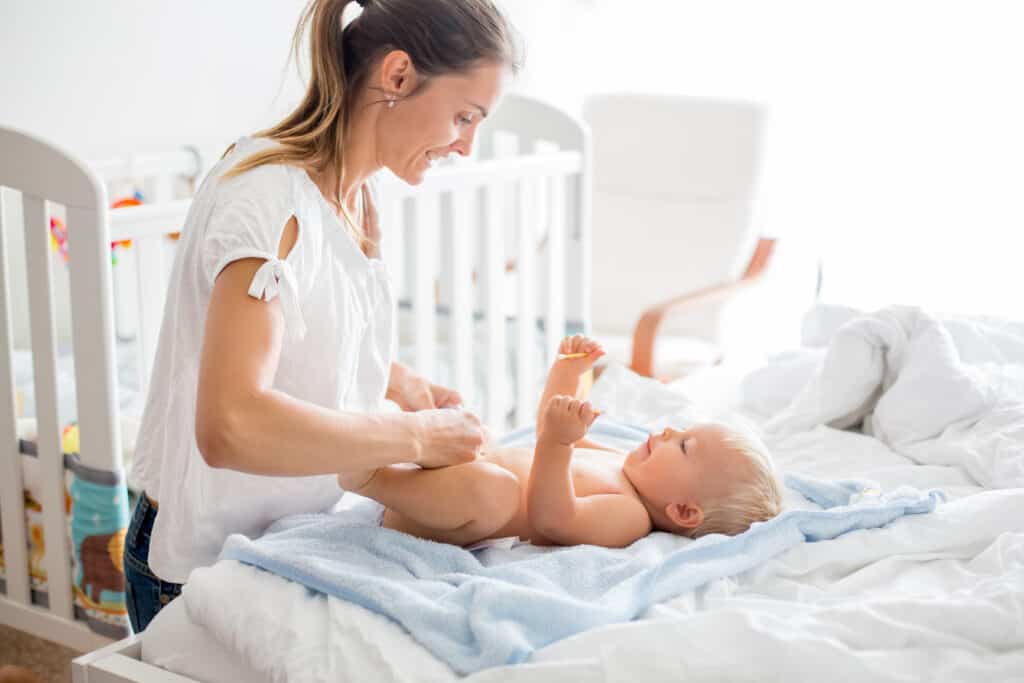 Newborn babies go through an average of 6-8 diapers a day. That's a lot of diapers.
At about $0.20 per diaper, the cost of diapers can easily set you back quite a bit!
I didn't do cloth diapers, but I'm totally kicking myself in retrospect. I could have saved hundreds.
You can also save a ton of money if you shop smart and prepare a diaper stockpile. Expect to spend significantly less than .20 per diaper if you use coupons and sign up for diaper savings programs.
How to save: You'll save hundreds using cloth diapers or by getting smart with coupons!
Toys
No surprise here, toys are expensive. See a trend? Practically everything you need or rather think you need for baby is expensive.
Why?
Retailers know parents and soon-to-be parents have a whole lot of guilt wrapped up in thinking they need to provide their baby with nothing but the best.
Don't give into this guilt brought on by retailers who want your hard-earned money! Your baby does not need a ton of toys.
Before our baby arrived I didn't buy too many toys at all and I kept fretting about it. I can't tell you how many times I told my husband, "She just doesn't have any toys!"
He told me she didn't need that many toys countless times, and guess what?
He was right.
How to save: Toys, just like clothes and gently used baby gear, can be purchased second-hand for a fraction of what you'd pay at retailers. Don't let mom guilt make you feel like you need to spend a lot on toys. Trust me, in the first 6 months your baby will require very little and delight the most in YOU!
It's true, babies come with added cost. But they don't need to break the bank. Start planning and saving as soon as possible to reduce unwanted stress associated with draining your bank account.
How much does a baby cost per month?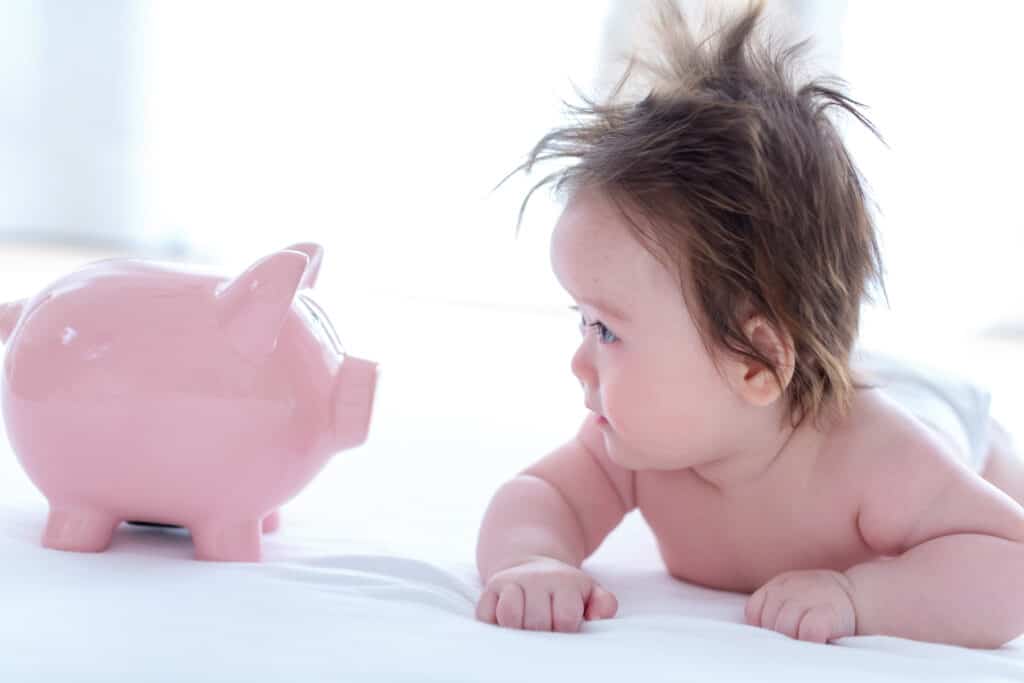 Below you'll find an average cost for on-going monthly expenses you can expect to spend on your baby.

Diapers/wipes

Diapers can add up real quick. You can save money by trying cloth diapers or by shopping smart and buying disposable diapers for cheap.

The average cost of diapers per month can run about $60. If you shop smart, you can budget for about $40 per month. For cloth diapers you can expect to save about 35-40% the cost of disposable diapers per month.

On average, budget about $20 per month for wipes.

Clothing
During your baby's first year, he'll grow like a weed. Don't expect him to stay in a size for too long, so it's a good idea to buy a small amount of clothes in each size and not go crazy or you'll soon be packing clothes away that still have the price tag on it.
The good news here: you'll likely get plenty of clothes from your shower so you should have the first few months covered.

On average, a healthy clothing budget for a growing baby is around $60 per month. Save money by shopping consignment sales or only buying items on sale.

Formula
If you're not exclusively breastfeeding, formula can add up fast since that's all your sweet little baby will be consuming for 6 months.
As you introduce solids between 4 to 6 months, your formula cost might go down, but only slightly, as food before one is really just for practice.

According to Baby Center, new parents can expect to spend anywhere from $70 to $150 per month on formula. Costs will go up if you buy organic formula or specially formulated formula, too.

Solid Foods
Most parents start introducing their babies to solid food right around the 6 month mark. You can save a lot of money by making your own baby food.

You can expect to pay anywhere from .50 a jar (4oz) to $1 a jar for organic baby food. Your baby will start off eating a small amount– at around 4 to 8 ounces of baby food per day and gradually work up to three consistent meals per day by the time they are 1.

Budget $30 to $50 per month for baby food. Double this number if you plan to feed your baby organic baby food.
Health insurance
According to a recent study, the typical family spends about $8,200 per year or about 11% of their income on health care– which amounts to $683 per month.
Of course, this is just an average, and your costs will vary based on employer, benefits chosen, family size, and more.
To get a good idea about how much you'll spend on health insurance each month with a new baby, talk with your Human Resources department about how adding dependents effects your cost of health insurance each month.
Child care
Depending on where you live, according to a recent report, you can expect to spend between $665 to $2982 per month on full time daycare. Price largely varies based on your location, the age of the facility, teacher/child ratio and curriculum.

Get an exact idea of how much you can expect to spend by calling around and interviewing daycares near your home and work as soon as you find out you're pregnant.

Toys
Here's an area where you can save! For baby's first year, keep things simple. Baby won't need a lot of toys and you can mostly get by with what you're gifted at your baby shower. You can score toys at amazing prices on Facebook marketplace or at consignment sales.

Budget $10-$15 per month (or less) on toys.
Medicine/toiletries
Your baby is likely to need medicine to alleviate symptoms with a fever or teething and items like lotion, diaper rash cream, baby shampoo, etc. In the medicine and toiletries category, plan to spend about $10-$15 per month.

Life insurance for parents
According to Nerd Wallet, a female in her 30s can expect to spend between $194 annually for $250,000 coverage and $539 annually for $1,000,000 worth of coverage. This breaks down to $16-$44 dollars per month.

That same report found that a male in his 30s can expect to spend between $227 annually for $250,000 worth of coverage and $657 annually for $1,000,000 worth of coverage. This breaks down to $19-$54 dollars per month.
Keep reading: How much do diapers cost? Find out how much you'll spend on diapers per month and learn 10 ways to save hundreds on diapers!