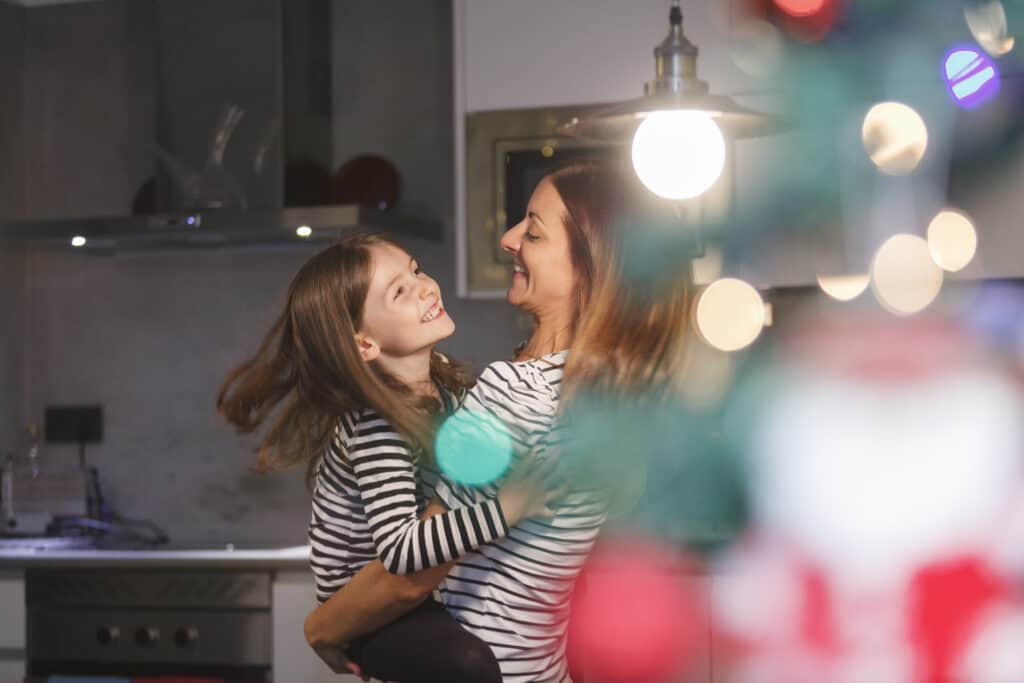 I'm one of those annoying people that listens to Christmas music in October. I can't help it– I love Christmas!

Growing up, we had several family Christmas traditions that were carried out year after year, making each season so special.

Now that I have a family of my own, we've started our own fun family Christmas traditions– some borrowed and some new.

Looking for some family Christmas traditions to start this year? Here are some ideas.

Wonderful family Christmas traditions to start this year
Cookie making day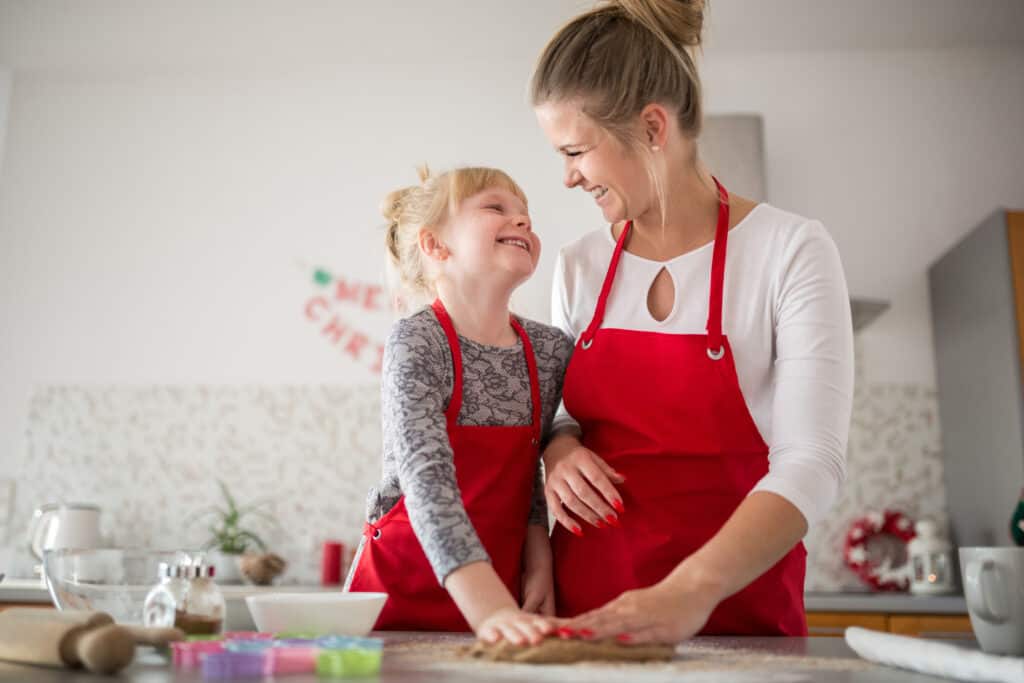 Cookies make great gifts for neighbors and teachers alike. Why not include the kids in on this fun Christmas activity by letting them "help" you in the kitchen? They'll be beaming with pride when they drop off their finished product at the neighbors house knowing they helped.

Christmas light hunting
You absolutely cannot let the holiday season pass you by without driving around in search of Christmas lights.

Either get lucky and stumble upon some amazing light displays or plan your trip by doing a quick google search to see which homes have gone all out. Don't forget to stop and get a festive drink first!
Be the first to say "Christmas gift"
Looking for a unique Christmas traditions?
My husband's Grandmother started this tradition in their family decades ago, and I actually thought it was just unique to their family until I googled it and found out it was a real Christmas tradition.

Here's how to carry out this fun tradition:
On Christmas morning the first person to say "Christmas gift" wins. What they win (if anything can be up to you). You can't say it over the phone, and it can't be 12:01 am, it has to be the next morning after you've slept.
Don't mention the tradition after you carry it out the first year and see who can remember to do it next year!

Stories by the Christmas Tree
While we love snuggling up to a Christmas movie most nights in December, there's something magical about turning off the TV and having a family story time by the light of the Christmas Tree lights.
Make it extra special by pairing the activity with a hot cocoa bar, complete with candy canes, marshmallows, whipped cream and sprinkles!

Make cinnamon Christmas ornaments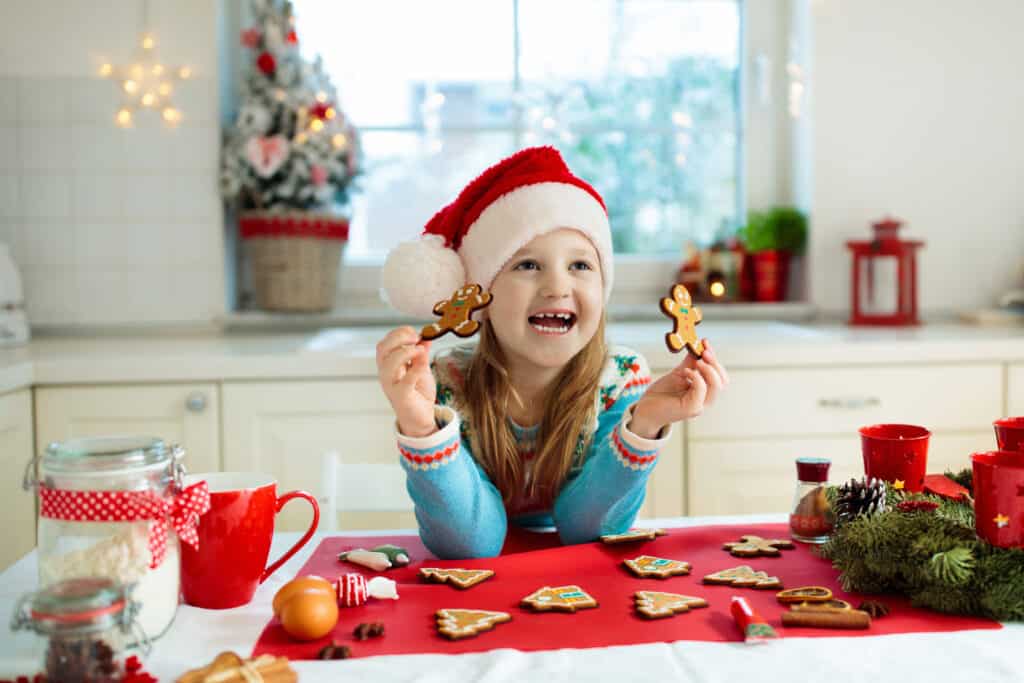 Another tradition that we did as kids that I'm picking up again with my daughter. Not only will kids love this fun activity but your house will smell amazing afterwards. I still have my cinnamon Christmas ornaments I made as a kid; suffice it to say, these hold up well!

Search for the Christmas pickle
Talk about a funny family Christmas tradition– if you're looking for a fun holiday activity, start with the Christmas pickle. This is something that kids and adults find intriguing. My mom actually started this tradition for the first time last year, and as adults, we all got a kick out of it.

No one actually knows where this tradition originates, some think it has German origins, but it seems that myth was debunked recently. Regardless, it's fun!

The idea behind the Christmas pickle is that it is hidden on the tree and the first person (or kid) to find it gets a surprise or gets to open the first present). You can put the ornament in plain sight during the Christmas season, but don't forget to hid it well the night before Christmas!

Gingerbread houses
Nothing smells like Christmas more than gingerbread houses. Nowadays they have fancy gingerbread making kits, which definitely makes it easier on parents. I'm all for going to the grocery store and purchasing my own supplies, though.

Have a craft day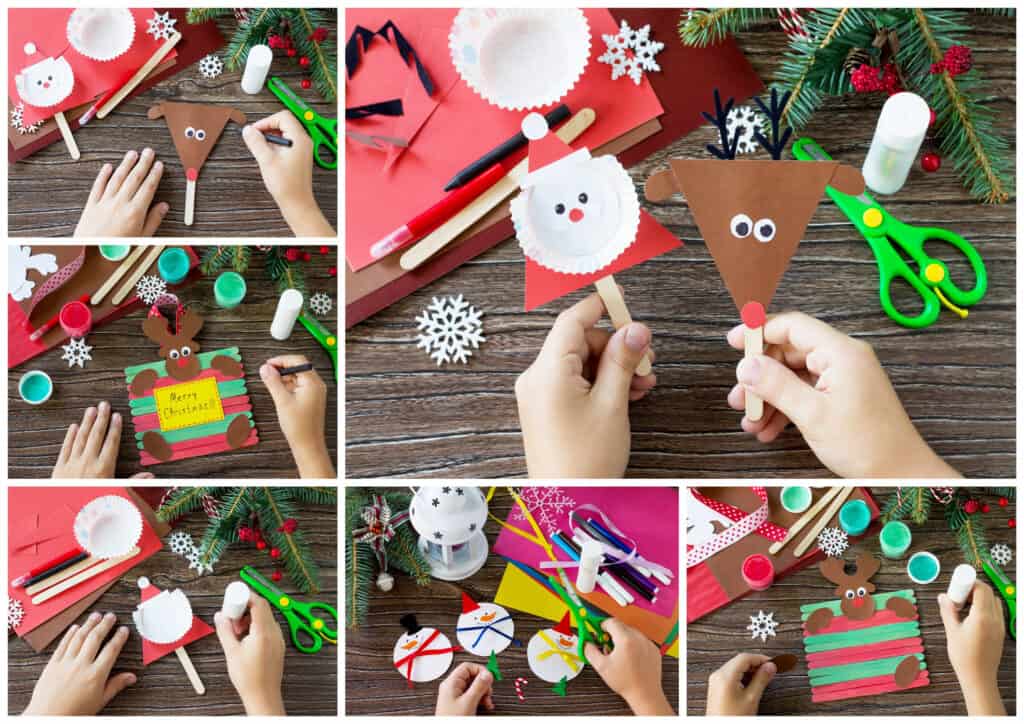 When the temps drop and you can't get outside, planning a crafting day is the perfect way to get rid of cabin fever. Check out these adorable Christmas crafts for toddlers and kids if you're looking for inspiration.

Elf on the Shelf
This magical little elf burst onto the Christmas scene several years ago and kids have never looked forward to the Christmas season more.

If you have a toddler, now's the time to start this fun family Christmas tradition. Don't stress yourself out though, here are some elf on the shelf ideas for toddlers.

Visit a tree farm
In our house, the Christmas season hasn't official arrived until the tree is up. We've had the best times finding tree farms within an hour or two of our home and making a day of it.
Family owned tree farms are so charming, and you literally feel like you're stepping into a Hallmark Christmas movie. Some even go all out and have sleigh rides, hot cocoa and cider, and Santa!

Volunteer during Christmas time
Once your kids are old enough, volunteering together as a family is the perfect Christmas tradition to carry out each year.
Some of my best memories as a kid are when we volunteered together as a family. It's a great way to have a conversation about the real meaning of the season, too!

Christmas movie night
Did Christmas even happen if you didn't watch Home Alone or It's a Wonderful life? Watching Christmas movies is wonderful family Christmas tradition that I look forward to every year. Here's my list of the best Christmas movies for toddlers and kids.

Christmas morning breakfast
Growing up, we looked forward to a yummy breakfast of cinnamon rolls every Christmas morning. On Thanksgiving morning, my mom always made monkey bread. This is a simple family Christmas tradition, but one that will always be remembered by your kids.

Advent Calendar
Children are so eager for Christmas day that an Advent Calendar really is something they look forward to each morning. Let them take turns opening each day and if you really want to get fancy, let the Advent calendar serve as a bucket list. Each day they open can have something Christmas related they can do.
One fellow mom blogger even suggested wrapping up books (library books!) that children could unwrap each day. I love that idea!

Make a countdown Christmas chain
Similar to the Advent Calendar, those construction paper countdown Christmas chains are a hit with kids. Make this craft with them December 1 and let them take a link off each day!
Make a "wreath" for your kids door
Another Christmas craft that kids will absolutely love doing. Plus, kids love to decorate their rooms for Christmas and they'll love displaying this wreath on their door all season long.
Make cards for friends and family
Everyone loves receiving homemade cards. Let your kids wild with construction paper, crayons and glitter as they make their own holiday cards to send to grandparents and friends. Take them to the post office to drop off in person and I promise they'll feel like a million bucks!

Angel tree or operation christmas child
Nothing will humble you more than packing a shoebox for Operation Christmas Child or picking up gifts for an angel tree recipient. Just taking your kids along with you on this shopping trip opens up the door for a ton of questions and great conversation– reminding them of how fortunate they truly are.

Put on a Christmas play
Putting on a Christmas play is something we did as kids. You can do this as a family or even put on a play for the grandparents!

Write a letter to Santa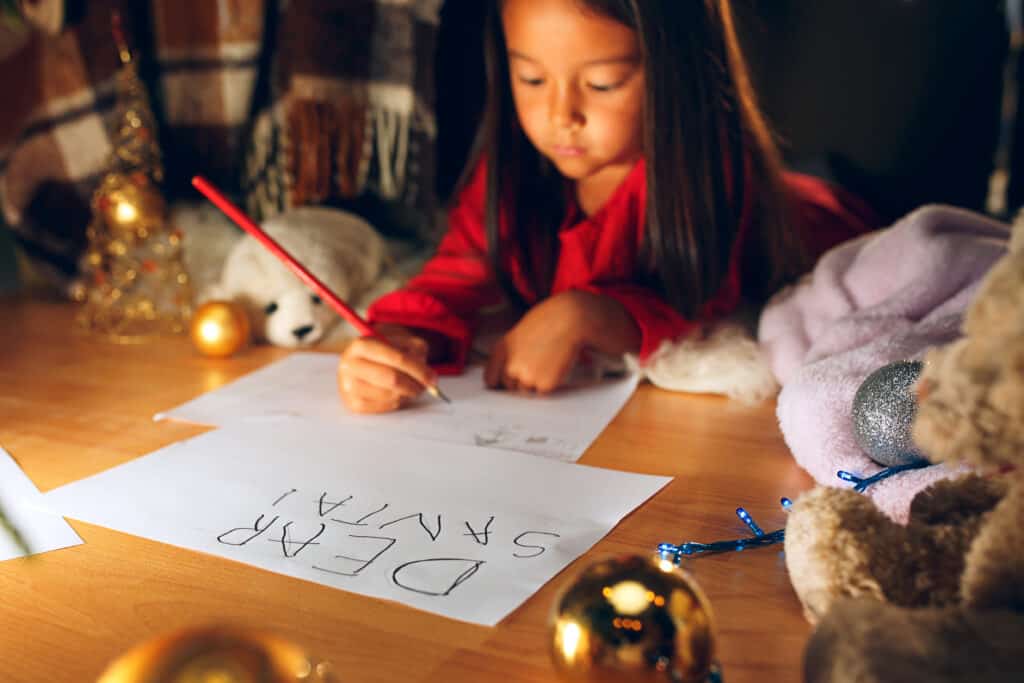 Did you know kids can write a letter to Santa? Here's instructions on how to do this. Make sure you get letters in the mail by December 8!

Have a family Christmas music night
Here's a great activity for kids and grandparents. Enjoy hot cocoa while kids and grandparents sing Christmas Carols by the fire.
Family Christmas eve traditions
Track Santa
Little kids will love knowing Santa's whereabouts on Christmas Eve, and you can track Santa here!
Open one present each
It's so fun to kick off the excitement of Christmas morning present unwrapping by opening up one gift each on Christmas eve.

Read the Christmas story
Growing up, every Christmas Eve after we opened up a present each, we'd read the Christmas Story from Luke, Chapter 2.

Leave out cookies and milk or reindeer food
Distract kids from asking when Santa's coming on Christmas Eve by making cookies for Santa and reindeer food for the busy reindeer!