Before I was a parent, I looked at instagram posts featuring a little elf doing silly things and laughed. No way, I thought, that's too much work.

Now that I'm a parent, my outlook has changed. I basically live to see my daughter delighted with joy, which is why we look forward to the Elf on the Shelf Christmas tradition now.

But because I have witnessed first-hand how the simplest things bring my daughter more amusement than stuff that costs a lot or take me tons of time, I'm all about keeping this Elf thing totally easy.
Here you'll find tons of easy elf on the shelf ideas for toddlers.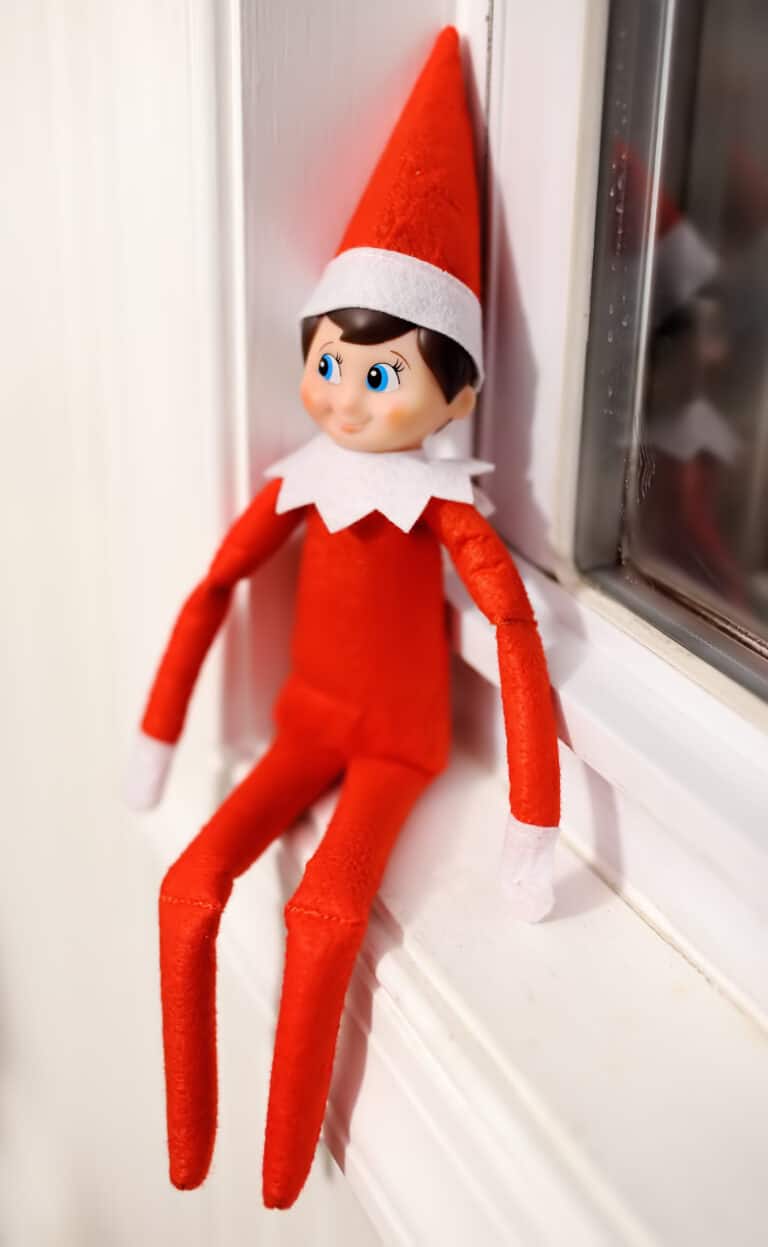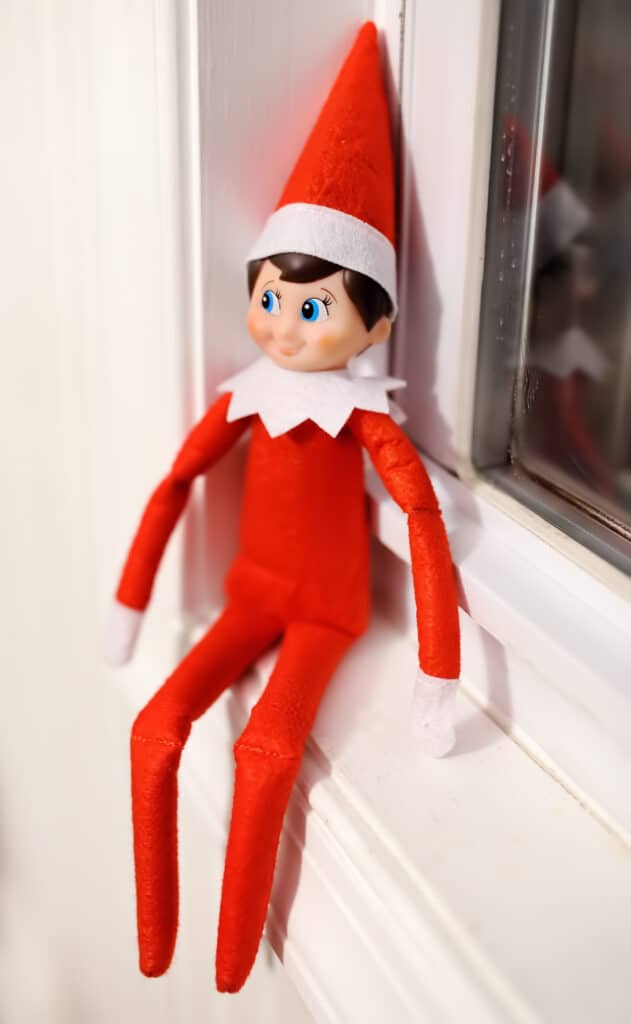 This post may contain affiliate links. Read my policy here.
Elf on the Shelf ideas for toddlers
Debuting in 2005, the Elf on the Shelf has quickly become a child's most favorite thing about Christmas and the holidays.
Typically, the elf arrives during the holiday season and stays through Christmas. The elf is not to be touched during the day and supposedly flys back to the north pole each night to report to Santa.
Because I don't like the idea of my toddler feeling like she's being watched by an Elf all day or manipulating her to "be good" during the entire month of December, I simply leave the part about the elf flying back to report to Santa out. But obviously, you should do what you think is best 🙂
And because I'm not about creating tons of work for myself–especially during Christmas time– all of these ideas should take about 5 minutes or less each night.
I like to plan out what I'm going to do before the season starts and go by any necessary supplies all at once. I also recommend holding off on introducing the elf until later in the season so you're not burnt out come December 25.
Now, on to the easiest elf on the shelf ideas for toddlers:
Welcome back, Elf!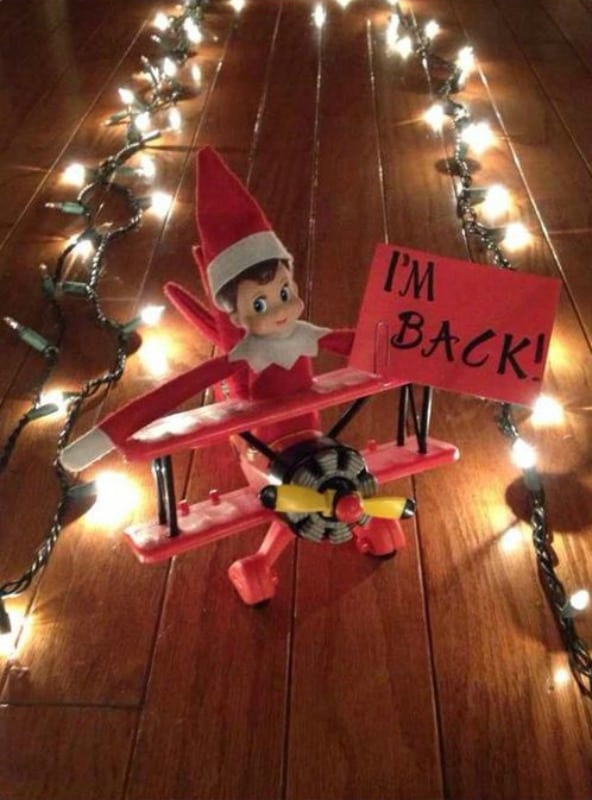 What a great way to welcome your Elf back for the holiday season!
Snow angel elf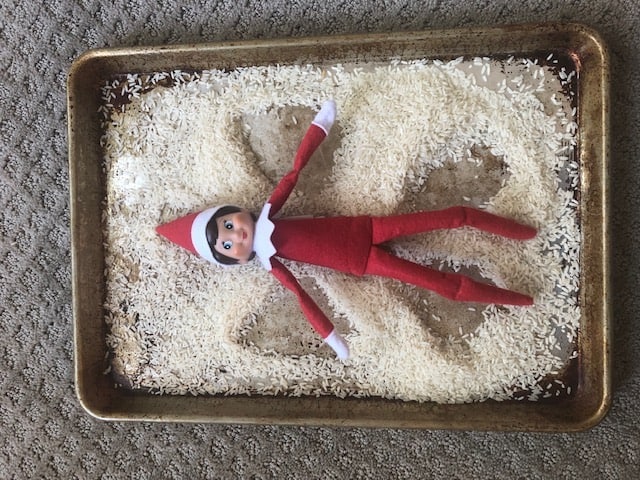 Use a cookie sheet and white rice for a quick clean up of this cute snow angel elf!
Hanging out in the freezer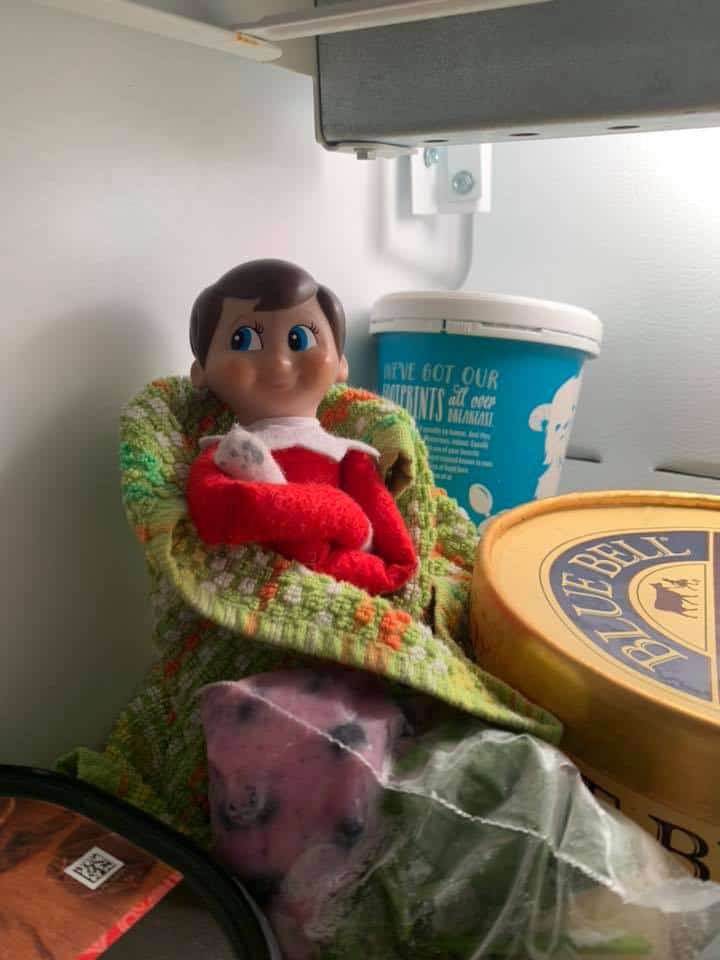 This is a super quick, fun idea! Your elf will feel right at home in the frigid temps found in the freezer!
Elf bingo + free printable!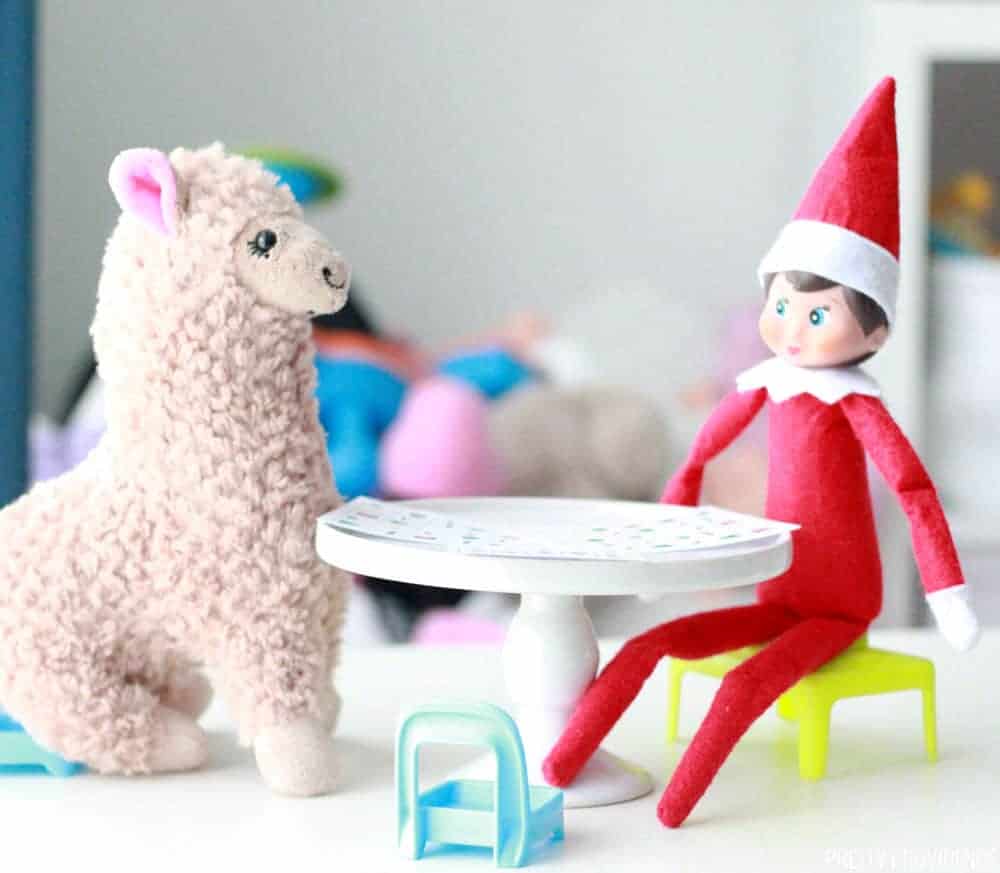 Your toddler will be delighted to catch their elf playing a fun game of bingo with their fellow stuffed animals!
Snowball fight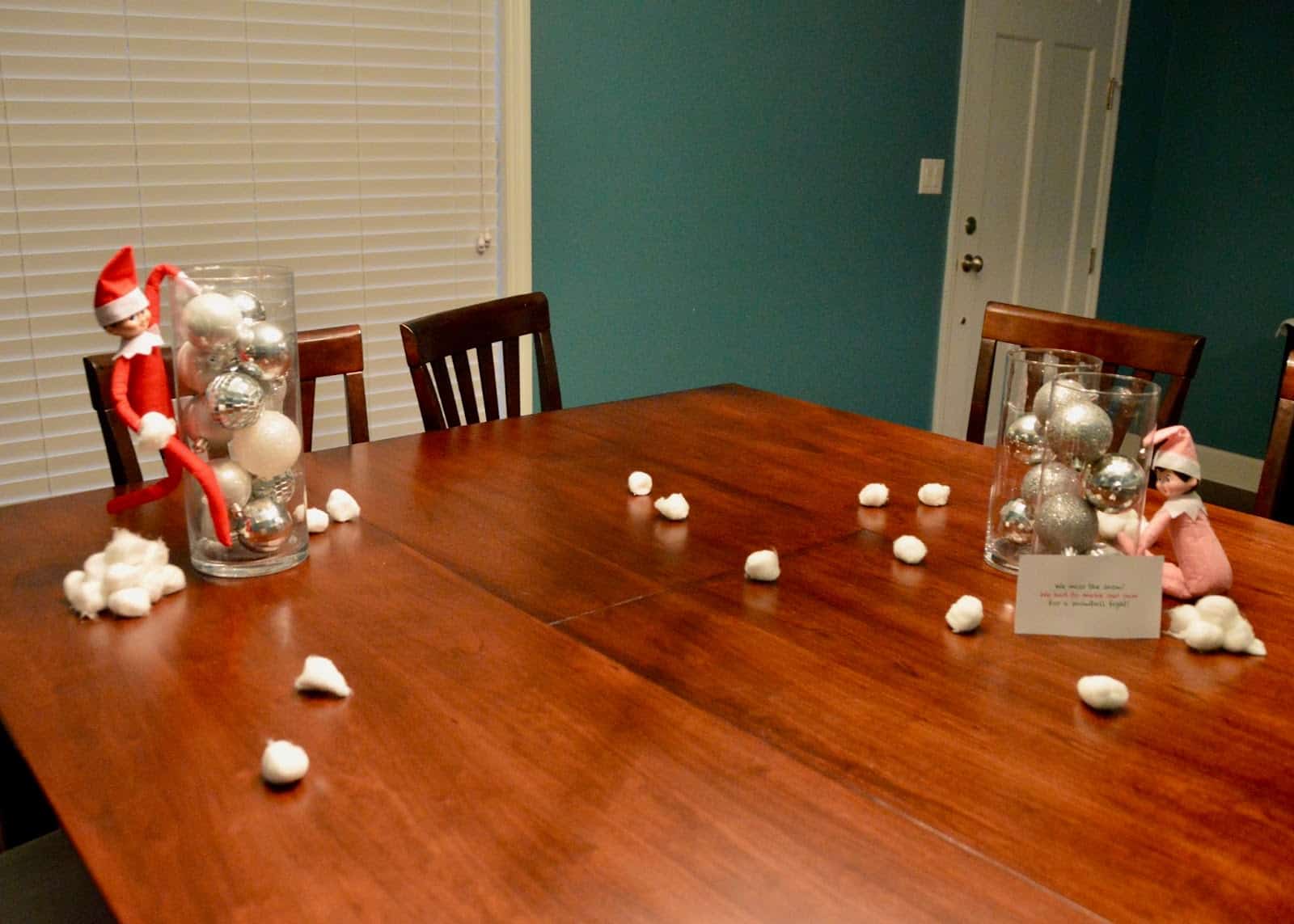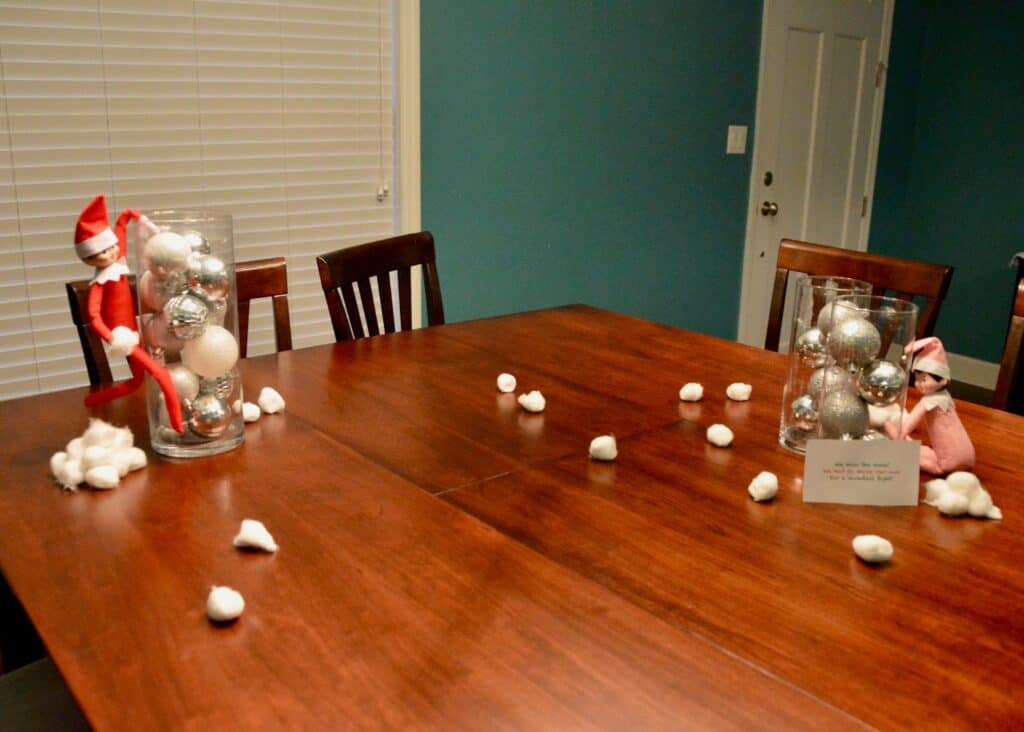 I love this elf on the shelf snowball fight– such a fun idea!
Message on the mirror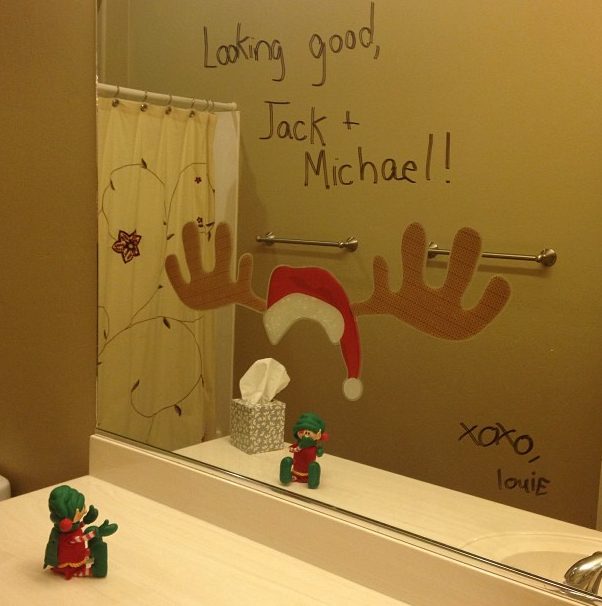 Kids will love seeing how they look with antlers on! This is an easy elf on the shelf idea that you can quickly pull off for those last minute times.
Playing hopscotch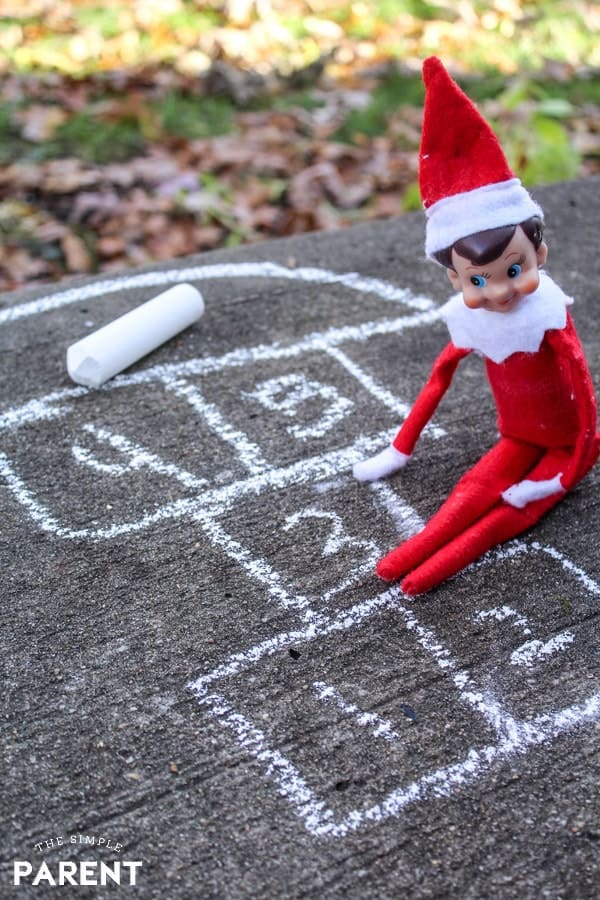 Encourage your toddler to get outside after a nap and they'll be delighted to see that their favorite elf has been playing a fun game of hopscotch.
Rolled up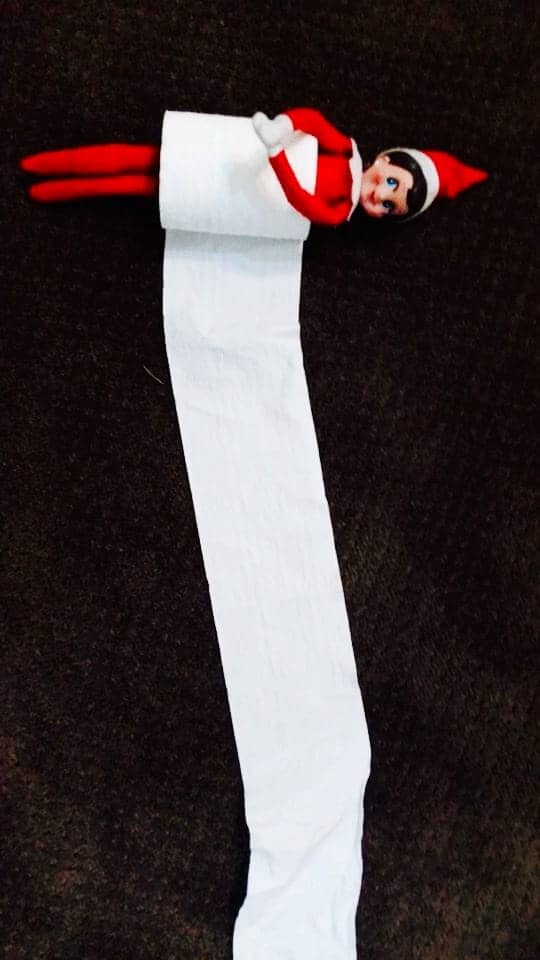 Your tot will get a kick out of seeing their elf rolled up in toilet paper and will likely insist on playing with a roll too, fair warning 🙂
Making cookies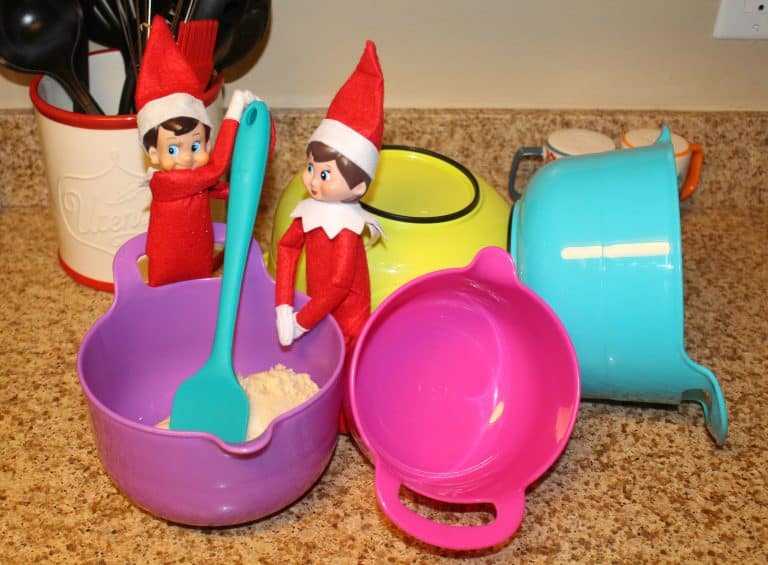 This is a super easy elf trick to set up, and perhaps in the morning your toddler might want to make cookies with you.
Drawing on eggs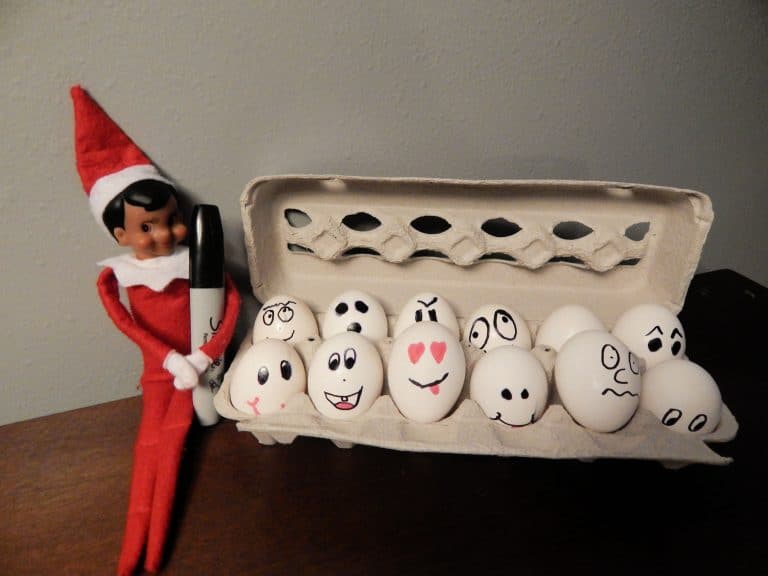 Another quick Elf on the shelf idea your toddler will love. Toddlers will love waking up to these silly eggs.
Hanging out in a stocking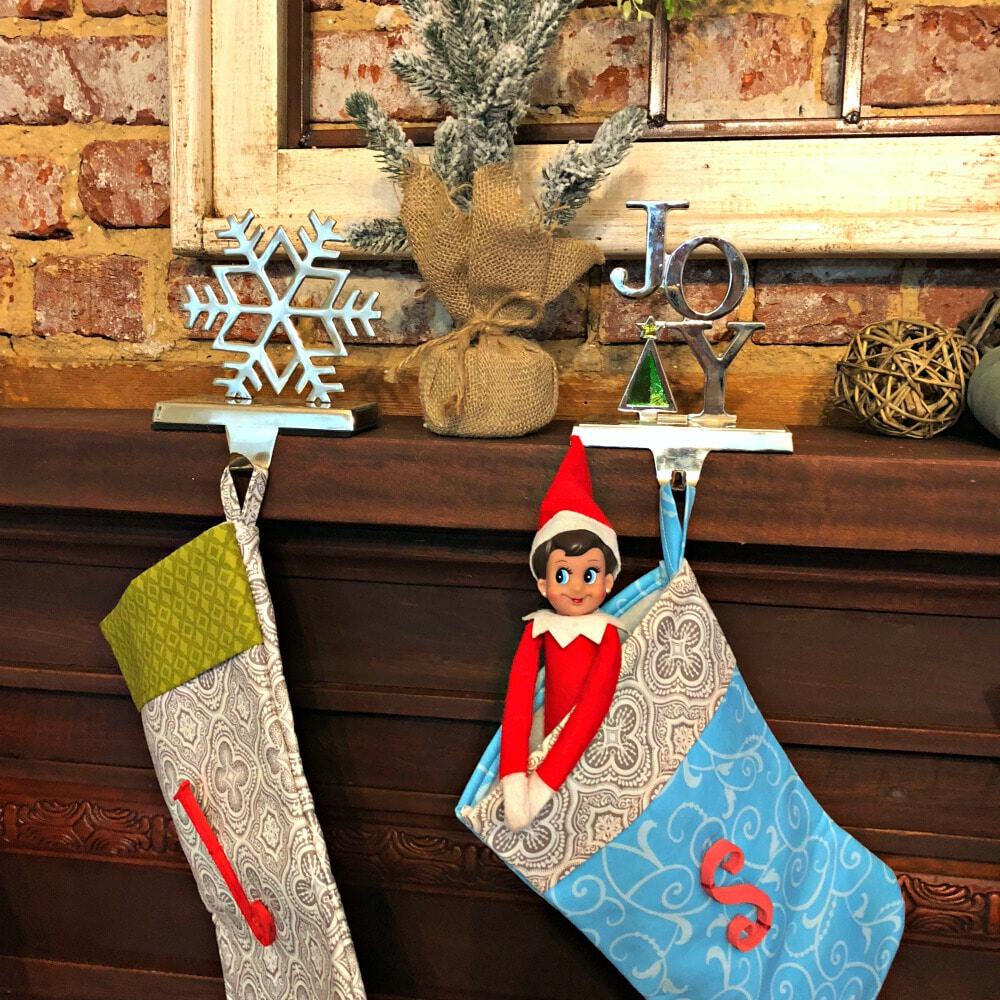 I love this last minute way to move the elf! quick and easy way to move your elf!
Elf on the shelf crafts and treats for toddlers
Looking for some elf on the shelf crafts for toddlers? Here are some great ideas!
Red glittery slime
Your toddler will be fascinated by this red glittery slime their friendly little elf made them!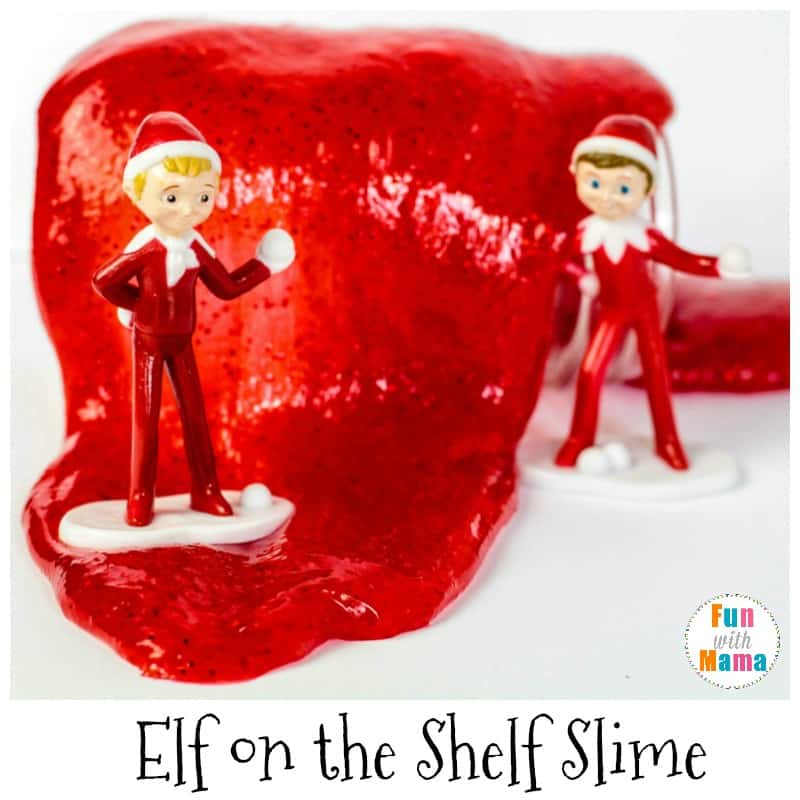 Elf-sized cookies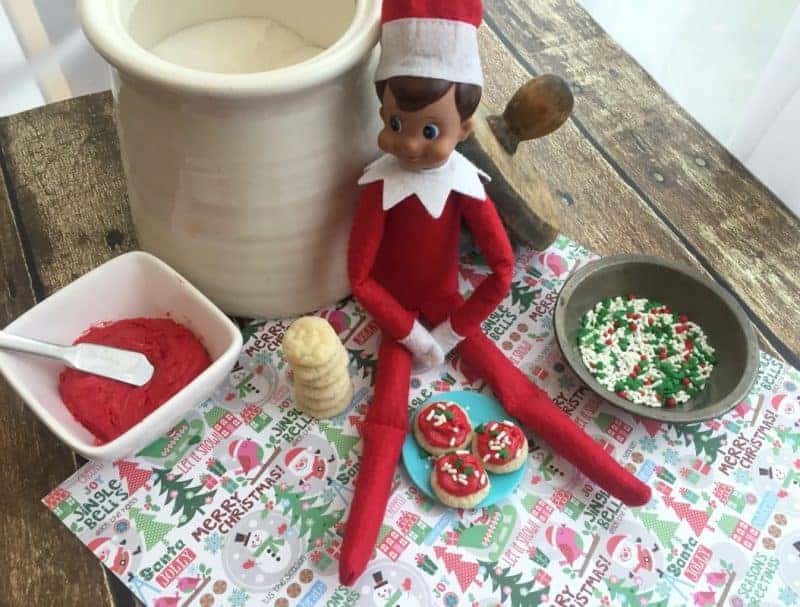 My toddler loves being in the kitchen and we're always looking for ways to kill time during cold winter months, so making elf on the shelf cookies is a fun and easy idea. I love this elf on the shelf cookie recipe from This Mama Loves.
Edible hats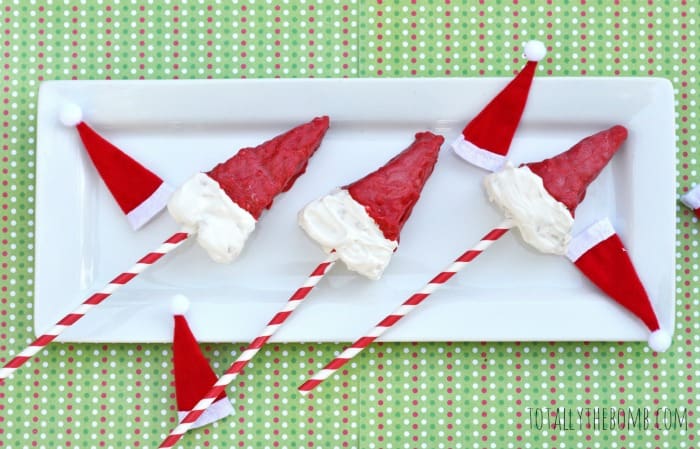 Rice Krispies elf hats by Totally the Bomb blog
Paper plate craft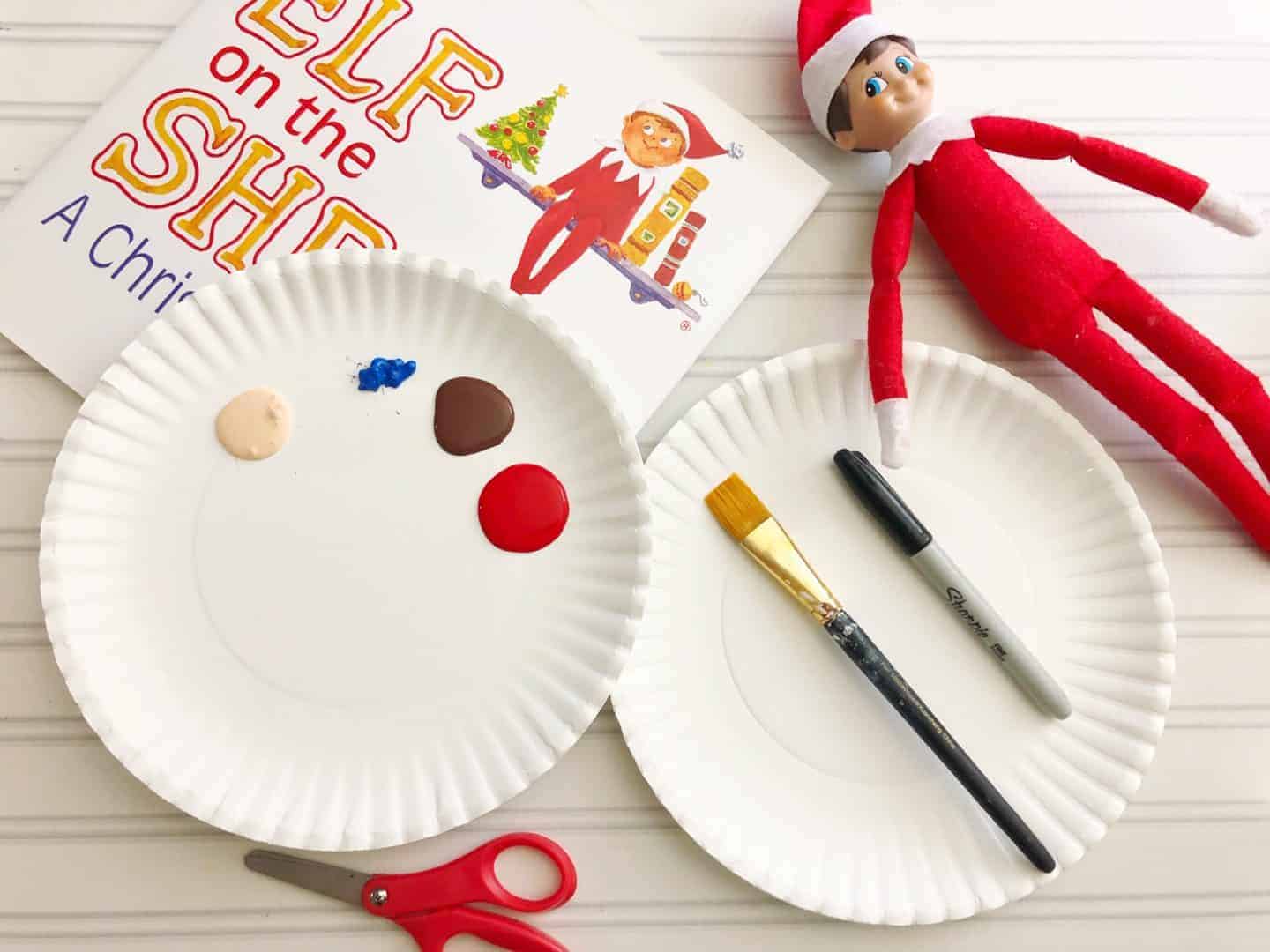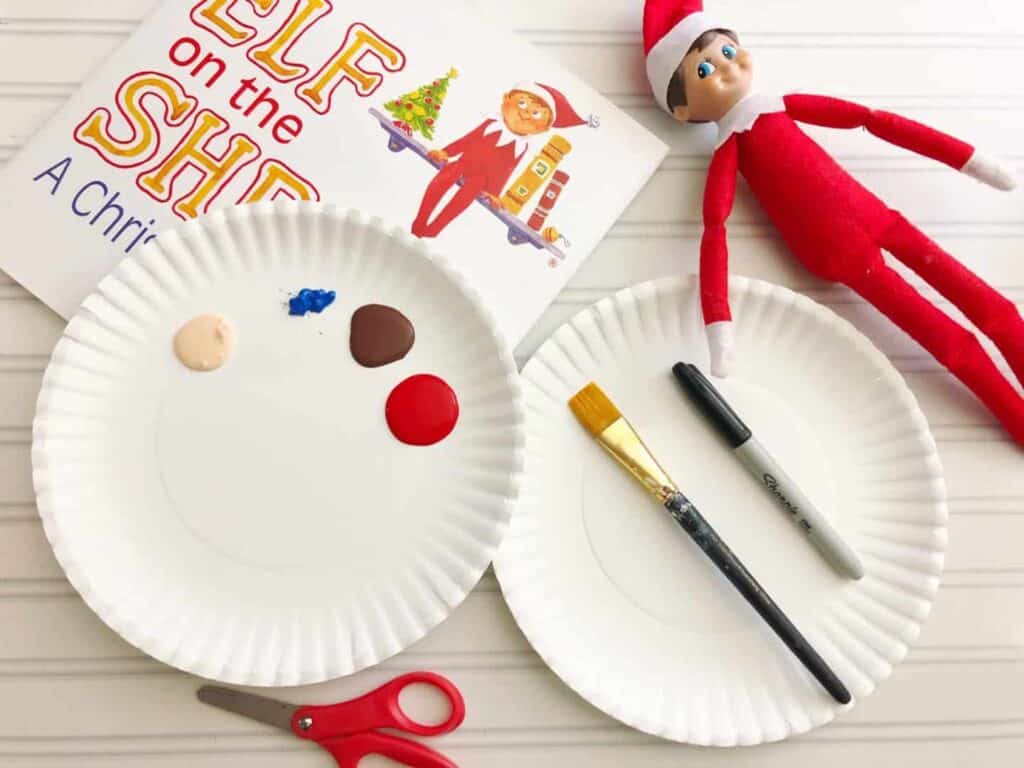 Burn off some energy by doing an easy elf craft for toddlers.
Printable dunk tank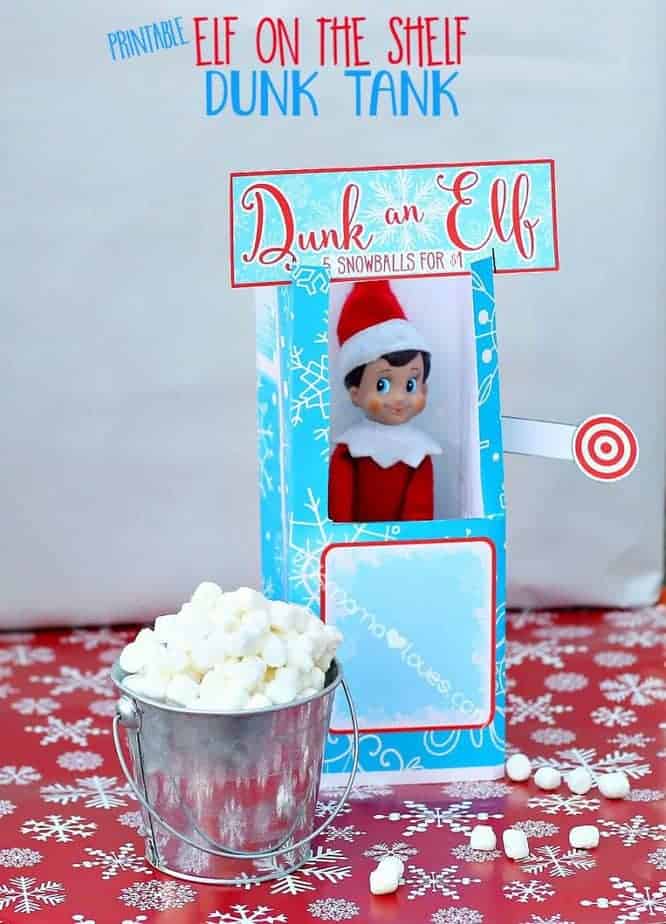 Spend an afternoon trying to dunk the elf with this printable Elf on the shelf dunk tank.
Looking for more elf on the shelf ideas for toddlers?
Related Christmas activities for toddlers:
Easy Christmas crafts for toddlers
10 best Christmas movies for toddlers