You no doubt have a zillion things to do to prepare for baby. And with your growing bump, aching back and swollen ankles, thinking about finishing your baby registry is likely overwhelming.
Don't know where to start? Here's my ultimate guide of baby registry must haves. All of these items were loved by me and my little one and come highly recommended by many moms I've talked to, as well.
This post may contain affiliate links. Read my policy here.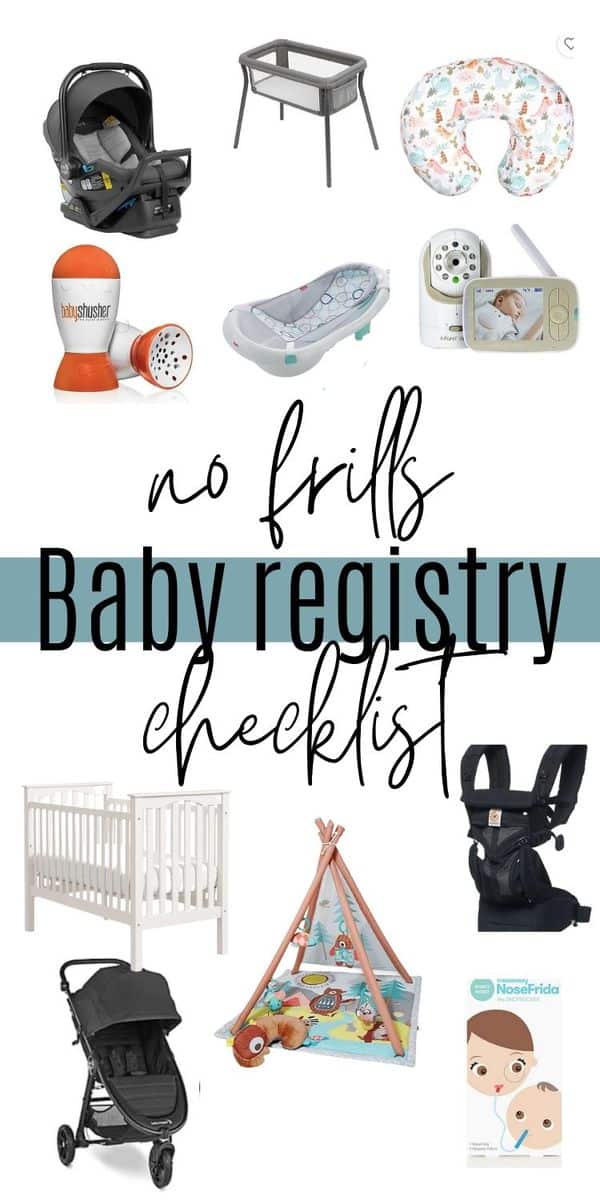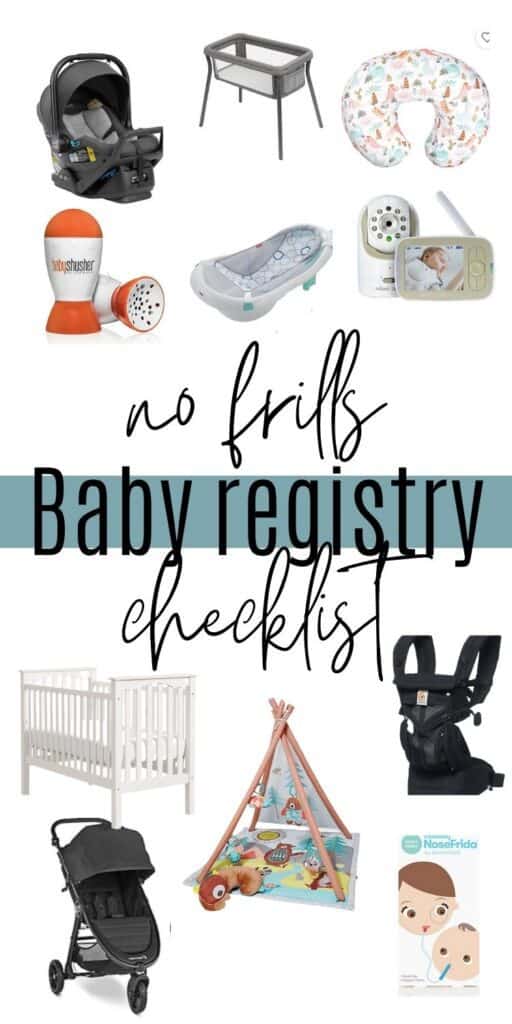 20 baby registry must haves
Diapers
Probably in the top 5 of absolutely essential items for baby– diapers! Diapers, diapers and more diapers. Did you know that for a baby's first few months of life they will go through about 10 diapers per day on average?
That's a lot of diapers.
And that's why you might want to register for a pack or two. After shopping around, these diapers were the most cost effective and great quality, too. I've used them for both of my babies and had zero complaints!
Bassinet
The American Academy of Pediatrics recommends that your baby sleep in the same room with you until they turn one.
Unless you've got tons of space in your bedroom, you'll need something for baby to sleep in. Plus they're so tiny and fragile when they are first born that you'll likely want them in something smaller that makes them feel more comforted.
I loved this bassinet. It was a bit bigger than most, which I actually liked because it meant she could grow into it and I wouldn't be forced to transfer her to her crib before I was ready.
Infant Car Seat
I love research and won't buy a product unless it has a ton of good reviews and searching for an infant car seat was no different.
Safety was at the top of my concern list given I was going to be transferring my most precious asset by vehicle in the seat I chose. Weight of the car seat and overall design were other factors that narrowed down my search to this car seat.
Psst! Before you transport baby home from hospital it's a good idea to get your car seat checked for proper installation. Don't have a clue where to do that? Here's a list, state-by-state.
Mom tip: Don't forget to register for a car seat base; if you want to transport baby in both cars, you'll need 2!
Stroller
A stroller can be one of the most expensive items you purchase for baby, but it's also one of the items you'll get the most use out of.
After a ton of research and considering factors like price, durability, weight and overall design, we went with this stroller.
I also recommend you take the stroller you're considering for a "test ride." You'll want to be happy pushing it for years to come!
Mom tip: Make sure to get a car seat adapter so that you can easily transport baby in your stroller.
Crib
I was on the hunt for a 3-n-1 crib for my baby. I wanted a crib that would grow with her and and this one fit the bill.
Due to safety concerns, it's not recommended to use a hand-me-down crib. If you're not sure whether or not your crib meets current safety standards check here.
Crib mattress
AAP recommends you shop for a firm mattress for your crib. I wanted something that was hypoallergenic and after reading reviews settled on this one.
Mom tip: Register or purchase several sheets. You can plan on it: You'll be changing sheets at 2 am on more than one occasion.
Baby carrier
Baby carriers instantly soothe a fussy baby, allow you to have both hands free and gives your arms a much needed break– plus, baby will love being snuggled up next to you.
I spent the first several months of E's life carrying her in this carrier. Emma typically gets cranky at night and putting her in this carrier instantly soothes her and buys us tons of time!

Make sure to get the infant insert, too!
Changing pad
In our first home, Emma's room was tiny. I'm talking shoebox-size, tiny! In order to make the most use out of space, I used her dresser as a changing station, too. I used this changing pad on top of the dresser and it worked wonders.
Play mat
We didn't have a ton of toys because we didn't really know what she'd like or respond well to. We did register for this though, and besides the fact that it's so cute, she absolutely loved this mat!
Mom tip: I initially registered for a bunch of bright-colored items but then realized that some items like a play mat were going to be in plain view pretty much all of the time, so I decided to pick out items with more muted tones that I didn't mind looking at all day!
Bottles
No baby registry is complete until you register for bottles! I ended up registering for a few different brands of bottles just so I could see what my little one liked best.
We ended up both loving these bottles for a few reasons– she never had any acid reflux or gas issues and they were super easy to clean.
Baby monitor
I registered for this baby monitor and have really loved it so far.
Mom tip: It's worked well for us to have a second inexpensive monitor to take with us on trips!
Baby bath
I couldn't wait to give E her first bath; I was excited to see how she'd react to the water. We received this bath at one of our showers and have loved it. The great thing about this bath is the fact that it grows with baby– E was able to use this until she could safely sit up in the bath.
Burp cloths
I registered for a pack of three burp cloths; turns out, that was enough for one day! Unless you want to be doing laundry all day every day, stock up on burp cloths. The more, the merrier!
Baby thermometer
You're going to want a reliable thermometer the first time your baby feels a little "warm," so make sure to have one on your registry.
Related reading: The ultimate list of things you need for a baby
Nail kit
These clippers are amazing! All Frieda Baby products were designed by a mom, so you know they're mom and baby approved. I've never accidentally cut my baby using these clippers.
Breastfeeding support pillow
If you're planning to breastfeed you can't live without a breastfeeding pillow! It absolutely saves your arms and back in those first several months.
I also used my pillow for E to practice tummy time and she seemed to really like that as opposed to just lying flat on the floor. I love baby products that work double time!
Nasal aspirator
Another amazing product by Frieda Baby. The hospital will give you a nasal bulb when you leave the hospital, but trust me when I say nothing works as well as the Nose Frieda
Breast pump
Check with your insurance company before you purchase a breast pump because they might cover it. If you want to get a free breast pump through insurance these are great tips to follow.
I received this pump as a gift and it's worked so well. I nursed Emma exclusively for 9 months and worked part-time, so this was an absolute lifesaver.
Mom tip: Even if you aren't working, it's a good idea to get a breast pump if you're planning to breastfeed. You never know when you'll be away for baby and you'll likely want to pump in the morning or at night to build up a supply.
Bouncer
I had read that some babies really didn't like swings, and since our first home was on the smaller side, I decided to hold off on purchasing a swing.
I registered for this inexpensive bouncer and it was a total lifesaver. If you need to run to the bathroom, unload the dishwasher or just have a minute where you aren't holding your baby, these bouncers are amazing. Emma loved hers and even took quite a few naps in hers!
Sound Machine
I wish we would have known about the superpowers of a sound machine as first-time parents, but now that we do, I'm passing the knowledge on to you.
After hearing tips from other moms about items that help babies sleep through the night we purchased this sound machine.
I know purchase one of these for each baby shower I go to. You will not regret it! It drowns out noise and helped Emma sleep so much better.
Now that you've completed your baby registry, you can start planning your gender reveal party! I have tons of gender reveal ideas and themes to help you get started!
Keep reading: Everything you need to know about your third trimester and 14 pregnancy must haves.