When Emma was three months old I went back to work on a part-time basis. I worked two full days and one half day.
Each full day I worked I'd have to pump 3-4 times. I continued to feed her breast milk exclusively (minus some solids) until she was about 10 months old.
During that time I picked up a few pointers that I'm so excited to share with new mamas!
Learning how to pump at work can seem daunting, but trust me, in just a few short days you'll get the hang of it and learn to love the mandatory "quiet time."
This post may contain affiliate links. Read my policy here.
Understanding the pumping at work law
It doesn't matter if you're the first person that needs to pump at work or the 100th. You have rights. And thankfully, regardless of what your employer thinks, the law is on your side.
The Affordable Care Act states that employers are required to "provide a reasonable amount of time and space to express milk as frequently as needed by the nursing mother, for up to one year following the birth of the employee's child."
The law also specifies that the space in which to pump breast milk cannot be a restroom and must be free from intrusion by coworkers or the public.
Talk with your employer before you go out on maternity leave
If you're a planner like me, it will make you feel so much better to get this awkward conversation out of the way so you don't have to stress about it in the weeks leading up to your return to work.
Email your HR rep and request a time to meet to discuss your plan for pumping once you return to work.
This step is SO important.
Speak up if you don't like the solution your employer provides for you to pump while at work.
After talking with my HR rep, she informed me there was a room that had been reserved for me to pump at work. However, when I went to scope it out, I noticed that there wasn't a lock on the door which was not going to fly with me.
I asked for a lock to be installed and they politely obliged.
Don't feel bad about speaking up!
I've heard way too many sad stories of mothers that stopped pumping just because they felt like it was frowned upon by their employer or weren't comfortable with their accommodations at work.
Understand this: You have the right to pump while at work for a FULL YEAR! Print the law off if you have to before you go into your HR office.
Pump at work with ease with these 7 tips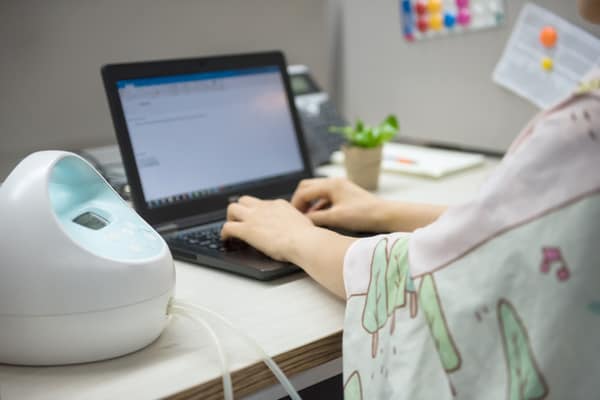 Buy a hands-free bra
I used my time to pump to catch up on email and I couldn't have done that without this hands-free pumping bra. I ordered it while I was on maternity leave and tried it out a couple times just to get the hang of it, too.
Mom tip: Sometimes you just need a break. I downloaded episodes of my favorite Netfilx shows and just enjoyed the quiet every now and then.
Be prepared with extra pumping supplies
Because I did not feel like sanitizing my pump part pieces in the bathroom at work I decided to order spare pumping parts. Best decision I ever made. Plus, I didn't feel like answering a million questions when I was spotted washing the pump parts. Awkward moments, averted.
In the beginning I'd pump directly into the medulla bottles that came with the pump, but a couple weeks in I got smarter and decided to just pump directly into the breastmilk storage bags so that I could easily transfer them into the freezer when I got home.
Even though I had a Medela pump, I really preferred these breastmilk storage bags the best.
Practice pumping before you return to work
When we first brought Emma home from the hospital she had a hard time nursing. She just wouldn't latch and would scream bloody murder when I was trying to feed her. Usually after numerous tries, she'd latch on.
The second night home from the hospital she just would not latch and I was freaking out that she was starving so my husband and I frantically tried to set up my pump for the first time at 2am– on no sleep, of course.
It wasn't a good idea and led to even more stress. All this to say, practice pumping when you're not pressed for time, and certainly before you go back to work.
Mom tip: Besides practicing before you return to work, it's a good idea to see if the standard size breast shield works for you. If you're not producing too much milk when you pump it may be because your breast shield is either too large or too small…trust me, that makes all the difference!
Leave work stress at your desk
There were a few times when I squeezed pumping in between back-to-back meetings and the stress of the day got to me. If you're too worked up and stressed your body has a hard time producing milk.
Know that when you close the door to pump work should be left behind. If i was having a particularly stressful day i would just pull up my latest video of Emma doing something cute and it seemed to really work!
Related reading: Understanding the miracle of the haakaa milk catcher for breastfeeding moms
Don't schedule meetings over pumping
There are days when my job was a drag and days when I had back-to-back meetings and exciting projects to work on, and on those days, pumping wasn't a priority.
After a couple weeks of saying yes to meetings that were scheduled during times I needed to pump or feeling too busy to step away for 20 minutes to take a pump break and I noticed I wasn't quite pumping as much as I used to.
Because I wanted to continue exclusively breastfeeding I started setting alarms for myself each day when I needed to pump. I also was unapologetic about not being able to make meetings that overlapped with my pumping schedule.
When you pump or feed your baby your body responds by creating more milk, so the more you pump or feed your baby, the more milk you make.
Don't worry too much if you've had a hard time sticking to a pumping schedule at work, with a little time you can build back your milk supply by power pumping during one of your normal pumping breaks.

If you notice your supply decreasing, try power pumping or eating lactogenic foods to help build your supply back up.
Build up a milk supply
Theoretically, you just need enough milk to cover your baby's first day while you're at work because ideally you'll be pumping what baby will be eating the next day while you're working.
It might be a good idea to build up a milk supply if you're committed to EBF your baby. There are times when you might not pump quite enough or other situations where you might not be home in time for a feed and your spouse might have to pull from your milk reserves– either way, it's a good idea to have a milk supply.
When E was six weeks I started pumping about an hour after her morning feed. Your milk supply is the largest in the morning so I was able to get a good amount and slowly built up to a pretty sizable stash.
Once you return to work, and depending on how much you pump during the day, you may find you need to pump at night to keep up.
Emma was never a dainty eater and I could never pump quite as much as she was eating during the day, and so for 5 months I pumped at night. I'd usually just pump while my husband and I watched The Office reruns for the 5th time so it didn't seem like a huge chore to me.
Drink water
…And don't skip meals!
I can't stress this enough. There is a huge correlation between how hydrated your body is and the amount of milk you'll produce.
Breast milk is 88% water, so it stands to reason that if your body is properly hydrated you might not be able to produce enough breast milk.
I tried to drink between 80-100 oz of water each day and found that if I didn't at least hit 80oz I would develop a headache.
Also, starting your day off with a ton of water is very helpful, too. I typically try to drink 16oz of water after I get up in the morning and before I feed Emma. It helps so much. I just feel super dehydrated if I don't hydrate that much before I feed her.
If you pump and find you don't get enough, say 2-3 oz, try to drink about 16oz of water and try pumping again an hour later.
Don't be too hard on yourself
I'll wrap up this post with perhaps the best advice I could give you: Don't be too hard on yourself.
Being a new mom is hard. Breastfeeding is very hard. It's totally fine to set goals for breastfeeding, but if you're stressing out and feeling like something's gotta give, maybe it's time to stop breastfeeding or at least back off of some feedings.
You need to be healthy physically and emotionally to care for your baby and you can't do that if you're too stressed out.
Also, just prepare yourself. When people see you carrying around a pumping bag you might get comments.
Some of these comments are encouraging and others, not so much. Don't let anyone's opinion of what you're doing mess with your breastfeeding goals.
Don't apologize for taking pumping breaks, either. You legally have the right to do this, and remember, this phase won't last forever. Just remind yourself that you're doing something so amazing for your little one. Stay strong, mama!
How to clean your breast pump at work
You'll need to sanitize your pump parts after each use. For the sake of time, I opted to buy extra parts and just sanitize at home, but if you'd like to sanitize at work there are some pretty cool gadgets to make this part quick and easy.
Medula has sanitizing bags that just require water, microwave and about 3 minutes. Or, if you don't have access to a microwave you can use sanitizing wipes. The wipes are a total lifesaver for on-the-go mamas and work wonders to have handy on long road trips with a baby.
Side note: Only the tubing needs to be sanitized if it's dirty or milk gets on it!
Storing breast milk guidelines
Freshly expressed breast milk can last in room temperature for four hours, so you'll need to make plans to safely store your milk at work.
My pump came with a mini cooler and ice pack that allowed space for four bottles of milk. I'd pump and then immediately put the milk in the cooler and in the fridge.
When you return home you can either give baby a bottle with the milk you expressed that day, or transfer the milk to a milk storage bag and toss it in the freezer.
If you choose to keep the milk in the refrigerator, try to place it all the way in the back (where it's coldest) and keep in mind that after four days, you must toss the milk, as it is no longer safe to consume.
The CDC says freshly expressed milk placed in the freezer will be good for 6-12 months.
Once breast milk is thawed you must use it within 24 hours and never refreeze milk that wasn't used!
The answer to common questions about breastmilk storage, like how long does breast milk last after warming, can be found here.
What's in my breast pump bag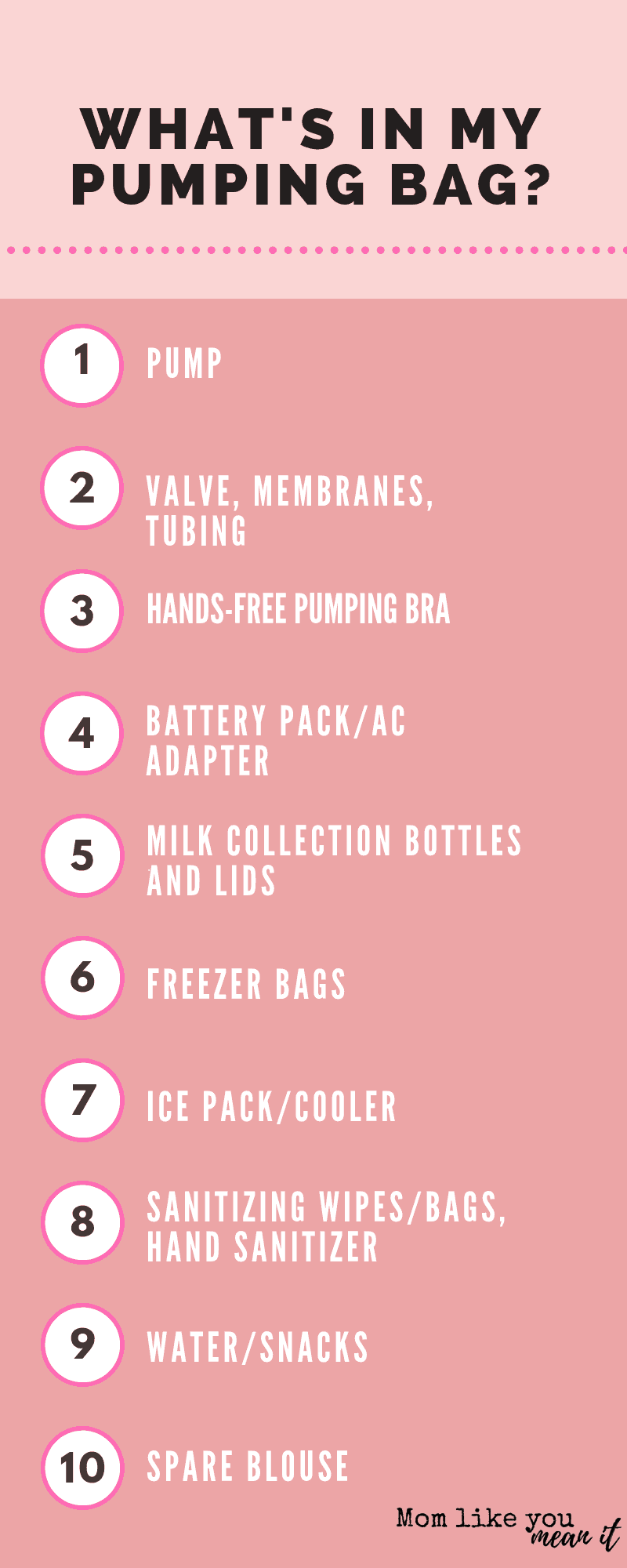 My pump came with a black backpack that was hideous!
Since I was committed to feeding Emma until she was 1, I went ahead and invested it this super cute and convenient pumping bag.
In my pumping bag:
Pump
Valve and membranes
Hands-free pumping bra
Tubing
Battery pack/AC adapter (this is a just in case type thing, you may be somewhere without power outlets from time to time)
Milk collection bottles and lids
Freezer bags (depending on whether or not I was going to store the milk in the freezer or give it soon after, I'd have both bottles and freezer bags on hand)
Ice pack/cooler
Sanitizing wipes/bags
Hand sanitizer
Water/snacks
Spare blouse (just in case, you'll be so glad you have one in the case of a leak!)