If you've got a toddler with skinny, narrow feet, I envy you. Buying shoes for first walkers must be so easy! On the contrary, if your toddler has wide feet, you've got your work cut out for you when it comes to finding their first pair of shoes.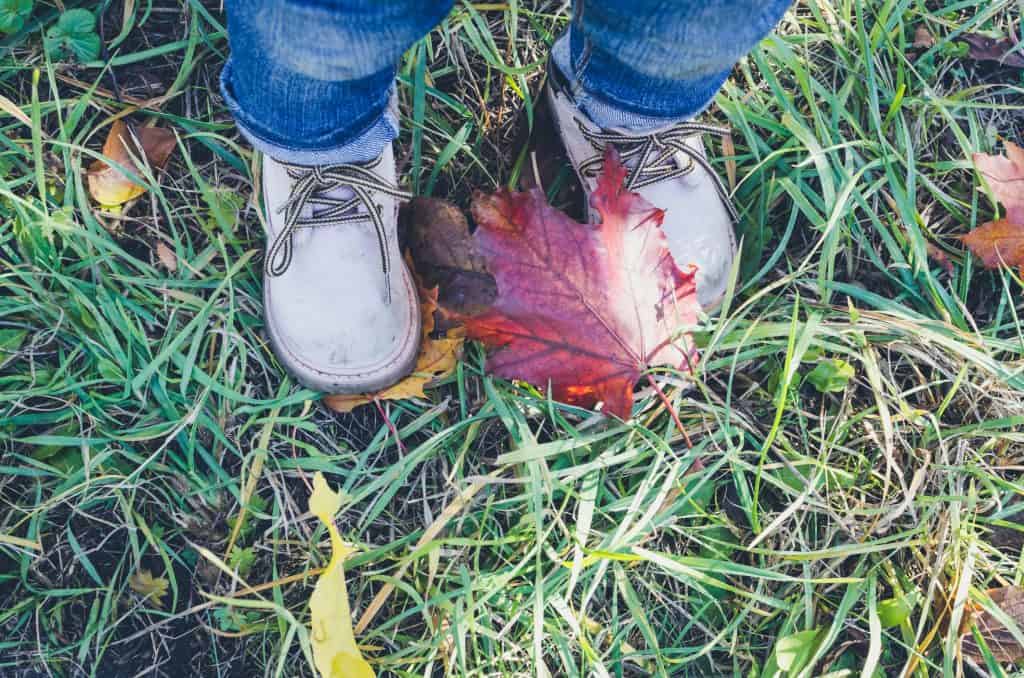 Finding shoes for wide toddler feet is certainly challenging, but not impossible. Having a hard time finding the perfect fit for fat toddler feet? Here are 7 perfect solutions!
This post contains affiliate links. Read my policy here.

7 of the best shoes for wide toddler feet
Stride Rite
There's wide and then there's extra wide, and Stride Rite offers both sizes! Stride Rite has been around for decades; in fact, you probably sported a pair of these timeless kicks when you were little!
This company clearly understands what it's like to be shopping for fat baby feet because nearly every parent I talked to suggested them when I was on the hunt for shoes for my little girl.
Stride rite shoes are perfect for first walkers; they've got rounded toes– perfect for helping tiny feet balance better. The shoes offer tons of flexibility and comfort. Your new walker will love the plush memory foam inserts, too!
My little one loved taking her shoes off the moment I put them on and these were the only ones she couldn't get off– a win in my book!
My toddler has extra wide feet, and even though I ordered sneakers in wide and extra wide, I found the extra wide size to fit perfectly for my little girl.
Shop some of my favorite Stride Rite shoes:

Crocs
If you're shopping for shoes to fit extra wide toddler feet look no further than crocs! Not only are these super roomy for chunky feet, but they're also a breeze to slip on and off.
Crocs don't come in wide sizes, but that's okay, because their traditional sizes are roomy enough for even the thickest toddler toes. As a bonus, crocs also double as great water and beach shoes in the summer!
Native
Native shoes are just plain adorable so it's not hard to see why so many parents like them.
I was hesitant about these fitting my chubby-footed toddler until I did some research and found out that their "Miller" style is more suited to wide toddler feet and sure enough, they were a perfect fit! Like crocs, these are really flexible and also double as great water shoes!
Ikiki
These are the perfect shoes for tiny feet with a little extra girth, and they are just so fun! Besides the fact that these Ikiki shoes come in so many varieties and colors, they're designed to encourage good walking habits.
The shoes have a squeaker that goes off when your child correctly walks in a heel-toe pattern, rather than tip-toeing, which is a common incorrect walking pattern many little walkers fall into. Trust me, once they hear the first squeak they'll be hooked. You can turn off the squeakers if you're out in public or just need some quiet!
Ikiki shoes have a wide base and adjustable closure, making them perfect for fat toddler feet. I did find these shoes were heavier than others, which worked well for the fall and winter, but I probably wouldn't put my toddler in these shoes for summer.
Saucony
These cute saucony sneakers are perfect for a day at the park– great for a lot of play but still comfortable. If you're looking for more of a tennis shoe, but still need a wide fit, try these. The toe box is very wide and has a soft tongue, so it won't leave marks on little chubby feet.
See Kai Run
A Seattle mom started this shoe company in 2004 after being frustrated about the lack of shoes well-suited for early walkers on the market. Perfect for little toddler feet, See Kai Run has wide openings, boast ample flexibility and have a wide toe box– perfect for room to move!
See Kai Run has the cutest selection of shoes and all feature adjustable straps, which is perfect for helping wide feet fit.
Pediped
Approved by the American Podiatric Medical Association for promoting healthy development of your little one's feet, you certainly can't go wrong with a pair of Pedipeds.
Pedipeds have really flexible soles and just like Stride Rite shoes, they feature rounded toes, which helps your little one with balance. These don't come in wide sizes, but sport a wide enough shoe base to work well with chubby baby feet. Most of their shoes have a velcro closure that really helps a lot with getting just the right fit, too.
First walkers are pretty tough on their feet, and I found these to be sturdy, hold up well and wash well, too!
Retailers that have extra wide toddler shoes
To save yourself time, if you've got a real need for wide toddler shoes, I'd stop hoping you can squeeze wide feet into random shoe brands and instead go straight to the source.
Here are the best options when looking for wide width shoes for your tot:
Shop wide toddler shoes I love

What to look for when searching for shoes to fit wide toddler feet
Flexible– Little feet learning to walk for the first time need a ton of flexibility. Look for shoes that are very flexible with a soft rubber sole.
Open easily– Chubby feet have a hard time slipping into shoes that don't easily open allowing their feet to slide in without any issues. Sandals and shoes that don't have much give on top may not be optimal for wide toddler feet.
Provide traction– Once your little one is off on two feet you need to look for shoes that provide traction so your baby can avoid any unnecessary falls.
Comfortable– Babies are used to wearing socks at this point, so unless you want a fight each time you put shoes on your tot, make sure shoes are comfortable. Look for a supportive foam insert when shopping.
Tips on buying wide toddler shoes
Look for a flexible tongue to help slide in chubby feet
Most of the time you can feel confident that selecting a wide or extra wide sized-shoe will work for your toddler's chunky foot. However, I have found that if a shoe doesn't have a flexible tongue that can be folded back all of the way, the wide size might not cut it.
Toddlers that need extra wide or wide sizes most likely also have chubby feet, and even though you've selected a wide shoe, you might not get it to fit unless you can easily manipulate the tongue portion of the shoe.
A word of caution when buying wide toddler shoes for a girl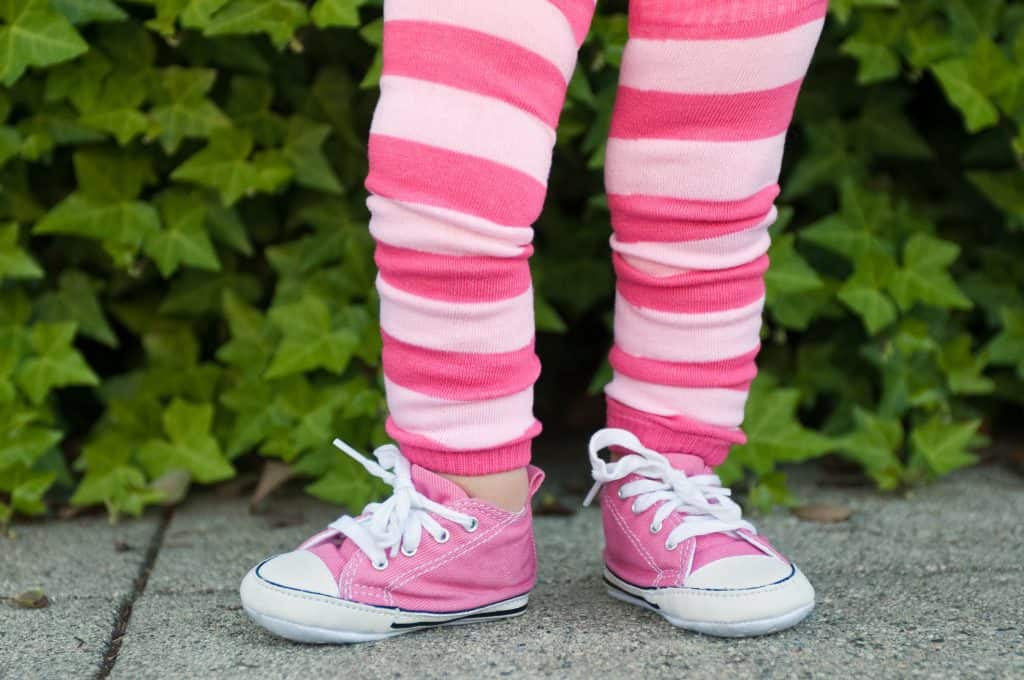 My little girl started walking in the winter, so when spring rolled around I was desperate to get her in cute little sandals or Mary Jane's. But after ordering my fair share of shoes that were quickly returned, I wanted to share my findings with other moms.
If your toddler has extra wide feet and you're on the hunt for cute sandals or Mary Jane's, prepare yourself– because your cute little walker might not be able to fit in those types of shoes. I even tried Stride Rite's extra wide sandals and despite hoping and wanting them to fit, they did not.
With wide toddler feet, you must either find shoes with a flexible tongue that can be pulled back to easily insert the foot or you can opt for shoes like crocs or natives that are just wide all around.
Final tips on shoes for wide toddler feet
Finding shoes for thick toddler feet is totally doable! Just look for shoes that are flexible (you should be able to easily bend the soles with your hands), and have a wide opening and base.
Luckily shoe manufactures are catching on to the fact that chubby baby feet turn in to chubby toddler feet, so there's plenty of options!
Keep reading: Meal ideas for a one year old