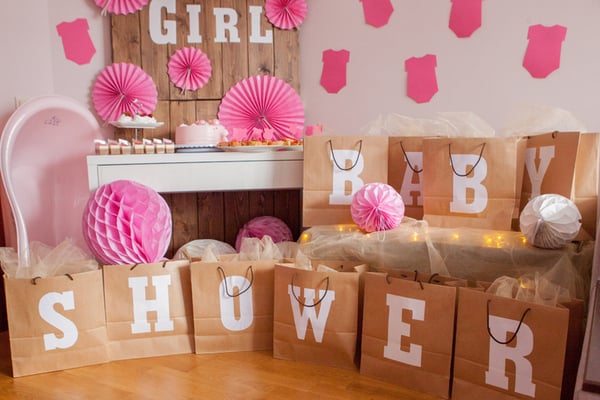 I've been to my fair share of baby showers. I've also had a baby shower thrown for me. It's safe to say I've seen or heard it all when it comes to baby shower games, and let me tell you, the vast majority of these games and activities are totally cringy!
I get it, baby shower activites are thrown into gatherings as a way to pass the time and bring everyone together. While I'm all for crowd participation, I'm not for forcing baby shower guests into cringy baby shower games that make everyone look utterly silly.
So if you're hosting or even planning your own baby shower and you want to inject some fun games into the event that don't cause guests to swear off baby showers altogether, this list is for you.
This post contains affiliate links. Read my policy here.
Baby shower games that aren't cringy
Hosting a baby shower but aren't crafty? Many of these baby shower games involve little to no prep work and Etsy is a great resource for pre-designed cards to facilitate these baby shower games. In instances where there are printables you can buy to host these games, I've linked them.
Baby shower feud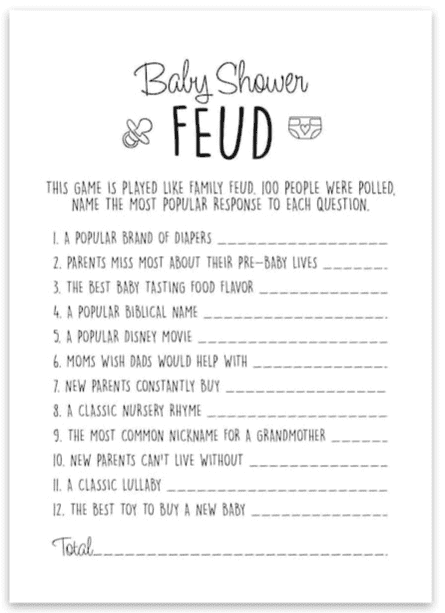 If you're a fan of Family Feud, you'll love baby shower feud. Played just like family feud, guests will write down their answers to a series of questions like "What's the most popular nickname for grandma," or "What's the best tasting baby food item?" The guest with the most correct, wins.
Pass the prize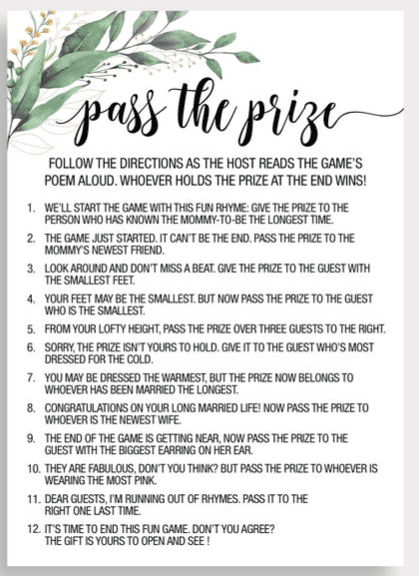 The mom-to-be will invite old friends from school, childhood playmates, new friends and friends from work to her baby shower, and games like pass the prize are fun to play in settings where many guests don't know each other. To play, have guests sit in a circle–and you can easily do this right before presents are opened. You'll need someone to facilitate this game and the facilitator will read off directions on which way the prize will need to be passed. For example, the facilitator will start by saying "pass the prize to the person who has known the mom-to-be the longest."
Name that tune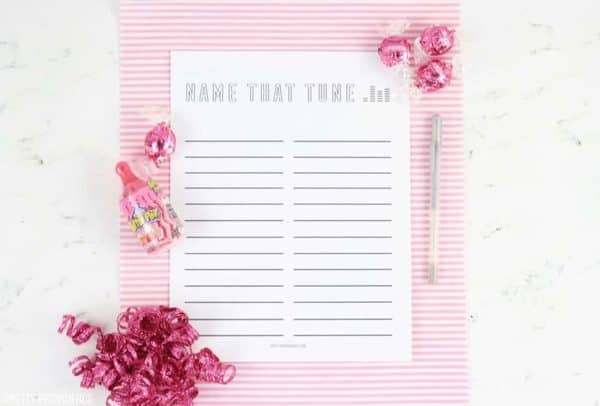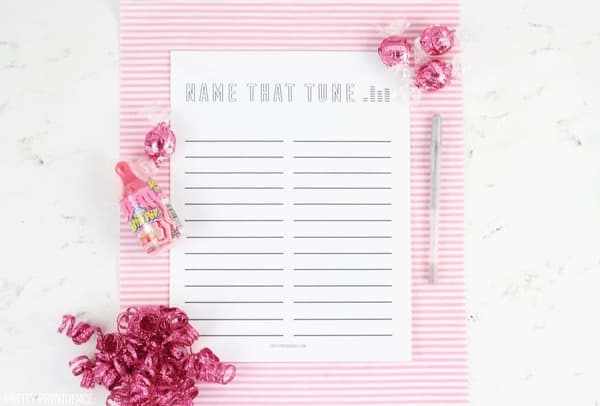 There are a million songs that have the word "baby" in the title, so in wanting to have a little fun at your baby shower, you can play music that has baby in the title and ask guests to write the title of the song and the artist. Make sure to include a selection of old and new music so that all ages can participate. Here's a printable for this game and there's also some good suggestions of songs to play.
Swaddle that baby
Just ask any mom how to swaddle a baby and she'll be able to do it blindfolded. In the even that you have a coed shower or many guests at your party aren't moms, asking guests to swaddle a babydoll will be downright funny. Ask a mom to be the judge and let guests go head to head as they see who can swaddle a baby the fastest and most correct way.
Diaper change in the dark
Another game great for garnering some laughs at a coed baby shower–diaper change in the dark! Guests will go head to head as they change a babydoll blindfolded! Any parent can attest to the fact that you will be doing your fair share of in the dark diaper changes!
Ice cube challenge
As I was preparing for labor, I read that to practice managing the pain of contractions you could hold an ice cube in your hands for one minute. I attempted to do this in preparation, and let me tell you, it was not fun! If you're hosting a shower with a close group of friends this one might be fun. It might be even more fun with a coed shower, too!
To play, have everyone gather together around a big bucket of ice, when someone says go, the partcipants will grab one piece of ice and squeeze it in the palm of their hands. The last one standing wins! This game is best played outside so you don't get your floors wet!
Baby book emoji pictionary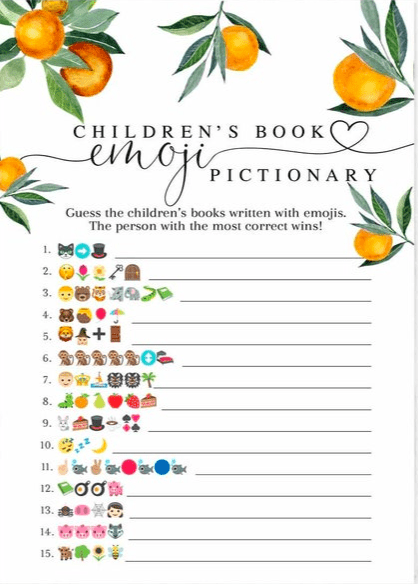 Baby book emoji pictionary is really cute and very timely for our generation. Either use a template you can purchase or make up your own, either way, this is a cute icebreaker that can be played right after refreshments and before gift opening starts.
The alphabet game
Here's a fun game that you can play while everyone's seated just after refreshments are served. To play this game you'll need to get the mom-to-be to fill out words related to babies/kids that begin with each letter of the alphabet. When the game begins guests will start by shouting out their best guess as to what the mom-to-be filled out for each letter. The first person to shout the correct word wins. Here's a free printable to guide the alphabet game.
The price is right
Do you know the going rate for a pack of diapers? What about baby food? Or even baby wipes? Have guests play the price is right as they attempt to correctly guess the amount you'd spend on popular baby gear items.
Baby shower activities
Late night diaper advice
New parents change countless diapers, especially all through the night in those first few months. A really neat idea that I've seen at many baby showers is to have a table set up when guests enter the party with sharpies and diapers so that party goers can write either a message of encouragement or something funny on the diapers. This was done at my baby shower and it honestly was really nice to read the messages as I changed my daughter in the middle of the night.
Give advice to the new mom
Many people don't like baby shower games and strictly forbid their hosts from even thinking about organizing a game, and for those moms, this advice game is appropriate. Either before or after gifts are opened, as the host you can just thank everyone for coming and ask anyone who has motherly advice to offer it at that point. I've been to a couple baby showers where this "game" was played and it's a really sweet and touching time for the mom-to-be.
Baby trivia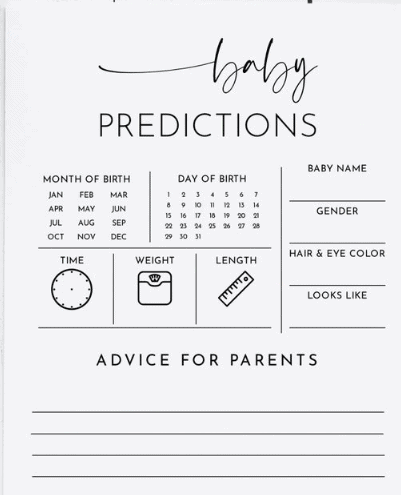 Baby trivia allows guests to predict appearance and when baby will make their grand debut. Baby shower guests can predict things like exact date and time baby will arrive, how much baby will weigh and what color eyes they'll have. Another great ice breaker game!
Who's that baby?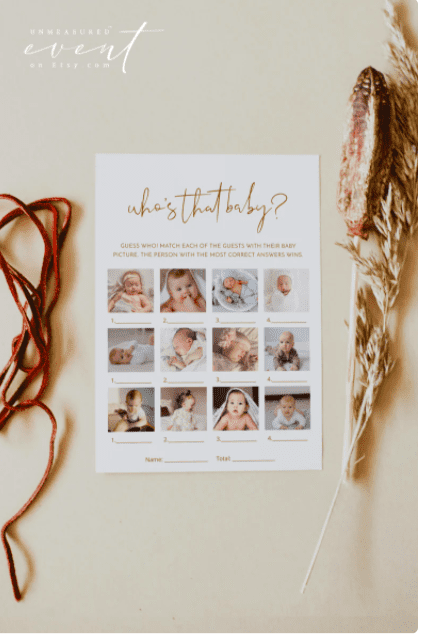 Who's that baby? is perfect for someone who really is adamant about no games at their baby shower, and doubles as decor for the party. As guests arrive, you have a display on a table of baby pictures of the mom and dad.
Guests will decided which picture belongs to either mom or dad. It's a good idea to gather about 5 or so photos of each parent, and to make things more challenging, look for photos baby's first days and months.
The guest who correctly guesses the most baby photos wins a prize. For someone that doesn't want any games at their shower, this is a good ice breaker for guests as they arrive and it serves to add some laughs as you revel which photo belongs to which parent.
Baby shower bingo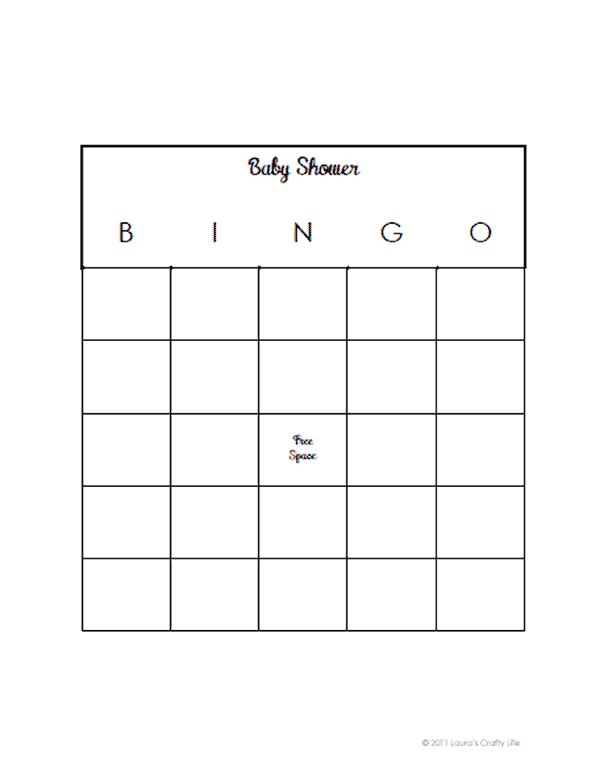 Anyone who has been to a baby shower knows one thing–they tend to drag on if there are lots of presents to be opened. But baby shower bingo really helps keep party goers interest engaged. Guests will fill out the bingo squares with items they think the mom-to-be will receive as gifts at the shower. Just like regular bingo, the first person to fill in 5 squares wins. Be sure to click the link above to get a free printable of this game if you're interested.
Daddy or mommy?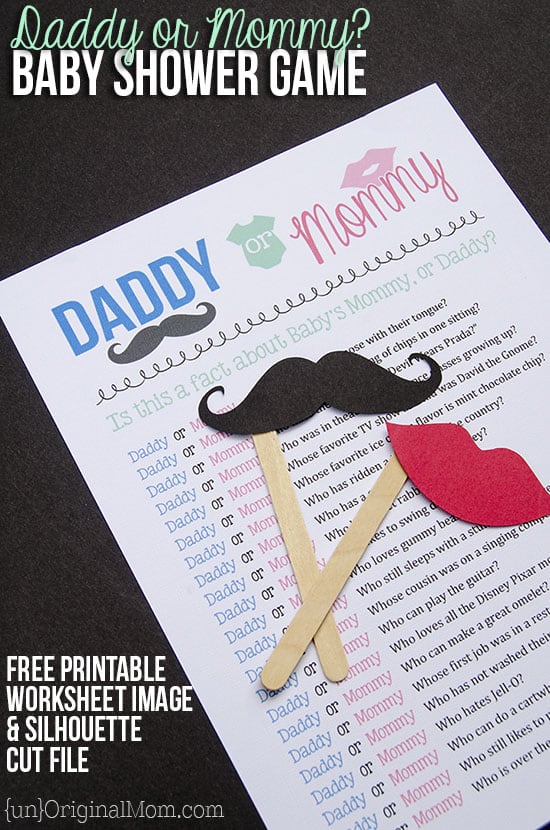 I've noticed a growing trend of hosting a coed baby shower, and honestly, I'm all for it. This daddy or mommy is a great game to play at a typical baby shower or at a coed shower. You can either make these yourself or grab a template here, but you'll have to do a little bit of homework before to come up with some interesting tidbits about the parents to make this game a bit more interesting for your guests.
Guess who?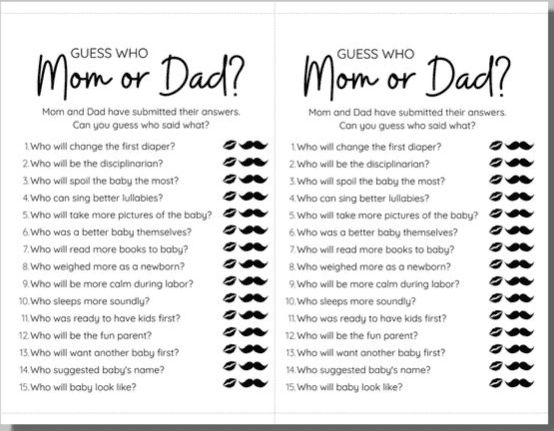 Guess Who is another fun game is to come up with a list of milestones or funny things about each parent's childhood and have baby shower guests decide which anecdote belongs to which parent. For example, you could ask who had blonde hair as a child or who walked at 10 months, etc.
What can you do instead of baby shower games?
Hosting a baby shower but have a mom-to-be that's not in to games? No problem! Stick with some low key activites instead. For someone that has a big rule against any games, stick to activities that are simple, like going around the room and offering the soon-to-be mom words advice or encouragement. Alternatively, having something for guests to fill out as they arrive like "who's that baby" or "baby trivia" is a really good way to pass the time without getting into traditional baby shower games.
You might also consider making the shower short and sweet if you're going to eliminate any games. A morning shower from 10-12 without any games, light mingling, gift opening and a brunch buffet will fit perfectly in that two hour time frame.
You can also get away from activities by doing other special things like: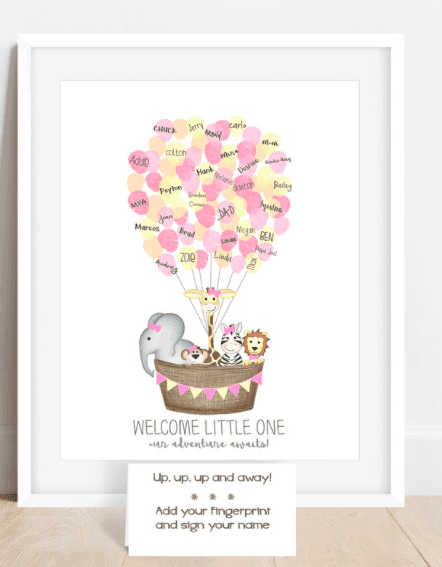 Forgo the guest book and instead have each guest add their finger print to a beautiful picture (either a canvas or something that can be framed later) This is a beautiful keepsake that also adds a bit of color to the nursery! You can purchase these finger print guest books here.
Asking guests to bring a short board book instead of a card. Have guests display the books on a table and this doubles as really cute party decor!
Asking guests to help fill out baby's first alphabet book (find super cute printables to download here)
Write words of encouragement on diapers to be used during those late night diaper changes
How many baby shower games and activities should you play?
Most baby showers are under three hours and for the sake of time, I'd plan to play one to two games. The present opening typically takes the longest amount of time, so in guaging how much time you'll have to play games, take a look at the RSVP list, first.
Typically, guests arrive and mingle for 15-20 minutes before going through a buffet line. After guests have finished most of their food and before the mom-to-be opens presents is a great time to start the games. Activities that are short and sweet like "words of encouragement/new mom advice," are best when done after the gifts are opened to cap off a sweet event.
Related posts
Super cute gender reveal themes
Baby essentials for the first year