Pink or blue? Finding out the sex of your baby can be an exciting time, and rather than just learning what you'll have in the doctor's office, many couples are planning gender reveal parties.
If you haven't been to one yet, a gender reveal party is a gathering where the baby's gender will be revealed in a fun and exciting way. Typically held around 12 to 20 weeks gestation, gender reveals are a surprise to both the parents of the new baby and the guests.
In charge of planning a gender reveal party? Choose from these super cute gender reveal themes for the ultimate reveal party.
Gender reveal ideas and themes
Pink or blue?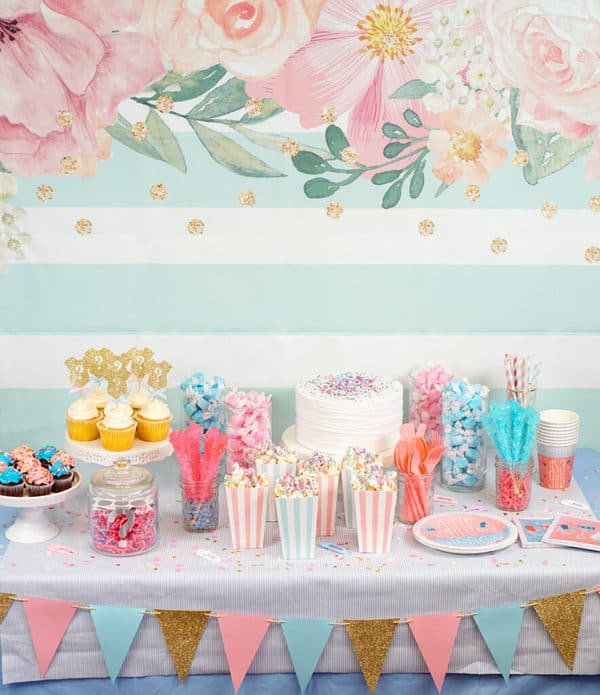 The most traditional gender reveal idea on this list, pink or blue is a classic reveal theme for those looking to have a party without overcomplicating anything! I really like how they've elevated the pink and blue with pops of sparkly gold.
He or she? Cast your vote!


This fun gender reveal theme allows guests to participate by casting their vote as to what the baby might be! Straying from traditional baby colors, this party uses bright colors and classic black and white stripes to accentuate the vibrant colors. source
Guess who?
Sometimes it's best to go simple. Invite guests over for a relaxing and casual gathering when you go with this easy gender reveal theme. Simply give the balloonist the envelope with the gender and surprise guests by revealing either blue or pink confetti.
Balloon backdrop
Create the perfect photo op with this cute gender reveal theme beautifully decorated with varying hues of the popular colors associated with little boys or little girls.
Related: Modern baby shower games
What will it bee?
If you'd like to move away from the traditional baby colors and go with something absolutely adorable, this what will it bee is perfect for you! You could make it as on-theme as possible or just go low key with themed invites and tasty treats.
The big reveal
Play on the element of surprise with the big reveal theme. Allow guests to join in on the fun by giving them an opportunity to guess what they think the baby might be. It's also fun to pull up old wives tales that point to a boy or girl and indicate whether or not they're true for you.
Waddle it be?
Besides the bee theme, this adorable duck-themed gender reveal party has to be my favorite. Completely adorable, and perfect for revealing the sex of your baby in a fun way.
Paint party
I really like this paint party gender reveal theme for people that already have kids, because their younger kids can get in on the action and get excited about a sibling in the process.
Twinkle Twinkle Little Star how we wonder what you are?
Such a cute theme and you could really go all out using the super popular nursery rhyme as the theme for your party.
Cupcake or stud muffin? What's in the oven?
I thought this one was pretty unique and quite clever, if you're looking for something that's a little different from the norm–here's a good option.
Stashes or lashes
Such a cute idea for a gender reveal theme! You can easily incorporate stashes and lashes into props your guests can use for photos.
Twin gender reveal themes
Baby A and Baby B
Revealing the sex of twins at your party? Go for shock and awe when you and your partner can each participate in the reveal by using a paint-themed reveal.
Related: adorable baby girl nursery themes
Gender reveal themes/parties FAQ
When should you have a gender reveal party?
Traditionally, most women didn't find out the sex of the baby until their anatomy scan at 18-21 weeks. Nowadays, more and more parents are opting to find out the sex of their baby sooner via dna testing.
That being said, because of the higher risk of miscarriage in the first trimester, some parents decide to wait until they're well in the second trimester to have a gender reveal party.
The decision of when to have it is entirely up to you! Do what you're comfortable with!
Is it customary to bring a gift to a gender reveal party?
Typically, gifts are reserved for baby showers or sprinkles, and not a central part of the theme for gender reveal parties. Of course, you're always welcome to bring small gifts to a gender reveal if you choose to do so. Because you'll likely be invited to a baby shower too, you may want to bring something for the mom-to-be if you'd really like to bring a gift.
What games do you play at a gender reveal?
You can save the games for your baby shower or choose to do some at your gender reveal. For starters, as guests enter the party, have them "vote" as to what they think the sex of the baby will be. Some themes like pink or blue, cupcake or stud muffin and lashes or stashes lend themselves easier to this game than others.
You can also play guess the date–set up a calendar around your due date and have guests bet on the actual date baby will be born!
Additionally, it's always fun for guests to take turns giving parental advice to the parents-to-be! I like this idea because it's less of a game and more of a way to spur conversation among your guests!
Decorate the diapers is also a fun game to try. Simply ask guests to write or draw something on newborn and size 1 diapers. Try your best not to read them at the party, but rather store them away and as you pull them out during those early newborn days, you'll receive some advice or humor to keep going!
Who knows the gender for a gender reveal party?
No one has to know the gender or you can opt for a close friend or family member who is helping to plan the party to know. Simply ask the ultrasound tech to write the sex of the baby on a piece of paper. Most bakers are very familiar with gender reveal cakes/cupcakes and will take care of filling the center with either pink or blue when you hand them the envelope.
Keep reading: