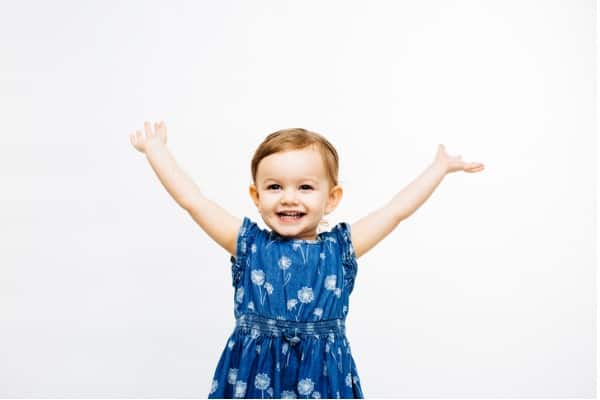 Want to know what one of the biggest secrets to avoiding most of the "terrible twos" phase is?
A practical schedule that works for your 2 year old and you.
There's a reason they call it the terrible 2s–two year olds have big emotions, but this is because they're processing so much all day long.
And if your two year old doesn't have a predictable routine and consistent time to decompress and rest, all of this processing can lead to a very grumpy, highly cranky, emotional toddler.

Here's everything you need to know about creating the perfect 2 year old schedule:
Do toddlers need schedules or routines?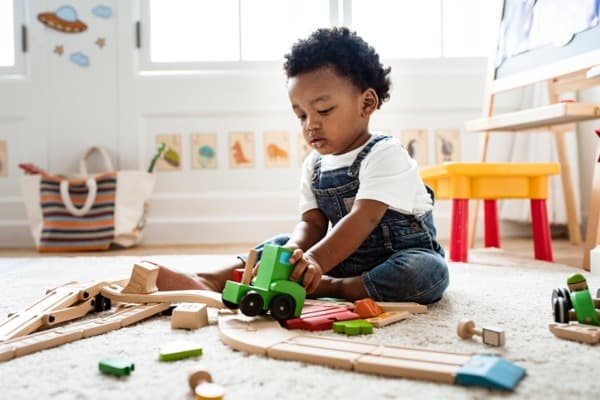 Despite your toddlers seemingly carefree attitude towards life, they actually crave the predictability found in routines and schedules.

These little people are busy, they're learning thousands of new things each day and figuring out how the world works a little bit at a time– all of this leads to a toddler that can get overwhelmed pretty easily.
Schedules allow your two year old to rest in the familiarity that they've come to know as their daily routine.

Your two year old's body clock naturally winds down between 6:30 – 8:00 pm each night and is ready to go between 6:00- 7:00 am the next morning. Sticking to routines that are in line with their innate schedule allow your toddler to get adequate rest so they can grow and thrive.

Routines also help parents feel less chaotic and create an environment with less stress. If your child understands their morning or bedtime routine, they're less likely to fight with you, because it's the same routine each day.

A sample 2 year old schedule or routine
7:00 am — Wake up
7:30 am — Breakfast
8:00 am — Independent play while mom eats breakfast or does light chores
8:30 am — Play time with mom
9:30 am — Snack time
9:45 am — More independent play while mom gets stuff done
10:15 am — Out of the house!
11:45 am — Return home, start lunch
12:30 pm — Read books, sing songs, and wind down for nap time
1:15 pm — Lights out for nap time
4:00 pm — Up from nap, light snack
5:30 pm — Dinner
6:30 pm — Bath, start bedtime routine
7:30 pm — Lights out
Breaking down a beneficial 2 year old schedule: Q & A
Does a 2 year old still need a nap?
Yes! Two year olds are notorious for fighting naps or attempting to give them up for good, but for the most part, this is just a phase.
The two year old sleep regression really messes up many toddlers' day and night sleep, but please do not give up on naps at two.

Young toddlers really should nap until age 3 or 4. If you notice your toddler stays up during the entire nap time talking to themselves, don't stress. Keep offering a nap each day at the same time and they'll more than likely start sleeping again during their nap time in a week or so.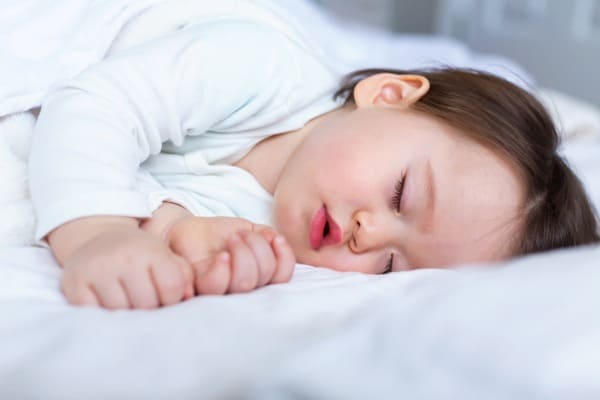 With a wake up time of 7:00 am, aim for a nap between 1:00 and 1:30, or about 6.5 hours from their am wake up time.

I would carry out a routine, similar to a bedtime routine before your 2 year old's nap. It really just helps signal to them that it's time to wind down and get some rest.
If you attempt to offer your 2 year old a nap for more than two weeks without any real sleep happening, I'd reserve from 1:00-2:30 as quiet time. Your toddler can read books or play with puzzles quietly in their crib while they get a break from additional stimulation and you get some rest, too!

How long should a 2 year old nap?
Depending on your toddler's activity level and how much sleep they get at night, shoot for 1-3 hours of sleep during naptime.
Obviously you can't force a toddler to sleep, so if you've got a 2 year old that only naps for 45 minutes to an hour, consider instituting a quiet time after nap time, so they can continue to decompress from the day.
How do I entertain my toddler all day?
If you haven't already, you can begin teaching your toddler valuable life skills like independent play and developing their imagination, which will really help take the pressure of entertaining your toddler off of you.
Additionally, getting out of the house each day works wonders towards passing the time. Here's more info:
Encourage independent play
Let me let you in on a little mom secret called independent play. No, this doesn't mean you ignore your two year old all day, but rather you allow them to engage in play without your direction at various times during the day.

Independent play not only gives you a break from having your little shadow follow you around all day, but it also is crucial for their development. Playing alone allows your toddler to develop and use their imagination, builds confidence and increases their attention span.

Here's how to facilitate independent play:
Make sure your toddler is in a space they feel comfortable in and where the majority of their toys reside. Your toddler should be able to access toys without assistance from you.

Simply walk out of the room and go about your business. Do not feel like you need to set up some sort of sensory craft or introduce an exciting new toy– the entire point of independent play is that your toddler use their imagination to play however they see fit.

At first you may find that you only get five minutes before your little sidekick is back. Keep facilitating independent play a few times a day and see where you are in a week or so.
I promise you'll be amazed at how quickly your toddler adapts to this. Soon you'll notice your toddler wandering off from your side to play on their own, and that magic!
You'll find that mixing one-on-one time with independent play time works to really pass the time.

Get out of the house
This is one of the biggest things to help keep me sane while being at home with a toddler all day. I've got a list of places that are mostly free for us to go to so that we can just take a break from the house. Here's some ideas:
Parks
Library– check to see when storytime is at your local library
Indoor gyms– most gymnastic places offer toddler play time for nominal fees (this is genius on those super hot days or rainy winter months)
Barnes & Noble– their kids section is great!
Music classes
Grocery shopping
We don't always leave the house, because some days the logistics just don't work– so on those days we'll walk in our neighborhood or get outside and play in the backyard.
What time should a two year old go to bed?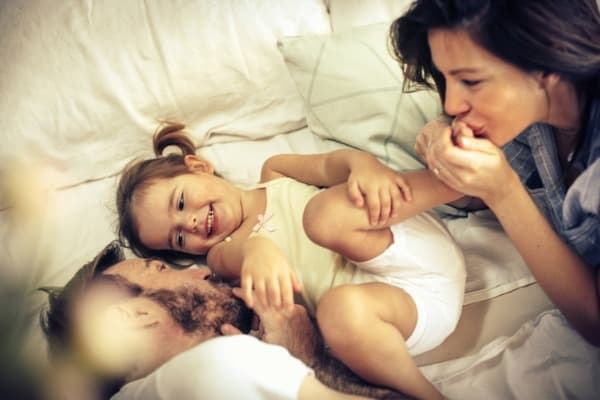 There's no exact time that your toddler needs to be down, but research does tell us that 2 year olds are naturally programmed to go to bed between the hours of 6:30 and 8 pm each night.
If you haven't followed a bedtime schedule yet, but would like to help your child start getting to bed earlier at night, here's how you can ease that transition:

You'll need to first make sure that your toddler is up from their afternoon nap no later than 4:30.

After that, start gradually moving bedtime earlier by 15 minutes each week. If your child was going to bed at 8:00 pm, and you'd like to move up the bedtime to 7:30, it will likely take two weeks for your toddler to get fully adjusted to the new bedtime.

What does a good bedtime routine for a 2 year old look like?
Setting a good bedtime routine for your 2 year old is so important and goes a long way towards ending the night time battles.

Here's some items to consider when establishing a good bedtime routine for your 2 year old:
Make sure dinner is served 1-2 hours before bed. Serving dinner and then immediately starting a bedtime routine is a recipe for disaster. Give that little tummy time to digest!
At least 90 minutes before lights out:
Eliminate all electronics
60 minutes before lights out, do the following:
Choose quiet activities before bathtime; don't encourage rowdy behavior
Play soft or relaxing music
30 minutes before lights out:
Bath– if you've got a restless toddler who struggles with bedtime make sure they get a soothing bath each night. You can even dim the lights and play relaxing music during the bath to help set the stage.
PJs, songs, books
Whatever you decide works best for you and your toddler in terms of a bedtime routine, make sure it's consistently followed each night–this way your toddler will come to know what's expected and won't be surprised when you announce "lights out!"
Save time to connect with your toddler during the bedtime routine. Even if this means reserving 15 minutes after the last story just to talk with your toddler or snuggle, doing so will make your two year old feel secure.
I once heard that small children who don't feel like they've received enough connection time with parents will act out at bedtime.
No matter how busy your day is, if your toddler knows they get to connect with you again precious time before bedtime, they are much less likely to act out.

Closing thoughts on the 2 year old schedule
Even though your growing toddler is taking less naps and is more independent than ever, it's still beneficial to carry out a schedule for 2 year olds.
Keep offering naps, develop a bedtime routine, structure their day to involve both one-on-one time with parents and independent play and you're well on your way to achieving the perfect 2 year old schedule.
Related toddler and 2 year old reading:
The two year old sleep regression: How to fix 2 year old sleep problems