Dreading transitioning your toddler to a big kid bed? Most parents don't look forward to the big switch only to find out the experience wasn't quite as bad as they thought.
When should you transition your toddler to their own bed and how do you make the process as painless as possible? Here's 6 tips to help ease the transition from crib to toddler bed.
First, here's how to know when it's time to transition your toddler to a big kid bed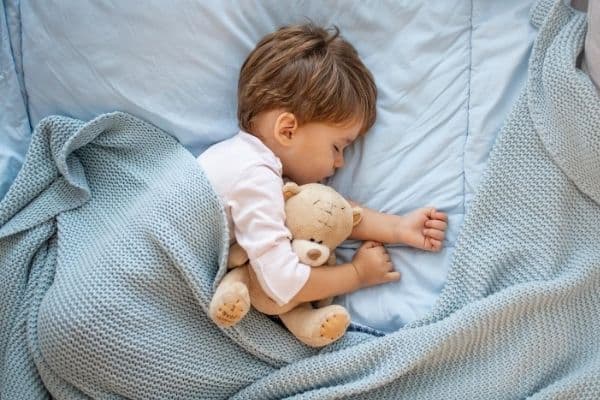 Signs your child is ready for a toddler bed
Of course, just like with everyone else, no two toddlers are alike, and your tot might not be ready to transition to a bed when his friends are, and vice versa. Here are some typical signs it might be time to think about moving to a big kid bed:
Your toddler is between 18 months and 3 ½ . Although many parenting experts recommend waiting until your toddler is as close to 3 as possible.
They're attempting to climb out or have climbed out before
You need the crib for another child
When not to make the transition to a toddler bed
Believe it or not, your toddler has come to really enjoy the security that comes from their cozy little crib and transitioning is likely to be hard for them at first.
You don't want to transition your toddler to a big kid bed when another baby is due at any moment or within a month of bringing a baby home. It's also not a good idea to transition them in the midst of potty training, either.
If you're moving or have just moved, or if your tot is about to start or has just started a new school year, let the newness wear off a bit before you decide it's time to make the switch.
Setting yourself up for success: 5 tips to make the big move to a toddler bed seamless
Tip #1 : Toddler proof their room
The first item on the agenda is to make sure the room is safe for your toddler. It's highly unlikely they'll sit in their new bed and just wait for you to come get them, unless you have an unusually compliant child!
Remove all chords, wires, etc that could cause a choking hazard. Secure all heavy furniture to the wall and remove items that can be easily knocked over like small table lamps.
Consider adding a nightlight to help ease the transition, and make sure closet doors are closed and place child-proof handles if you don't want them getting in there during the night.
Tip #2: Make the bed safe for your toddler
If the bed is too high off the ground, add a safety rail or use the pool noodle trick to create a bumper under the sheets. Alternatively you could place a mattress right on the floor until you feel comfortable.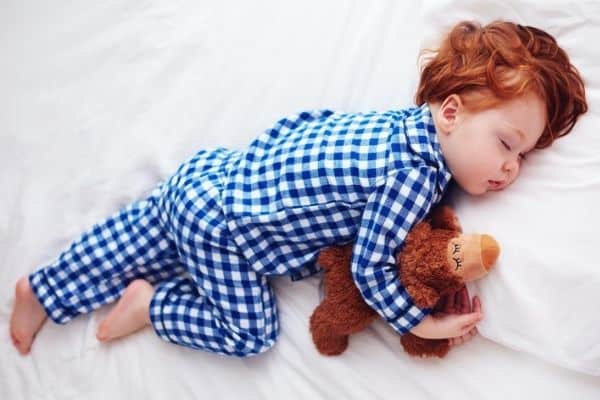 Tip #3: Let your toddler know you're going to transition them to a big kid bed ahead of time
Start talking to them about it in the weeks before the transition. You can even read them a book about it, so they can start understanding the concept.
Tip #4: Make it fun
Allow them to feel special by helping to pick out the bedding, adding some new stuffed animals or even choosing the bed itself.
Tip #5: Keep familiar things familiar
Try to carry as much familiarity from the crib over to their big kid bed–sheets, blankets, lovies, etc., whatever they need to feel comforted.
It's also a good idea to place the new bed in the same spot as their crib. Hold off on doing a full blown room makeover just yet–toddlers will feel overwhelmed with their new surroundings and likely reject their new space if too much is unfamiliar.
Additionally, don't change up anything from their nighttime/nap routine and try to carry that out the exact same way as before.
Tip#6: Add some light
Toddlers are used to feeling secure and safe in the confines of their crib, so taking them out of that environment is likely to cause some anxiety. Get a fun nightlight to help soothe their fears.
How do you get your toddler to stay in their new toddler bed?
This is the million dollar question! If you have a child that's naturally curious, chances are this newfound freedom is going to come with a bit of a headache for you. The good news? If you follow these tips and stick to them, you should be home free soon!
Carry out the bedtime routine as normal and make sure you're very clear about it being the last call for water, potty (if they're potty trained), extra hugs, whatever.
If your child gets up, walk them back to their room. Do not make a huge deal about this–try not to let them see you get upset or annoyed and make the walk back to their room as boring as possible.
Try a baby gate at the door if you think your toddler absolutely won't be able to handle the freedom of a toddler bed.
Try a sleep training clock. These things are genius and help keep your child in bed and sleep longer in the morning before roaming the house to get you. This one turns yellow about 30 minutes before it's time to get up and turns green when it's okay for your tot to get up and start their day.
Keep in mind that some nights and nap times will be a disaster at first. You can expect your child to get up multiple times for a while, but with consistency, they will start to understand their new boundaries.
Be okay with your child playing through all of naptime or potentially sleeping on the floor, in their closet, etc. Accept that it's part of the transition. They will eventually get over the newness of their toddler bed and resume normal sleep.
Which toddler bed is right for your child?
There's several different routes you can go–from toddler beds to 3-n-1 cribs to a twin or even full mattress, there's really no wrong way to go about it.
For us, we already had a full bed and I knew eventually we'd be transitioning our daughter to that, so we went ahead and did it, rather than buying a toddler bed to use for a year or so.
For safety purposes, we just put the mattress right on the floor until we were confident that she wouldn't roll out. Even after that phase, I used these really handy bumpers and made sure that there were blankets on the ground next to the bed.
FAQ about transitioning from a crib to toddler bed
Should you lock your toddler in their room?
Not only do parenting experts agree that locking a toddler in their room seriously makes them feel unsafe, if there were a fire or something else like that, your toddler may not be able to escape their room.
Baby gates with the door left open (after they fall asleep) are the better option if you've got a roaming toddler.
Is it okay to skip the toddler bed and go straight to a big kid bed?
Absolutely! This is what we did and it worked fine. Before we transitioned my daughter I was nervous about the fact that I wasn't putting her in a toddler bed, but I actually did some research and found that sometimes when it's time to put the toddler bed up, parents have a hard time transitioning their kid out of the toddler bed into their big kid bed.
So rather than have to deal with two transitions we just ripped the band-aid off, so to speak.
Related toddler resources
Strategies to avoid toddler meltdowns before they happen