Just when you think you've got potty training in the bag, bam! It's nap time.
Uh oh! Now what?
These were my exact thoughts the first day I attempted to potty train my oldest child, before I became a certified potty training consultant, and really knew what I was doing.
Some potty training experts recommend you get rid of the diaper for good, naps (and nights!) included. Some advocate for biting off a little at a time, and slowly taking away the diaper for naps and then night time later on down the road.
So what strategy is best? Here's the answer you're not going to want to hear: It depends– because it truly just depends on your child as to what solution is works well.
I'll walk you through the different scenarios and possible solutions so you can feel confident potty training during nap time when your child is ready.
Potty training at nap time: How to know if your toddler is ready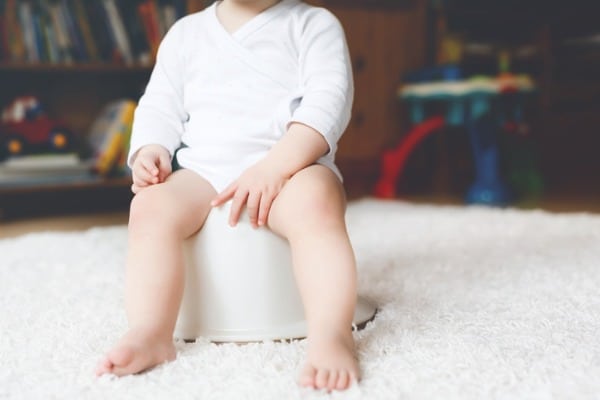 Consideration for potty training during nap time #1: How old is your child?
Some parents start potty training their toddler as early as 21 months. At this age, the bladder is just beginning to develop, and many parents find it hard to avoid a diaper during naps. Did you know that the bladder doubles in size between the ages of 2 and 4.5?
All this to say, your child's age and bladder development will greatly impact how successful you will be with forgoing the nap diaper.
On the opposite end of the spectrum in terms of potty training age, if you started potty training when your child is approaching three or older, keeping diapers on for naps might actually work against you.
At this age, toddlers are smart and stubborn. Using a diaper at nap might seem convenient but it will likely cause your toddler to regress what they're learning during awake times.
If you're potty training an older toddler, I suggest getting a few days of potty training in while keeping the diaper for nap and then ditching them for naps and never looking back. I'll go over some strategies to do this as painless as possible below! I've also written about potty training a stubborn 3 year old that you can read to help, too.
P.S. You may have read that you shouldn't start potty training for naps until you notice dry diapers. This time may never come. There's a ton of muscle memory a toddler has when they have on a diaper. For 2+ years they went pee and poop in a diaper. Even if they are making headway during the day without a diaper, at nap, if you put them in a diaper again, their muscle memory will just kick in and they will likely just go potty in their diaper.
Related: if you're reading this before you've started potty training at all, I've got a great post on What age to start potty training that you might want to check out first.
Consideration for potty training during nap time #2: How long do you want the actual potty training process to be?
Here's the thing, as inconvenient as it might be to clean up accident after accident (especially at night and during naps) we know that kids potty train much sooner when diapers are out of the picture during the day.
When you take away diapers during the day but add them back for naps it sometimes confuses things. Kids will either wonder why they have on a diaper again and will be fearful of peeing in it after having just learned that pee goes in the potty or they will simply wait for the nap diaper to go pee or poop.
As I mentioned above, I had quite the time potty training my oldest child. She was old enough to forgo the nap diaper within a couple weeks of potty training, but I resisted because I thought she would pee in her bed each time and I didn't want the mess.
This really backfired and made potty training drag out for months because she would wait for the nap diaper to go poop. Thus she never really got comfortable going poop in the potty.
When I finally took away the nap diaper, we had two days in a row of accidents during her nap, and then voila! never again. It also seemed to solidify potty training in general for her. Overnight we didn't have to prompt her anymore to go potty during the day either.
Tips for potty training at nap time
Regardless of whether or not you decide to ditch the diapers for naps from the onset or hold off on that process, here's what you need to know to be successful when the time comes.
Do keep in mind that you'll see the most success after you notice your toddler is holding their bladder for 1 to 2 hours at a time. If you're still in the phase of going to the potty every 15-30 minutes, it's not likely that you'll see much success at nap time, yet.
Forgo underwear for naps
If you've read my other potty training posts, you know I suggest going bottomless when first starting to potty train, as it makes the entire process much easier for toddlers to grasp. In order to have success potty training during nap time, I suggest going bottomless for nap, too.
Use the potty chair
You want your child to feel comfortable getting out of bed and using the potty during their nap time. If you haven't yet converted the crib to a big kid bed, go ahead and make the switch now. It's also a good idea to keep their potty chair in their room so they can easily go if they need to.
Make sheet changes easier
Changing sheets is a pain! Lay a thick blanket down and have your child sleep on that. This way, if they wet the bed, hopefully the thick blanket will absorb everything and you can simply scoop it up and wash it without having to make the bed each day. I used a thick fleece blanket for my daughter when she was learning and this trick worked like a charm!
Wake up from naps that are too long
If your toddler is napping longer than 2 hours, it's likely that they're going to wake up wet because they just can't hold it that long. If you find this to be the case, consider waking them up after an hour and a half to see if that does the trick. Try to also just give sips of liquid the hour before nap time and get one good pee in before you put them down.
Ditch the sippy cup
My daughter used to guzzle water through a sippy cup. As soon as I ditched the sippy cup during meal times, she quit downing water and sipped just to quench her thirst. This really helped with bladder control as she was drinking a normal amount without the straw.
Set a routine
Make going to the bathroom prior to naps part of a routine for your toddler. Rather than creating resistance reminder, empower them by creating a daily schedule together that includes potty breaks. This way, they'll come to learn that they go potty right before nap time. If you're looking for a sample schedule, here's the perfect potty training schedule for a 2 year old.
Keep reading more potty training tips or ask me a question in the comment box below!