Quit stressing about your toddler's lunch at daycare. After packing countless preschool lunches, I've finally developed a system that works wonders.
If you saw my post on healthy toddler breakfast ideas, you know I try to keep the added sugars to a minimum and introduce a healthy variety of fruits and veggies. Below you'll get advice on how to generally construct preschool lunches so that you can quickly make them.
I'll also give you 11 sample lunch ideas that my toddler loves and I'll give you ideas on where you can buy the healthiest packed foods to help complete lunchboxes in a pinch.
What should I feed my toddler at daycare?
Start with a base
It's easiest to think about the "main event" of the lunchbox first. I don't do the traditional sandwiches too much at all and I'm a huge fan of adding healthy dips and spreads to the lunch box, so I'll do a wide variety of crackers/healthy grains in this category. Some of my favorites for this category are:
No bake energy balls (my toddler's current fave)
Plantain chips
Almond flour crackers (Simple Mills brand)
Marys Gone Crackers
Lara Bar
Aussie Bites (found at costco)
Wraps
Whole wheat organic bread
Add in a dip
Hummus
Bean dip
"Queso" dip (Good Foods brand found at target)
Taziki dip (Good Foods brand found at target)
Guacamole (Good Foods brand or costco organic brand)
Choose your fruit
Clementines
Strawberries
Raspberries
Blue berries
Raisins
Grapes
Banana
Choose your veggie
Tomatoes
Carrots
Sweet potatoes
Bell peppers
Cucumbers
Add in additional protein
Sometimes your "base" might come with enough protein to keep your toddler full. Other times, you might find you need additional protein. Here are some of my favorites:
Hard boiled egg
Feta cheese
Nut butter
Cottage cheese
Greek yogurt
Toddler daycare lunch ideas
Mix things up with these unique preschool lunch ideas my once very picky toddler devours!
Chicken + Feta + Crackers + Cucumbers + Guacamole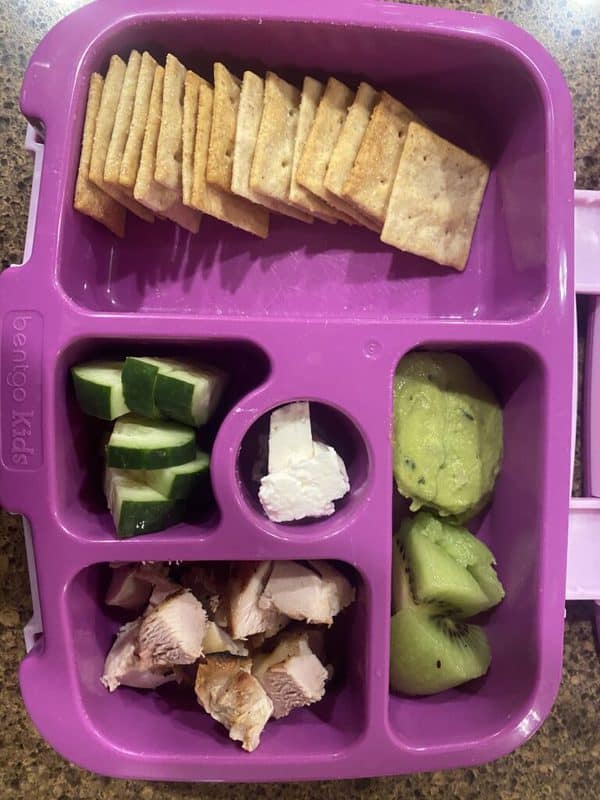 One of the easiest things you can do is grill chicken for a dinner and grill additional pieces for lunches. Easy peasy! I get the single serving guac dips from costco.
Turkey and cheese sandwich + grapes + apple slices (thin)
Use organic lunch meat (I love applegate farms brand) and organic cheese, paired with dave's organic bread.
PBJ
PBJ is a classic lunch option, but typically loaded with sugar. Make your own jam with crushed raspberries or look for an organic jam with no added sugar. Add in a favorite fruit and veggie to complete this lunch.
Oat energy ball + cheese + roasted sweet potatoes+ carrots + taziki dip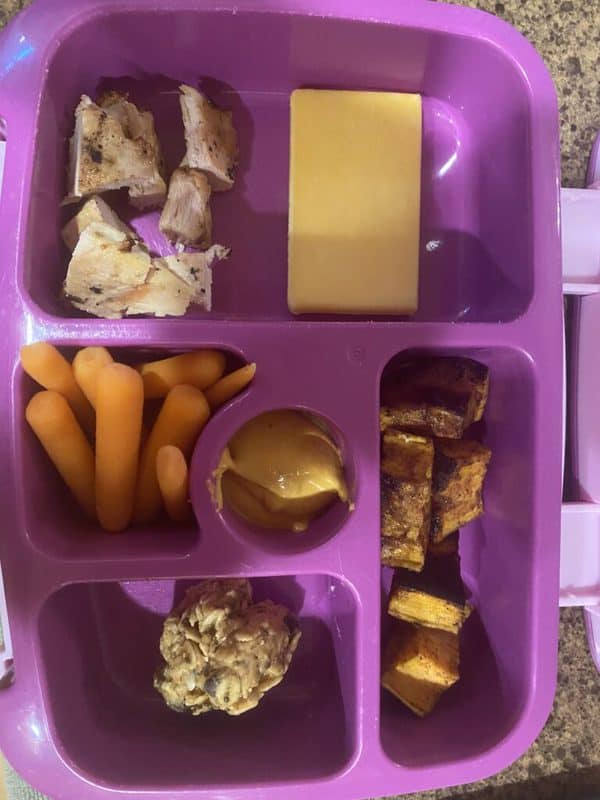 Lately I've been making oat energy balls and my toddler devours them. It's a great way to get extra omega threes in her diet and ours, as they have now become a household staple.
I modify this version and add in coconut, flax mill, chopped walnuts, and chia seeds. I also reduce the sweetener and no one can tell! I use Good Foods (target) taziki dip.
Tortilla wraps + bananas
Ezekiel brand has tortilla wraps that are great for this preschool lunch idea. Add in a bit of spinach, tomatoes, roasted/grilled chicken (from leftovers) and taziki (good foods brand) or hummus.
Yogurt bar
Lunch doesn't always have to be a sandwich. My toddler loves yogurt, so I do yogurt bar lunches for her. You definitely need a bento box for this.
Go with organic whole milk plain yogurt, drizzle a little honey or maple syrup ( a little!!) or just sweeten with berries and bananas. Next add in finely chopped nuts and raisins. I might add in something else like grain free pretzel sticks if my toddler needed more.
Hummus + crackers + applesauce + feta + red bell peppers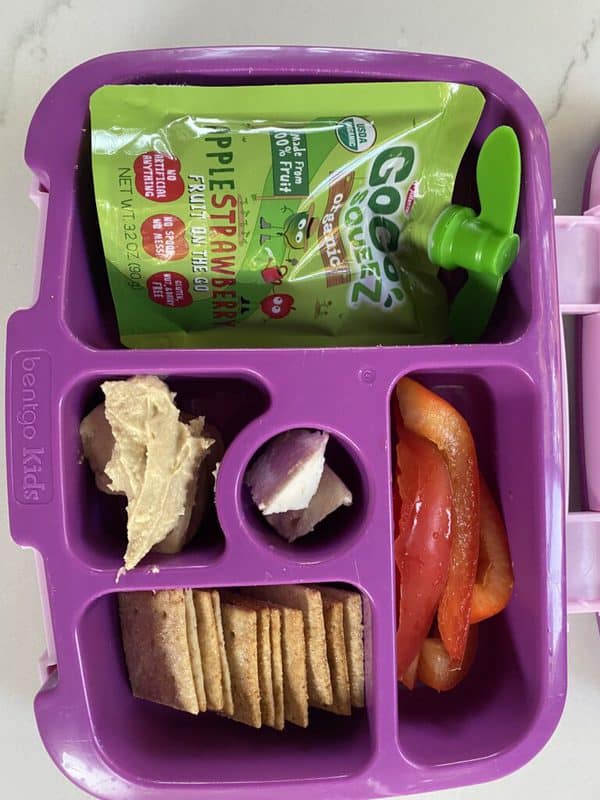 Hummus is such a great food for toddlers. It's plant-based protein, packed with tons of vitamins and minerals. However, you must check ingredients if buying packaged.
A lot of hummus brands contain oils that just aren't healthy. Organic hummus is typically your best bet for avoiding inflammatory oils.
Make your own pizza
We love doing this at home and so my toddler likes to do it at school. Older toddlers will do better with this, but my younger toddler had fun dipping the pizza dough in the sauce and "creating her own."
Go with uncured pepperoni slices, Naan bread, shredded organic cheese and tomato sauce that has minimal ingredients for the healthiest option. Bento boxes make this lunch idea so much easier!
Brown rice + Beans +guac+ salsa +pita bread
Taco Tuesdays is lunch on Wednesday. One of the easiest ways to make your toddler's lunchbox is to make a little extra for lunch the next day! Make it easier on yourself and use those single serving guacamole cups from Costco.
Plantain chips + guac + cucumbers + raisins + Lara Bar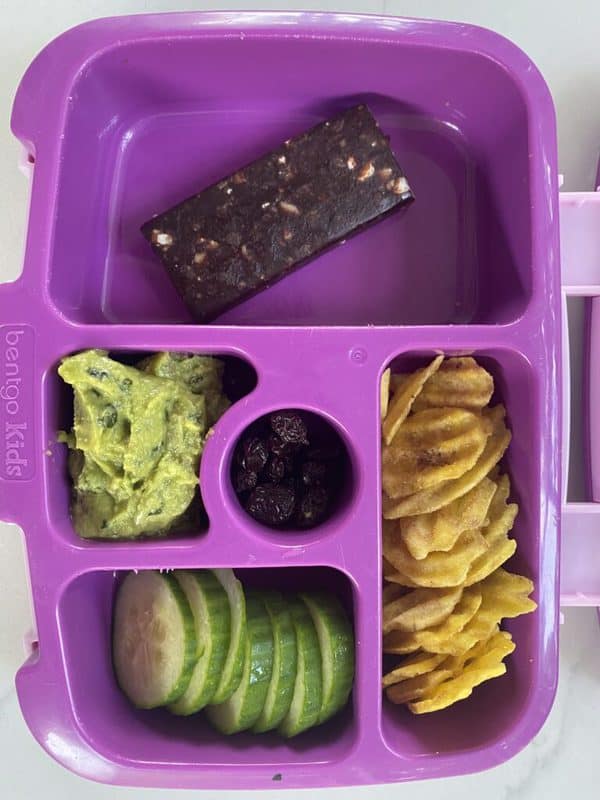 I discovered plantain chips from costco the other day with very clean ingredients and my toddler and I both love them. Lara bars are my go-to when I'm in a pinch–great ingredients and very, very minimal added sugar.
Avocado with egg sandwich +oranges +strawberries
My toddler loves this combination–and it's so healthy! I like Dave's organic bread the best for this lunch choice.
My favorite lunch boxes for preschoolers
Make creating lunches in the morning much easier on yourself by getting a bento box or something similar. Don't mess around with a thousand little containers. Both of my daughters have bento boxes and they hold up extraordinarily well.
I'm also a huge fan of water containers that actually don't spill and have a straw that is durable. My toddler is constantly chewing through the water cups that have cheap straws. We bought this container this year for preschool and I love it!
This thermos was recently recommended to me by a friend and I really like it. We've used it before for on the go, but I haven't tried it for preschool yet. I am planning to do that soon, as I'd love to make packing lunches even easier on myself by sending leftovers.

scroll/tap click to shop my favorite preschool lunch must haves!
You may also find ideas in my post about on the go snacks for toddlers, and meal ideas for toddlers. Find even more on toddler meals and Costco school snacks.