There's a bunch of flashy, battery-operated toys on the market today, but are they best for kids? Learning toys promote educational concepts, foster creativity, build concentration and broaden imagination, just to name a few benefits.
As my daughter ages, I've been a huge fan of shifting away from noisy, bright plastic toys that leave her bored and don't provide educational value.
Keeping a small number of educational toys out at any given time helps her play better–she's more focused, her imagination runs wild and she can play independently for longer periods of time.
One of my favorite things about learning toys is the fact that they get "back to basics" and are very reminiscent of toys I had during my childhood, so it makes playing together really fun!
If you want to start building a collection of educational toys for your four year old, here's my favorite learning toys for 4 year olds.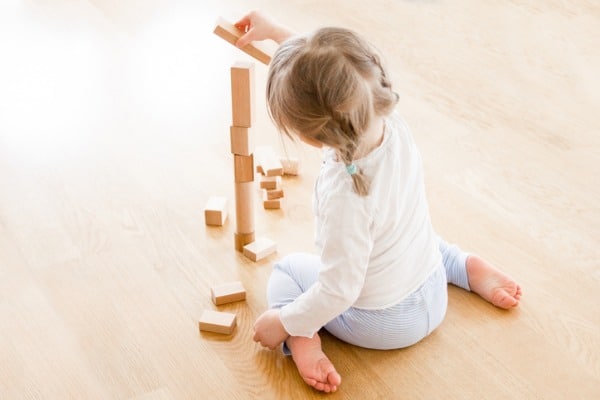 13 of the best learning toys for four year olds
You'll notice that each of these educational toys for 4 year olds serve many purposes. When you're in the market for an educational toy look for items that will stir creativity and bring on open ended play, meaning the possibilities in which your child can interact with the toy are endless.
Pet vet
Toys that promote imaginary play are so critical to learning. If you already have a dress up collection, this pretend vet set is a perfect pair for a set of scrubs or a white coat.
My daughter received this as a gift a while ago and has loved playing with some element of it almost daily.
Kitchen
A play kitchen is a great investment. Kids love to imitate what they see their parents doing, by making food in the kitchen.
Kitchens also help with imaginative play and foster independent time. You can provide kids a chefs hat and coat or apron to make it even more fun.
Cutting fruit
If you have a kitchen, you've got to have play food! I love this set of play food– not only is it durable, but it's educational, as well.
Children can learn about fractions by cutting the fruit in pieces and will have the opportunity to develop motor skills as they cut the food.
Puzzles
Puzzles promote gross motor skills and help with problem solving and concentration skills. My daughter started out with the chunky puzzles for young toddlers and has slowly graduated to these more complex puzzles.
I love these wooden puzzles as opposed to the traditional puzzles made out of cardboard as I find the cardboard ones easily get beat up.
Wooden blocks
Not only are blocks great for building gross motor skills, but they're also amazing toys to own in terms of imaginative play.
I truly believe that kids learn by playing, and having open ended toys like these blocks are great for kids. These are expensive as far as blocks go, but they're very sturdy, come with their own carrying case and can be used for years and years.
Safari Animals
A good set of play animals is great to have in your four year old's toy collection. These animals are the very definition of open-ended play. Let your child's creativity run wild with a good set of animal figurines.
Cash register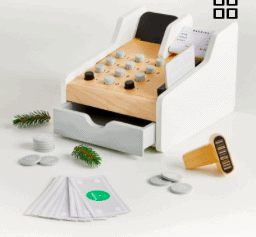 Another item to foster imagination and promote learning- a cash register. Help your child learn to count money, add and subtract with this adorable cash register.
It's a great addition to a play kitchen and food, as they can shop for groceries, pay for them, and take them home and prepare them in their kitchen!
Threading toys
After seeing these types of toys in my daughter's preschool, I'm adding them to our collection at home.
These are great for fine motor skills and really promote concentration. You can also work on basic math skills with your child by using these beads as a mini
Magna tiles
In addition to a good block set, magnetic tiles are great toys for four year olds. Magna tiles are a great investment (and great gift idea for birthdays from grandparents!) and will last as you pass them down from kid to kid.
Learning and educational opportunities are endless with these cool magnetic blocks, as are imaginative possibilities.
Fort builder
It's right around this age when kids want to start creating forts with every available pillow and blanket in your house. This fort builder is the perfect toy for the toddler who loves forts.
You can build tons of different forts, from igloos to castles and once your preschooler gets the hang of it, they can even construct the forts themselves.
This is a great gift for grandparents to have at their houses for grandkids to play with, as it's something they can do together and the kids will make tons of memories!
Musical instruments
Get past the battery operated and flashy "musical" toys with a billion buttons and opt for a wooden instrument set that will promote learning and stand the test of time.
Teach your four year old about rhythm, rhyming and sounds all while sharpening their auditory development. I love this set as there's a good variation of instruments and enough for the whole family to join in.
Wooden number puzzle
I purchased this gift for my toddler at age three, but she wasn't quite ready for it. At closer to four, this was perfect. So fun to play with her, too.
There's endless ways to play with this–sorting, stacking, and exploring shapes. Whenever I find her quiet in the playroom, she's typically stacking these rings on the wooden pegs!
Stacking peg board
I bought this toy specifically to help my almost 4 year old get better with "independent time," and it was an instant hit. Stack by color or shapes, build tall towers or learn early math concepts–this toy checks a lot of boxes!
Brain development toys for a 1 year old
Best learning toys for a 2 year old
Brest educational toys for a 3 year old