More than to just entertain your child while you squeeze in some chores, cook dinner or get ready–the right toys can actually be very educational.
Even as early as one, your child can develop motor skills, build concentration, develop problem solving skills and strengthen creativity and imagination.
Don't be fooled, learning toys for one year olds don't look like boring toys, everything from chunky puzzles to stacking cubes can provide ample learning opportunities for your one year old.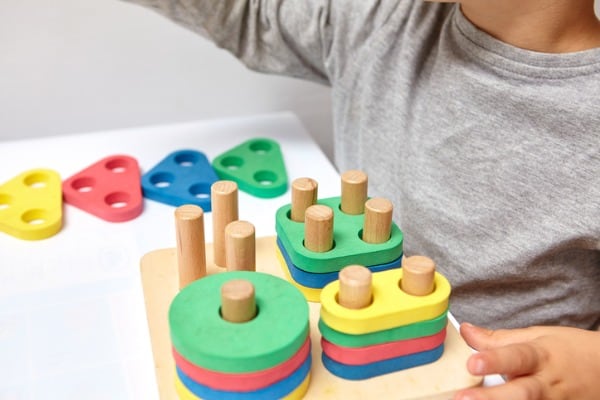 Best learning toys for one year olds
Here's a list of my favorite educational toys for one year olds. Beyond this list, as you select additional or different learning toys for your one year old, look for toys that meet at least two of these criteria:
Build concentration
Develop problem solving skills
Build imagination
Develop motor skills
Build early math skills
Chunky puzzles
At one, your child is just starting to develop fine and gross motor skills and puzzles really go along way in helping to fine tune those skills. Of course, puzzles also develop concentration and patience–both good skills to always be teaching children.
Here's one of my favorite puzzles, as I think it's perfect for small baby hands. My one year old played with these puzzles for a long time and now I can pass them down to my second child, as they are made of wood and will withstand the toddler years.
Shape sorter
Many of today's toys are simply designed to be quick entertainment for a child, rather than promote learning or entice curiosity. Many of the items you'll see on this list are likely reminiscent of your childhood, and this shape sorter is no exception. I'm a huge fan of Fat Brain toys, as they tend to make high-quality toys that have educational benefits.
Dump truck
Another open-ended toy that provides endless possibilities of play. Besides pushing these around the house, your little one will likely load and unload all of their favorite things as their imagination runs wild. PS-trucks and cars are not just for boys. As a mom of two girls, I can attest to the fact that girls love these types of toys, too!
Stacking cups
Beyond learning colors, counting and stacking, these stacking cups are great for open ended play. This was one of the first toys we purchased with our daughter and years later it's still played with on an almost daily basis .
Climbing triangle
Have a toddler who loves climbing and exploring or just needs to get some energy out? This climbing triangle is designed to build hand-eye coordination and gross motor skills. Beyond a fun activity on a rainy day, this climbing triangle is also a fantastic open-ended toy! You'll be amazed at how your growing toddler will incorporate this into their play.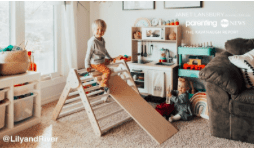 Baby doll
Don't overlook the importance of pretend play! Items that encourage roll play and imagination are huge for kids–in a world with smart devices taking over our concentrating and evading our ability to be still and present, it's more important than even to build concentration and imagination in children.
A doll is what you'd call an open-ended toy, meaning the possibilities for how a child can play with it are only limited by their imagination. Your home should be filled with open-ended toys!
Stacking tower
This 3 in 1 stacking tower is a great learning toy for one year olds. Kids can start to learn about colors, shapes, sizes, and spatial awareness. It also builds concentration and problem solving skills.
I love that it's wooden and not the cheap plastic rings you typically see with these type of toys. When given the choice, wooden toys will always be my go to, as they are typically much more educational by nature and they really hold up well to toddlers' destructive tendencies, ha!
Wooden Abacus
While this toy will be easier for your one year old to play with when they get closer to 18 months, you cannot go wrong with this colorful abacus.
Designed to teach math skills without kids even knowing it, this fun counting activity will keep babies and toddlers entertained for long periods of time. Just like the other toys you see on this list, this toy is something that will grow with your child. One year olds and five year olds alike can get good use out of this learning toy.
Music pounding toy
Not all "musical" toys are created equal. What you don't want are the musical toys that screech loudly when random buttons are pressed. Look out for musical toys like the one below–where children can create their own melodies and explore with rythmn and movement on their own.
This particular musical toy also doubles as a bit of activity cube, as you have the xylophone, hammer and balls. This is another toy that will grow with your child, as well.
Check out some of my other popular posts for one year olds:
Breakfast ideas for a one year old that are actually healthy and the easiest 18 month old schedule for your baby