I thought what I was eating and feeding my one year old for breakfast was healthy until I started working with a functional medicine doctor and really understanding how to make good food choices.
If you're not careful, breakfast for toddlers can easily get out of hand. Many options set kids up to fail because they're carb heavy or loaded with sugar.
In this post I'll give you 10+ breakfast ideas for a one year old, how to identify food that's actually healthy for breakfast, plus tips on what to buy at places like costco and target!
Breakfast ideas for a 1 year old
Before we jump into the list, I want to preface a couple things. One-yes, a lot of items on this list aren't typical "toddler foods;" that's on purpose!
I made the mistake of only providing my older child typical toddler foods when she was one, and it took two solid years for her not to be picky and start eating what we were eating.
I worked with a functional medicine doctor for a while to get strategies to help my picky eater and identify healthy food options.
With my second child I didn't even go down the road of typical toddler food choices, and low and behold, she eats what I put on her plate!
The second thing I want to point out is to please read the post in its entirety before you tell me something isn't healthy.
At the bottom of the post I have identified brands that have clean ingredients for items like pancakes, bread, sausage, bacon, etc. I'll even give you tons of healthy shortcuts to make feeding your one year old healthy foods as easy as possible!
Now that that's out of the way, let's get started!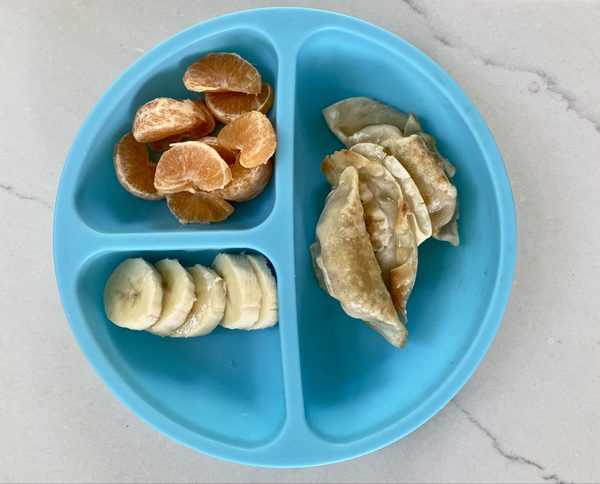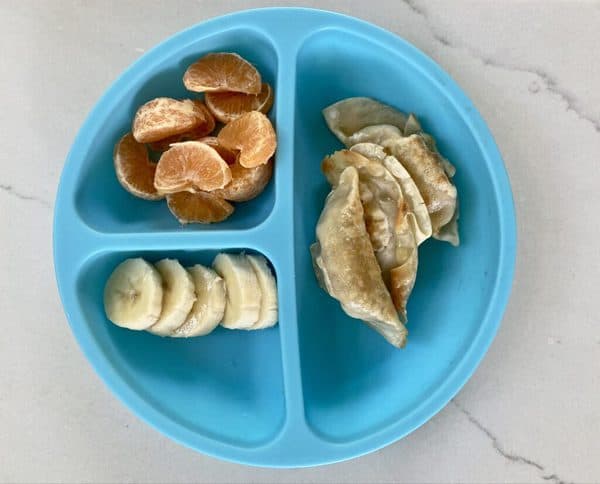 This post contains affiliate links. Read my policy here.
Easy toddler breakfast idea #1: Plain whole milk yogurt + berries + granola
Look for granola with no added sugar-I've included brands I like below!
Easy breakfast idea for a year old #2: Brown rice + beans, salsa and guacamole
If breakfast can be dinner than dinner can be breakfast! Don't make the guac, buy it. Costco makes a great, super clean (ingredient wise) single serve guac you can buy in bulk!
Breakfast for a year old #3: Toast with hummus + fruit + turkey sausage
If hummus isn't already a food group your toddler likes, introduce them! So healthy and so filling, plus it's great on toast.
Healthy toddler breakfast idea #4: Omelette with spinach and red bell peppers + fruit
Easy way to get some veggies in early in the day!
Easy one year old breakfast idea #5: Banana pancakes with nut butter
To make banana pancakes you simply mash one very ripe banana and combine with one egg. This makes a couple pancakes.
Breakfast for a toddler idea #6: Bagels and lox with fruit
I like to make these using feta or cream cheese instead of cream cheese and wild caught smoked salmon. Farm raised is not the healthiest option, but okay in a pinch.
Healthy toddler breakfast idea #7: Chia pudding with fruit
To make chia pudding, combine 2 tablespoons chia seeds, 1/2 cup milk. Mix all ingredients in mason jar store in fridge overnight. Open in the morning and berries and serve. For older toddlers I might add a splash of local honey, for those closer to 1 and 1.5, I'll leave it out. I promise you cannot taste the chia seeds, they just really add texture and are a great source of Omega 3s!
Healthy breakfast idea for a one year old #8: Pumpkin smoothie
To make this smoothie for 2 combine 1/2 can organic canned pumpkin mixed with 1/2 can organic coconut milk, plus a banana, nut butter and two teaspoons of ground flaxseed. This tastes like a pumpkin latte without the caffeine, of course, and the not so great for you ingredients!
Breakfast for a one year old #9: Toast with avocado +scrambled egg with fruit
This is so good when you use cinnamon raisin toast, too!
Easy breakfast for a toddler idea #10: Potstickers and fruit
Another "dinner for breakfast" idea that's so easy. Below I have suggestions on what brands to look for when searching for clean ingredients for the potstickers.
Healthy breakfast for a one year old #11: Oatmeal, nut butter, and fruit
I also like adding finely chopped pumpkin seeds for that added bit of nutrition. Pumpkin seeds are super high in zinc!
Breakfast for a toddler idea #12: Pancakes with almond butter and fruit
Ideas on healthy pancake mix with good ingredients and no added sugar below! Make these ahead and freeze them for a quick and easy breakfast!
Where to buy healthy breakfast for toddler foods and what to look for when making selections
To make it easy for you, here are some tried and true suggestions at both Target and Costco:
Target
Good and gather turkey sausage
Stonyfield organic (plain whole milk)
Organic free range eggs
hummis (no soybean or canola oil)
Stonyfield yogurt (no added sugar)
Dave's killer bread
Ezekiel bread
Birch bender's pancake mix
Good and gather nut butter (check ingredients)
Bob's red mill Old fashioned organic oats
Nature's Path no sugar added granola
Good foods plant based taziki sauce, queso style dip, guacamole
Costco
Amylu breakfast sausage
Organic hummus
RX bars (no sugar added, clean ingredient energy bar, great for in a pinch)
Organic guacamole
Wild caught smoked salmon
Jones organic chicken sausage
Dr. Praeger's veggie burger
Bibigo organic potstickers
Dave's killer bread
Kirkland organic eggs
Did you know it's recommended that before age two kids shouldn't have any added sugar at all? After age two, toddler shouldn't have more than 24 grams of sugar per day. Last year I really got my bum in gear about working on reducing our sugar. Sugar is literally in everything! Do not concern yourself about sugar from fruit (yes, everything in moderation) we're concerned about added sugar.
For example, unless you buy plain, whole milk yogurt, it's going to have loads of added sugar in it. Most breads have added sugar and just really bad for you ingredients, which is why I like the two brands I suggested above. Granola typically has a bunch of added sugar, but there are some brands (like the one I listed) that does not.
With fruit and veggies I don't buy all organic. I try to, but sometimes I just stick to buying organic if the item is on the dirty dozen list.
With nut butters, you want to look for jars that have no added sugar, no oils. Really it just needs to be the seeds and a little sea salt.
With sausage and bacon, you want to avoid celery salt and nitrates. The brands I mentioned above are great!
With hummus, same thing as nut butter–avoid the soybean or other added oils.
Pancake mix is notoriously unhealthy. Even kodiak cakes is not the best, still better than most, but not as clean as Birch Benders.
Find more meal ideas with my popular post, food ideas for a one year old.
My toddler feeding must haves!