If your three year old isn't potty trained, don't panic. Mine wasn't either.
I had the absolute hardest time potty training my stubborn toddler. In fact, I had such a hard time that I decided to become a certified potty trainer to help other frustrated moms and dads not make the same mistakes I did!
Is it too late to teach a three year old how to use the potty? Of course it's not too late! But, it will be challenging.
Most three year olds get labeled as stubborn, and while some kids are definitely strong-willed, a three year old is just stubborn by nature.
By three they have just enough understanding of the world to want things to work the way they want them to work. Things need to be their idea. They really like familiarity. They're often slow to warm up to new things. All of these characteristics of a three year old make it harder to potty train.
Given the general nature of most three year olds there's often a huge debate about what age to potty train, some popular experts making it sound like you're doomed if you don't start well before your toddler turns three. I don't agree with this narrative, as I think your child's readiness is a much better indicator than age.
Ready to learn how to train your stubborn three year old? Here's everything you need to know.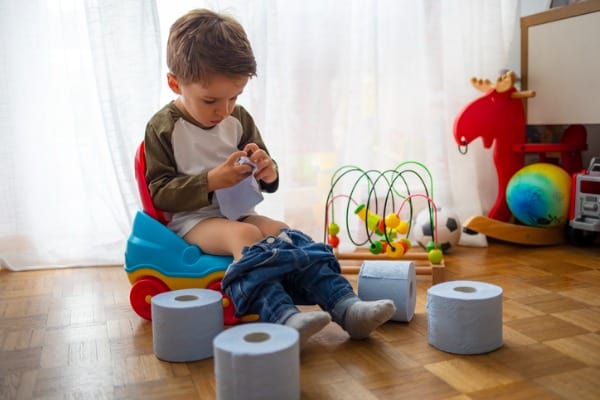 How to potty train a stubborn three year old
Step 1: Set the stage
As you probably already know by now, three year olds like to control things. They want things to be their idea and they warm up to new things slowly. Setting the stage before you begin potty training is absolutely crucial.
You need buy in from your older toddler before you begin and warming them up to the idea slowly is how you'll get it.
Two to three weeks before you start potty training, invite your child to the bathroom with you (if you're not already doing so). Narrate the entire process out loud. Give yourself praise for going to the bathroom. If your spouse is at home, have them ham it up, too.
It's also a good idea to have the potty you plan on using on hand too. Let them sit on it and watch a show or read a book or eat dinner. Whatever works to get them comfortable and used to it.
Books about going to the potty are great ways to start the conversation too.
Step 2: Gather supplies
While this is step 2, you could easily do this before step 1 so that you've got everything you need prior to "setting the stage" with your little one.
A training potty, potty seat (this goes on the big potty), step stool and flushable wipes are very helpful as your toddler learns how to potty train.
I get the question from parents all the time about whether or not a training potty is necessary. This is totally your call, but I will say I think it makes things much, much easier. Plus, you can take it in the car with you when you travel so your toddler can go at a moments notice.
Shop my favorite potty training supplies

Step 3: Pick a start date and clear your schedule
Chances are you've seen claims about a 3 day potty training plan. While it's totally doable to potty train your toddler in 3 days, it's just not the norm, in my experience.
What I do recommend doing is picking a date–either it's the long weekend or a weekend plus a couple days off and clearing your schedule of everything but helping your toddler go potty. No plans, no errands, just hanging out at home and in the backyard really helping your toddler get a solid foundation on this new concept.
Step 4: Go bottomless first
Without a doubt, going bottomless is the easiest and quickest way to get your toddler potty trained. Going with the pull ups method seems to always prolong the process significantly.
On the morning of your first day of potty training, tell your toddler no more diapers during awake time and let them know when they need to potty they need to go on their small potty.
Here's the deal though, they likely won't tell you when they need to go. This comes after months of potty training.
Instead of waiting for your child to tell you when they need to go, you need to look for their cues.
Trust me, for the most part, you'll know something's up. They'll act strange, dance around, hold themselves, etc.
As soon as you notice anything, sit them down on the potty and calmly explain, "pee pee goes in the potty."
Give a huge amount of praise for getting any amount of pee/poop in the potty!
Note: I do not recommend the potty training method of setting a timer and having them sit on the potty every 20 minutes or so. This leads to reminder resistance and often works against the entire process. I recommend a potty training schedule that follows daily routine instead.
Step 5: Repeat
Those first few days should be spent at your house watching your bottomless child like a hawk for potty cues. At a minimum, I would hold off on underwear for at least 3 days, unless your kid is totally mastering the whole potty thing before then.
Step 6: Transition to big kid underwear and try an outing
After you feel like your tot has a good base of understanding, try underwear. For some kids, they continue on their potty training journey-no big deal.
But for others, underwear reminds them of a diaper and they have a ton of accidents. For these kids, putting them in bottoms without underwear tends to do the trick. And if that's the case with your kiddo, keep them like this until potty training is well established (approximately 3-4 weeks).
If you're feeling confident, you might try an outing today. I'd make it about an 1-1.5 hours in length and have them go right before they leave the house.
Try having them sit on puppy pads if you're worried about an accident while out.
Step 7: Try diaper free naps
Some parents opt to go diaper free completely from day one. If you're confident your kid can handle it, I say go for it. For most kids, it's beneficial to wait on naps and nights without diapers at the beginning.
As you put on a pull up or a diaper for nap/night time, just talk to your child and let them know that as soon as they wake up you'll put on big kid underwear again.
Step 8: Try diaper free nights
While going diaper free for naps might be an easy task, night time potty training can sometimes be difficult. Make sure your child is staying dry for at least two hours at a time before you attempt this, for best results.
You might also make sure that you rush them to the potty as soon as they wake up, as most older kids can hold it through the night, but then they'll wake up and need to pee.
Step 9: Manage bumps in the road
Potty training is an important milestone in your toddler's life, that often is made near perfect as time progresses. Stay calm and manage your expectations to help get through the process. Some kids can potty train in 3 days, but many can't.
Keep in mind that any new changes like the birth of a new sibling, moving, starting a new school, etc, may affect potty training. Give yourself and your child grace.
Here are more potty training resources if you're interested!