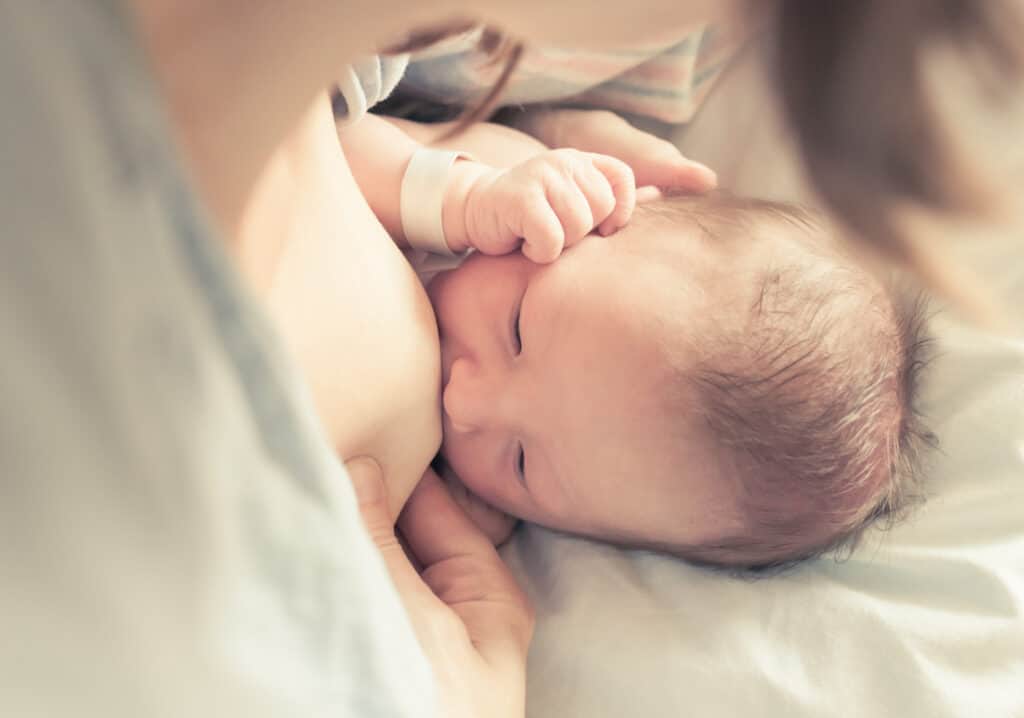 I'm not the type to sugar-coat anything; in fact, those that know me, know I'm a realist. So if you're here for a real picture of what breastfeeding actually is like, keep reading.
Spoiler alert: breastfeeding is hard, but it's also amazing.
This post contains affiliate links. Read my policy here.
Your milk won't come in right away
Did you know that your milk doesn't come in right away? When you breastfeed, the first food you'll feed your baby is called colostrum– a thick yellow substance filled with amazing benefits for baby.
Colostrum is a unique substance and according to the American Pregnancy Association, colostrum works to:
Help your baby build a strong immune system (contains antibodies and white blood cells).
Creates a tough coating on your baby's stomach & intestines to keep germs from causing illness.
Helps prevent jaundice and gets rid of harmful waste products. Learn more about breastfeeding and jaundice.
Gives your baby's brain, eyes and heart the right blend of nutrients to grow.
Give your baby complete nutrition that they can easily digest. It's the perfect food for your newborn.
Your baby doesn't need a lot of this yellow substance to fill their marble-sized tummy and will only consume about 1-4 teaspoons of colostrum a day!
Your real milk comes in sometime between day 2 and 5.
You will be leaking, a lot
When you're nursing your baby, as soon as you have a letdown, you'll likely be leaking on the other side, too.
You can buy disposable pads, ones that are washable or instead of wasting all of that precious milk, you can use a haakaa to collect milk.
Not sure what a Haakaa is? Learn how to use a haakaa.
It will be tough, and different than you expected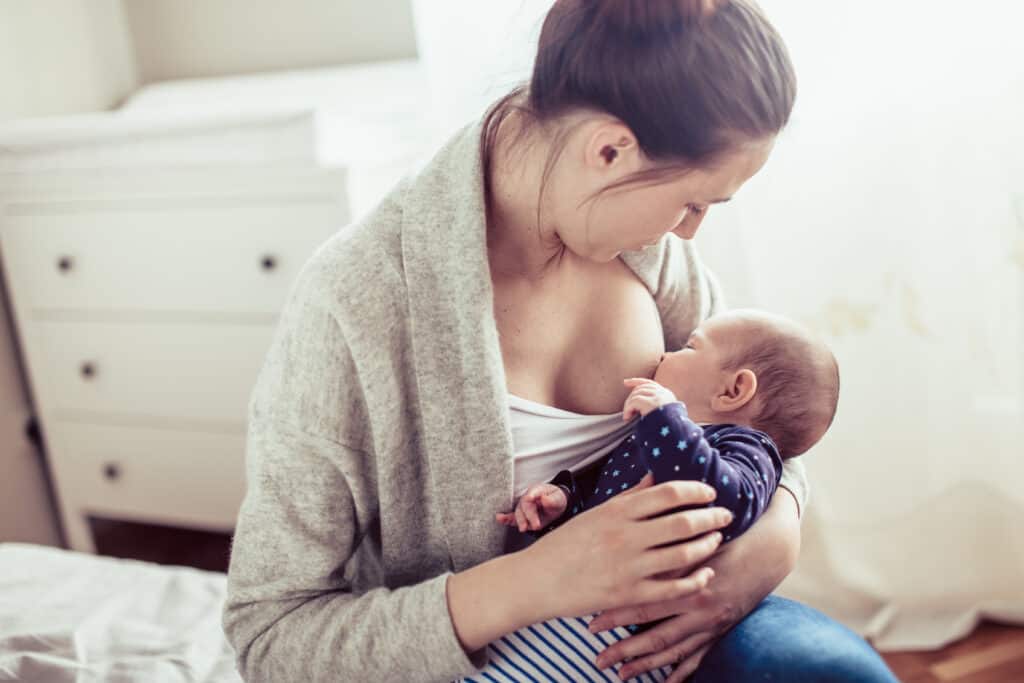 Everyone describes breastfeeding as a beautiful, natural process. And it totally is, it's just not as natural as you might expect.

I went to a hospital breastfeeding class and read a ton about breastfeeding, so by the time baby came, I felt pretty confident.

Fast forward to our first night home– sans all the nurses and lactation consultants the hospital had available to me– and breastfeeding my daughter was just not working.

Despite the fact that she nursed beautifully in the hospital, she was no longer latching properly, and would pull her head off and scream. It would take tons of tries each time to get her to latch properly.

Finally, after I reached out to a lactation consultant and watched and read everything I possibly could, we were on our way. But wow, was it rough!
Hospital breastfeeding classes are great, but you may not remember everything from the class, and it's hard to learn how to breastfeed without your baby present!

Once I was home, a friend told me about the Milkology breastfeeding class, and it was amazing. I was able to watch the class at home with my baby. I thought I knew a lot about breastfeeding before, but after this class I felt like a total pro! 
Your baby will eat a lot
Being someone's primary food source is a big responsibility; especially when that someone is a tiny, very hungry, baby!

On top of the fact that breast milk is very quickly digestible, newborns have teeny tiny tummies, so they've got to eat all the time to keep full.
Expect your baby to eat between 8-12 times per day and sometimes more depending on whether or not they're going through a growth spurt.

Beyond the fact that your little one will be eating a lot, they may take a while to eat, too. Some babies are efficient eaters and are done in 20 minutes or so, while others will graze lazily for upwards of 45 minutes to an hour.
Just be prepared with snacks, water and probably the remote all within arms length.
The weight doesn't just fall right off since you're breastfeeding
Like many new moms, I was kind of shocked at how pregnant I still looked after I gave birth. And a month later when I was still sporting my baby bump despite the fact that I had a newborn, I was pretty upset.

I had heard from so many people that "breastfeeding just takes the weight right off of you," and while I ultimately found this to be true, it definitely wasn't as fast as I expected.

Yes, breastfeeding burns calories, but you're so hungry you more than make up for the lost calories.

It wasn't until about month 6 that I finally saw significant progress in terms of the number on the scale. Be patient, mama!
Trying to lose weight while breastfeeding? Read about the fastest way to lose weight while breastfeeding.

You will be ravenous
Much like the hunger you experienced during pregnancy, breastfeeding really helps you work up quite the appetite.

Breastfeeding burns about 200-500 calories per day, and while many women use this as an excuse to eat whatever they want, it's best to stick to lactogenic foods to increase milk supply.

It's a good idea to stick a bunch of healthy grab-and-go snacks in your fridge to easily grab right before a breastfeeding session. Things like carrots and hummus, apples and bananas, hard boiled eggs, almonds and greek yogurt are great snack ideas for breastfeeding moms.

You should probably invest in some nursing tops
Because you will be living in them during those first several months! I picked up two nursing camis, nursing bras and a couple nursing nightgowns, and let me tell you, those were invaluable.
Before I was due I was tired of wearing maternity clothes and so I ordered some cute pjs to wear during my maternity leave. Guess what? I didn't touch those. It was just way, way easier to wear nursing tops.
Do yourself a favor and at least pick up some nursing bras and camis!

At some point, you will need to pump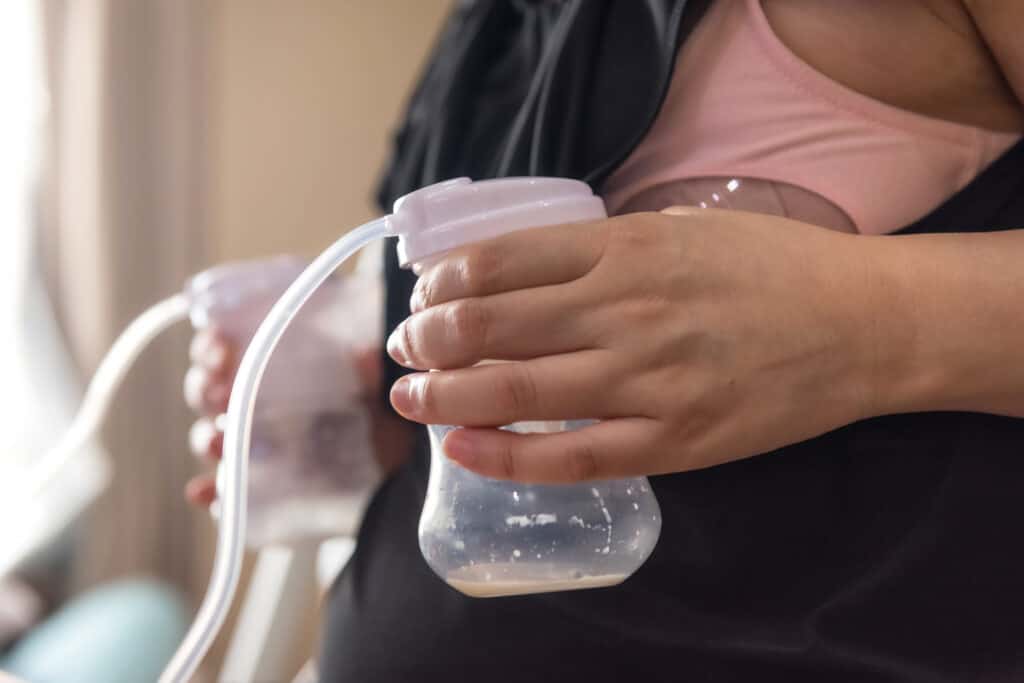 Maybe you'd like to leave the baby with dad for a few hours or you need to build a milk stash for returning to work, regardless of the reason, you'll have to pump. And let me tell you, if you've never pumped before it does take some patience.

I strongly suggest setting up your pump and putting it all together and sanitizing everything before baby comes. Once your baby comes and you're not in a time crunch, it's a good idea to practice pumping.

P.S. If you're not getting much milk when you pump, the incorrect flange size is often to blame. Here's a useful guide on flange sizes.

You may find you need a new flange size or that it takes longer for a let down than you thought. Just practice and make sure everything is set up and fits correctly before you decide to set it up for the first time before you have to dash out the door!
Babies don't follow clocks
A lot of the things you'll read about breastfeeding say that babies will eat every 2-3 hours. However, these lovely little bits of information weren't exactly agreed upon by your baby, as babies don't follow rules or timelines.
Rather than watch the clock, it's best just to take cues from your baby as to whether or not it's time to breastfeed again.
A hungry baby will lick their lips, turn their head (rooting), stick out their tongue, or sucking on hands or lips. Look for those signs rather than what the clock says.
Be prepared for cluster feeding sessions
Cluster feeding was a term I wasn't aware of prior to the birth of my daughter, but the sweet nurse let me in on the little secret night two in the hospital when she informed me that my daughter would most likely cluster feed all night long!

Cluster feeding is when baby will feed multiple times in a short amount of time. Babies cluster feed during growth spurts to get your milk supply up. According to Breastfeeding Basics, common growth spurts are day 2, day 10, 3 weeks, 6 weeks, 3 months, and 6 months.

Your baby may also want to cluster feed at night, as a way to "fuel up" for a long rest.

Do not think that because baby wants to feed a lot you don't have enough milk! Remember, a baby does not cluster feed because you don't have enough milk, a baby cluster feeds to fuel up for the night or to up your milk supply during a growth spurt.