I used to think the newborn phase was hard, and then I had a walking, talking (well, babbling) 12 month old, and wow are they tiring! I totally took for granted the days where you could simply place them in a swing or on the boppy and they'd be content.
Gone are those days, mama.
Your 12 month old is getting more adventurous by the day, eating three solid meals a day, napping less, and spending most of their time exploring your house, i.e., making a thousand little messes approximately every hour for you to clean up!
Getting your 12 month old into a routine she can count on is key to their growth and development, while working to quell unnecessary fussiness. Below I've outlined a sample schedule for your 12 month old's feeding, sleeping and napping needs.
This post contains affiliate links. Read my policy here.

12 month old baby schedule
7:00 am: wake up, breakfast with whole milk, play
9:00 am: get out of the house and explore. Our community offers a ton of stuff for this age group, from open gym to library story times, there's always stuff to do! This play time helps get some energy out, too!
10:15 am: snack time. Since we're usually on the go, I'll do pouches or veggie straws, belvita crackers,etc.
10:30 am: back home and down for first nap of the day
11:30 am: up from first nap, play or read until lunch time
12:00 pm: lunch time, after lunch play/read/go outside
2:30 pm: down for last nap of the day
4:30 pm: up from nap. I'll typically give a snack here too, and then we'll play some more until dinner.
6:00 pm: dinner
6:30 pm: start night time routine (bath, books, songs)
7:30 pm: down for the night
Like any other schedule or routine, the ideal 12 month old routine is one that suits you and your baby.
And remember, no two days are alike at this age– one day they may have a ton of energy, barely napping more than an hour and still the next they may be going through something developmentally and nap longer than ever before.
All this to say, schedules are great– but they don't have to be followed by the book every single day.
12 month old feeding schedule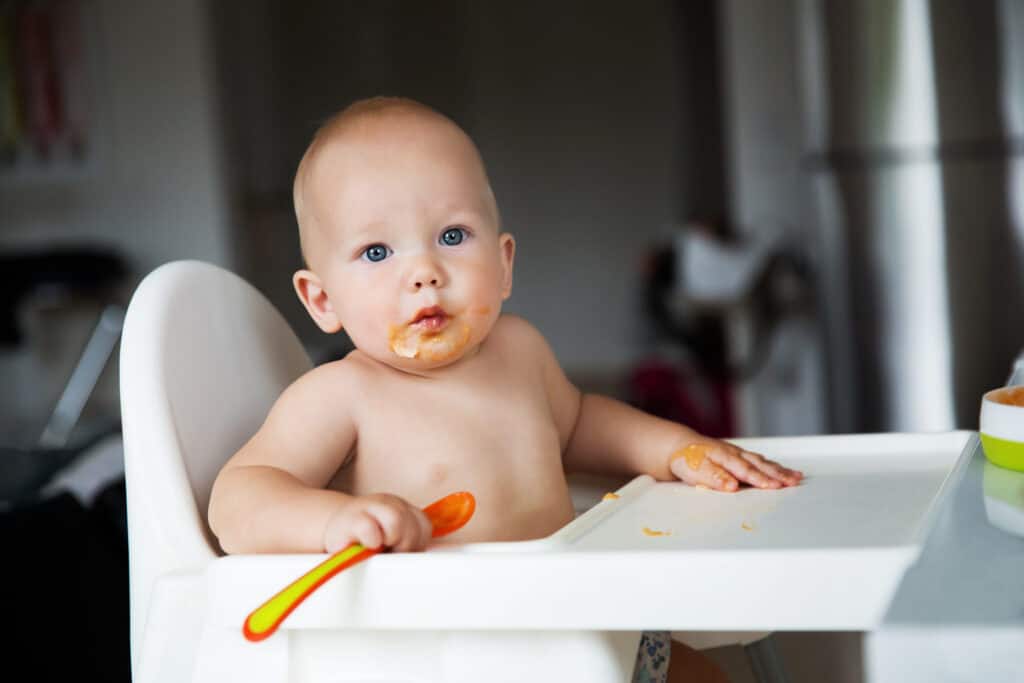 12 months can be really rough in the feeding department. If you've been breastfeeding you might choose to stop at this point, which is a big transition, coupled with the fact that baby is now eating 3 consistent solid meals a day– it's a lot of change.

Likewise, if you've been feeding your baby formula, they'll switch to whole milk at one, which is also an adjustment.

Likely your baby has been "practicing" with solid foods up until one, but by the time they'll reach their first birthday, solid foods will take over as the more important nutrition, and milk will be secondary.

Each day, your baby should consume about 16-24 ounces of whole milk each day. If your child is anything like mine was, they'll love milk and often want to consume it fast and furiously, leaving little appetite for solid foods.
If you find this to be the case with your little one, wait to offer milk until your 12 month old is almost finished with their food.

Meals at this age should be balanced, and you should offer your little one three meals per day plus two snacks.

Struggling with what to feed your baby? Here are the best meal ideas for a 1 year old.
12 month old nap schedule
Your once tiny little baby that did nothing but eat, sleep and poop is now active and more alert than ever before– which means less daytime sleep and more consistent sleep during the night.

Babies at this age either take 1 or 2 naps. Babies that still take two naps will likely doze off for 45 minutes or so in the morning and then save their longer nap for the afternoon. Some babies will drop the morning nap soon after turning 1 and instead opt for a long afternoon nap, often sleeping from 1-3 hours each afternoon. A 12 month old wake window is 2.5 hours.

If you're one of the lucky ones that still has a morning napper, typically by the time babies are 18 months, they'll completely drop their morning nap all together and move to just one afternoon nap.

Naps are still super important and vital to your baby's growth and development and will remain this way until your child reaches the age of 3. If at all possible, attempt to let your baby nap in their crib rather than on-the-go for their naps.
12 month old sleep schedule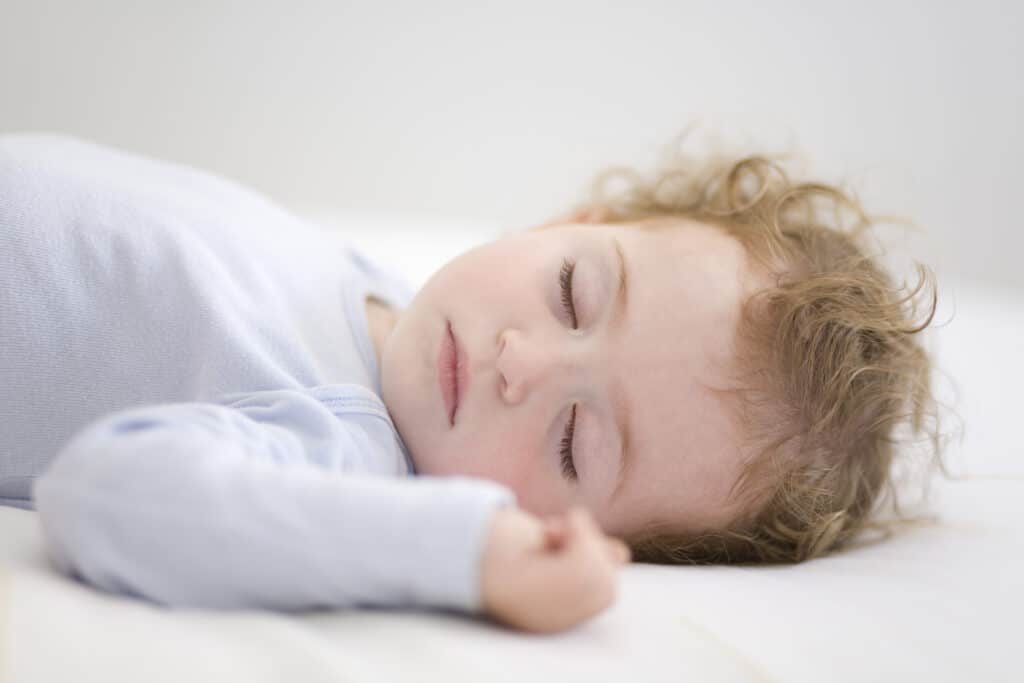 A 12 month old is a much better sleeper than a 6 month old and even leaps and bounds better than a 9 month old sleeper. There's just something about turning one that finally makes nighttime something babies look forward to, rather than fight it.

By the time your baby turns 12 months, they're likely consuming 3 solid meals per day, plus snacks, so they should be full enough to sleep through the night with no problem!

At 12 months old, babies still need about 12-14 hours of total sleep. Most will sleep between 11-12 hours every. Aim to put your 12 month old down for bed by 7 or 7:30.

Setting a consistent bedtime is key to having a well-rested 1 year old. A lot of parents think that if they push bedtime back, their baby will sleep later in the morning.

Unfortunately, this is not the case. Babies with a late bedtime will still wake up at their normal time.

Not only does putting baby to bed too late cause them to still wake up early, but it also takes them longer to fall asleep as they most likely have hit a "second wind" by the time they're put to bed.

Other questions you may have about your 12 month old's routine
What developmental leaps will affect my 12 month old's schedule?
Turning one is a pretty big milestone for your baby. For the next few months you'll find your little baby slowly growing into a toddler each day, leaving their little newborn days in the dust.

Right around 55 weeks, your soon-to-be-toddler will experience a developmental leap. Leading up to the leap, you may find that your baby is a little fussy and maybe even refuses food, sleeps poorly and is clingy.

According to the Wonder Weeks book, which outlines these developmental leaps in detail, this leap is longer than most and you might find that your little one is slightly "of" for a few weeks to a month.

Other baby schedules and routines
Sample schedule for 3 month old
6 month baby schedule with solids