More than just something for toddlers and preschoolers to occupy their time with, toys can provide ample learning opportunities.
Not all toys are created equal though.
Many, many toys on the market today are simply designed to provide entertainment to kids, rather than designed to build life skills and teach early learning concepts.
If you're on the hunt for toys that entertain kids for long periods of time and are reached for again and again, you're in the right place. I've carefully selected learning toys to provide educational opportunities for toddlers and preschoolers aged 1-4.
What are learning toys?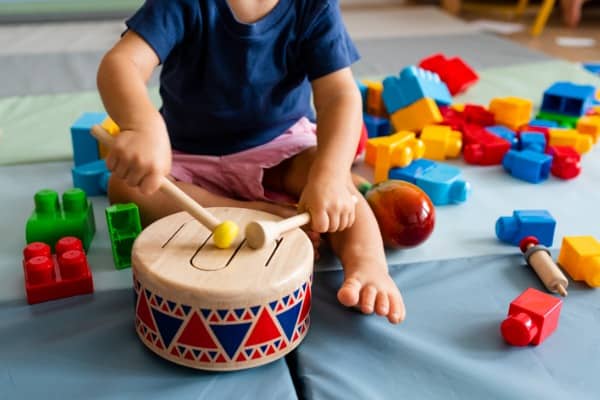 Before I get into the list of toys, I wanted to explain the criteria I used to select the toys.
Kids need to develop several skills before they start kindergarten and amazingly, the right toys can teach them important foundational concepts. I look for toys that work to build several different life skills like concentration, memory building, patience, problem solving, and critical thinking.
It's also really important at this age to constantly be working on motor skills. Building fine and gross motor skills are crucial and luckily many educational toys help kids work on these skills
Educational toys can also help develop language skills and work on early reading and math concepts.
And of course, I'd be neglectful not to mention that the vast majority of learning toys also help to build imagination, which is huge. A child with a large imagination will not be constantly bored and will know how to entertain themselves without a screen or constant parent involvement.
Once you see first-hand the value in educational toys, you'll only want those types of toys in the house! Many people hear the word "educational" and they think that means kids will just be playing with flashcards all day.
Oh, how wrong they are! As you scroll down through the list of learning toys below, you'll come to discover that all of these toys are fun, and many are the classic type of toys you and I had as kids.
Many of these toys are items that are also fun for parents…wooden blocks, magnetic tiles, legos…all of those toys are fun for parents to build and play with too, contrary to many flashy, battery-operated toys on the front row of all the toy aisles.
Now that you know the value in learning toys, here's my favorite options: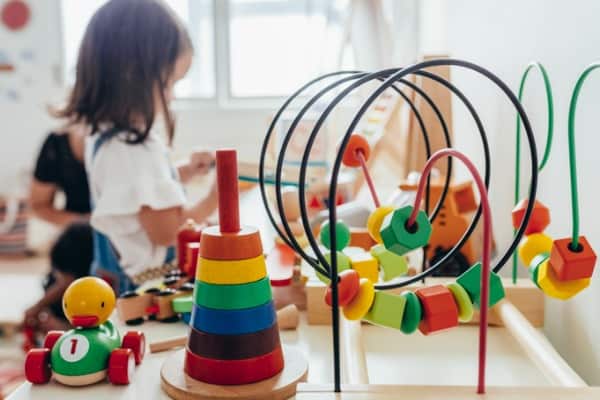 Educational toys for 1 year olds
One year olds need a lot of opportunities to work on their fine and gross motor skills.
It's great to invest in some chunky wooden puzzles to help your one year old develop those fine motor skills. These puzzles hold up amazingly well and are perfect to pass down, kid-to-kid.
I'm a huge fan of these wooden activity cubes as they have many opportunities for learning in one toy and really help little ones with those fine motor skills.
Building gross motor skills is important, too, and this climbing toy is a great investment. Your one year old will use this for years to come while they work on those motor skills! Plus, what a great way to entertain kids in the winter and on rainy days!
No toy collection is complete without stacking cups, and as much as I really don't love plastic, this is one area where I'll make an exception. Stacking cups were one of the first toys I ordered when I was pregnant with my first and now not only does my now 4 year old still occasionally play with them, but they're still in great shape for my second child.
I'd also recommend a shape sorter and good quality musical toys.
I've reviewed even more learning toys for one year olds in this post.
Educational toys for 2 year olds
Two year olds are really coming into their own, gaining independence and new skills every day. Imagination is huge at this age and growing bigger as time passes. Pretend play so fun during this stage and toys that provide kids with ample opportunity to pretend will entertain kids for longer periods of time.
Two is a great age to invest in a play kitchen. A fruit stand is also fun, too. I love this play kitchen:
If you want to add food to your kitchen, go for the wooden food items. The plastic food items that come with the kitchen are destroyed in months.
Another great pretend play item is a broom set:
Legos are some of the most educational toys on the market, and while two is too young for the traditional legos (which your child will be ready for around 4ish), Lego Duplos are perfect for this age.
Busy boards are a favorite of mine and keep keeps occupied for long periods of time while they continue to work on those fine motor skills.
Find more educational toys for 2 year olds here.
Educational toys for 3 year olds
Three year olds are working hard on their social skills. Learning to share is a huge developmental milestone and something that your child will be working on for years to come. Board games are great for teaching this skill, and many games are perfect for three year olds.
Toys that help with attention span and creativity are also great at this age, too. Early math and reading skills can also be strengthened with
A good set of wooden blocks is perfect for a three year old to develop concentration, engage in fantasy play as they build spaceships, castles and whatever else they can dream up, and work on those motor skills. I love this set of wooden blocks:
A high-quality dump truck is something that will be played with for years. A great open-ended toy, this dump truck will be used in many, many ways based on your child's active imagination.
This drill activity center is perfect to work on those fine motor skills. A fun toy to keep your preschool occupied for a long time, this learning toy teaches problem solving skills as kids work to create spaceships, dinosaurs, robots or more–all while perfecting those motor skills.
See and spell puzzle
Puzzles build concentration and problem solving skills, and this puzzle not only works on those two critical skills, but also helps kids with early literacy concepts.
Want even more ideas? Check out my full guide of educational toys for 3 year olds.
Educational toys for 4 year olds
Four year olds should continue to work on motor skills and are capable of more complex fine motor skills at this age. It's also a great time to continue to help your little one learn to share, and board games are great opportunities to practice that skill. Toys that teach early reading and math concepts are also a fabulous idea, as four years prepare for pre-kindergarten.
What kid doesn't want to build a fort? Not only will your house not be completely torn up for days, but with this fort set, your kids can construct their own fort, creating a new design each time.
The possibilities for this wooden rainbow stacking toy are only limited by your child's imagination. A great open-ended toy, this colorful set builds concentration and problem solving skills, while also working on those fine motor skills.
Threading and lacing toys are great at this age. These types of toys work to build concentration and help those fine motor skills too. You'll also find that when left to their own devices, four year olds will use these types of toys in pretend play, too.
Board games are great for four year olds! Hoot Owl Hoot helps kids learn how to take turns and builds problem solving skills. We also really like

Find even more recommendations on my full guide of educational toys for four year olds.

You'll notice that most learning or educational toys are free of plastic (for the most part) and are built with more durable, long-lasting materials. For this reason, these toys sometimes are more than gimmicky plastic toys that are here today, gone tomorrow. Items like wooden puzzles, blocks and toys and good-quality magnetic tiles will last for years and can be passed down from kid to kid.