Getting toddlers to poop in the potty is tough work.
Many times, parents find that their kids master peeing on the potty with relative ease, but then are suddenly faced with a standstill when it's time to poop in the potty.
So if you need help with solutions to help your toddler poop in the potty, you've come to the right place. As a certified potty training expert, parents reach out to me all the time for help with this delicate issue, so don't worry, you're not alone!
In this post I'll go over common reasons toddlers might withhold their poop and give you practical tips to get over the roadblock and cruise through the rest of potty training.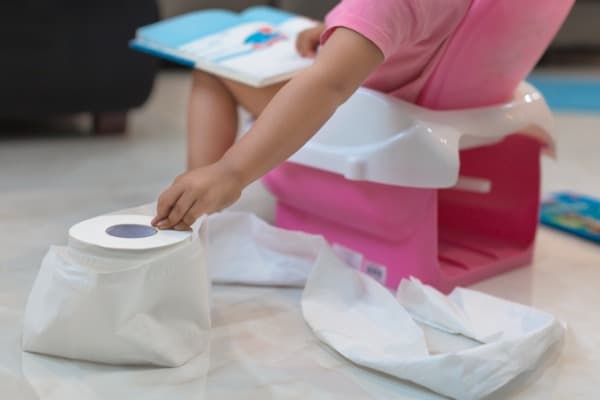 Reasons your child might not want to poop on the potty
Typically toddlers won't poop on the potty for one of three reasons–they're either engaged in a power struggle, they're constipated or they're afraid.
They're engaged in a power struggle
More often than not, when parents find that their toddlers won't poop in the potty it's because they're in a power struggle with their parents. This typically happens when children have been reminded too many times to go poop in the potty. This can also happen as a result of a bad experience,i.e. having to sit on the potty for long periods of time or being held on the potty against their will.
They're afraid
Many kids are just simply afraid to poop in the potty. It seems big and scary and they simply would rather poop in a diaper.
They're constipated
First comes stool refusal, then comes constipation. Stool refusal and constipation is a vicious cycle that can never seem to let up.
Now that we've identified to cause of stool refusal, let's get into practical methods to get your toddler to poop in the potty!
How to get your toddler to poop in the potty when they are resistant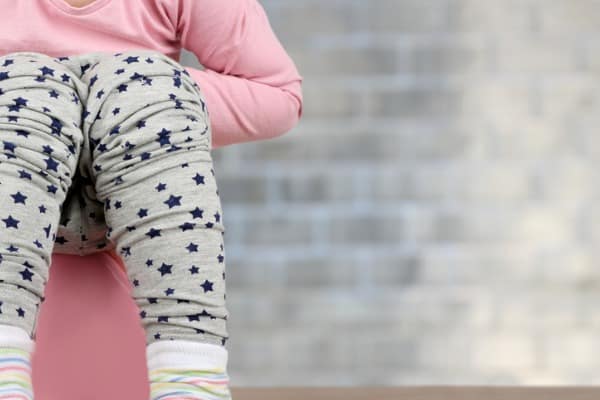 Even the most resistant toddler can get back on track with these tips!
Step 1: Stop the potty reminders
The biggest thing you can do in terms of moving potty training in the right direction when you have a toddler who is resistant to some aspects of it is to put the control back in the child's hands. You're not going to throw in the towel, but you are going to let go of dictating every single thing.
I've written a lot about creating a potty training schedule rather than a timer when it's time to potty train as a way to avoid this reminder resistance.
Many times (and this is especially true if you're training an older toddler who is around 3 or so) your opinionated toddler catches on to the fact that you'd like them to do something and they just stop doing the thing you'd like them to do because toddlers like control.
A quick way to get out of the vicious cycle is to get rid of the reminders. Sit down with your child and let them help you come up with a daily routine that makes space for bathroom breaks. Children love routine and will enjoy making a schedule with you.
You can use routine cards or make your own. Display this prominently in your home so there's never any question as to what comes next. You can read my full post on a potty training schedule, but in a nutshell, bathroom breaks are upon waking up for the day, before naps, before you leave the house and after meals. Obviously you'll insert more breaks based on what you believe your child's bladder capability to be.
Outside of the scheduled bathroom breaks, don't remind or nag your child about going to the bathroom.
Step 2: Rethink incentives
Some parents embrace rewards for going to the potty, others aren't in favor–regardless of which side of the fence you're on, it's time to have a serious talk about incentives and the roll they'll play in a potty training standstill.
When potty training is not working because your child has decided they don't want to poop on the potty for whatever reason, it's time to figure out what will motivate him to try.
For many toddlers, mine included, allowing them to watch a show once they poop in the potty really works wonders. I know you might worry that this will lead to a bad habit, but don't worry, I promise as time goes on, it will slowly fade and over time, you won't have to offer a show.
The reward works well when it's immediately given in this case. So getting stickers to put on a chart that needs to be completely filled out in order to receive a reward isn't as powerful.
Remember, you're at a potty training crossroads and you're simply trying to get the job done!
Step 3: Go bottomless
At the start of potty training, I always advise parents to forgo underwear at first. Children typically respond really well to this type of training as they learn quickly they don't like pee or poop running down their legs.
When you're dealing with potty training issues like refusing to go poop on the potty, you will likely have to go back to square one. Reserve a weekend to turn the ship around. Go bottomless, remind your child about the routine and enjoy some one-on-one time with your child.
If you're not familiar with my potty training methods, you can read more here
Step 4: No nap diapers
A lot of times I see that kids who don't want to poop on the potty will actually wait for their nap diaper to go poop. You've got to take this away if you are determined to get over this hump. You can place your portable potty in your child's room and let them know they can go potty if they need to, but that the diapers are no more!
Find more tips on potty training at nap time here.
If these steps work, great, you're home free! Sometimes these steps backfire for just a bit and your child withholds to the point of being constipated. Follow my next section for tips on that predicament.
How to get your child to poop on the potty when constipation is present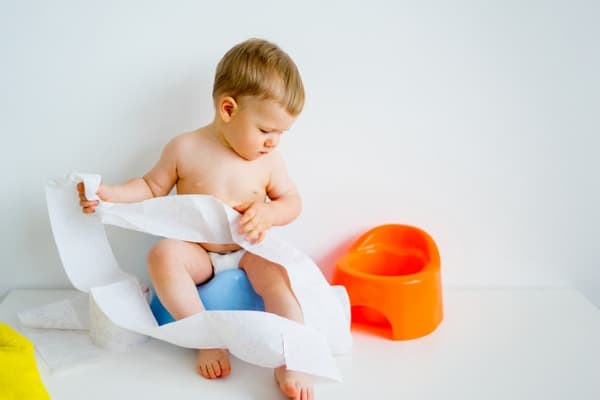 It's very common for kids that are fearful of releasing poop in the potty to become constipated. If you're currently dealing with this issue, here's how you can resolve it–quickly!
Focus on fixing the constipation first
Normal potty training can't resume when your child is constipated. To fix the problem in the short term, provide them with many fiber-fueled foods first. I have had tons of success with homemade apple sauce–simply just cut up a couple apples, toss them with olive oil and cinnamon and roast until soft. Then you'll puree until smooth. Alternatively you can try adding prunes and dates to a smoothie.
Give them a diaper to go poop in. Forget regressing in potty training, you need to address the constipation now. Let them know that it's okay to go poop in their diaper.
Your goal here is to get them to pass the poop. When a child is constipated, they are fearful of passing stool because they know it will likely hurt.
Continue potty training as normal, but keep offering a diaper to poop in so that they can get over this hump.
Offer incentives for pooping on the potty
Once you have the constipation under control start warming your child up to the idea of pooping on the potty. This will be challenging but it's not impossible. You'll work to find an incentive to motivate your child to poop on the potty. Many toddlers really respond well to the option to watch a show if they poop on the potty. This was the very incentive that worked with my incredibly stubborn toddler. The reward has to be immediate though, i.e. stickers for a reward after a chart is filled out, generally won't work.
Work to alleviate any fears
Some toddlers are just completely afraid of pooping on the potty. If this is your child, you'll have to do a little extra work. Make sure you aren't over reacting when they have accidents. While I know first hand just how frustrating a toddler who continues to have accidents is, your tone and reaction to your toddler's potty training experience can sometimes make or break it.
When your toddler has an accident don't react, simply matter of factly state that poop or pee goes in the potty. Have them help you clean up the mess and move on. Trust me, the more you act like it doesn't bother you, the easier it will become.
In some cases, where it seems like the accidents are behavioral related rather than just a simple mistake, toddlers do benefit from losing privileges.
Beyond altering your reaction, you may have to gradually warm your toddler back up to the idea of pooping on the potty. A sample progression could be:
First pooping in their diaper on their small potty, then pooping on the small potty without the diaper, then moving to the big potty but using a diaper, then finally, without the diaper.
Find more potty training resources here!