I put off flying with my children for as long as possible. Flying by yourself is hard. Flying with a baby? Now that's just crazy, right?!
Road trips were our go to method of transportation until a family wedding forced us up in the air. But, despite all my fears, with a little planning and some thought flying with a baby isn't that bad.
Getting ready to go up in the air with a little one? Here's some of my tips and tricks to make it work without losing your mind!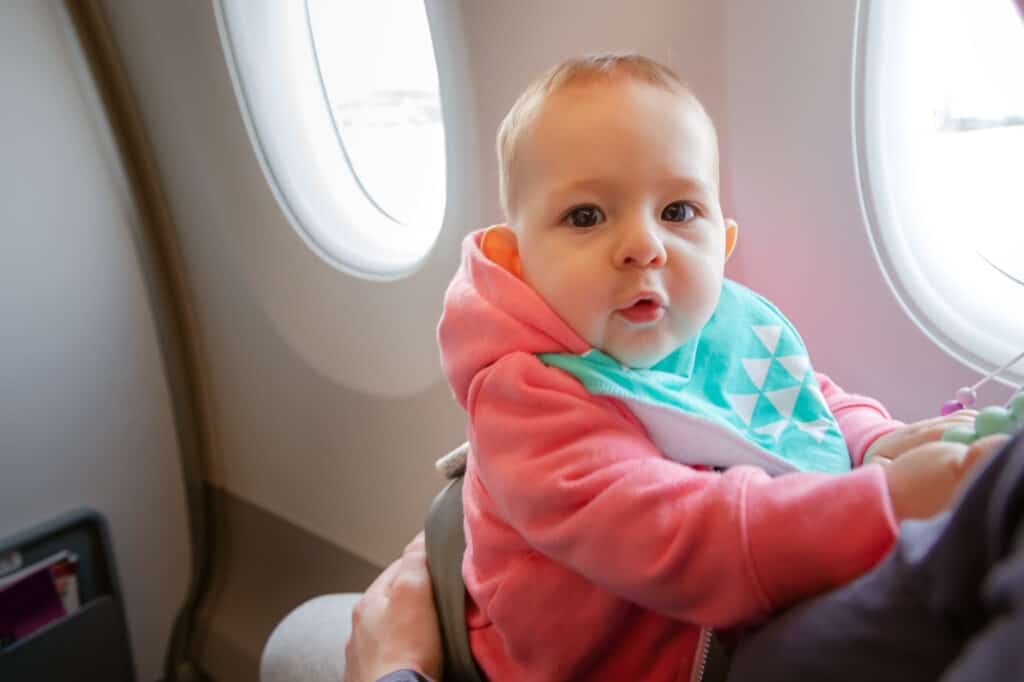 This post may contain affiliate links. Check out my policy here.
Do I have to buy a seat for my baby?
Children may ride in the airplane in your lap until the age of two. After two, you must purchase a seat for them.
Do strollers and/or car seat can as a checked bag?
Good news! Airlines will allow you to check strollers and car seats free of charge. There are some specifics you do have to pay attention to, though.
Strollers have to be less than 20 pounds to be checked at the gate. Many typical strollers are over this limit, so if you need your stroller while you're in the airport, consider purchasing a lighter stroller. Typically these are fairly inexpensive and good to have on hand in a pinch.
You cannot check both the stroller and the carseat at the gate, only one item is allowed to be checked at the gate. I'd also consider purchasing a car seat cover as they get really beat up during travel without one.
How many carry ons can I bring when flying with a baby?
You can bring a diaper baby in addition to your carry on when flying with a baby.
Can I check a pack n play for free?
Unfortunately, no. Pack and plays count as regular luggage and cannot be checked for free.
Are there places to breastfeed my baby in the airport?
There are several options to breastfeed your baby in an airport thanks to nursing pods. I've been in airports that have either the nursing/pumping "pods" or airports that come equipped with a spacious mothers room. Both options work great for us and are so convenient for nursing or pumping before or after takeoff.
I should mention though that most mothers' rooms and nursing pods (at least that I've experienced) are located after you go through security, so just plan accordingly– you do not want a hungry baby while you're in line at security!
Check out your nursing/pumping options airport by airport here! This list is updated constantly, too.
What do I need to bring for my baby to get on the plane?
Although I have never been asked to present a birth certificate, airlines always say to bring it, so make sure to have your baby's birth certificate with you.
Tips on how to fly with a baby
What to pack for baby on the plane
Most airlines will let you bring a diaper bag per baby plus one carry on and personal item per person. Which is great, but just keep in mind brining the max baggage allowed means you'll be weighed down with bags while trying to corral a baby.
I've found it's best to pack light so my hands are mostly free!
Baby's birth certificate
Not the original, just a copy. You may or may not be asked for this at the ticket counter, just be prepared.
Carry-on bag for baby
This is your survival bag. Everything you own that's been known to soothe your child should fit in this bag. During the flight you'll entertain your little one by pulling out something new about every 90 seconds (just kidding, sort of)
Here's what's in my diaper bag to give you some ideas:
Wipes
Diapers
Washable bibs
changing pad (disposables are best)
extra clothes
Burp cloths
Bottle(s)
Snacks (puffs, teething crackers)
Toys (Make sure to bring toys that are washable, since babies will be dropping them all over the place and you don't want nasty plane germs on baby toys).

Baby carrier

Pacis (work to help with altitude adjustment during take off and landing)
When my children were overtired or overstimulated it worked well to carry them around in our baby carrier. We tried this in the airport, too and it worked wonders. Plus, your hands are now freed up to carry all of your other baggage.
Bringing a stroller/car seat on the plane
Good news–your stroller and car seat can be checked for free! Make sure to check with the airline about weight requirements for these items, though.
When my babies were little we checked both items and just used the baby carrier to carry them around in the airport.
Once my children got older, we stopped using the baby carrier because they didn't really enjoy being carried in that for longer periods of time and we started just brining our stroller with us all the way up to the gate and checking it there.
We ended up purchasing this umbrella stroller because our stroller was over the 20 pound weight requirement of the airline we fly the most.
If you're torn about not being able to have your all terrain stroller with you during your vacation check out this awesome site of baby gear you can rent anywhere!
We haven't personally used this service but we do have friends that have used it and loved it! It's worth checking out if your trip involves a lot of on-the-go time and you'd like your baby to be a little more comfortable– I know those umbrella strollers don't provide the most comfortable seating.
Mom tip: Don't bring the base if your baby is still in the infant carrier, it's just one more thing to keep track of and you can just buckle the seat in the old fashion way for a week or so.
Nursing/feeding on the plane
All of the research I did before our first plane ride with babies and everything I read said to give them a bottle/food when the plane takes off and when landing to help with ear popping.
I've given bottles during landing only, take off only, or not at all (due to a feeding schedule) and it didn't seem to bother little ears either way.
But, each kid is different–my advice is just to have a bottle or a snack (if age appropriate) available just in case.
Or just pack a paci. As long as they're sucking they should be able to pop their ears and not have any pain from altitude pressure.
If you're not using breastmilk don't use airplane water to mix your bottle (it's not suitable for drinking). Instead, ask the flight attendant for bottled water or purchase a water bottle before you take off and store it in your diaper bag.
Booking your flight with a baby
Emma does best in the morning, and so for that reason, we try to book early flights. By the time she's ready for her first nap we're taking off and it tends to help her sleep a little on the plane.
I've found that choosing the aisle seat works best for us at this stage.
Make sure you don't choose a seat on the back of the plane, or on an exit row—those seats don't recline!
Babies under 2 fly for free if they sit in your lap. I didn't know this on my first flight, but it's a good idea to call the airline and tell them you'll have an infant in arms. You should also do this when you book your flight.
Note: Please be advised that the FAA says that babies are safest in an approved carrier. You can read more about TSA approved seating for babies here.
Some airlines offer infant fares which are considerably cheaper than normal seat prices, if you don't want to your child to sit on your lap, call the airline and ask for an infant fare.
Getting baby a seat
Once my babies turned 6 months I could tell that they were just too squirmy to sit in our laps during longer flights so I decided to get them a seat and it was the best thing ever!
You can bring your carseat to be used on the plane.
But before you haul your car seat up to the gate, make sure it's one that's approved for air travel. Check your car seat manual or look for a sticker on your car seat that says approved for aircraft and motor vehicle travel. Here's even more detail from TSA about approved seating.
Note: If you bring your car seat on board you must use it, you cannot stow it under your seat or in the overhead bins, just FYI.
Getting through airport security
If you take my tip above about carrying your baby in a carrier, you should be able to continue to wear your baby while you move through security.
Breast milk and security
If you're still nursing, you'll need to pack breast milk for baby to have on the plane or in the airport.
Formula, breast milk and juice for your infant are considered exceptions to the TSA's 3-1-1 liquid rule. You will need to remove these items from your carry-on bag while going through security so they can be checked.
You can also bring ice or gel packs, too. Just remember to remove those when you're going through security, as they might be subject to inspection.
Waiting on your flight
Waiting on your flight is sometimes tougher on littles than when you're up in the air. Here are a few things we've done to help pass the time and prevent meltdowns:
Go find the mothers room/nursing pod and nurse or feed your baby. I have found that feeding in a quiet place really helps to calm babies If the airport you're travelling in has a mothers' room definitely go check it out.
Keep your stroller and check it at the gate. That way when your little one gets cranky you can walk them around the airport and hopefully they'll fall asleep for a bit, too.
Bring a baby carrier and walk around until it's time to board the plane.
Boarding
I personally like to wait until the plane is almost full until we get on. The less time I have to keep babies entertained on the plane, the better. I know some people really like family boarding, but you know your kid best. Just do what you think will help them keep their composure the longest.
Up in the air
You know the rules you have at home? In the air, all bets are off. The plane and airports in general are tough on kids and babies, and I'm a firm believer in letting the rules slide because of this.
I make sure to download some baby shows to distract and delay crying, too!
Now that you're a pro on flying with a baby, read my tips on taking a road trip with a baby, too!