Educational toys don't have to be "boring" toys that kids don't want to play with. In fact, most three year olds wont even know they're playing with toys designed to improve motor skills, build patience or teach early math and language concepts.
Rather than designed to entrance your preschooler with a lot of flashing lights, loud sounds and perhaps even accompanied by a screen, learning toys will keep your child engaged for long periods of time.
Ready to build a playroom of toys designed to promote educational building blocks? Here are my favorite learning toys for a 3 year old.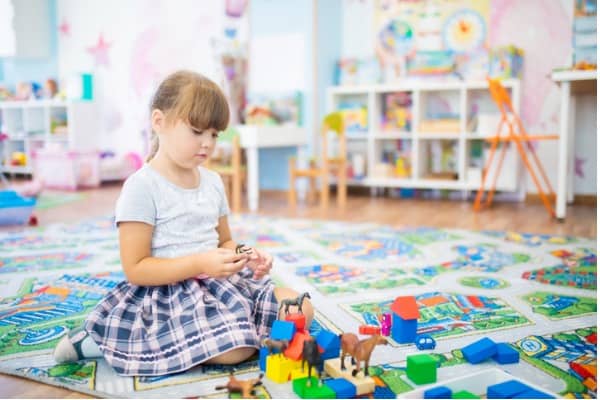 Best learning toys for a 3 year old
In reviewing the hundreds of toys on the market today, when selecting toys for this list I made sure each toy helped preschoolers build one or more of the following skills:
Problem solving
Critical thinking
Fine and gross motor skills
Early math skills
Early literacy skills
Build imagination
By and large, you'll notice that most of these toys on this list are made of durable materials and are free of batteries. Toys with batteries are almost always toys that won't be engaging for your child in the long run, as their primary purpose is to entertain, rather than to teach.
These toys are also open-ended toys, rather than one and done types of toys. For example, the stepping stones I recommend below will be used to play a multitude of things and will only be limited by your child's imagination. One day they're rocks in a river, the next they're a balance beam and the next they'll be turned over to carry items.
Stepping stones
These fun balance rocks or stepping stones promote hand eye coordination and provide the perfect opportunity to burn some energy. Beyond the obvious physical skills these stepping stones build, this is another great open-ended toy with unlimited possibilities of play. Plus, what child doesn't want to play "the floor is lava!"
Play barn
Your child's imagination is running wild at 3 and what better way to build it than with toys designed to spark creativity and build imagination. A play barn is a great open ended toy that is only limited by what your child can think up in their mind. I like the idea of this wooden barn as it's sturdy enough to grow with the child and can be used for many years and even passed down to siblings.
Board games
If you haven't already, 3 is a perfect age to introduce board games. I like First Orchard as a good introductory game and I also am a fan of Hi Ho Cherry-o as a good follow up game. Both games teach early math concepts and really help with taking turns and sharing, something that you can never practice too much as a toddler.
Puzzle clock
Three is the perfect age to start teaching your child about time. This colorful wooden clock is perfect to help them start to grasp the basic concepts of telling time, as you can manipulate the hour and minute hands.
Pattern blocks
Anther great toy that has been around for decades–these pattern blocks provide great learning opportunities. Your toddler can explore different shapes, learn early math concepts while they explore each unique shape's characteristics (angles, sides, etc.), build concentration and problem solving skills and let their imagination run wild as they make their own creations. Every playroom needs a set of pattern blocks!
Balance stones
Wooden balancing blocks are a great addition to your three year old's toy collection. This toy checks many boxes for me–it's a wonderful open ended toy that has many uses from stacking to creating pictures. You can also use the stones to work on early math concepts with your child. Each stone is slightly different so your child will be able to build patience and concentration while they learn basic physic principles.
Busy board
I put a more age appropriate busy board on my list of the best learning toys for 2 year olds, and I'm including this more advanced busy board for 3 year olds. I love busy boards, as they keep kids…busy! Fine motor skills are tough at this age and you experience that first hand when you start trying to let your little one dress themselves. Busy boards are excellent for fine motor skills and building patience and concentration. They work great as car toys, too!
Marble run
A great deal of thought and concentration is involved with building a marble run, which makes it an excellent learning toy for your three year old. At three your child will need a lot of assistance from you when playing with this toy, and will likely be ready for more independent play with a marble run around 4.
Jumbo building bricks
A well rounded playroom or classroom will have tons of different building toys. Jumbo building bricks is another great item that builds problem-solving, enhances creativity and imagination and helps with motor skills.
Balls
Getting outdoors everyday is one of the best things you can do for your toddler. Keep a set of balls outside for impromptu games of soccer, kickball, or just learning the basics of making contact with the ball. I'd also recommend some orange traffic cones so you can set up obstacle courses, too.
Play house
Play houses are not just limited to girls. All preschoolers love to play house and this doll house is gender neutral, perfect for little boys and girls. Three is a perfect age for this type of pretend toy as their little imaginations are just starting to run wild!
More learning toy recommendations:
Learning toys for 1 year olds
Learning toys for 2 year olds
Learning toys for 4 year olds