As a potty training consultant, I get asked all the time about potty training essentials that are helpful in the potty training phase. And while I don't think you need a ton of stuff to be successful, I have found several helpful products along the way.
So now, without further aduo, here are my favorite potty training must-haves.
Potty training essentials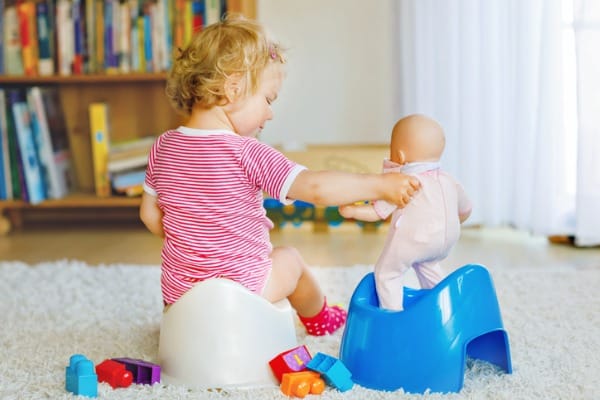 In order of most important to least, here's what I typically recommend to parents as they begin their potty training journey:
The beginner potty
The beginner potty is absolutely crucial. I get asked all the time if this is absolutely necessary, and as someone who hates superfluous kid items, I can totally relate, but honestly, the beginner potty is an absolute must.
Here's my favorite beginner potty. I like this one for the simplicity, the portability, the size and how its just the perfect size for little ones.
The big potty is just a bit, well, big. It's loud and scary for a little kid. You really want to make this whole potty experience as easy as possible and introducing them to the big potty before they're ready could really derail the whole thing.
While I do suggest involving your kiddo in picking out several potty-related necessities, choosing a potty isn't one. The simpler the better with these potties.
And since I like kid's items that are multi-use, this little potty is small enough to take on road trips!
Potty seat
Once your child is ready to make the switch from the little potty to the big potty these potty seats are a life saver. Again, you may be asking yourself if these are really necessary, and again I can relate with the minimalist mindset when it comes to plastic kid stuff, but yes, these are important.
You don't want your child almost falling in the big potty, as that's likely to completely derail all of your progress you've made. You want them to be as comfortable as possible with using the big potty and this potty seat ensures their comfort.
Here's the potty seat I like the most. I recommend a cheaper potty if you need more (it's best to have one on every level).
Step stool
The step stool, small potty and potty insert are all items designed to let your child be independent with the whole potty training process. Once they graduate to using the big potty, if they can't get up by themselves, (which they won't be able to for some time) they need your help to use the potty each time.
If they feel confident using the step stool and potty insert they can go independently when they need to, which creates a sense of independence and cuts down on accidents. Stools also come in handy when washing hands, too.
You can go super basic with the step stool and get one that saves space, as it folds and can easily slide under a bed, in a cabinet, etc. I opted for this stool with my first child and although I love the space saving capabilities, it's super flimsy, just be warned if you choose this one.
I have since invested in this stool, which of course is quite the price difference from the initial plastic one, but I got tired of flimsiness of the plastic one and I wanted something "prettier" in my kitchen!
Wipes
Teaching your child to wipe is hard and takes a while for them to get the hang of it. These wipes are very easy to use and they're flushable. A must!
Puppy pads
At some point, you'll need to leave the house. These puppy pads work great for lining the car seat so accidents are easy to clean up. I also like these for sitting on furniture after you've established potty training but still aren't 100% sure they aren't going to have an accident on your couch.
Training pants
Although I do not recommend these training pants for awake time, these are perfect for naps and nights. The work to absorb some of the pee so that it's not a huge mess. I also recommend laying down a thick fleece blanket on top of the sheets and having your child sleep on that until you're confident they're not going to have an accident. The blanket makes accidents so much easier to clean up.
Folding travel seat
Public restrooms are not very clean, and besides the fact that your little one will put their hands all over the toilet seat, they're likely also be afraid of sitting on it. This folding travel seat is absolutely brilliant and actually folds up and fits inside your purse. Just keep a travel pack of disenfectant wipes to easily wipe it down on the go.
Prunes, apples, dates
You may be asking yourself why items from the grocery store are on this list, and don't worry, I'll explain. Even if your little one never had an issue with consitipation in the past, it's highly likely that constipation will be an issue when they start potty training.
Many kids (mine included) very scared of pooping on the potty and that causes them to hold in their bowel movements. Things can get hairy as they days pass by without a bowel movement so I like to just preventatively mix in items like apples, dates and prunes. Most kids like apples anyway, and it's super easy to make a smoothie and throw in the dates and/or prunes to get things moving.
Potty training toys and books
Totally not a necessity, but it's a great idea to introduce the concept of potty training through books or toys kids can relate to. If your child is struggling with pooping on the potty (as many kids do at first) this is an awesome book to help get them comfortable with the whole idea.
A potty training doll can be a great way to introduce kids to the whole concept of using the potty.
Several popular children's characters and/or shows have books on potty training that can be helpful. My children love Daniel Tiger's Neighborhood, so they really loved the fact that he had a potty book, too.
Now that you have a handle on what will be helpful as you potty train your little one, be sure to check out my other potty training resources!