If you're gearing up to potty train a boy, stick around because today I'm dishing all my favorite tips. Many people will tell you potty training boys is harder than potty training girls, but don't believe the hype.
Yes research shows that boys typically potty train later than girls, but by and large they aren't harder to potty train.
You'll have the most success potty training a boy when you make sure that they are completely ready to accept the process with ease.
Inside, we'll dissect how you tell if your child is ready to be potty trained and go over a helpful guide to get started.
What is the average age for a boy to be fully potty trained?
Research from the American Family Physician shows us that the average age of potty training (for boys and girls) typically occurs between 21 and 36 months, but research also shows that boys potty train later than girls.
What are the signs that a boy is ready to be potty trained?
There are several signs a little boy might be ready to be potty trained. Here's what to look for:
Showing an interest in parents' bathroom habits
Hiding to poop
Wanting to be changed as soon as they have a dirty diaper
The ability to push down and pull up their own pants (motor skills for boys typically come later than girls and you can expect to see this skill mastered around (30-34 months)
Follows simple one or two step instructions
Has routine bowel habits
You notice diapers staying dry for one or two hours during the day
Wakes up from a nap with a dry diaper
All of these signs are good indicators your child is ready to be potty trained, but I place more weight on a few key signs. If they are older than 22 months, waking up dry from naps and showing a very strong interest in the potty/big kid underwear–in my experience, they're ready to go!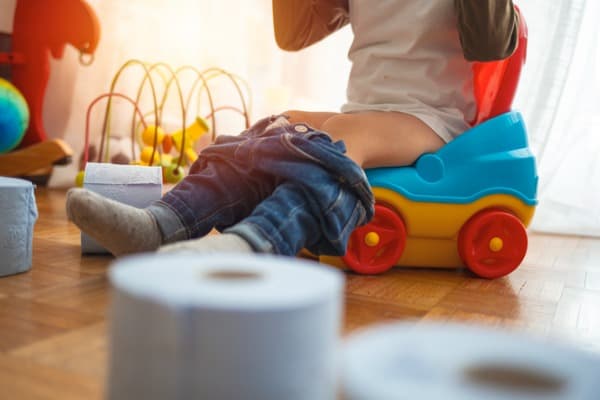 Should you potty train a boy sitting or standing?
I always recommend teaching boys sitting down at first. Most boys don't master standing up and peeing until 4 or 5 years old. Teaching standing up is not only harder for boys to master, but it's also messier!
How to potty train a boy
Once you have evaluated that your child is ready to become potty trained, it's time to prepare for day 1. I always recommend starting about two weeks before you begin by buying the necessary supplies and start the process of warming your child up to the idea of potty training.
Here are my favorite potty training supplies:

It's smart to narrate the entire process as you go to the bathroom so that it becomes familiar to your child. Saying things like "I feel like I need to go potty now so I'm going to go sit on the potty and try," "Yay, I pottied, now I need to wash my hands, etc." work really well to warm your child up to potty training.
Once you've laid the ground work, here's how to potty train your son:
Forgo the big boy pants (at first)
For many little boys, the idea of picking out their big boy underwear is thrilling, and this is often what motivates them to go along with potty training in the first place.
In my opinion, the best way to train kids to learn how to use the potty for the first time is to forgo big kid underwear and go bottomless, at least for those first few days.
Here's why this works–underwear has a very similar feeling to diapers. Once you put your son in big boy pants, it's going to trigger that muscle memory and they'll feel the familiar feeling of diapers once again. Making it much harder for them to learn to understand their body's cues as to when it's time to go to the bathroom.
Set aside a few consecutive days
To establish potty training, you want to set aside a few days. Take off work or maybe wait for a long weekend to start the process. On day one, throw out all of the diapers with your son.
Next, set up their potty in a central location, like the playroom and calmly state that when they need to use the potty, they need to sit on the potty to go pee. At this point, it's just business as usual while your son plays and you look out for cues that he needs to go to the bathroom.
You might notice a potty dance or he might hold himself or simply just freeze. Whatever it is, most of the time it takes parents a few times to pick up on it before they identify their kid's "tell," so to speak. As soon as you see this you need to calmly set him on the potty.
Even if you only get two drops of pee in the potty, it's time to rejoice. The more exaggerated the better. If you don't manage to catch anything, that's okay. Stay very calm and just state, "Pee goes in the potty."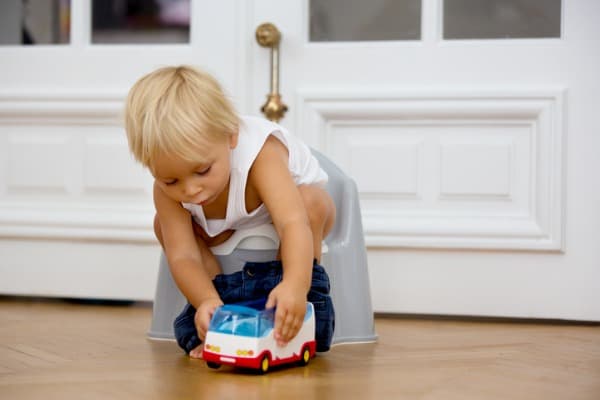 Don't set a timer
A common potty training method is to set a timer for a set amount of time and make your child sit on the potty each time the timer goes off. Though the logic behind this method is understandable, this method typically does not work.
Because most kids are potty trained when they are in increasingly exercising their will, as you well know by now, at the slightest notion you might want them to do something, they're typically not interested at all.
Setting a kitchen timer and making your son sit on the potty every time it goes off leads to reminder resistance. Reminder resistance can cause the entire potty training plan to go off course. The best course of action here is to watch for the potty dance, but then set a potty schedule that corresponds with normal life.
For example, we potty when we wake up, before nap, before lunch, after nap, etc. Break out the markers, crayons and fun stickers and create this potty "schedule" together.
If you're interested, here's my full potty training schedule for a 2 year old.
Move on to loose fitting pants, sans underwear
After potty training has been decently well established sans underwear, it's time to move on to pants. You still want to avoid the underwear at this point as the muscle memory from the diapers is not quite a distant memory yet.
Dress your son in very loose fitting pants. You want him to be able to push them down on his own when he needs to go. Tight fitting pants or anything that involves buttons, etc, will likely cause accidents and won't promote independence.
It's very normal to have a few accidents when you move to this stage as without underwear they were hyper aware of when they were going and could stop the flow and get to the bathroom in time. Typically this accidents will be over and done with in one day and you can move on soon.
Only after potty training is well established do I recommend moving on to underwear. For some kids this might be just a couple more days, for others, it might be a week.
Try a small outing
When you feel comfortable, it's a good idea to test out your son's new skills. I recommend starting with a short walk in your neighborhood. Make sure they take a potty break before the walk. Relax your expectations about whether or not they'll stay dry during the walk and don't get flustered if they do have an accident.
When you're ready to move on to leaving the house in the car either put down a small puppy pad on their car seat or just be okay with washing the seat pad. Most carseat manufacturers do not recommend having yoru child sit on anything, and honestly, the way they make car seats now make it so easy to wash the pad.
In a pinch, you can bring the potty with you in the car if your son has to go while you're out. At this point in potty training, I would shy away from using a public restroom, as they're big, loud and scary.
Lower expectations
There are a lot of books and potty training resources that say you can potty train in three days. I have seen some kids do this, but honestly, this is just not the norm.
When I potty trained my little girl (this was before I was a potty training consultant) I bought in to the idea that she could be potty trained in three days. Boy, was I wrong.
We had some successes in those three days, but mostly failures. Had I known that potty training would be a longer process from the onset, I would have managed the whole thing much better.
Potty training and naps
Naps can be a scary thing during potty training, but don't worry, most kids handle them with ease after only a few accidents. I typically recommend forgoing diapers or pull ups during nap time, as it's just confusing for kids.
Try to limit liquids close to nap time and lay down a thick fleece blanket on their bed so if they have an accident you can easily just wash the blanket and move on.
Here's my full guide on potty training at nap time for more nap time tricks.
Potty training at night
While I think it's a good idea to go ahead and potty train during nap time, I typically recommend waiting to potty train during night time.
Research shows us that most kids can't hold it for 10-12 hours at night until they're 3, sometimes even 4. Some experts even say that it's normal for some boys not have that ability until 6.
While you can certainly wait until your son starts waking up dry in the morning to pull the plug on night-time diapers, sometimes it's best to attempt potty training at night before it's too late. But, in my opinion, this comes much later down the road after day-time potty training is well established.
A word about pull ups
You may be wondering why I haven't advised you to use pull ups as you train your son to use the bathroom. As a first time mom, it's a question I had too.
I didn't understand the harm in pull ups prior to becoming a potty training expert and allowed my daughter to use pull ups during her potty training days. Just from my personal experience, I can tell you the use of pull ups prolonged the entire training process, dragging it out much longer than it needed to.
When I started doing the coursework for learning how to help parents potty train their children I started to understand what a hindrance pull ups are to your child quickly picking up potty training.
Remember, pull ups are just fancy diapers and when used, that muscle memory kicks in and it's very, very difficult for your child to know when they are going. You want them to be fully aware of their body's cues during the potty training process.
Need more help? Find more potty training resources here.