Getting ready to potty train your daughter? As a potty training consultant, I help parents potty train their kids all the time. Today, I've complied my favorite tips for potty training a girl!
What age should you potty train a girl?
Here's the thing–there's no hard and fast rule about the correct age to potty train a girl. Yes, it is correct that most girls do typically pick up potty training faster and a bit earlier than boys, but this isn't always the case. Your daughter's readiness and temperament plays a big role in how quickly they pick up potty training.
That being said, most girls master potty training before boys and the latest research shows us the average potty training initiation age (for boys and girls) is between 21 and 36 months.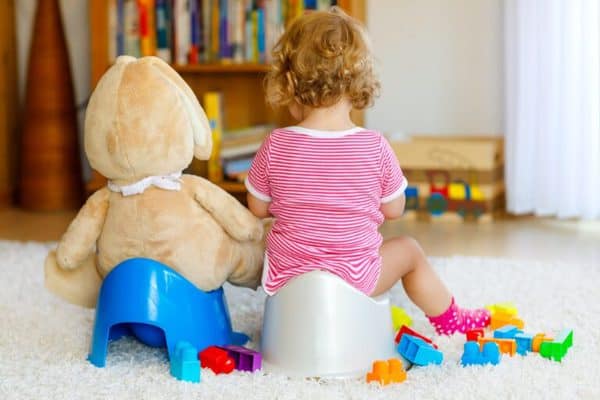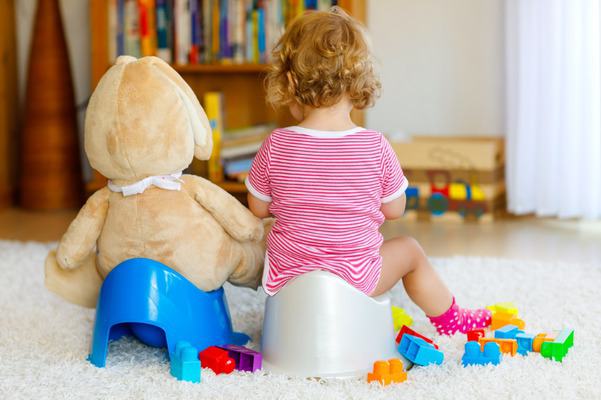 How do I know when my daughter is ready to potty train?
When we talk about when girls might be ready to potty train, we look at a combination of readiness factors and age.
It's a good idea to evaluate your daughter's age first in terms of physical development. We know that in order to be successful in potty training, it's first necessary to remain bowel movement free at night. Typically, for little girls, this is no longer an issue by 22 months.
Another important skill girls should be working towards in order to be successful with potty training is the ability to push down and pull up their pants. Girls usually develop motor skills quicker than little boys and mostly have this mastered by 29.5 months of age.
Beyond age, we look at important readiness factors to indicate whether or not your daughter will do well with potty training. Here's what you can be on the look out for:
Shows an interest in going to the bathroom, i.e. follows you in the bathroom and asks what you're doing
Is able to communicate with you and follow simple one or two step directions
Tells you when her diaper is wet or knows when she's just pooped
Wants privacy when pooping in her diaper or goes to a familiar spot to poop
Has normal and predictable bowel habits
Can stay dry for long periods of time (1-2 hours)
Wakes up from nap with a dry diaper
I want to stress that all of these readiness skills do not have to be present to successfully potty train your daughter, but at the very least, factor in age with the potty readiness skills above as you decide which age is best.
If you're just looking for general guidelines, we know that most kids potty train between the ages of 21-36 months of age and girls do tend to master potty training before boys. New research does point to the fact that training before 27 months is typically not too beneficial–just to give you some age guidelines.
You know your child best. If they "seem ready," they likely are. It doesn't hurt to try for a week or so. If it's a nightmare, stop and simply revisit a few months down the road.
How to potty train a girl
There are many potty training methods out there, but what we'll go over is the potty training method I recommend based on experience and what I know to work well.
Before you get started you need to gather all the necessary supplies. Start about two weeks before you want to begin and order your supplies and begin warming up your daughter to the idea of using the potty.
Here are the potty training supplies I recommend:

If you're starting potty training soon, ideally your child is very familiar with the concept, as they've observed you use the restroom. About two week before you begin, start narrating the process every time you go. "I feel like I need to pee pee so I'm going to stop what I'm doing and use the bathroom," and so on. The more familar with it, the better.
Take time to read books about potty training and watch shows, too. I even like to get the potty in beforehand so they can get used to it. Leave it out in the playroom so it becomes familiar to them.
Once you've prepped, here are the steps to take on day one-seven:
Step 1: Get rid of diapers and begin!
On day one you'll start by getting rid of the diapers. Involve your toddler in this process so they understand that going potty in their diaper is no longer an option.
The hands-down easiest way to potty train is to go bottomless and watch them like a hawk for 3-7 days while they grasp the basics.
Underware and pullups are honestly just a prop and will prolong the whole potty training process. The absolute easiest way to do this is to put the potty in a central location (for us and a lot of parents that's a playroom) and just camp out in there for the next few days.
Step 2: Watch for the potty dance
You're going to have to be pretty engaged in order to catch most of the potty breaks. I strongly recommend doing this with a partner on a long weekend so that you can trade off!
Watch for cues. You'll generally be able to tell something's up. You may see a potty dance, they may hold themselves, just walk weird, etc. As soon as they do, sit them down on the potty and tell the it's time to potty.
Step 3: Be patient
With younger toddlers this isn't so much of a problem as it is with older toddlers, as they are still very much in a pleasing mommy or daddy phase. With older toddlers, if they even get a whiff something's up, they typically want to resist. So if they get the notion that you really, really want them to go potty in this new potty thing, they're likely to completely revolt.
Play it cool, be patient and act like it's not a big deal at all. Never force them to sit on the potty. I'd only encourage them to stay on it for a few minutes to try to potty. If they don't potty, say "no problem, we'll try again soon!"
Step 4: Praise
If you do manage to get any pee or poop in the potty it's time to really get excited. Praise and love is really all that kids need to motivate them at this point.
Step 5: Repeat the process
I'm not a fan of setting a timer and sitting kids on the potty every 30 minutes or so. This leads to reminder resistance and typically backfires. I like to watch for cues and then follow a potty schedule that follows typical times you'd go to the bathroom like before you leave the house, before lunch, after nap, etc. Here's my full potty training schedule.
Step 6: Try shorts or pants now
After about 3 or so days of good progress, move on to shorts or pants. I still recommend holding off on underwear at this point, as underwear typically trigger that muscle memory and they feel like they have the security of the diaper again. Spend the next couple days with just pants on and continue to watch for their cues and follow the potty break schedule.
I recommend using the potty chair for a while and then graduating to using the potty seat on the big potty. You'll know when it's time to make that switch! If you keep modeling good bathroom habits the entire time your potty training, (i.e. narrating the process every time you go to the bathroom) it's likely that your daughter will naturally progress to using the big potty very soon.
What about potty training during sleep time?
Typically, if you rip the baidaid right off, so to speak, and forgo the diaper for naptime too, you can finish up potty training much sooner than if you put the diaper back on for nap.
Potty training during naps can be tricky, but the best advice I can give you is to use a thick blanket to let them sleep on to catch any accident (fleece blankets are great), have them use the potty right before nap and make sure to keep the nap to 90 minutes or less.
Read my full guide on potty training during naps here.
Potty training at night is a whole different animal, and most of the time I recommend waiting to do that until your toddler is at least 3 and sometimes even later. Here's my full guide on how to potty train overnight that you can bookmark for later.
Quick tips for potty training girls
Loose fitting dresses work perfect for those first few days of bottomless potty training.
Teaching girls to wipe is a big step and necessary to help prevent them from getting a UTI. Girls should wipe front to back. I really like these flushable wipes to use for those first few weeks, as it's just much easier than toilet paper. Sometimes little girls will get red from lack of wiping as they're learning and I always suggest to add a little baking soda to the bath to help with that.
Have more questions about potty training a girl? Find all things potty training here.