Searching for educational toys for 2 year olds? As a mom determined to make play fun, while educational, I tend to seek out toys that promote learning the most. I've pretty much banned plastic toys that are loud and need tons of batteries, not because I'm mean, but because I've observed how my children interact with these types of toys.
Long story short, these noisy toys don't hold attention for more than 5 minutes and after the newness wears off, they tend to go unnoticed indefinitely.
So while you'll see flashy new toys each year on a list of toys for 2 year olds, the toys you'll find on this list stand the test of time, and many of them were around when I was a kid.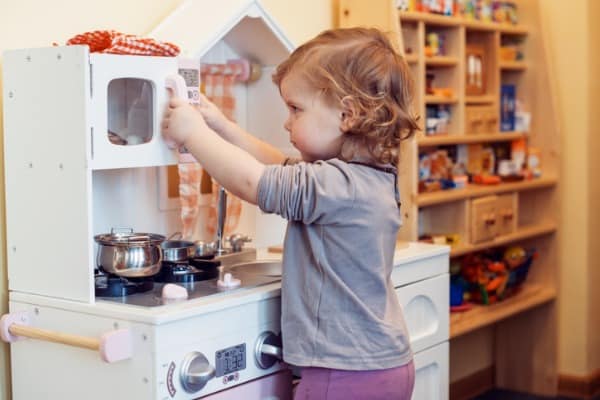 12 of the best learning toys for 2 year olds
A play kitchen
Two is a magical age for so many reasons, but one thing that's particularly fun to watch unfold is seeing your child's imagination come to life. Believe it or not, pretend play is huge for learning and development. At this age, kids just want to imitate you, and a play kitchen is perfect for this. They'll enjoy making their own creations in their kitchen and love to cook along side you, too.
Other great items that promote pretend play are baby dolls, a broom set, play food and dress up clothes. Here are some of my other favorite items for pretend play:
Sorting and stacking toys
While chunky puzzles likely dominated your play room the last 12 months, your two year old is ready for something a bit more challenging. Two year olds won't even know they're working on fine tuning those motor skills when they play with these stacking wooden blocks. Not only does this help with fine motor skills, but it also develops concentration and patience.
Kids' table
If you don't already own a small table for your child to use while they draw, play with puzzles, build with blocks, play with playdoh, eat a snack or read a book, now is the time to invest in one. This kids' table is a great gift for grandparents to give and looks great in your home. I'd shy away from those obnoxious plastic tables and chairs as you'll tire of seeing the eyesores and want them out of your home, sooner, rather than later.
Lego duplo
Legos are one of the best toys for educational purposes, but traditional legos are too small for 2 year olds. Enter Lego Duplo, perfect for smaller hands! Build concentration, develop imagination and enhance motor skills with legos.
Climbing triangle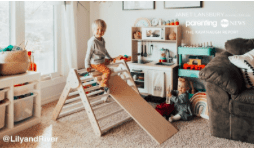 This toy is so good that it's also on my list for the best educational toys for 1 year olds. A toy that grows with your child from 1-4, this is definitely more of an investment, but hours upon hours of fun. Besides the fact that this is hours of fun (especially in the winter) this climbing triangle builds coordination and motor skills. It's also a great open-ended toy, meaning there's many, many uses for it in terms of play. You may see this toy as just something to climb on, but to your child, it's a rocket ship, boat or fort.
Wobble board
Your toddler will love this balancing board! Not only will they be working on their gross motor skills, but this board is a great open ended toy. It's a sled, slide, boat or a fort.
Activity cube
Many activity cubes today are plastic, require tons of batteries and just aren't very entertaining. Get back to basics when you gift your two year old a sturdy, wooden activity cube, much like the ones you had growing up. I love this particular activity cube as it really has a ton of opportunities to sharpen their motor skills, while keeping them engaged for a long time.
Busy board
Two year olds need lots of practice when it comes to learning how to dress themselves and this busy board is perfect to help develop those skills. Fine motor skills require lots of practice to perfect and kids will be very entertained with this adorable busy board. I love a toy that teaches a skill children need concurrently, as I find the more fine motor skills a 2 year old has, the more prepared they are to master pushing down and pulling up their pants–which is absolutely crucial for potty training.
What to look for when searching for educational toys for 2 year olds
Generally speaking, you're looking for something that stirs curiosity and engages their mind. As you saw from the above list, this does not mean you're handing your two year old math flashcards. While you're searching for toys for your two year old, make sure the toys work two build these skills:
Build concentration
Develop problem solving skills
Build imagination
Develop motor skills
Build early math skills
Additionally, you want to look for toys that will grow with your child, and will be in decent shape to hand down to siblings. When there is an option, I typically opt for wooden toys over plastic. One, you grow very tired of plastic all over your house and two, plastic just doesn't hold up. Wooden toys look like they do the day you brought them home and you can easily pass them down to siblings, cousins, etc.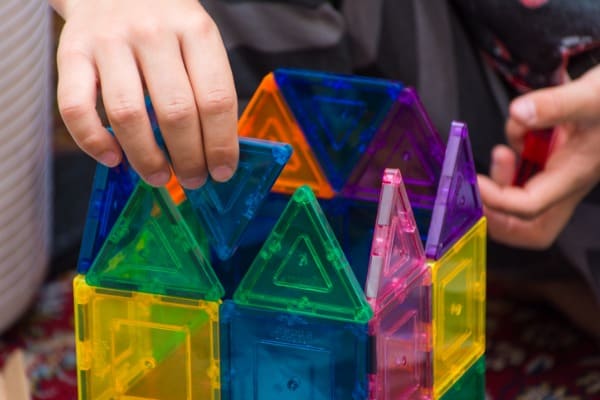 If you have an older two year old that you're shopping for and need additional ideas consider these learning toys
A wooden block set. I love this one and think it's an absolute must for the preschooler age. If you don't like this one, look for ones that have various shapes, as the typical square abc blocks tend to lose their luster as children age. You might also consider magna tiles, too!
I spy books. Yes, I know this is a "toy" list, but my 2 year old was gifted I spy books and this kept her entertained forever and helped build concentration skills.
More learning toy recommendations:
Learning toys for 1 year olds
Learning toys for 3 year olds
Learning toys for 4 year olds