Thinking about potty training your toddler soon? Here you'll learn what age is best to potty train, how to tell if your toddler is ready and what you need to get started.
What is the best age to potty train your toddler?
Most toddlers are not developmentally ready to be potty trained until age 2. While our parents and grandparents generation toilet trained their kids much younger, today's toddlers are learning how to use the potty later.
Recent studies from the Journal of Pediatrics show the average age of potty training typically happens between 21 and 36 months old. Something to further note is the fact that, according to the study, only 40 to 60% of children master potty training by 36 months of age.
Research also shows us that by and large, boys tend to master potty training later than girls, as well.
Please know that while there are age guidelines as to when most kids are old enough to master potty training, there's no magical age to start. The key to successful potty training is in assessing your toddler's readiness and willingness to ditch the diapers and use the potty in addition to considering their age.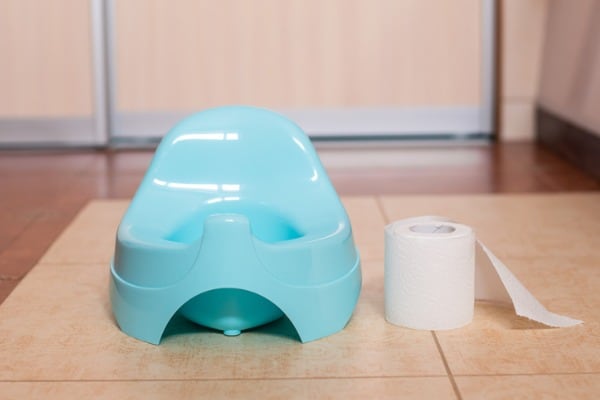 How do you know when a toddler is ready to be potty trained?
Beyond a toddler's age, here are critical things to look out for when assessing if your toddler is ready to be potty trained:
Shows an interest in going to the bathroom, i.e. follows you in the bathroom and asks what you're doing
Is able to communicate with you and follow simple directions
Tells you when her diaper is wet or knows when she's just pooped
Wants privacy when pooping in his diaper
Toddler has normal and predictable bowel habits
Can stay dry for long periods of time (1-2 hours)
Wakes up from nap with a dry diaper
Staying dry for long periods of time and waking up from a nap with a dry diaper are two of the biggest readiness signs! All of these factors do not need to be present to start potty training your toddler. If your child is a good water drinker (like mine) they will likely not be dry after a nap for some time, and that doesn't mean you will need to hold off on potty training.
Learning to hold pee is something they will pick up and improve as you potty train. Keep in mind, too that the bladder doubles in size from age 2-4.5, so if you feel your toddler has the smallest bladder in the world, know that it will improve!
In addition to your toddler showing signs of readiness, you must asses whether you or ready to train them, as well. Unless you want to approach potty training very casually, typically, you'll want to avoid all distractions, cancel plans and just hang out at home for 3-5 days. Knowing this ahead of time is helpful so that you can plan the perfect time to do so.
You also want to look into the future and anticipate any big changes for your toddler like the birth of a sibling or moving and not potty train close to big events like that.
It's also a good idea to keep in mind most preschools, daycares, summer camps require three year olds to be potty trained. Plan ahead if the preschool or summer camp you have in mind has these requirements and start early.
Don't stress yourself out by attempting to potty train a couple weeks before the start of school. Despite the fact that most methods say you can potty train in a weekend or three days, (and you totally can, it just depends on how ready your toddler is and how consistent you are with it) it may take some time.
I speak from experience, as before I became a certified Potty Training Consultant, I attempted to potty train my very, very stubborn toddler just two weeks before school started.
Even though her preschool didn't require her to be potty trained before she started, I wanted her to be fully potty trained by the start of school. Let's just say after the first few days I was ready to give up.
What's the best age to start potty training your toddler?
While there's no denying that age is certainly a factor in potty training success (and most parents teach their children to use the potty between 21 and 36 months), you can't underestimate the power of a child who is ready to potty train. There's an interesting correlation between the time it takes for a child to fully master potty training and their readiness.
Key research shows us that potty training beginning before a child is 24 months old resulted in 68 percent of toddlers completing the training before 36 months, compared with 54 percent who started training after 24 months. However, and this is a big caveat, the toddlers that began potty training before 24 months old typically took much longer to train than those that were older.
Is 3 too late to potty train?
Just because your toddler is 3 does not mean it's too late to potty train. I know many moms who have waited until 3 and their kids potty trained. There is a very popular potty training book that lets parents know in a not-so-subtle way that if they wait until age 3 to potty train they're doomed for disaster.
While it is true that some 3 year olds are typically harder to potty train than their younger counterparts, thanks to the fact that around the age of 3 toddlers really start demonstrating a pretty strong will and ideas about how their world should be, it's not impossible.
Some kids just flat aren't ready to be potty trained until 3. Some kids aren't ready until 3.5; especially if they're boys.
If you've waited until 3 to potty train, don't panic. You will get through this. It may take longer than you expected, or your child may pleasantly surprise you.
Get started with potty training your toddler
Getting the necessary supplies ahead of time and preparing your toddler before you start potty training is so crucial! Here's what I recommend:
Potty–For those first few days, using a small potty is so important! Kids are scared of the potty typically, and a potty their size lets them feel more at ease.
Toilet trainer— After you move past the small potty, you can try out the big potty with the help of a toilet trainer. Again, skipping the toilet trainer and just having them go on the big potty is likely to cause a regression as they will be pretty scared to sit on the big potty without a seat their size.
Step stool–So invaluable when littles are learning to wash their hands and helps to promote independence.
Find more potty training tips here.