Many moms get their first glimpse of cluster feeding during their baby's second night after birth when they simply want to breastfeed off and on all night long.
This type of behavior is normal for a newborn and can be expected in your baby's first few weeks and months of life.

What is newborn cluster feeding and why do babies do it?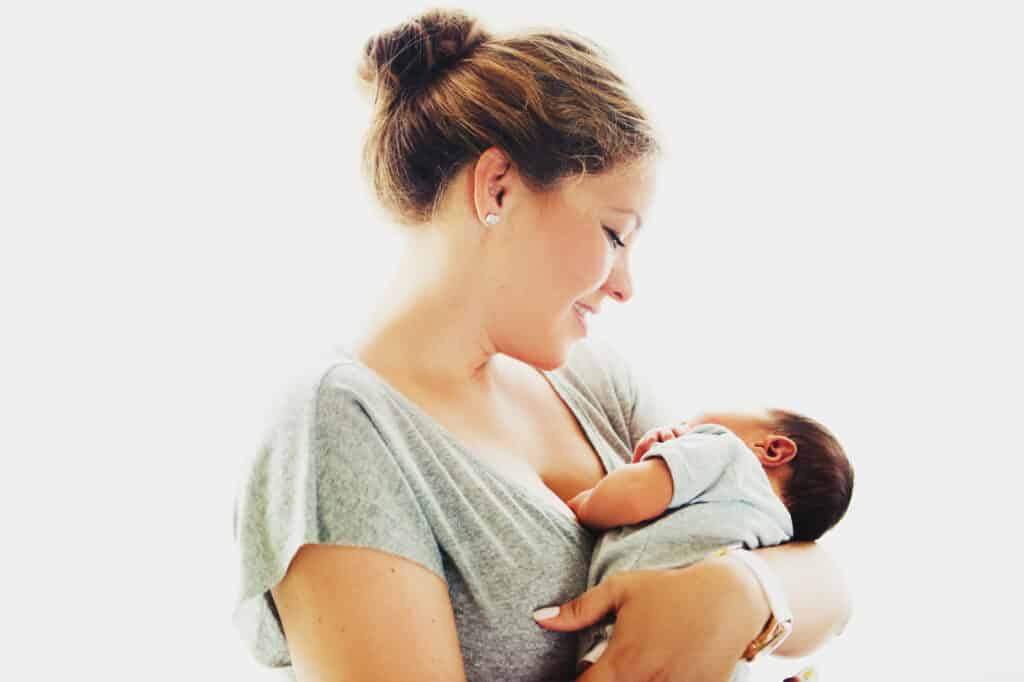 Cluster feeding, which is also referred to as bunch feeding, is when an infant wants to breastfeed several times in a short time period. This is outside of their normal feedings, and these cluster feeding sessions can typically lasts 3-4 hours.

During a bunch feeding session, your baby will likely nurse for shorter time periods than they typically do, pull off, fuss and then want to feed again very soon after.
Coincidentally, newborns typically want to cluster feed in the evening, during the dreaded witching hours.
Although there is no clear scientific reason why your baby will cluster feed, experts do have several theories:
They are experiencing a growth spurt and cluster feed as a way to increase your milk supply. Since breastfeeding works on a supply and demand principle, the more baby nurses, the more breast milk your body will produce.
They are experiencing the newborn witching hour. If you've got a fussy baby at night, they're likely going through the witching hours, which typically happen during a newborn's first few months of life. Some babies may be comforted during this time by nursing, pretty much constantly during the hours of 6-11 p.m.
They are not yet full. There's evidence to support the fact that your milk flow is actually slower in the evening, which may frustrate baby and lead him into a cluster feeding session, where he pulls off a lot and latches back on in a short amount of time due to frustration and a big appetite.
They are fueling up for the night. Many babies want to get their tummies as full as possible before they go down for the night. Some babies like to cluster feed for a few hours before bed and then will typically sleep for longer stretches of time.
It's important to understand that cluster feeding during your newborn's first few months is completely normal.

It's also important to know that your baby's cluster feeding preferences will be unique to them, i.e, most commonly babies cluster feed in the evening, but other babies may choose the middle of the night, and others will cluster feed by simply wanting to eat every hour or so.
What age do babies cluster feed?
In most cases, babies will first cluster feed on their second night, which is why your nurse might refer to that night as "second night syndrome."
Babies also tend to group feed during periods of growth, which happen around 10 days, 3 weeks, 3 months and 6 months.

Some babies cluster feed during the nighttime fussy period, and this fussy period typically subsides drastically by the time your baby reaches 3-4 months and completely fades around 6 months of age.

How do I know if my newborn is cluster feeding?
If you're exclusively breastfeeding your baby, you know that there's real no schedule you can put them on in terms of when they eat.

Breastfed babies eat when they're hungry and they have the ability to not overfeed, too.
Because they don't eat on a schedule, it can sometimes be hard to tell if they're just really hungry or if they're actually cluster feeding. Here are some ways you can tell what your baby's up to: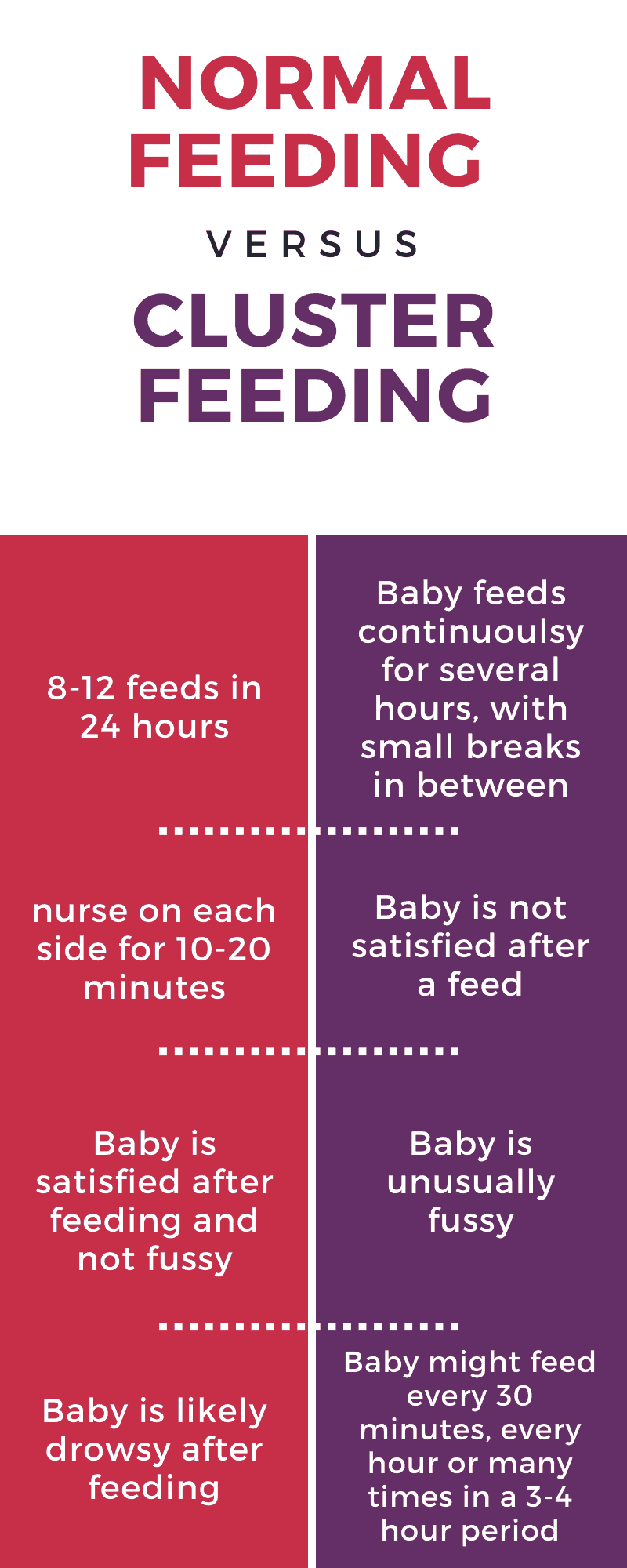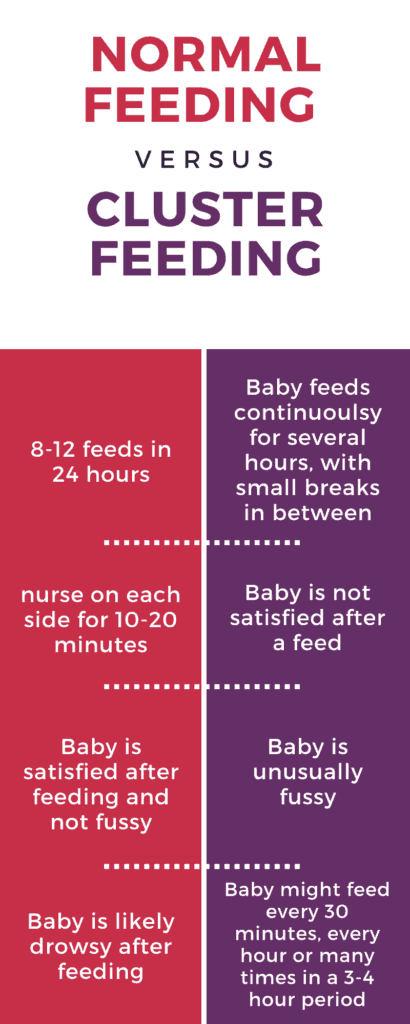 Cluster feeding a newborn: Tips for success
Wear your baby
Wearing yoru baby in a wrap or sling can really calm them down, especially during their fussy period at night.
If it turns out baby wants to feed constantly just because they're experiencing a more fussy time, wearing your baby at night might do the trick and they won't want to feed constantly.

Switch up your nursing position
Sure you may prefer one breastfeeding position over another, but when you're in the middle of a cluster feed, changing up your nursing position will help your nipples not get so sore and give your back a break.
Here are some different positions to try: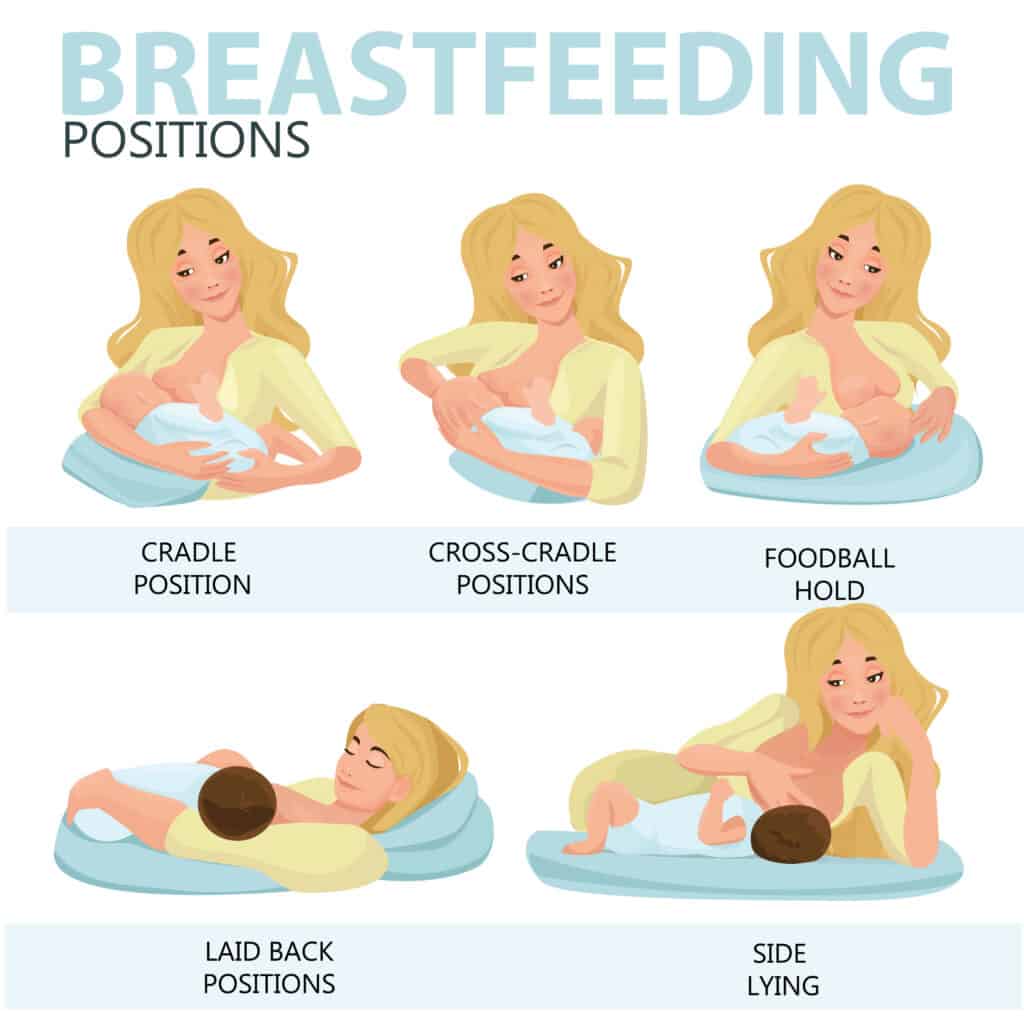 Do skin to skin a lot
You likely did skin to skin contact with your baby during the first hour after they were born, but there's plenty of research why you should continue doing this routinely during your baby's first few months, too.

When you hold your baby skin to skin the hormone oxytocin is released. This hormone, is responsible for your "letdown reflex." The letdown reflex makes it easy for baby to get milk.

Stay hydrated and don't forget to eat
Breastfeeding burns a ton of energy and calories, and if you're not careful, you can quickly feel lightheaded from not eating and drinking enough during a cluster feeding session.

Breastfeeding mamas should aim to get 96 ounces of water per day, and slightly more when your baby is breastfeeding frequently is small time periods.

Keep foods that help milk supply on hand and a large glass of water next to you while you're bunch feeding.

Skin to skin also promotes relaxation and significantly helps with stress by releasing more of the feel good hormone, oxytocin.
In between feeds, keep your baby calm, promote good milk supply and destress by holding your baby skin to skin.
Caring for sore and cracked nipples during and after a cluster feeding session
Breastfeeding should not hurt if your baby's latch is correct, but your nipples might not feel so great after several close feedings.
Here are a few ways you can care for your nipples before and after your baby bunch feeds:
Begin each feeding session on the least sore nipple
After nursing apply a warm compress or wet tea bags for relief
Even if you don't have cracked nipples, you should proactively finish each nursing session by squirting out some breastmilk and massaging onto nipples. Breastmilk contains healing properties designed to naturally prevent nipples from cracking and drying.
If that doesn't work, try a cream like lansinoh, which doesn't need to be wiped off before your baby breastfeeds again.
FAQ on cluster feeding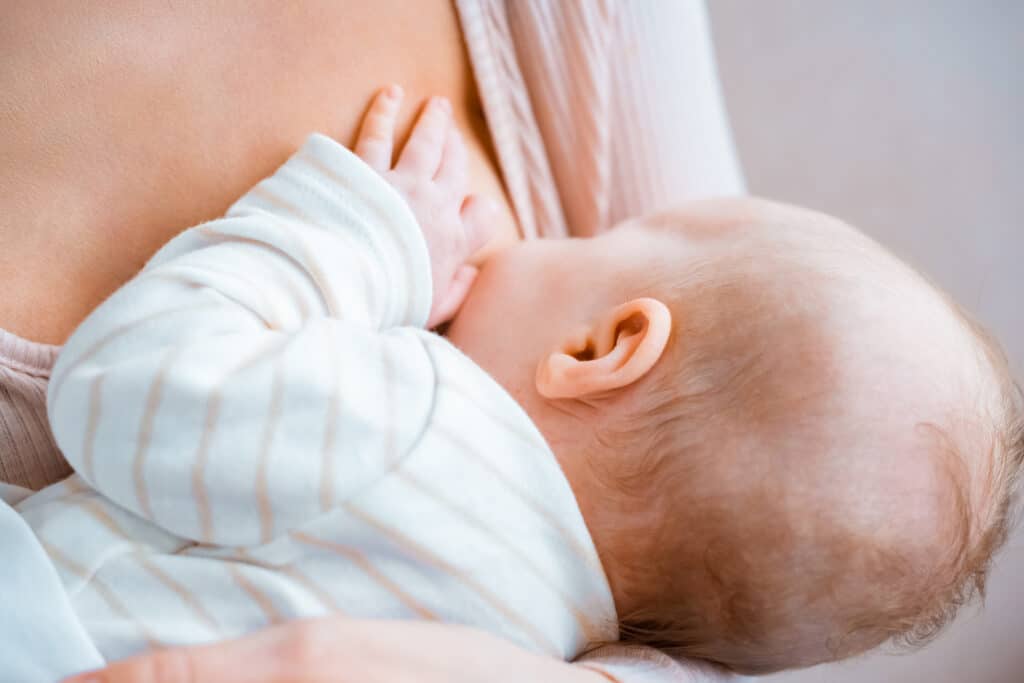 What if I don't think my baby is getting enough milk?
Many moms mistake their baby's desire to cluster feed as a sign that they're experiencing a sudden decrease in milk supply.
The only real way to tell if your baby is not getting enough milk is to keep up with the amount of wet/poopy diapers your baby has each 24 hour period and by monitoring their weight.

For your baby's first week of life, they should have 1 wet diaper for the amount of days old they are.
One wet diaper on day 1, two wet diapers on day 2 and so on. Once your milk comes in, you can then expect at least 5-6 wet diapers and 3-4 bowel movements per day.
Make sure you take baby to each weight check visit and voice any concerns about feeling like baby not getting enough with your pediatrician.

Rest assured that cluster feeding is a totally normal newborn behavior! Just like most behaviors that newborns exhibit, they will pass!

How long does cluster feeding last?
Unfortunately, there's not really a hard and fast rule for how long cluster feeding will last.
Since there's not definite research as to why cluster feeding happens in the first place, your baby might cluster feed to help get through the newborn witching hour or they might only cluster feed to prepare your milk supply for a growth spurt.

Depending on your baby, a cluster feeding session could last one to two nights or a few weeks. Since your baby is more likely to cluster feed at night, you should have some reprieve during the day.
Should I supplement with formula?
Unless you are instructed to by a pediatrician because your baby isn't gaining enough weight or getting enough nutrients, never supplement with formula while baby is cluster feeding.
Because you can't be sure that baby is feeding for comfort during their fussy time or going through a growth spurt, supplementing with formula won't increase your milk supply to meet the demands of your growing baby.