Inside: Helpful tips for parents when selecting baby's clothing for sleep. We'll discuss TOG rating and why it matters and how to dress baby depending on room temperature.
The Back to Sleep campaign was introduced in the 90's to give parents guidelines on the safest ways for babies to sleep. One of the biggest guidelines to come out of the awareness campaign was to do away with loose blankets in the crib.
This of course led new parents to wonder how to dress their babies to stay warm overnight, which is thankfully where sleep sacks and swaddles come in.
Did you know that most sleep sacks and swaddles have a TOG rating? Essentially the TOG rating is a unit of measurement that lets you know how warm the wearable blanket is.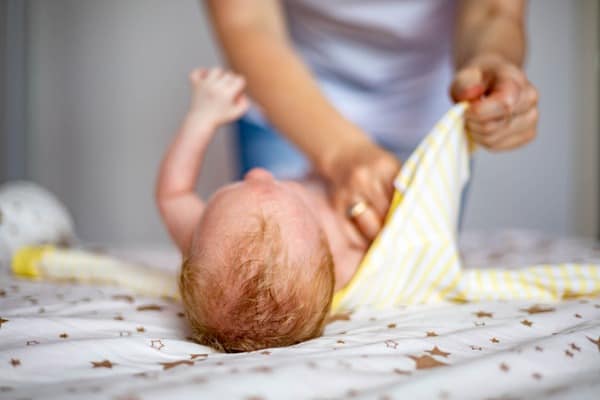 What is TOG and why does help with baby's sleep?
TOG is a term from the textile industry that stands for Thermal Overall Grade. As part of the safe sleep campaign, parents are now advised to sleep their babies with wearable sleeping bags rather than blankets to help prevent SIDS (sudden infant death syndrome).
TOG describes the warmth or thermal resistance of the sleeping garment (or thickness of the fabric), which should guide parents as to how to dress their child given the temperature of the baby's room.
Another component of safe sleep is to prevent a baby from overheating, which is really where the TOG rating system is useful, as you can dress your baby in a lower TOG garment when the temperature of the room is higher and a higher TOG rating garment when the temperatures are cooler.
The TOG rating system goes from the lowest tog rating at 0.5 to 3.5, with 0.5 being the least warm garment and 3.5 being the warmest.
Which TOG should my baby sleep in?
Here's where the real confusion comes in as most parents know that babies aren't very good at regulating their temperatures, especially when compared to adults.
There's even evidence that premature and low birth weight babies may have trouble regulating their body heat, and experts say even full-term babies can have issues regulating temperature if the environment is too chilly.
Given this information, luckily we do have some pretty great guidelines in terms of what's considered an appropriate room temperature for babies.
Safe sleep advises parents that the ideal room temperature where baby is slept should be 68-72, regardless of the season, so following that advice, I have found that selecting a sleep sack of 1 or 1.5 is the right TOG rating the vast majority of the time.
Another good safe sleep tip is to not dress your baby in more than one additional layer than a normal adult would be dressed in to sleep.
Notice where baby's crib or bassinet is placed in the room and check to make sure that they are not directly placed under a vent, as the air conditioning or heater would adversely affect their temperature.
It's a good idea to keep an eye on the temperature in your baby's room. Most baby monitors have a temperature gauge on them, but beyond that, I find a meat thermometer held in the air is very accurate.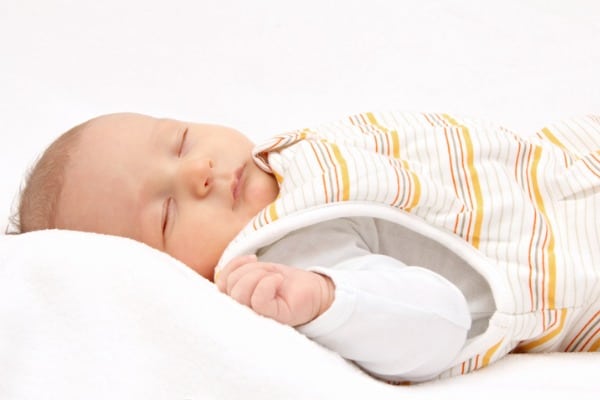 Use the room temperature when choosing the correct TOG to dress your baby in:
If the room temperature is between 72-75:
Use a TOG of 0.5.
If the room temperature is between 70-72:
Use a TOG of 1
If the room temperature is between 68-69:
Use a TOG of 1.5
If the room temperature is between 64-68
Use a TOG of 2.5
Keep in mind these are guidelines wearable blanket manufactures are suggesting and not a blanket recommendation for all babies. Some babies will be cooler than others, as some babies will run warmer than others.
When thinking about how to dress your baby underneath the sleep sack, here is a helpful guide. Remember, it's better to err on the side of your baby being too cold rather than too hot. You should continuously check your baby for signs of overheating.
In terms of what I suggest to wear underneath a sleep sack, it's a good idea to stock up on footie pajamas and long sleeve onesies for cooler temperatures and short sleeve onesies for warmer temperatures.
Overheating is a SIDS risk, as newborns are not very great at regulating their temperature and do not sweat efficiently enough to reduce their temperature. Check on baby's temperature by seeing if baby's skin feels warm to the touch, especially their ears and back of their neck or has flushed cheeks.
You can also feel baby's chest and stomach. If it feels hot to the touch, baby is too warm. While there has been some confusion in the past, there is currently insufficient evidence that a fan prevents SIDS from overheating.
Not all sleep sacks and swaddles have TOG ratings on them, but most do. I found the Halo swaddles and sleep sacks to be a favorite of mine, and those do display the TOG ratings.
The Halo swaddles in particular are very easy to put on baby and have velcro fasteners, something that gave me more peace of mind when dressing my babies, as there's no way they can work their way out of these types of swaddles.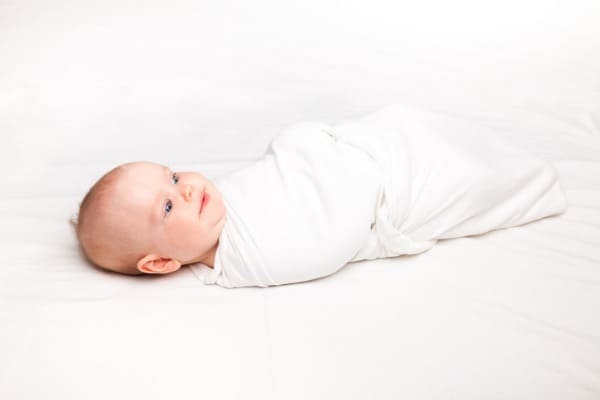 Pay attention to the type of material when you're buying baby sleep sleepware. While the synthetic materials tend to be on the warmer side in terms of the thermal insulation, they don't breath too well. I tend to recommend swaddles and sleep sacks with natural, breathable fibers, helping baby to not overheat at night.
Look for organic cotton or just regular cotton fabric when searching for a swaddle and sleep sack. You also want an arms-down swaddle, as opposed to arms up, like the love to dream swaddle. The reason here is that for the first several months of your baby's life, the moro (startle) reflex will wake them out of deep sleep unless their arms are down.
Once baby starts showing signs of rolling or is 4 months of age, whichever comes first, it is time to drop the swaddle, but at that point you can switch to wearable blankets, which also work for different temperatures, as well.
To drop the swaddle, it's easiest to use a product that allows you to do arms out, this way you can gradually get your baby used to the new sleeping arrangement.
You can begin by placing one arm outside the swaddle for a couple of nights. Once baby adjusts to that, then transition both arms out of the swaddle. Finally, transition completely to a sleep sack.
TOG rating guidelines things to remember
The higher the TOG, the warmer the garment.
Several different TOG ratings exist, but in keeping with the suggested temperature for baby's room, you typically are looking for a tog of 1 or 1.5 depending on your thermostat range.
Babies should always be slept on their back for their first year of life, on a flat surface, free of and loose blankets, pillows or stuffed animals.
Use a swaddle before baby shows signs of rolling and then transition to a wearable blanket.
The temperature of the room is very important. Keep the room at a comfortable temperature between 68-72, regardless of the season.
Check for signs of overheating by feeling the nape of your baby, or feeling ears or chest.