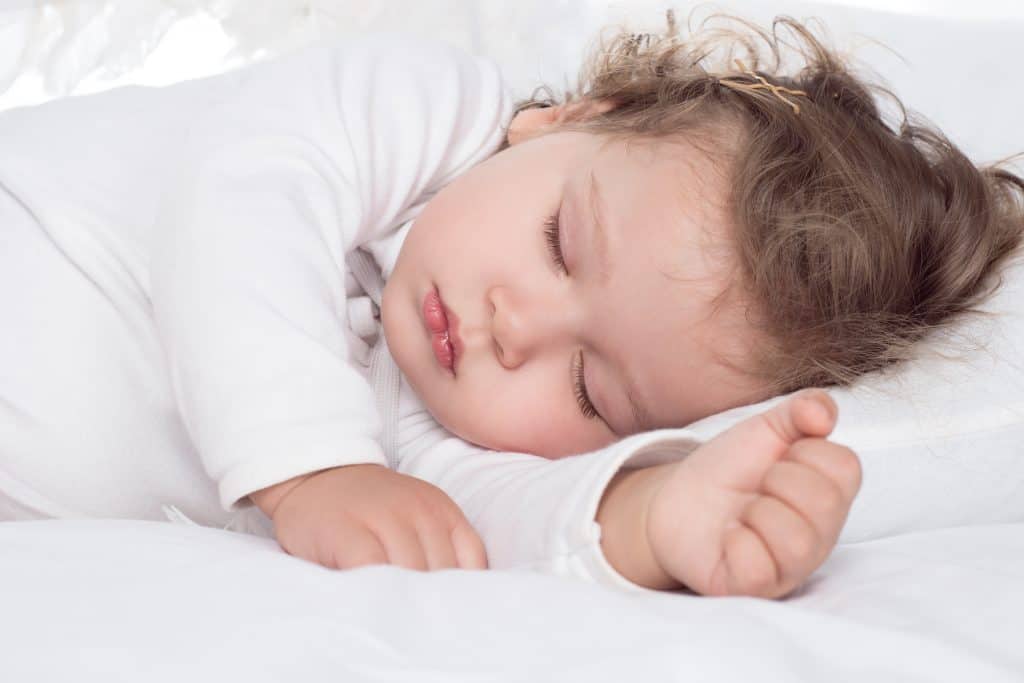 Last updated November 26, 2019
Getting your baby to nap in a crib during the day can sometimes feel like an uphill battle. And often, the tricks you use to get your baby down for night time sleep don't translate too well for naps.
Some moms claim they just don't have good "nappers," and feel they are destined to never have a baby that naps well during the day.
What If I told you that you could train your baby to nap well, just like you can train your baby to sleep throughout the night?
Nap training comes in handy and can help to drastically improve your baby's day time sleep. So if you're struggling with a poor napper, rest assured, mama, you can fix this!
When should I start nap training?
Much like sleep training, it's best to wait until your baby is around 3 to 4 months of age before you begin nap training.
Before 3 or 4 months of age you can help your baby nap better by making sure that they never get overtired; to do this, you'll want to follow a nap schedule and making sure baby isn't up too long in between naps. This is covered in depth, below.
Ideally, you'd want to carry out nap training before your baby reaches 7-8 months, as sleep crutches are firmly established by this age, and it gets progressively harder to teach your baby how to sleep without your assistance, the older they get.
While it's certainly not impossible to teach a baby aged 8 months or older how to sleep or nap, the best time to nap train your baby is between 3-6 months of age.
Should I nap train the same time I am sleep training?
Some parents like to rip the bandaid off at once and nap train and sleep train at the same time. And still others, with less easy-going babies, report that focusing on sleep training for night sleep first works best.
The bottom line: It's up to you. Naps are characteristically harder, so it stands to reason that unless you've got a super chill baby, you'll have better success training baby to sleep at night first.
Does your baby have trouble sleeping or napping during the day? If you'd like a free sleep evaluation and plan for your baby, please email [email protected]. I'm currently studying to become a certified sleep consultant and am in the practicum part of my study. All sleep plans and evaluations will be reviewed by my mentor.
How to get baby to nap using the best nap training techniques
Make sure you know how much sleep your baby needs
Babies are growing so fast and use their day and night time sleep to recharge their batteries. The amount of sleep your baby needs will change as your baby grows and develops. According to Standford Children's Health:
Total sleep time for newborns: 8-9 hours of night sleep; 8 hours of day napping

Total sleep time for 1-3 months: 8-9 hours of night sleep; 7 hours of day napping

Total sleep time for 3-6 months: 9-10 hours of night sleep; 4-5 hours of day napping

Total sleep time for 6-9 months: 10 hours of night sleep; 4 hours of day napping

Total sleep time for 9-12 months: 11 hours of night sleep; 3 hours of day napping
2. Don't keep your baby up too long between naps
From the above chart, we can see that, for example, a baby aged 4 months needs around 4 to 5 hours of day napping. But allowing your baby to only take one nap that you hope will be about 4 hours, isn't exactly how it should work.
Babies get tired quickly during that first year, and keeping a baby up too long before putting them down for a nap or their bedtime can be disastrous, and can actually lead to shorter naps!
According to Precious Little Sleep, here's the maximum amount of time babies should be up in between naps, by age:
Max time between naps (Birth to six weeks) 45 minutes-1 hour

Max time between naps (6 weeks to 3 months) 1 hour- 1 hour 45 minutes

Max time between naps (3 months to 6 months) 2 hours

Max time between naps (6 months to 9 months) 2 to 3 hours

Max time between naps (9-12 months) around 3 hours
As you can see, when babies are in their first few months, they're sleeping all of the time. So if it feels like as soon as they get up from their nap, you only have time to feed, burb, diaper change and play for a few minutes, you're doing it right.
One of the biggest reasons parents struggle so much with developing good nappers is because they keep their baby up too long in between naps during the day.
It's a complete fallacy that an overtired baby will nap better; in fact, you can expect an overtired baby to sleep worse and for shorter lengths of time, than a baby who is just on the cusp of being tired.
But what if my baby doesn't seem tired when it's time for a nap?
Some generous babies will, albeit, not-so-politely let you know when it's time to sleep. They'll be overly fussy, rub their eyes repeatedly or yawn.
And yet, more easy going babies might not do any of those things, and will continue happily playing to the point of utter exhaustion.
If you've got a "bad napper" on your hands; despite the fact that they never seem tired to you, why not try sticking to the nap schedule above and just see how it goes?
My daughter has always been pretty easy going. So at first, I was tricked into thinking she didn't need to sleep, when she actually really did.
I started keeping a pretty strict nap routine (using the guidelines for time awake between naps that's outlined above), and guess what? Turns out she was actually tired even when I didn't think she was.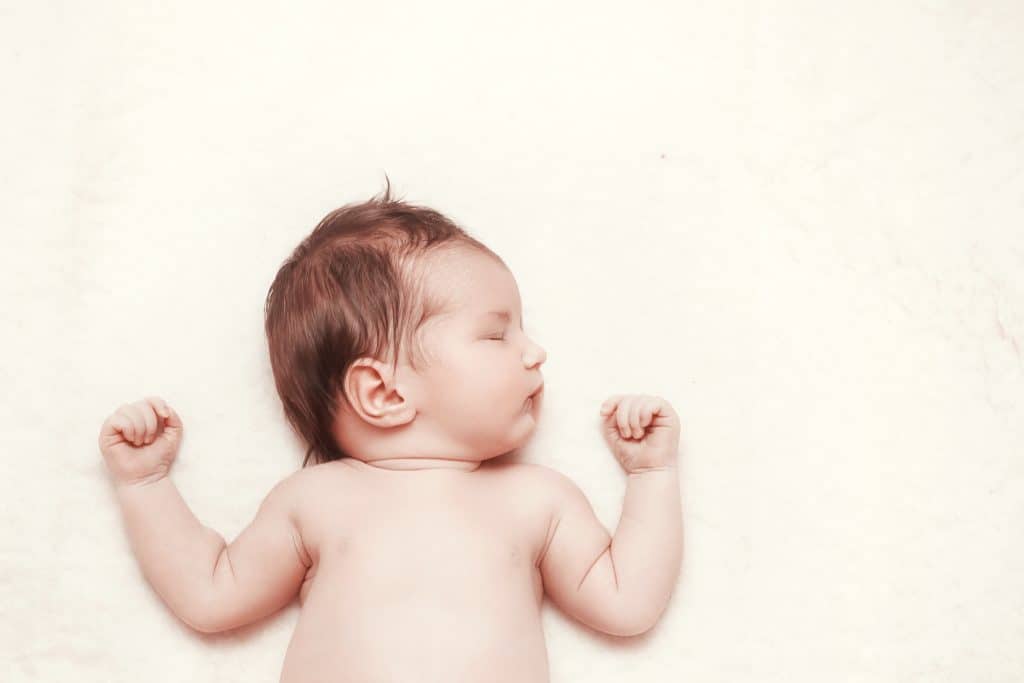 3. Create a "wind down" routine
Much like your baby's bedtime routine, babies do better when you give them cues that it's time for sleep, which is achieved by carrying out a consistent routine.
A nap routine should be a shortened version of your night routine, and should be consistently carried out for each nap. For example, your routine might be a diaper change, a couple books, one or two quiet songs, and a quick cuddle.
4. Set the stage
At night, it's not as noisy and it's darker when you put your baby to sleep. During the day naps can be more challenging due to sound and light disruptions.
Make every effort to try and drown out these interruptions by investing in a good sound machine and blackout curtains.
5. Put baby to in crib drowsy, but not asleep
The key in sleep and nap training is to help baby to learn how to sleep without your assistance. The only way you can do this is by putting your baby down in their crib when they're sleepy, but not asleep.
Why?
Teaching your baby to self soothe and learn how to fall asleep on their own is the single greatest thing you can do to improve your baby's sleep.
If you rock your baby to sleep, chances are she has no problem falling asleep. But what about when she wakes up inevitably before it's time to really wake up and she's not still asleep on your chest?
She's upset, right? And she won't fall asleep without your intervention because that's what she knows about sleeping.
6. Choose a gentle nap training approach
To minimize tears while teaching baby to sleep without your assistance, try to using a gentle approach. Here's some of the most common techniques parents use:
Fading method
Using this method you'll gradually reduce the amount of time in which you are present while trying to help your baby get to a drowsy state.
For example, if you typically sing to your baby until he falls asleep, on nap #1 of the day, you'll do this for a few minutes shy of how long this process typically takes. For your second nap of the day, you'll reduce this again by just a few minutes.
Ultimately, you'll only sing to baby for about 5 minutes before placing him to sleep in his crib while he's drowsy, but not completely asleep.
Pick-up/put-down method
Using pick-up/put-down, after you've done your nap time routine, you'll place baby to sleep in crib. Once baby fusses, you'll pick her up and calm her down. When she's calm, go ahead and place her back in her crib.
Repeat this until baby is fully asleep! This method takes a lot of patience, but is really effective if you keep consistent.
Most parents find that using a gentle method like these is hard work at first, but within a few weeks it does really pay off.
Note: These same gentle sleep training methods work for night sleep, too!
7. Understand how long baby should nap
So, how short is too short of a nap? According to Rebecca Michi, a children's sleep consultant, you want to aim for naps lasting at least 40 to 60 minutes in length.
Now, of course, during the early stages of nap training, shorter naps will be expected. To encourage good nap lengths, you'll want to try the following if your baby wakes up too soon:
Try to get to the 45 minute mark. If your baby wakes up before that point, wait a few minutes before going in the room to soothe, or if you want to use a gentler method, go in and pat or comfort baby for a few minutes.
If after 10-15 minutes your baby won't settle, abandon the nap and try again in an hour or so.
How do I sleep train for longer naps?
A common issue many parents complain about is the fact that their baby will wake up after 45 minutes of napping. Some parents quickly pass this off as their baby being a "bad napper," when in reality, baby is just waking up at the end of a sleep cycle.
Typical baby sleep cycles can last anywhere from 30-50 minutes, so if you've got a baby that is fully awake at the end of just one sleep cycle it is largely due to the fact that they're unable to put themselves back to sleep upon waking from sleep cycle.
Baby's ability to link sleep cycles together will only be strengthened when she knows how to put herself back to sleep. This means you must truly get rid of all sleep crutches and teach baby how to fall asleep on his own.
Following steps 1-7 each time you put baby to bed will significantly help this issue and your baby should be taking longer naps in no time!
Final thoughts on nap training
Teaching your baby to nap well during the day not only helps them grow and develop, but it also gives you much needed downtime. Take care to monitor your baby's awake time in between naps and then work to gradually reduce your assistance in your baby's sleep process, so that they may learn how to fall asleep on their own.
Keep in mind, the first few days of nap training will be difficult, but keep at it. With consistency, you should see results within a few weeks!
Other baby sleep articles you may be interested in:
No tears sleep training in 7 easy steps
15 baby sleep tips every new parent needs