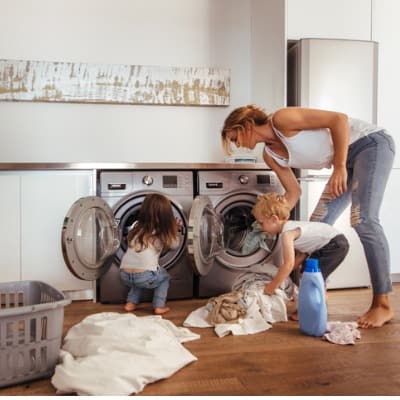 Is it even possible to keep your house clean as a working mom? Yes it is, and I'm here to show you how!
Of course, cleaning your house when you work full-time and have little kids running around is not the same as cleaning your house pre-kids, but you can keep it tidy enough.
Here's how to keep your house clean, even when you work and have kids!
An easy cleaning schedule for working moms
First things first, you need to understand that your house with kids will never be as clean as it was before kids. You simply cannot run behind the little people in your household cleaning up every single mess they make all day long.
And feeling like you have to keep your house spotless often leads to tons of stress and anxiety for working moms. Rather than be overwhelmed by your chaos, break cleaning down into reasonable chunks.
What working moms should clean every day
Before I had a kid, I used to save all my cleaning for Saturday. Now that I have a daughter I don't want to waste precious time with her on the weekends, so I find that cleaning a little each day works best.
During the week, I only do four simple tasks each day to keep the house tidy:
Clean up toys each night
The number one thing you can do to help your home feel more clean is to pick up the toys each night and put them where they go. Depending on the age of your children, you may get them to help with this task before they head to bed. I've found that I only need to spend about 5 or so minutes each night picking up toys if I do this every single day.
Sweep high traffic areas
Kids are so messy; especially when they eat. When my husband takes our daughter up for a bath I spend two minutes sweeping up our downstairs. Trust me, nothing will infuriate you more than constantly walking around on small pieces of food your kid's launched off their plate.
Clean the kitchen
I never, ever go to bed with dirty dishes in the sink. Each night after dinner, we take turns cleaning the kitchen and wiping down the counters and dinner table.
Run a load of laundry
Since having a daughter, it's no longer an option to clean clothes once a week. Now I much prefer to run a load of laundry and fold and put it away each day. Don't miss the folding and putting away part, or you're likely to see clothes sitting on the floor of your bedroom for weeks.
Once a week cleaning schedule for working moms
Bathrooms
It's so much easier to wipe down the bathrooms on a weekly basis, rather than wait until weeks have passed and you really have to scrub.
Vacuum and Mop
Once a week, I'll get out the vacuum cleaner and mop the floors. I only do this after our daughter's in bed or during her nap time on the weekends, because their simply is no point in doing this while she's awake and ready to spill whatever right on my freshly-cleaned floors.
Clean the windows
No, I don't clean all the windows each week, but I will clean the ones that have hand prints all over them.
Clean stainless steel appliances
I love how stainless looks, but wow does it get dirty fast when you've got kids.
Clean sheets
Typically on Saturday mornings I'll clean everyone's sheets so we can start the week with fresh, clean sheets.
Once a month cleaning routine for a working moms
Dusting
I like to take a microfiber cloth and dust all surfaces and if I'm feeling super productive I'll run the cloth over baseboards in high traffic areas.
Wipe down kitchen cabinets
Kitchen cabinets get super grimy with kids. I'll take 20 minutes once a month and wipe them down.
Additional cleaning tips for working moms
Use vinegar! Vinegar is the perfect, all-natural cleaning product that a lot of moms overlook. I use vinegar to clean my shower, clean windows, and even clean my microwave. Plus it's super cheap!
Get the kids to help: It's never too early to start getting your kids to help you clean the house. Start when your little one is a toddler by teaching them how to pick up toys, and as they age, progressively give them more responsibility.
Adding a stair basket to our stairs has really helped me control the clutter. Rather than walking upstairs 14,000 times per day, I just toss everything that needs to go into the stair basket. Each night I'll carry the basket up and distribute items where they go.
Organize your laundry room. Before I tackled my laundry room organization, having unfolded laundry all over the house was one of my biggest stressors as a working mom.
I've since wised up and organized my laundry room to have space to store small baskets that I can put everyone's clothes in once I'm finished folding them. You have no idea how much tidier your house will look when you no longer have unfolded clean clothes everywhere!
A sample cleaning schedule for working moms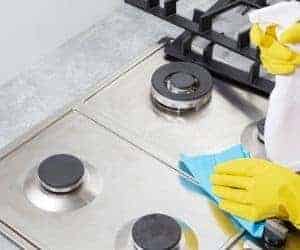 Yes, it's possible to keep your home clean as a working mom! Here's how to keep a cleaning schedule that will work for you, even when you work full-time.
Instructions
Daily cleaning schedule for working moms:
Pick up toys
Sweep high traffic areas
Clean the kitchen
Run a load of laundry
Weekly cleaning schedule for working moms:
Bathrooms
Vacuum and mop
Clean windows
Clean stainless steel appliances
Clean sheets
Monthly cleaning schedule for working moms:
Dust
Wipe down kitchen cabinets