Why not make the magic of the season even more magical by announcing your pregnancy to friends and family?
Simple props like a chalkboard, letter boards, tiny onesises, or ornaments will help to tell your story through photographs or you can opt to send announcement treats, too!
Many choose to use turn their holiday greeting cards into a Christmas pregnancy announcement, which is extra fun for friends and family to receive in the mail. Alternatively, you can post on social media or send to family via email, too.
Get creative with your pregnancy announcement when you gain inspiration from one of the many ideas we've rounded up below.
This post contains affiliate links. Read my policy here.
Creative ways to announce a pregnancy at Christmas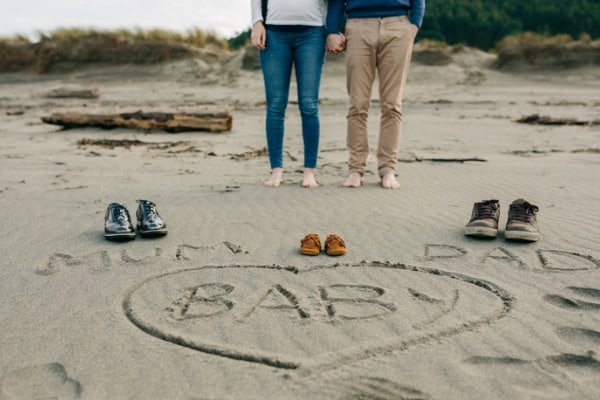 Choose from some of these very cute and holiday-themed ways to announce your pregnancy or make up your own!
Extra cheer this year
Santa baby
The holidays are happier this year
An end to silent nights
The more, the merrier
It's the most wonderful news of the year
Christmas came early
More to celebrate in (future year)
Merry Christmas! You're getting a grandchild
So much to be thankful for this Christmas
The best gifts don't come under a tree, Merry Christmas from our soon to be family of three
Santa's little helper
Santa isn't the only one coming to town
Our little present is due to be unwrapped in (insert month)
Bundle of joy
Oh, deer! I'm pregnant
Ho, ho, oh!
The best present is yet to come
Cookies aren't the only thing baking this Christmas
The best presents don't come from the store, Merry Christmas from our soon to be family of four
We traded silent nights for a bundle of joy
We're adding another set of mistle toes
Tis the season to be pregnant
Eating Christmas cookies for two
Christmas pregnancy announcement ideas
This avocado/Christmas combo baby announcement is probably one of the cutest and most unique pregnancy announcements I've ever seen. I don't know if it's my love for avocados or what, but I love this idea!
This "we spent too much time under the mistletoe" is such a cute, and super on-theme Christmas pregnancy announcement.
Instead of a greeting card, announce your pregnancy with cookies. I can't think of anything sweeter!
Such a cute flat lay that you can easily recreate to use on social or even send out as a greeting card this Christmas.
I love this idea as an announcement but also as an early Christmas gift to tell your parents you're pregnant, too!
Baby due at Christmas announcement
Christmas pregnancy announcement with siblings
I love playing on words related to the holiday and this "the more, the merrier" announcement is cute and clever!
I love this idea because it will take most people a minute to connect the dots and when they do, it's so fun!
This is adorable, and the reaction on his face says it all!
Props to stage your Christmas pregnancy announcement
I love these letter boards! Not only can you use this in your announcement photo but you can also use it when you take photos of your baby for each month.
Using a onesise to announce your pregnancy? These are adorable!
I love the idea of giving gifts to announce your pregnancy. How special would it be for a grandparent to receive this gift?!