By 6 months, your baby needs about 3 hours of sleep during the day and roughly 12 hours at night.
Your baby is considerably more alert at this age, likely taking part in family conversations, trying solids, learning new skills and hopefully sleeping longer at night.
Following age-appropriate baby wake windows is the easiest and best way to prevent an overtired baby and get on a good routine.
In today's post we'll examine the 6 month old wake window and I'll also give you a sample sleep schedule for this age group, as well as troubleshooting some common sleep issues around this age.
How long is the 6 month old wake window?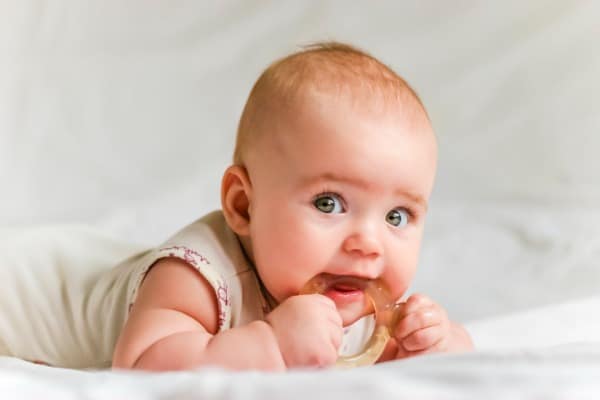 Baby's wake window is 2.5 hours at 6 months. This is really the maximum amount of time you want baby up before giving them the opportunity to rest.
If your baby is still getting tired closer to the 5 month old wake window of 2 hours and 15 minutes, work on extending their awake window by 5 minutes every few days until they are hitting the 6 month wake window.
Following baby's wake window fairly closely ensures they are sufficiently tired enough to take a good, restorative nap, while making sure that they don't get over tired.
Giving baby plenty of floor time where they have the opportunity to work in some floor time and tummy time is critical to making sure that they are ready to take a good nap when the time comes, so make sure to work that in to baby's routine each day.
A good bedtime routine is really helpful to signal to baby that it's time to go down. This helps baby decompress and get mentally ready to sleep well.
You want to carryout the bedtime routine within the wake window. A good wind down routine can be about 10-15 minutes and consist of a diaper change, a couple books, a song and some rocking.
Why are wake windows important?
Your baby's wake windows are perfectly coordinated with their internal time.
Baby's body clock is influenced by their circadian rhythm, which is controlled by the hormones seratonin and melatonin.
These hormones naturally rise and fall throughout the day, with serotonin dropping off and melatonin rising during during baby's wake window.
This same occurrence happens when it's best to naturally put baby to bed for the night and in the morning when baby should start his day.
Essentially following baby's natural wake windows ensures that baby's real time will match what's going on with them internally.
Sample sleep schedule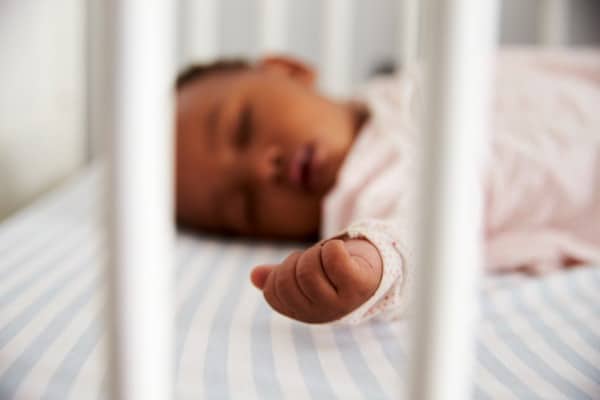 At this age, I start to encourage parents to follow a set schedule every day to set baby up for success.
You'll notice that the first nap is capped at 30 minutes, and this is to encourage a long lunchtime nap.
The last nap of the day is always very hard to pull off, and I always recommend parents do an assisted nap here to make sure baby gets some rest.
A nap in the stroller, car or on mom works well here. If a quick 15 minute nap is all you can get here, that's okay–we're just trying to give baby a quick nap so that she can make it to bedtime.
Nighttime sleep at this age is generally much better, and night wakings are generally on their way out. You can expect breastfed babies to wake once until about 8 or 9 months of age, given they are growing well.
You'll notice there is a shorter wake window between the last nap of the day and bedtime and this is because around 6:30ish your baby's cortisol levels are dropping off, while melatonin is rising, so putting baby to bed at this time gives baby the best chance at falling asleep.
Here's a sample schedule for a 6 month old baby:
7 am awake & feed
9.15 am wind down
9.30 am nap
10.00 am awake
11am feed – milk or milk/solids/milk or solids/milk
11.30pm top up feed
12.30 nap
2.30pm awake & feed
4.30pm nap (could only be 15mins here if lunch nap was good)
5pm awake & feed solids or milk
5.30pm bath
6pm feed
6.15/ 6.30pm bed
10.30pm Dream feed asleep feed optional but don't wake baby for a feed if they don't wake up (DF on the way out 6.5/7months)
These hormones fluctuate throughout the day
How to prevent an overtired baby
During baby's first year of life, it's important to establish healthy sleep habits. You can largely do this by following age-appropriate wake windows and giving baby ample time to rest at home.
During the day, you'll watch the clock and your baby's sleepy cues as to when it's time to put them to bed.
Here are common sleep cues:
Decreased activity
Slower motions, less vocal/social
Not interested in toys/people as much
Yawning
Redness around eyebrows or eyes
Many times, parents mistake things like whining, fussing and pulling ears to be sleep cues, but these are actually overtired cues.
Besides following sleepy cues and looking at the clock, there are many things to consider at 6 months to prevent an overtired baby.
By 6 months, baby really can't nap on the go too well, and I always suggest to parents to at least allow baby to nap at home for at least one nap per day.
The lunchtime nap is often the most restorative nap, so if you can be home for that nap, that's great!
Setting up the sleep environment for success also really helps baby get the rest they need.
A white noise machine set no higher than 65 dB helps to drown out disturbances.
I also highly recommend black out curtains. Melatonin, the sleep hormone, is only produced during the darkness, so aim to get baby's room as dark as possible.
You want to avoid regular night lights as well, and instead look for a red night light that doesn't block melatonin production.
By 6 months, it's definitely time to drop the swaddle if you haven't already and I recommend transitioning to a halo sleep sack at this point.
New skills, solid foods and a significant growth spurt can all disrupt sleep at this age. Here's how to work around those.
If baby is learning to roll, this usually disrupts sleep for a couple of days but then baby reverts back to normal.
Many parents really want to roll baby back over in their sleep, and you can definitely do this for a couple of days, but beyond that, you can't stop baby from rolling once they start.
Be sure to give them ample floor time to work on their new skills and make sure their crib is completely clear of anything.
Beyond rolling, most babies learn to sit up around 6 months, which can sometimes disrupt sleep as well.
The best thing to do if you find that this is the case is to stick as close to baby's routine as possible, knowing that any minor sleep disturbance caused by a new skill will quickly pass.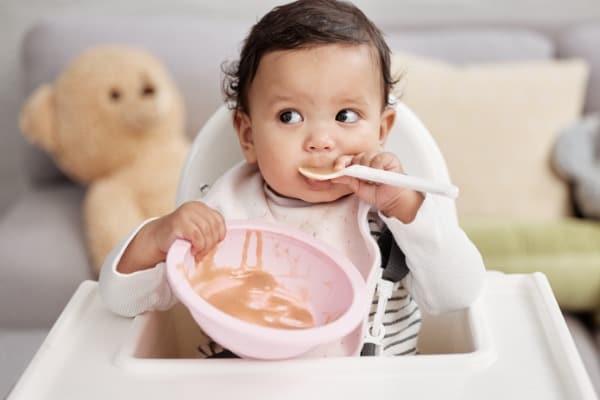 Even more than new skills, the introduction of solid foods can cause pretty big sleep issues.
Most parents don't know solids can impact sleep, but they are actually quite detrimental to your baby's sleep at first, but the good news is that there are many strategies to negate the negative effects.
Forgo breakfast solids for now. Wait until baby is sleeping through the night to introduce breakfast solids, as this can cause some early morning wakings initially.
I also recommend holding off on dinner solids until you've been doing lunch solids for a couple of weeks. Don't offer a protein at dinner until baby is much older, around 10 months. Protein at dinner can cause night sleep disturbances from digestion.
The best time to start solids is during the 11 a.m. feed.
Only offer 1-2 tablespoons at a time, slowly working your way up to 1/2 cup of food at lunch by 6ish months.
Include low glycemic index carbs (sweet potatoes, brown rice, whole wheat bread) at every meal to help stabilize blood sugar and prevent overnight wakings from hunger.
What to do about short naps at 6 months old
By 6 months of age, you really want baby to have one short nap in the morning, followed by a really good chunk of sleep in the afternoon and then a quick power nap in the early evening.
Baby needs about 3 hours of daytime sleep to not get overtired at this age, and a baby that is still taking very short naps is not likely to fill their sleep quota for the day.
The best thing you can do at this age to encourage longer naps is to introduce sleep training.
Sleep training strategies for this age range from very gentle to cry it out methods and everything in between.
The idea with sleep training is to transfer ownership of sleep from you to your baby. Your baby must learn how to put themselves back to sleep with they inevitably wake up.
A sleep cycle is just 45 minutes. Ideally you want your baby to sleep nearly 3 sleep cycles during their long, restorative lunch time nap and sleep training allows your baby to connect those sleep cycles without help from you.
The most gentle technique to encourage longer naps is a method called pick up/put down.
With pick up/put down, you stay by your baby the whole time. Soothing them from the side of the crib, helping them to fall asleep on their own. If baby becomes upset, you can pick up baby for a quick cuddle. The idea with this method is to soothe them with your voice and touch and pick them up when they get upset.
Another technique that's great at this age is called spaced soothing. With spaced soothing, you check on your baby at intervals and console them for a little bit and then leave the room. Great intervals to start at are 3 minutes, 5 minutes, and 10 minutes.
You can read a more in-depth article on sleep training methods here.
Need more help? Here you can see wake windows by age.