Potty training is an important milestone in your toddler's life and a huge sign of independence, but as a mom, going through this phase can be stressful.
I started the potty training journey totally dreading it. I have a strong-willed toddler and I just felt like it would be an absolute nightmare, to put it bluntly.
Now that we're on the other side and I have a (mostly) potty-trained little girl, it honestly wasn't all that bad, but I did learn a thing or two about the whole process that I'd love to share with you.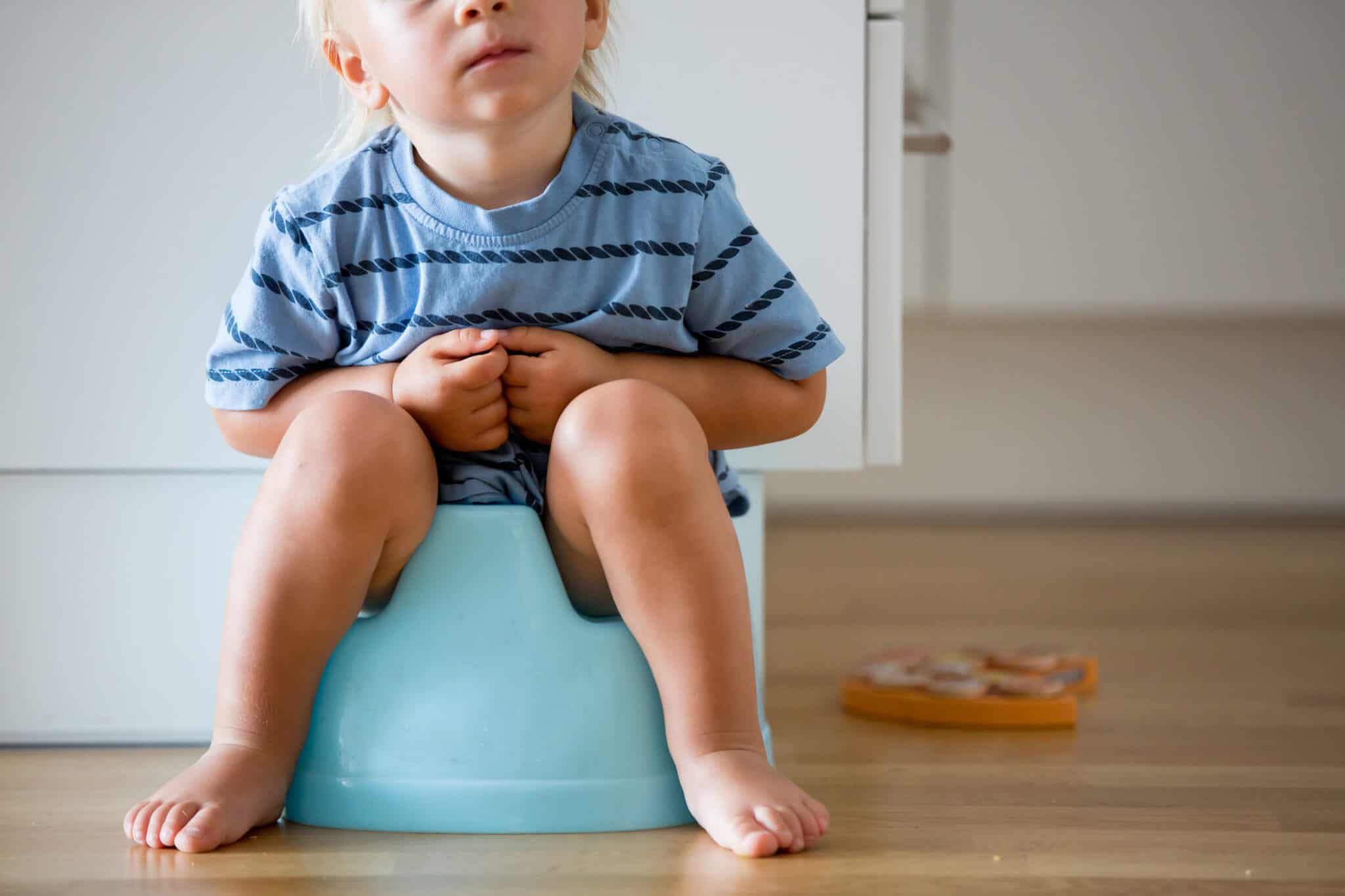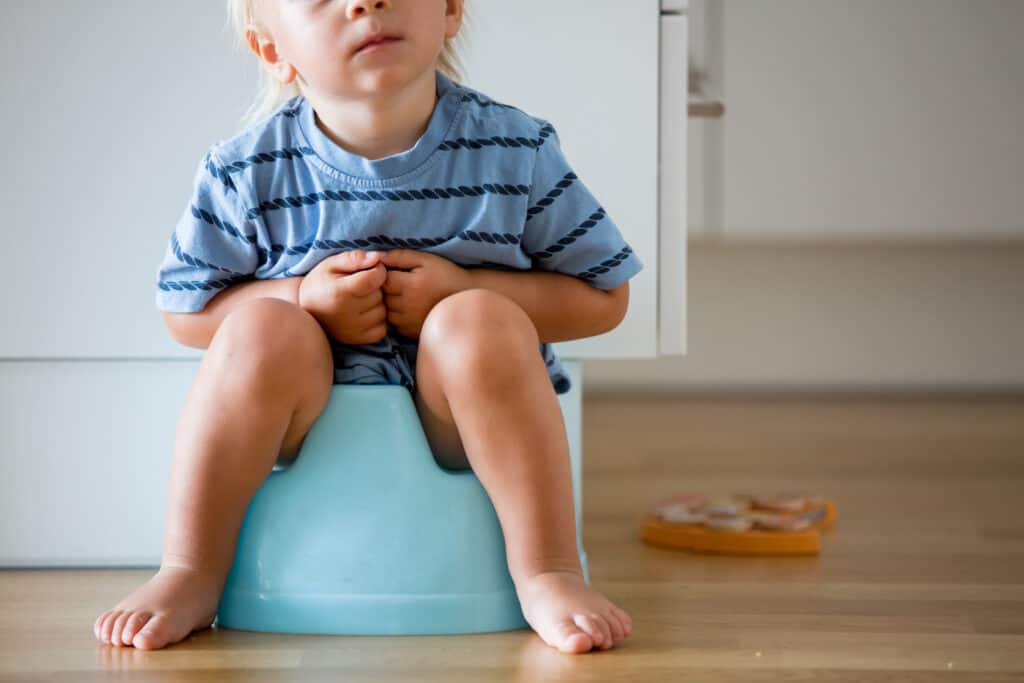 This post may contain affiliate links. Read my policy here.
When should I potty train?
Some parents potty train as early as 18 months, while others don't potty train their toddlers until 3 or 3.5 years of age. Common signs your toddler is ready to potty train include:
Hiding to go poop
Not liking to be wet
Taking an interest in the potty
Staying dry for a couple of hours
Potty training 101
Just like with everything else, there's a million methods/strategies that exist to help parents potty train their toddler.
After doing some brief research we decided to give the Oh Crap! Potty Training method a go. But like with most things, I had to adapt the method considerably to work well for my stubborn toddler.
Overall, here's the potty training tips that worked best for us:
Tip #1: Introduce the potty beforehand
Toddlers hate change, so don't spring the idea of potty training on them the same day you actually want them to go in the potty. Start about two weeks before and talk to them about getting rid of diapers and using their potty.
I purchased our potty ahead of time and even had my toddler warm up to it by sitting on it with clothes on a few times.
It also helps to give your toddler books to read about potty training or let them listen songs or watch a kids' show that talks about potty training–whatever you can do to help them warm up to it!
Don't forget to take them to the bathroom with you. They learn best by modeling your behavior, if they see you use the potty, it won't be foreign to them.
Tip #2: Start on a long weekend
There's tons of methods out there that claim you can potty train in 3 days, but I'm here to tell you, unless you've got a potty-training rockstar that's likely not going to be the case.
It does help though to have 3-5 days blocked off on your calendar to help your child get the basics down. Some kids may pick up on potty training quickly and will be 80% of the way finished by the end of a few days, while others will take much longer. Don't sweat, just try to reserve a few days in a row to really hit the ground running.
Tip #3: Adjust your expectations and expect accidents
Again, unless you have a potty training pro, it's going to be a while until you can fully expect your toddler to be trained and accident free.
The first day I started potty training my daughter she caught on wonderfully and was super excited to run to the potty to pee. I was elated. I went to bed thinking she'd rock this process and we'd wrap up in three days.
Day 2 was a different story and we had accidents all day long. The following several days were good days mixed with really bad days, but all-in-all, we were slowly making progress each day.
Week two was much better than week one, but still wasn't perfect. At this point I had to have a heart-to-heart with myself and come to terms with the fact that she was going to be fully potty trained on her timeline, and all I could do was give it my best effort each day.
Tip #4: Start out going commando/not wearing bottoms
In the Oh Crap! method, the author talks about starting out going bottomless. At first I wasn't really too jazzed about this– I didn't want pee and poop all over my home. But after giving it a try, I could quickly see why the book recommended it.
Going bottomless helped my tot realize when she was peeing. This is huge–remember, they are used to just going in a diaper without too much of an idea what's happening.
Go bottomless for a couple days and then move on. Expect a regression when you put on pants/shorts, but push through it. That muscle memory of the diaper feeling will be back with bottoms, but they will move over the hump. Just keep going!
Tip #5: Remain neutral when they have accidents
Toddlers pick up on your cues. If you get upset or overly frustrated when they have an accident it might derail the whole process. If you notice them peeing away from the toilet, tell them to hold it and move them to their potty. Reiterate several times that pee goes in the potty, in a calm neutral tone.
Tip #6: Find out what motivates your toddler
Initially, I thought about not offering rewards, but during the disaster of day 2, I quickly altered that plan. Find out what motivates your toddler and use that to help them get excited about using the potty.
Once they're consistent, you can back off on rewards, but for now, understand that this is an entirely new developmental stage for them.
Tip #7: Don't ask if they need to go, tell them it's time
Have you ever asked a toddler a question? Nine times out of 10, any question you ask them is likely met with the word "no." Asking your toddler if they need to go to the potty will be met with a no.
Instead, set a timer or just gage when they might have to go and say, "Okay, it's potty time," and set them on the potty.
Tip #8: Don't over prompt
The first few days, you should get a good idea of when your toddler needs to go potty. Use this to prompt them in the coming days, but don't over prompt, because it's likely to backfire.
It will likely be a while before your toddler self-initiates so you will need to continue to prompt until they reach that point, but just don't over do it!
Tip #9: Don't stress too much about pull ups
A lot of methods–OCPT! included–said pull ups were a total no-no. I initially wanted to go the no pull ups method, but after about 5 days, I caved.
My toddler has a very small bladder and just chugs water. While she was learning to build up her bladder capabilities I was totally cool with putting her in pull ups to leave the house. I wasn't going to stay house-bound for weeks until she figured everything out, and honestly the breaks were good for both of us.
Tip #10: Try the warm water trick
Initially some kids will feel odd about peeing in their little potty. If you've got a toddler who is reluctant to go, try the warm water trick. Simply put the potty in the water, have them sit on it and run warm water in the bath. As soon as the warm water hits their toes, it should trigger them to pee in their potty.
Potty training basics
Gather all the supplies you'll need ahead of time. Here's what worked for us:
Potty–Initially, I thought I could just use a toilet trainer that goes over your bathroom toilet, but I quickly realized my toddler was totally afraid of sitting on the potty, so I purchased a smaller potty for her to learn the basics with.
Toilet trainer— After your toddler moves past the little potty and feels confident going in the big potty, this toilet trainer works wonders! Your toddler will fell confident using the big potty, as this toilet trainer works to make your toilet seat small enough for them.
Step stool–A must when teaching little ones to wash their hands! And helps them reach the toilet when they transition to the big potty.
Training underwear— I really liked these undies as they had four layers of cloth and caught a lot of the accidents much better than regular underwear.