Potty training is something that I put off for a while. My daughter showed no real interest in potty training and didn't seem to have an issue when her diapers were dirty.
Shortly after she turned 2.5 I began researching different potty training methods and decided we'd give the Oh! Crap Potty Training method a go.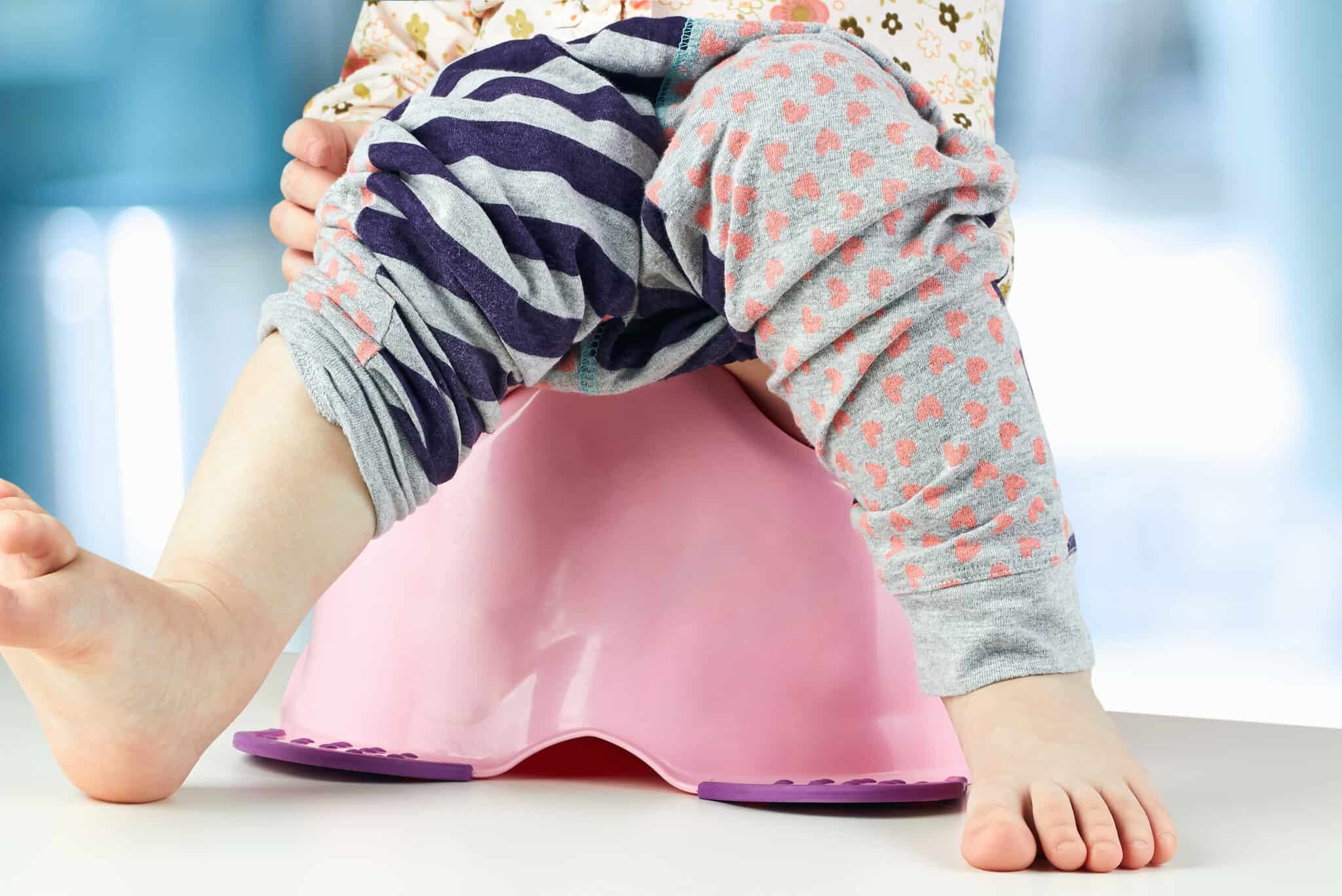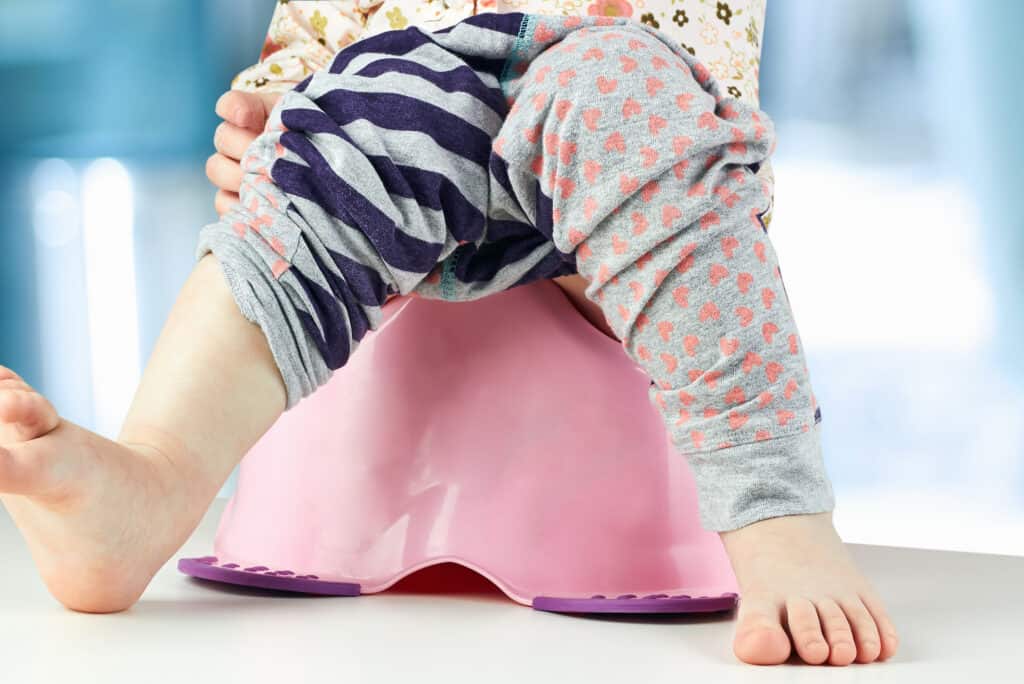 This post may contain affiliate links. Read my policy here.
Oh Crap! Potty Training Overview
In a nutshell, Oh Crap! Potty Training (OCPT) is an all-or-nothing approach to potty training. On the first day, you get rid of all diapers, (except for diapers).
The OCPT method moves toddlers through three blocks.
On the first block, your child wears nothing from the waist down. This is to help them get used to what it feels like when they are going to the bathroom and help you understand their cues.
You pretty much have to do nothing but sit there and watch them with an eagle-eye all day and run them to their little potty when they start to go or look like they are going to start to go.
You will not go on really too many outings besides quick walks while your child is in block one.
The second block is when you transition to shorts/pants but no underwear. Again, this is to help them know when they are going.
The author of the book is a big believer that underwear feels too much like a diaper and your toddler needs to be able to recognize when they are going/need to go.
While in block two, you can venture out with slightly longer outings, but will want to remain fairly close to home.
In block three, you move on to underwear and can go on longer outings, as your child is most likely trained (for the most part) at this point.
In all three blocks you will prompt your toddler to go potty, as it is a while before your little one is able to tell you they need to go.
Pros of using the Oh Crap Potty Training method
One of the best techinques to come out of the OCPT method is the suggestion that toddlers start potty training wearing nothing from the waist down.
While this is messy and you'll need a lot of patience, this really did help my daughter learn when she had to go. She even sat on the potty unprompted multiple times when she was naked from the waist down.
If you need to potty train quickly, going all in and saying no to diapers/ pull-ups (except at night), really helps to get the job done sooner.
Cons of using the Oh Crap! Potty Training method
This method is not for the faint of heart!
I'm not going to lie, days one and two were awful and I wanted to give up.
There were more accidents than successes and I was not a huge fan of having pee/poop all over my house, because we all know there's no containing a toddler all day to one designated area.
When you move to block two, they're still essentially going to pee/poop everywhere because loose fitting shorts don't really hold anything in.
There are even more accidents in block two as it's much easier for toddlers to potty train when they have total access to the potty (in block one, while not clothed). But don't worry, the accidents are totally normal and they do pass.
I also don't feel like an all-or-nothing method works for every toddler. My toddler is especially strong willed and I found myself bending the "rules" of the book many times to make potty training work for her/us.
The book discusses not giving rewards, but just praise. This is a great way to start off with, but like myself and many moms can attest, when the newness of the potty wears off, using rewards really helps to motivate toddlers.
One last negative of the book is that it really emphasizes the fact that it's just better to train toddlers between 20-30 months. I didn't pick up the book until my toddler was 33 months, so I really felt behind the curve and like I'd kinda missed the window for optimal results.
Just be aware of this if your toddler is outside of 20-30 months. In my experience, training a 33 month old was not overly difficult, as the author said it would be.
Our experience using Oh Crap! Potty Training and what ended up working out best for us
Starting out using the methods described in block one of OCPT worked for my toddler. Very quickly, she understood when she needed to go potty and would often sit on the potty without me even prompting her.
When we transitioned into block two, after about two days, it all came crashing down. Multiple accidents, lots of tears, tantrums and long days.
After about three days of this, I decided that for my sanity, I needed to try big girl panties so that I wouldn't be constantly cleaning up messes.
I opted to try training underwear that had four layers of cloth and helped to capture a lot of the mess. I liked that she still knew when she was wet when wearing these, and frankly, she hated being wet in them and I think being uncomfortable helps motivate them to use the potty.
We still move in between block one and two a bit and are still having accidents. I do use pull ups for naps, night time and anytime we will be away from our home for a while.
While I'd love to not use pull ups, it's honestly just not realistic unless you have an extremely compliant child that is fully potty trained in three days.
I have been alternating between prompting every hour or so and just reminding her that when she needs to go she needs to go by her potty and mommy will help her. At times, it seems like she does better when I'm not prompting her all the time.
I also give her rewards and found that there was simply no way she was going to potty train without them. She's a huge music lover so I let her listen to the music of her choice while going on the potty.
If she goes in the potty (rather than just trying) she gets to continue listing to the music for a little while after. I thought about using candy as a reward, but honestly, nothing motivates her quite like music!
Essentials we used for OCPT!
At first I just thought about getting an insert to fit on top of the regular potty, but after reading more in the book and figuring out that she was totally scared of the big potty, I got her a small potty that she really enjoys.
This potty is small enough that you can use it as a travel potty, too! I have one upstairs and one downstairs so that we're always pretty close.
When she's ready for the big potty, we'll move on to this toilet trainer and step stool. I also got these flushable wipes that have worked out really well, too.
Thinking about giving the Oh Crap! Potty training method a go? I'd love to answer your questions below in the comments!